A thick slice of super soft, light and fluffy coconut cake which is full of flavour with a moist crumb along with a hot cuppa coffee with my dog, Yoda on my terrace garden. That right there is my definition of a perfect evening. It's all things I love wrapped up in a moment. There are days when you don't feel like baking something extravagant rather something simple and comforting. This coconut cake is made for those days and hits just the right spot. Let's answer some of the how to's regarding this fluffy goodness!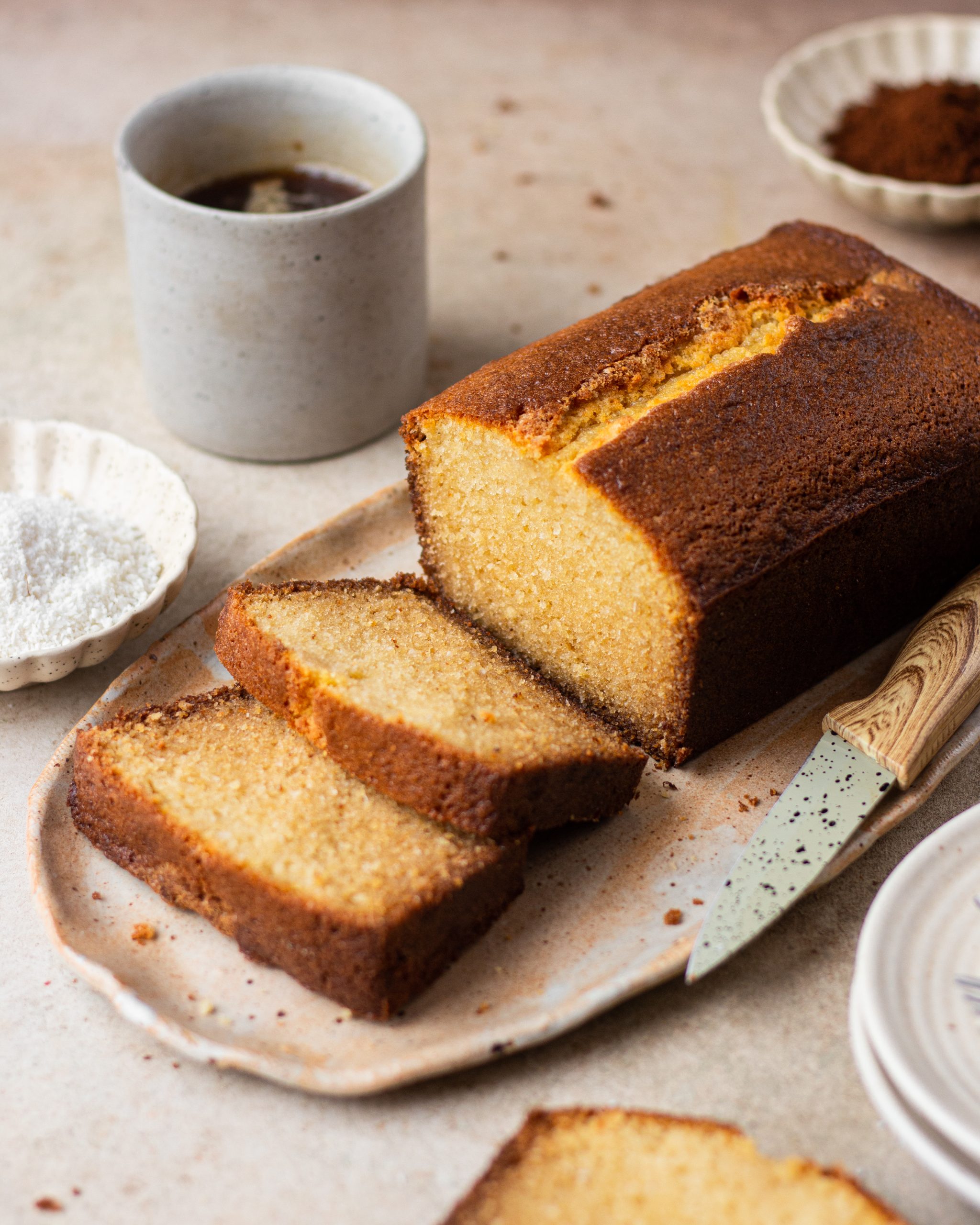 HOW TO MAKE THE PERFECT COCONUT CAKE?
For this coconut cake recipe, I have used eggs. But don't worry, I promise to come with an eggless coconut cake version super soon. We'll start by creaming softened butter and sugar together. Like always, if its not mentioned please assume I have used salted butter for my recipe. Salt brings the perfect balance in a dessert and is definitely a game changer. If you have unsalted butter, no worries, just add a pinch of salt in the dry mix. Tip in the best vanilla you can get your hands on. I use this one. Whisk in one egg at a time followed by the dry ingredients. Make sure you do not over mix at this stage and only until there are no large flour pockets in the batter. Bake it at 180C for 30-35 minutes and there you have it! The best coconut cake in no time.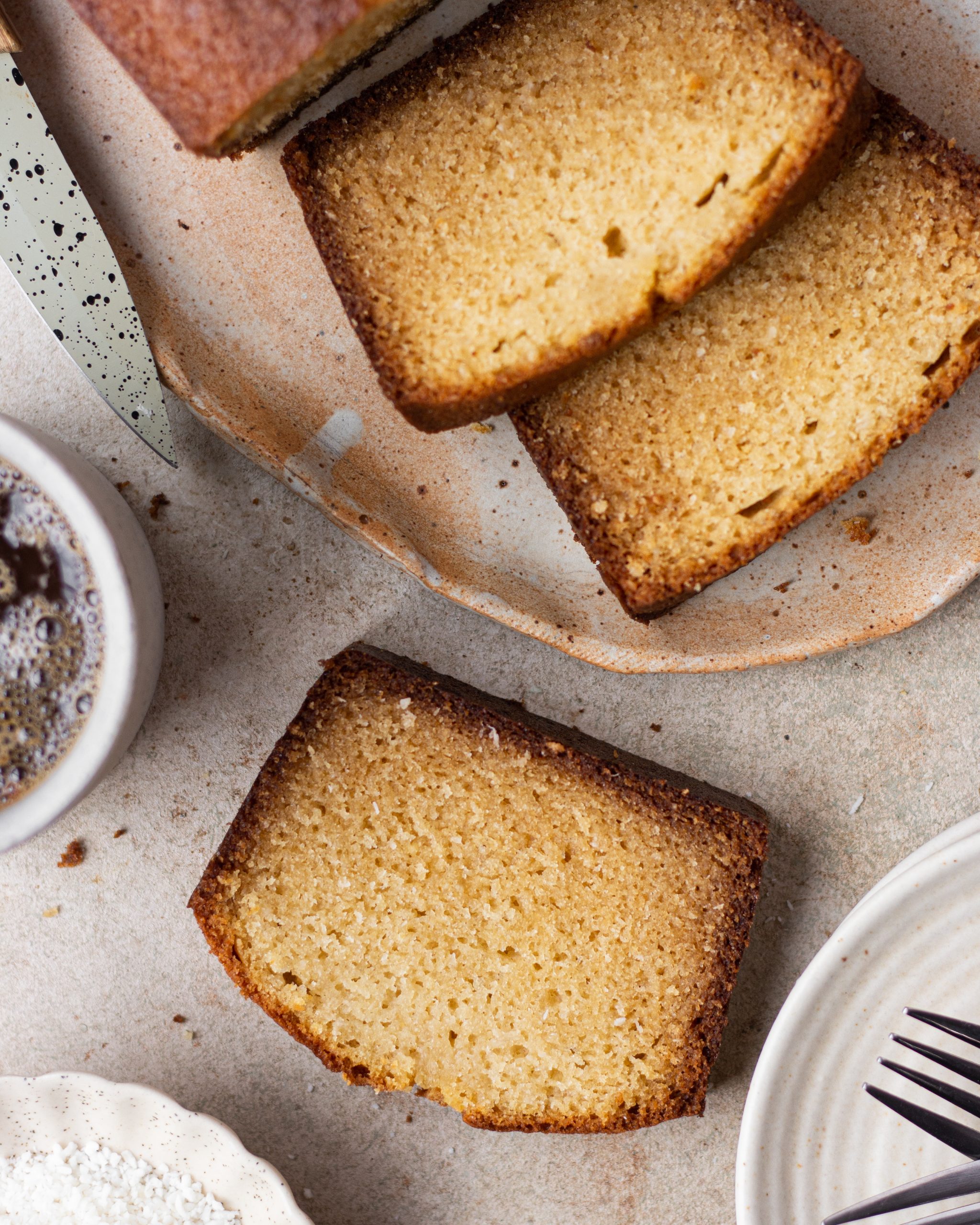 HOW TO GET THAT BEAUTIFUL CRACK ON YOUR COCONUT CAKE?
The trick to getting a perfectly cracked coconut cake is butter. You simply create a line of butter on top the cake batter before it goes into the oven and the cake will crack open along it. You can do this in one of two ways: using melted butter or solid butter. If you are using melted butter, you can dip a knife into the butter and run it along the top of the cake batter in the pan. If you are using solid butter, cut a very thin strip and lay it on top of the cake. I usually go with the cold butter-option, since it's easy to cut a very narrow slice from a stick of cold butter.
HOW TO BAKE THIS COCONUT CAKE IN A MICROWAVE?
To bake this coconut cake in a microwave, simply bake it at the same temperature that is 180 degrees but at a lesser time. Microwaves tend to bake and cook things way faster than ovens. Make sure you keep an eye while the coconut cake is in the microwave. Take it out when you see that the edges have started to turn golden brown and then test with a wooden skewer. If it comes out clean, your cake is done. To know more about microwave baking, watch this detailed video I did on it here.
And if you try this recipe and like it, do try other tea cake recipes from the blog. I am sure you are going to love them too!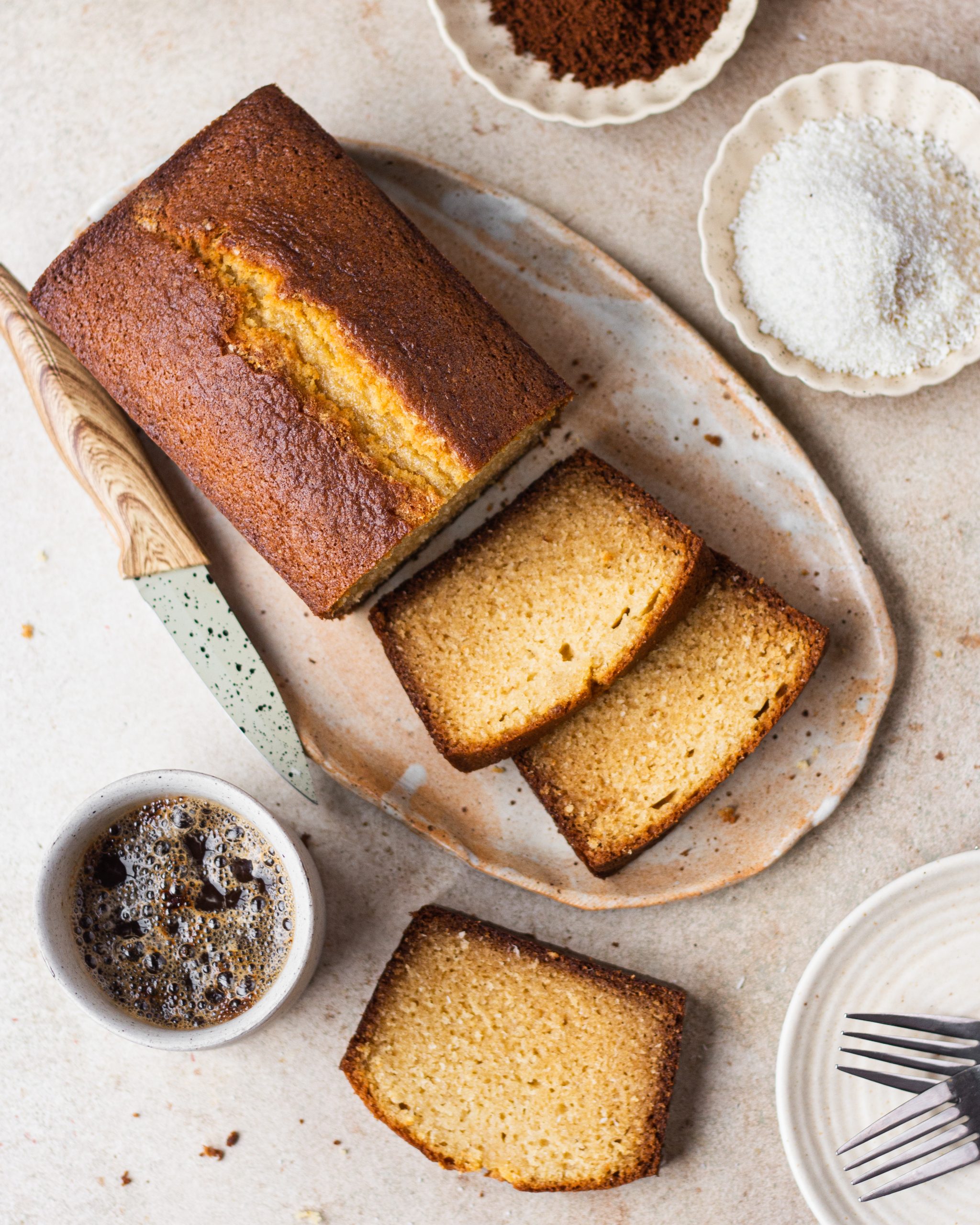 EQUIPMENTS USED TO MAKE COCONUT CAKE
The kind of equipment you use when you're baking makes a huge difference to the end result! I would recommend you to use good quality mixing bowls and other equipment so that your coconut cake comes out delicious.
To bake my coconut cake perfectly I have used my Borosil 60L Oven. It's been a part of my kitchen for a few months now and I absolutely love it.
OTHER RECIPES ON THE BLOG
COCONUT CAKE RECIPE
COCONUT CAKE
Ingredients
1 +1/2 cup (285g) all-purpose flour
¾ cup (71g) desiccated coconut
2 tsp (10g) baking powder
½ cup (113g) butter
1 cup (224g) castor sugar
3 (150g) eggs
1 tsp (5ml) vanilla extract
¾ cup (180g) milk
Instructions
Preheat your oven to 180C. Line a loaf pan with parchment paper.
In a large bowl, cream softened butter and sugar with vanilla extract.
Add one egg at a time and whisk well.
Once everything is well combined, sift together flour, baking powder and dump in the desiccated coconut.
Fold using a spatula and make sure you do not over mix at this stage.
Pour the batter in the loaf pan.
Bake it at 180C for 30-35 mins or until the skewer inserted in the centre comes out clean.
If you want a crack in the centre of the cake, before putting it in the oven, make a line of butter in the centre of the batter. You can either use cold or melted butter.
If you like my coconut cake recipe and happen to make them in your kitchen, do tag me on 
Instagram
 and share pictures with me using #Bakewithshivesh. Happy Baking!