For the longest time I have made brownies! I love making brownies and I love to experiment and create different versions of the same in my kitchen. From double chocolate chip to red velvet brownies and eggless brownies; but this time I wanted to create a healthier and egg-free version of brownies. These eggless brownies are so healthy and so yum! Not less tasty than any other brownie recipe! They are moist and packed with flavor, what I love the most about them is they are so light.
Generally, when I have a brownie, I am not able to finish the whole piece and even if I do, I feel so heavy! But these eggless brownies are very light, and trust me, if you tell someone these have whole-wheat flour, jaggery and are egg-free, they won't believe you, I promise! For a cold winter evening or a rainy day, these eggless brownies will be your favorite staple. They are perfect for people who have diabetes and can't have refined sugar.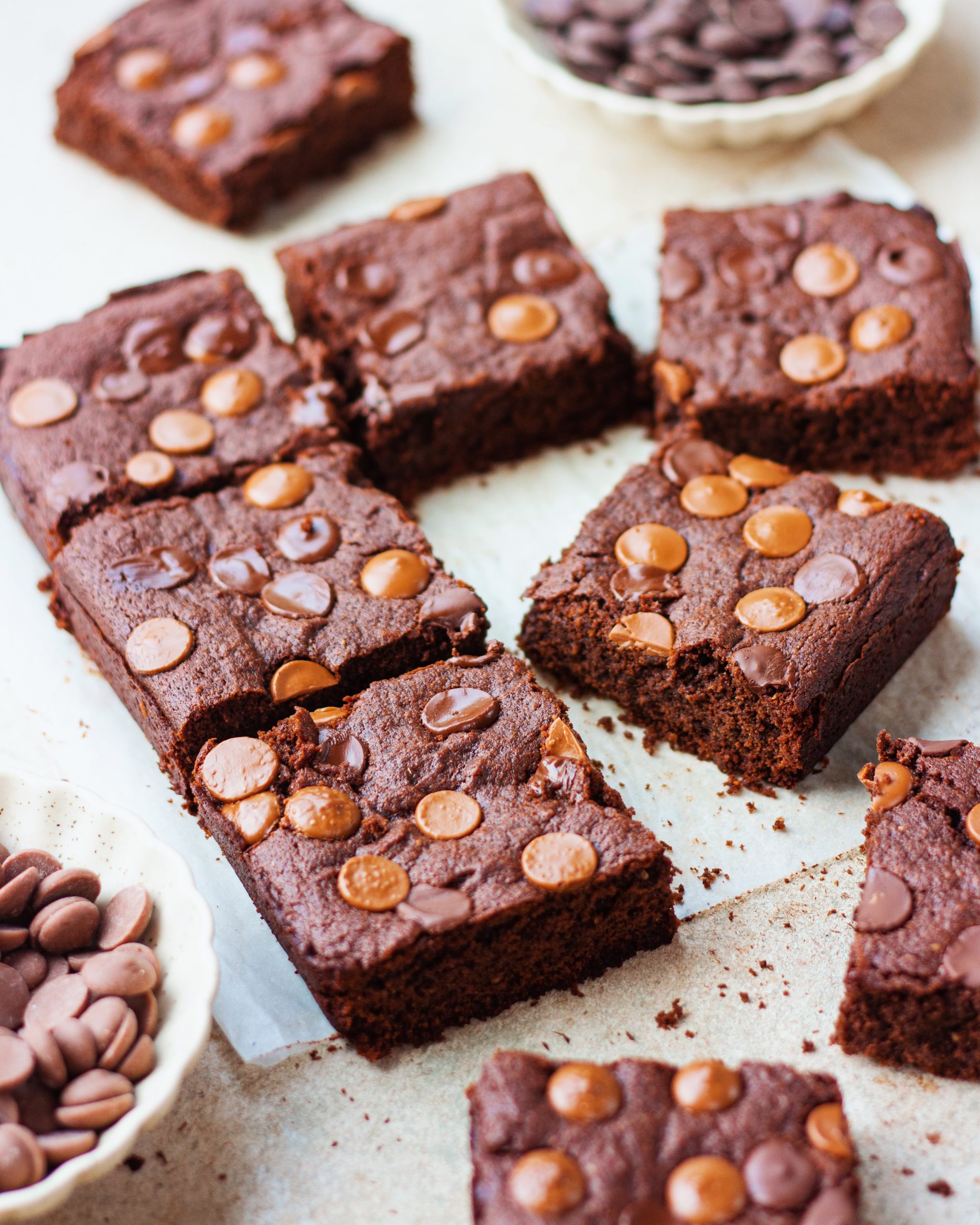 Ingredients needed for eggless brownies
Whole wheat flour or atta
Whole wheat flour is heavier than all-purpose flour which we generally use in baking. It is ironic but how this flour is heavy but when we eat this eggless brownies, we feel light! This flour makes the baked goods dense but when we incorporate air properly, that's not the case. This flour tends to make things dried out but as we are putting a lot of moisture, it all balances out.
Baking powder and baking soda
I used both the leavening agents here. Basically, baking soda reacts with the yogurt as it needs something to react and baking powder already has an acid in it and thus, when it comes in contact with moisture it reacts automatically. Both the leavening agents here, helps us with the color and the texture of our eggless brownies.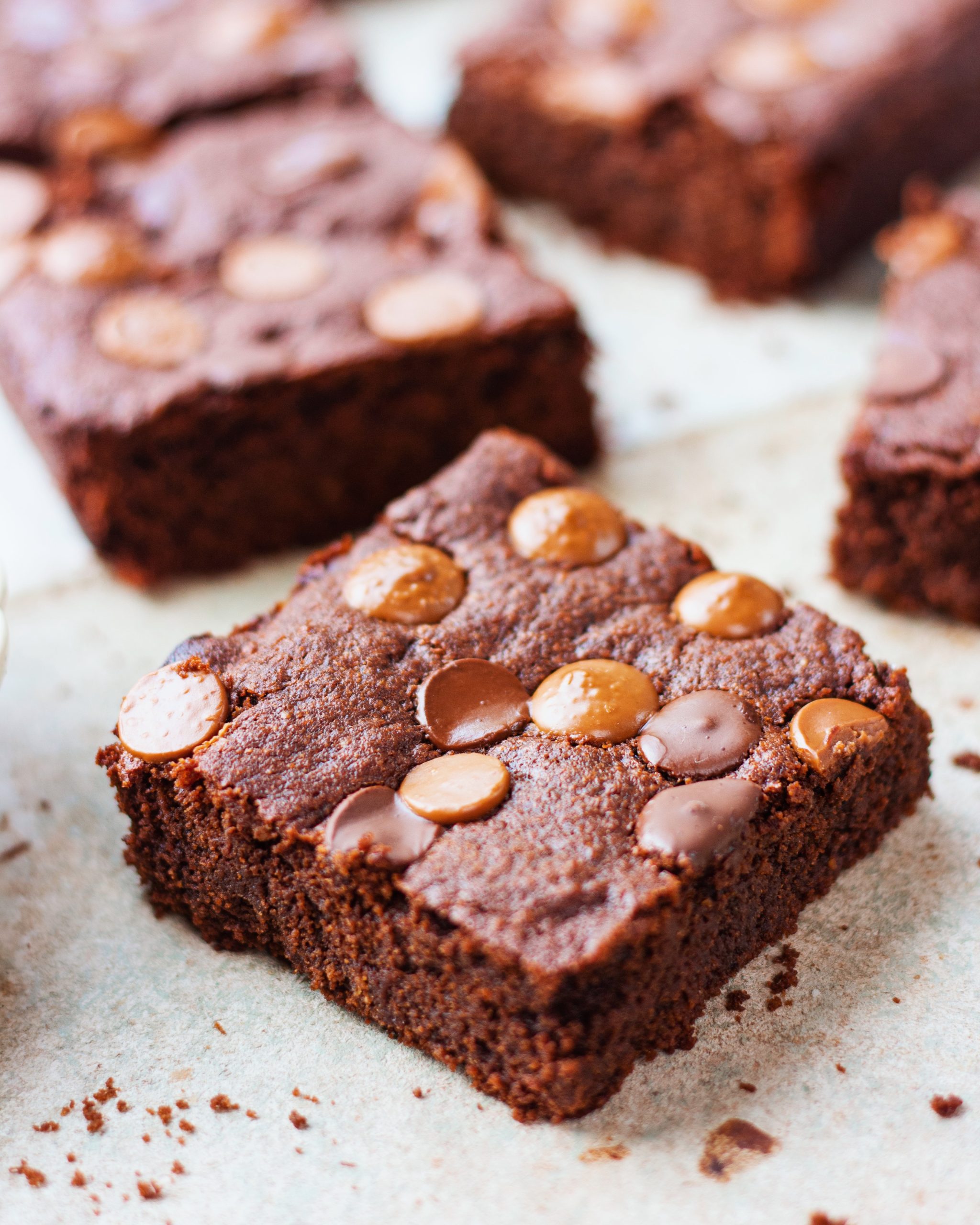 Any kind of fat is required in brownies. Here I have used salted butter, which adds texture to the eggless brownies but the quantity added is quite less as we are making healthy brownies!
For the sweetener, I have used organic jaggery powder as I wanted these brownies to be free from refined sugar. I am very sure, when you serve these delicious brownies to your parents and grandparents they will be thrilled to know these eggless brownies have jaggery! The flavor of jaggery goes really well with whole wheat flour. If you want you can substitute 50% of jaggery powder with caster sugar or even brown sugar.
Yogurt is what these brownies get moisture from and it helps baking soda to react too. Also, as these eggless brownies are without egg, I have added yogurt in it. Make sure you are using dahi which is not watery. Also, if you want you can even use apple sauce instead of yogurt as it is also a great substitute for egg.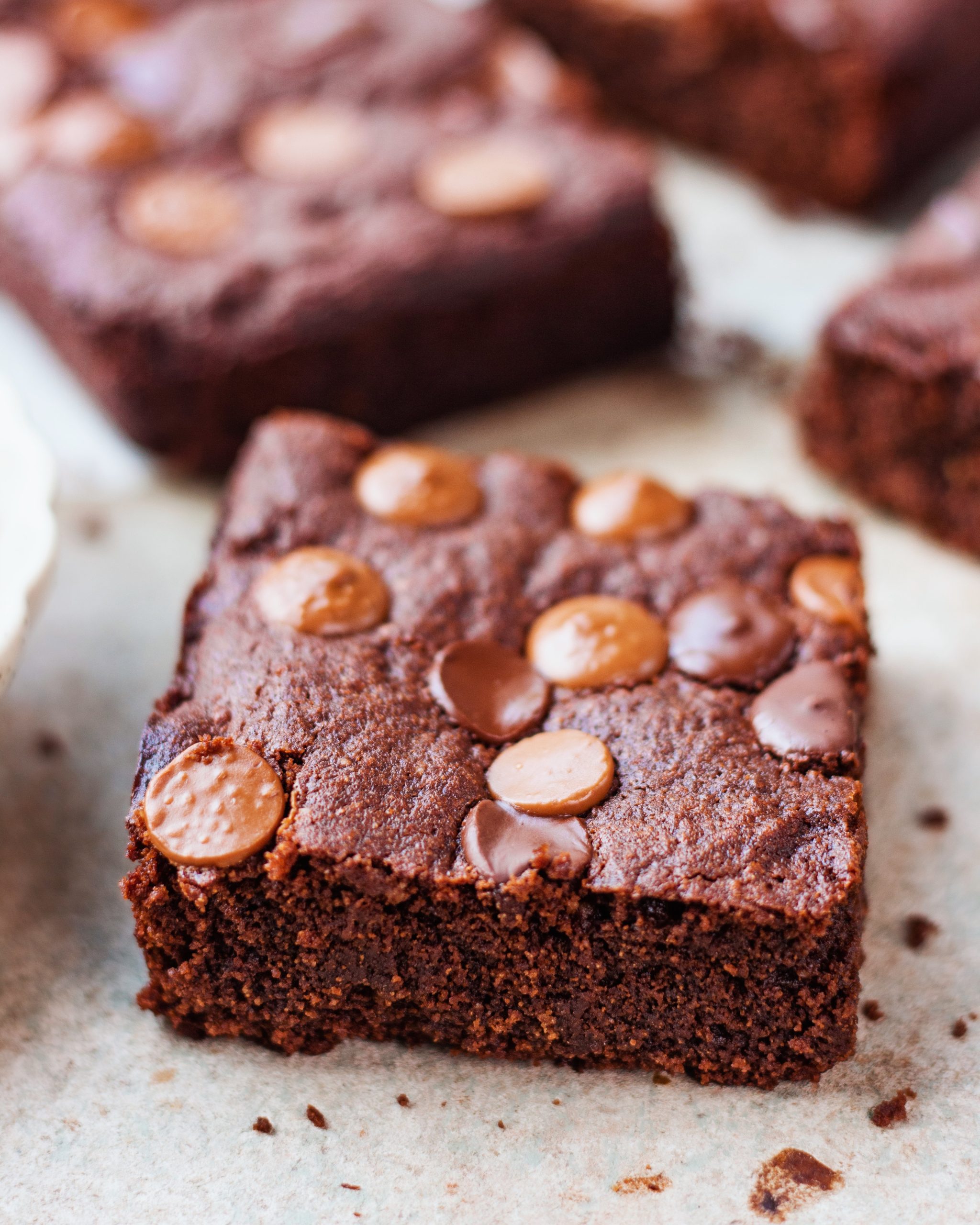 Coffee always enhances flavor, especially when it is used with chocolate! These brownies go up a notch when I added an espresso shot. It is simply 2 tablespoon of hot water when added with 1 tablespoon of coffee powder. It gives a good, intense flavor to these eggless brownies and even cuts the atta flavor in there. If you want to skip this, you can even add 2 tablespoon of hot water instead.
Using a good quality vanilla extract always enhances the flavor of brownies. Do not skip this ingredient as it makes a difference. I use sprig's vanilla extract. You can get it here.
This is the main ingredients of these eggless brownies. Chocolate brings together all the ingredients for this brownie and gives it the main chocolaty flavor, I am using dark chocolate chips here. I always suggest using a good quality chocolate in your brownies. Brands like van houten, callebaut and amul have good quality chocolate.
Equipment used for making eggless brownies
The kind of equipment you use when you're baking makes a huge difference to the end result! I would recommend you to use good quality mixing bowls and other equipment so that your eggless brownies come out delicious!
To mix all my ingredients together, I'm using Borosil's 100% Borosilicate Glass Bowl which is microwave and oven safe, plus the bowls are super easy to clean and handle, which makes my baking process totally hassle free!
I am also using Borosil's hand mixer to mix my dry and wet ingredients and to bring my batter together. This great hand mixer comes with 5 variable speed options and chrome finished beaters which makes sure my waffle batter is super smooth and velvety.
And finally, to bake my eggless brownies, I'm using Borosil Pro 30L OTG which is cute, compact and allows my brownies to bake evenly.
To buy the entire borosil range, visit www.myborosil.com.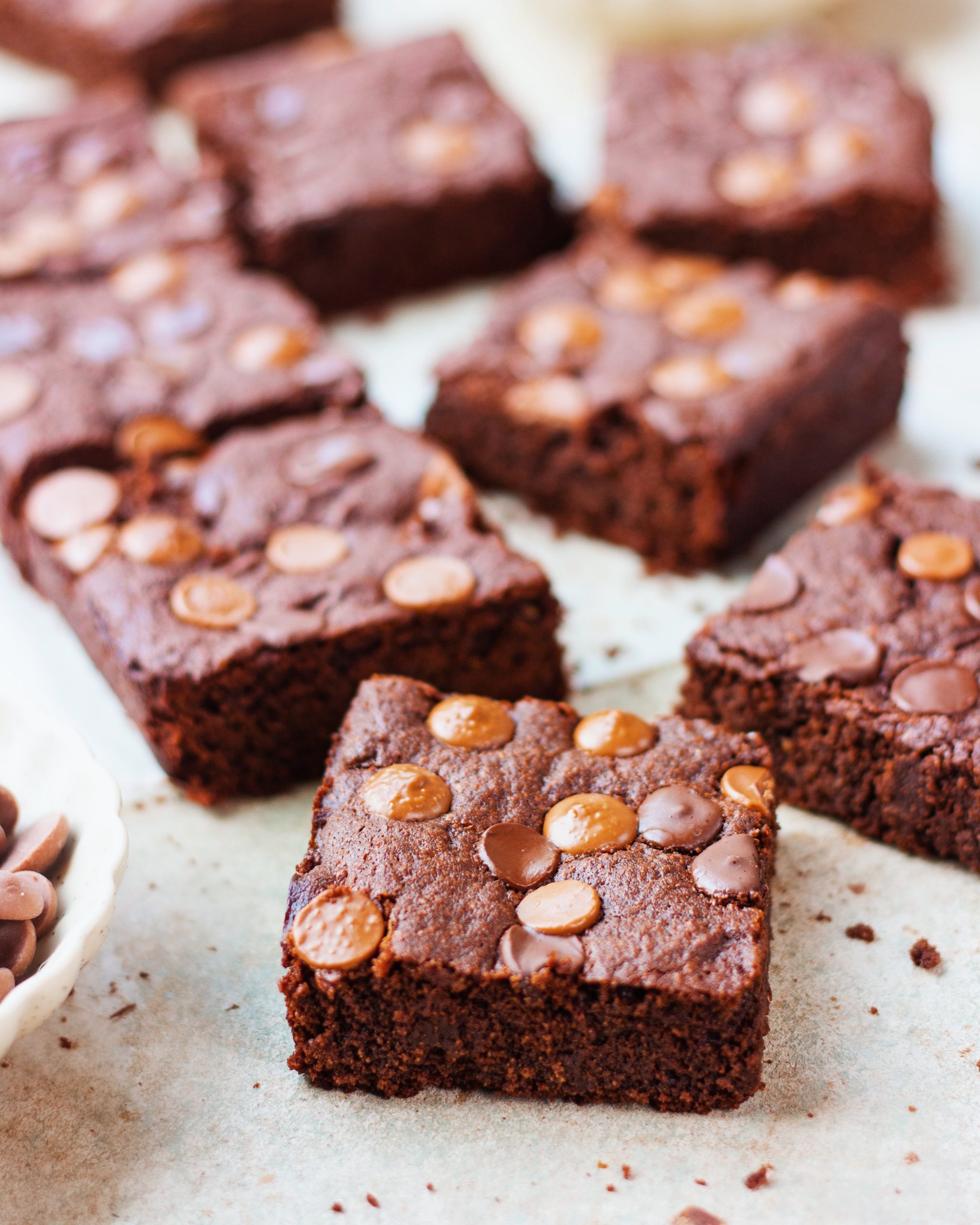 Other brownie recipes on the blog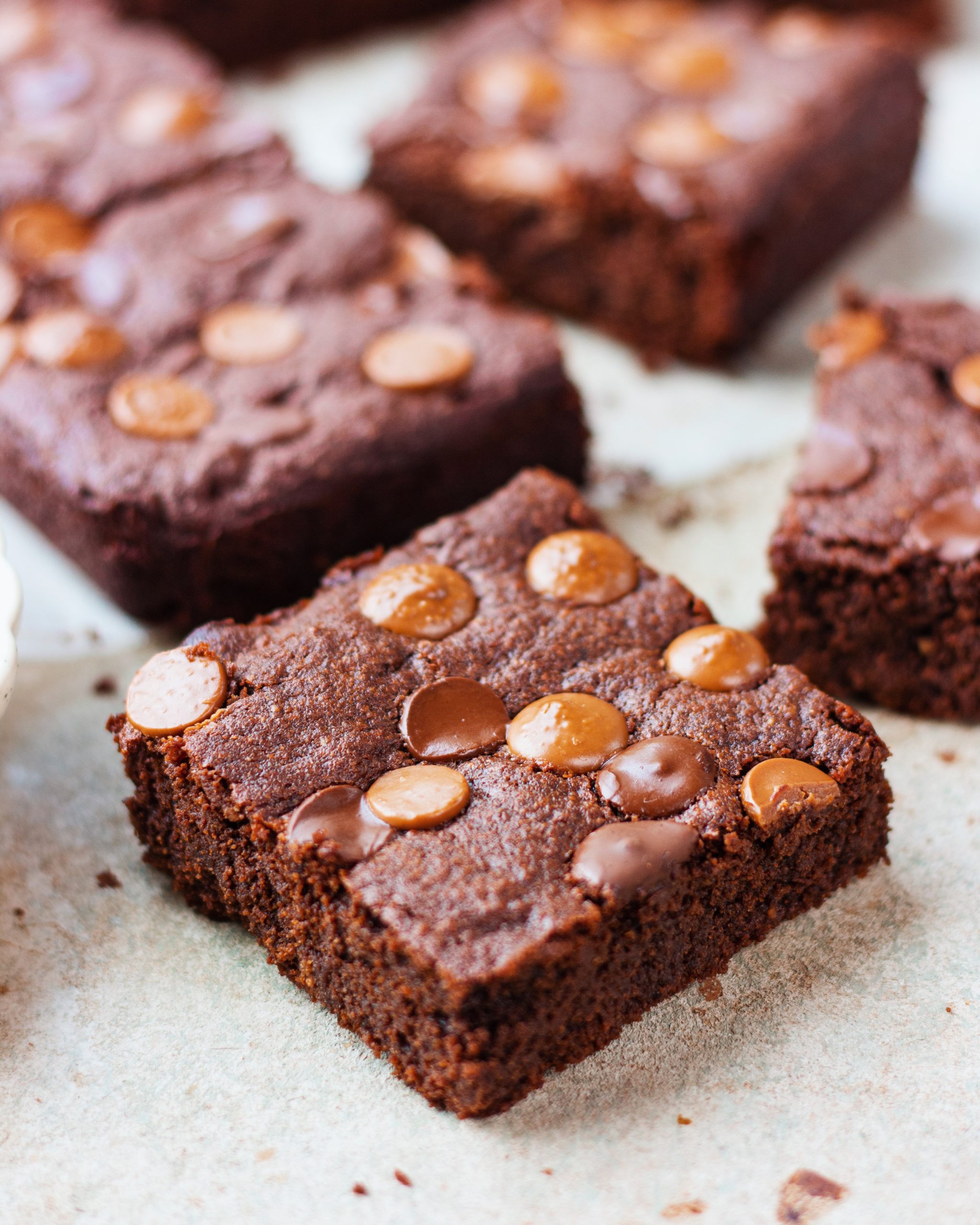 Eggless Brownies - No refined flour & refined sugar
Ingredients
¾ cup (90g) whole wheat flour
¼ teaspoon (1g) baking soda
1 teaspoon (4g) baking powder
3 tablespoon (45g) salted butter
1 + ½ cups (250g) dark chocolate chips
½ cup (122g) yogurt
½ cup (127g) jaggery powder
2 tablespoon (30ml) water
1 tablespoon (5g) coffee powder
1 teaspoon (5ml) vanilla extract
Dark and milk chocolate chips to top
Instructions
Preheat the oven to 180*C and line an 8X8 inch square pan with parchment paper.
In a bowl, melt chocolate and salted butter, until they are combined together and set this side.
In another bowl, take yogurt and jaggery powder and give them a good mix, till almost all the jaggery powder dissolves.
Add espresso shot and vanilla extract into it and give it a good mix.
Add the chocolate and butter mixture into this and give it a mix, till all the ingredients are combined.
Sift in the whole wheat flour, baking powder and baking soda and give it a mix, till there are no large flour pockets.
Pour the batter into the lined pan and top it up with some milk and dark chocolate chips.
Bake at 180*C for 20-25 minutes.
Chill it before cutting squares.
If you like my eggless brownies recipe and happen to make them in your kitchen, do tag me on 
Instagram
 and share pictures with me using #Bakewithshivesh. Happy Baking!