A match truly made in heaven, chocolate and coffee is one of my most favorite cake combinations. I have made several cakes with this combination but this time I wanted to make a tea cake to enjoy with my everyday coffee. I did top it with a super easy chocolate glaze to take it up a notch. You can skip that if you want! This eggless coffee cake recipe is super easy, one bowl and fuss-free. Let's get straight into it!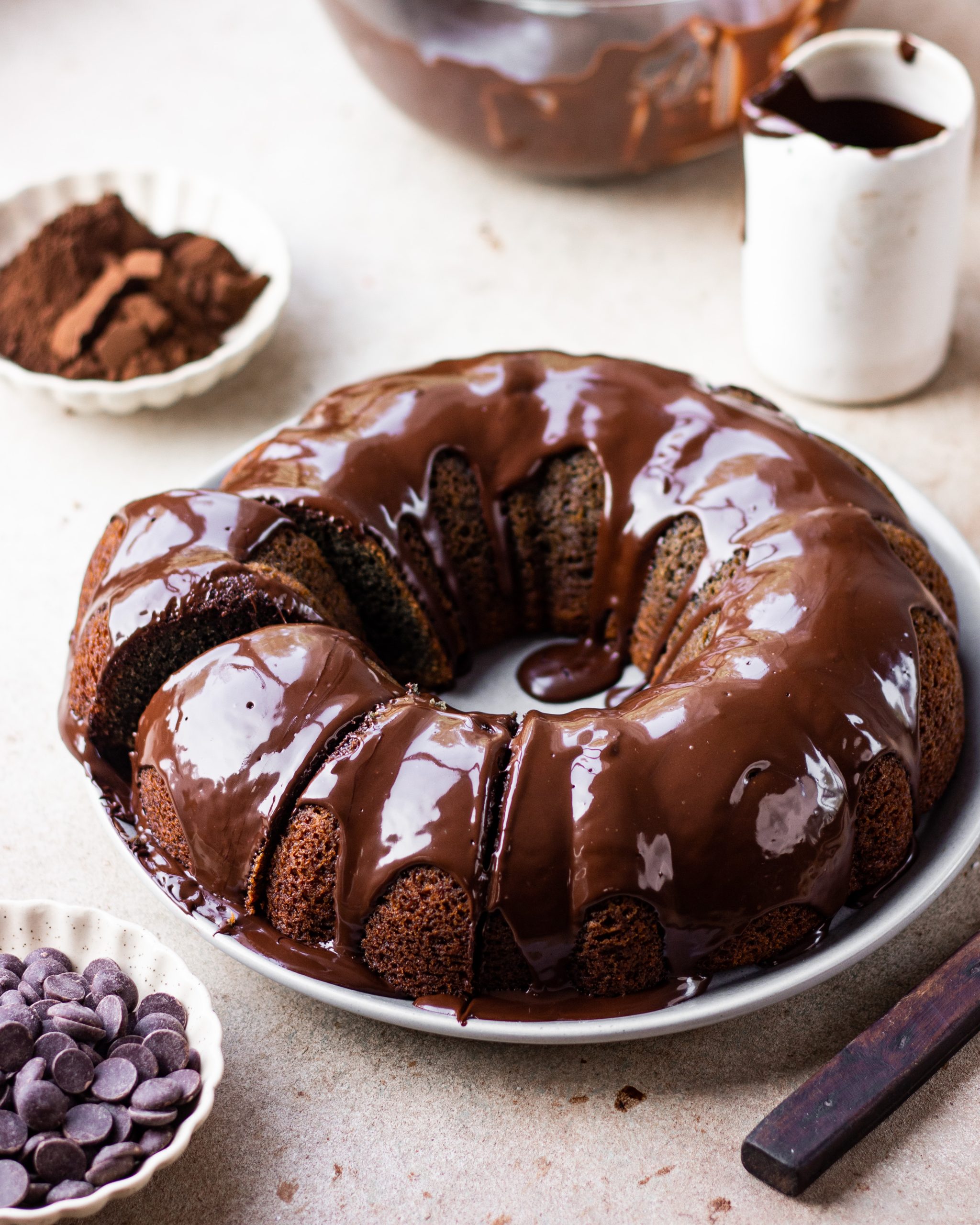 HOW TO MAKE EGGLESS COFFEE CAKE
To get a soft and moist cake, we'll start with some warm milk in a large bowl. Add in coffee and mix well. Once coffee is completely dissolved, add in melted butter and sweetened condensed milk, followed by vanilla extract. If you are looking for a good quality vanilla, this is the one I recommend. Once this wet mix is well combined, add in sugar and mix well. Sift in dry ingredients, all-purpose flour, baking powder and soda. Mix only until you see no large flour pockets. Bake it at 180C for 30-35 minutes. Your eggless coffee cake is ready! I made it in a bundt pan. But feel free to make it in an 8-inch circular or square pan, whatever is handy.
HOW TO MAKE CHOCOLATE GLAZE
To make a beautiful smooth and silky chocolate glaze, just melt a cup of your favourite coverture chocolate and add two tablespoons of oil to it. Give it a good mix. And that's it! Your glaze is ready in no time. If you have been looking for a good coverture chocolate, I recommend this one. You can use this glaze on a lot of your desserts. It pretty simple to put together and is literally ready within minutes. This eggless coffee cake tasted so yum with this chocolate glaze, almost irresistible!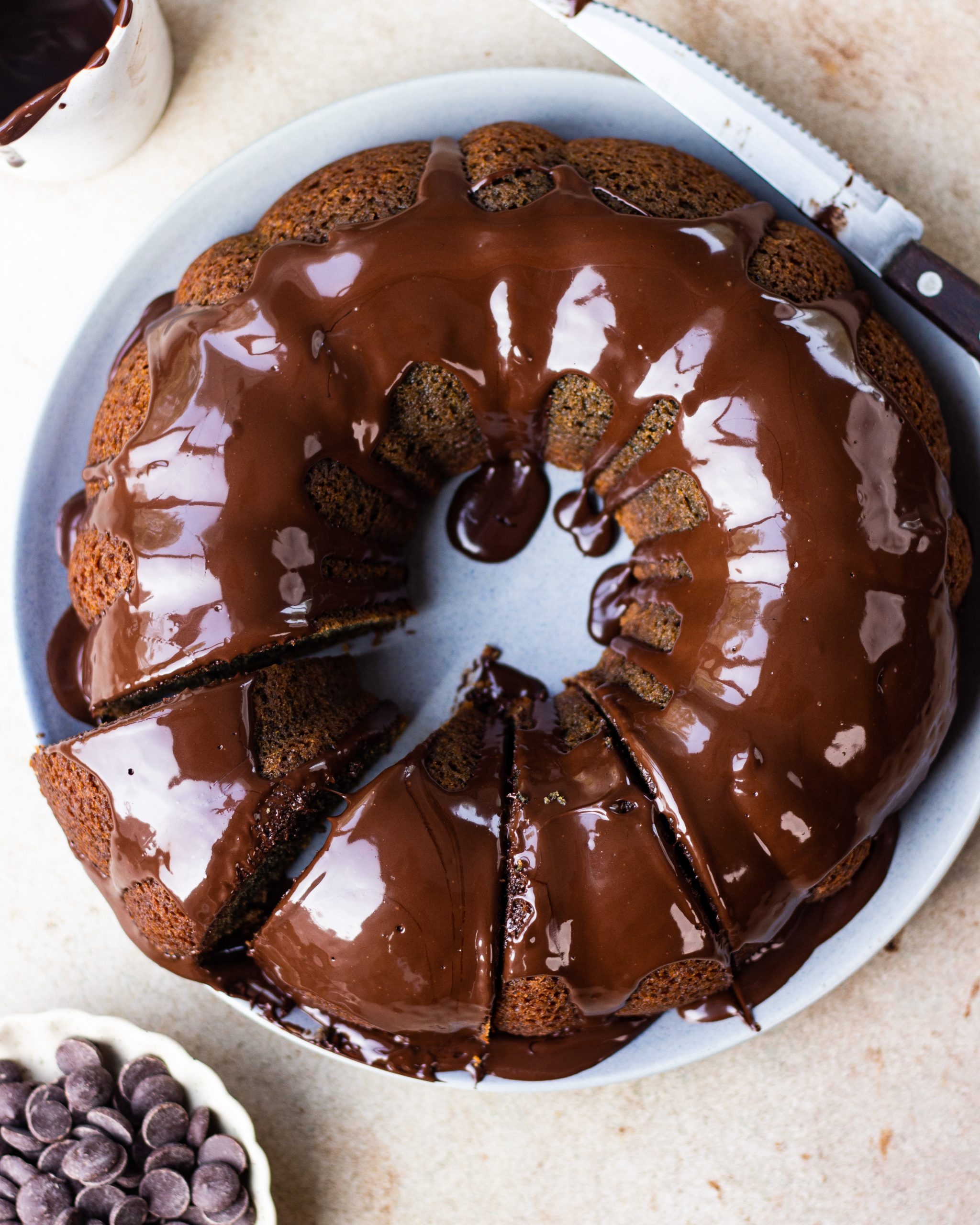 HOW TO MAKE THIS EGGLESS COFFEE CAKE IN MICROWAVE
To bake this eggless coffee cake in a microwave, simply bake it at the same temperature that is 180 degrees but at a lesser time. Microwaves tend to bake and cook things way faster than ovens. Make sure you keep an eye while the eggless coffee cake is in the microwave. Take it out when you see that the edges have started to turn darker brown and then test with a wooden skewer. If it comes out clean, your cake is done. To know more about microwave baking, watch this detailed video I did on it here.
And if you try this recipe and like it, do try other tea cake recipes from the blog. I am sure you are going to love them too!
OTHER RECIPES ON THE BLOG
EGGLESS COFFEE CAKE WITH CHOCOLATE GLAZE
EGGLESS COFFE CAKE WITH CHOCOLATE GLAZE
Ingredients
For cake
1 cup (240ml) hot milk
3 tbsp (15gm) coffee powder
1 cup (227gm) melted butter
1 cup (306gm) condensed milk
1 tsp (5ml) vanilla extract
½ cup (113gm) castor sugar
2 + ½ (300gm) cup all-purpose flour
2 tsp (10gm) baking powder
1 tsp (10gm) baking soda
For chocolate glaze
1 cup (140gm) chopped dark chocolate
2 tbsp (26gm) vegetable oil
Instructions
Preheat your oven to 180C and apply butter on a bundt pan.
In a large mixing bowl, add hot milk and coffee powder.
Mix until the coffee is dissolved completely.
To this, add melted butter and condensed milk. Followed by vanilla extract.
Give it a good mix.
Add castor sugar and mix until the sugar starts to dissolve.
Sift your dry ingredients into the wet. Start with all-purpose flour, baking powder and baking soda.
Mix everything until no large flour pockets are present in the batter.
Transfer the batter into the buttered bundt pan and bake it at 180C for 30-35 minutes or until a skewer inserted comes out clean.
For the chocolate glaze, start by melting some chopped chocolate.
Once completely melted, add 2 tablespoons of oil to it. Mix well.
Pour this glaze over the eggless coffee cake and its ready to dive in!