There are days when I crave a basic vanilla pound cake, cause nothing beats a classic, right? But then again, who can say no to a decadent chocolate cake? If you're like me and cannot choose between vanilla or chocolate, this marble cake is the perfect solution to your dilemma! To make it totally over the top with practically no extra effort, I've made it in a bundt pan and it looks spectacular!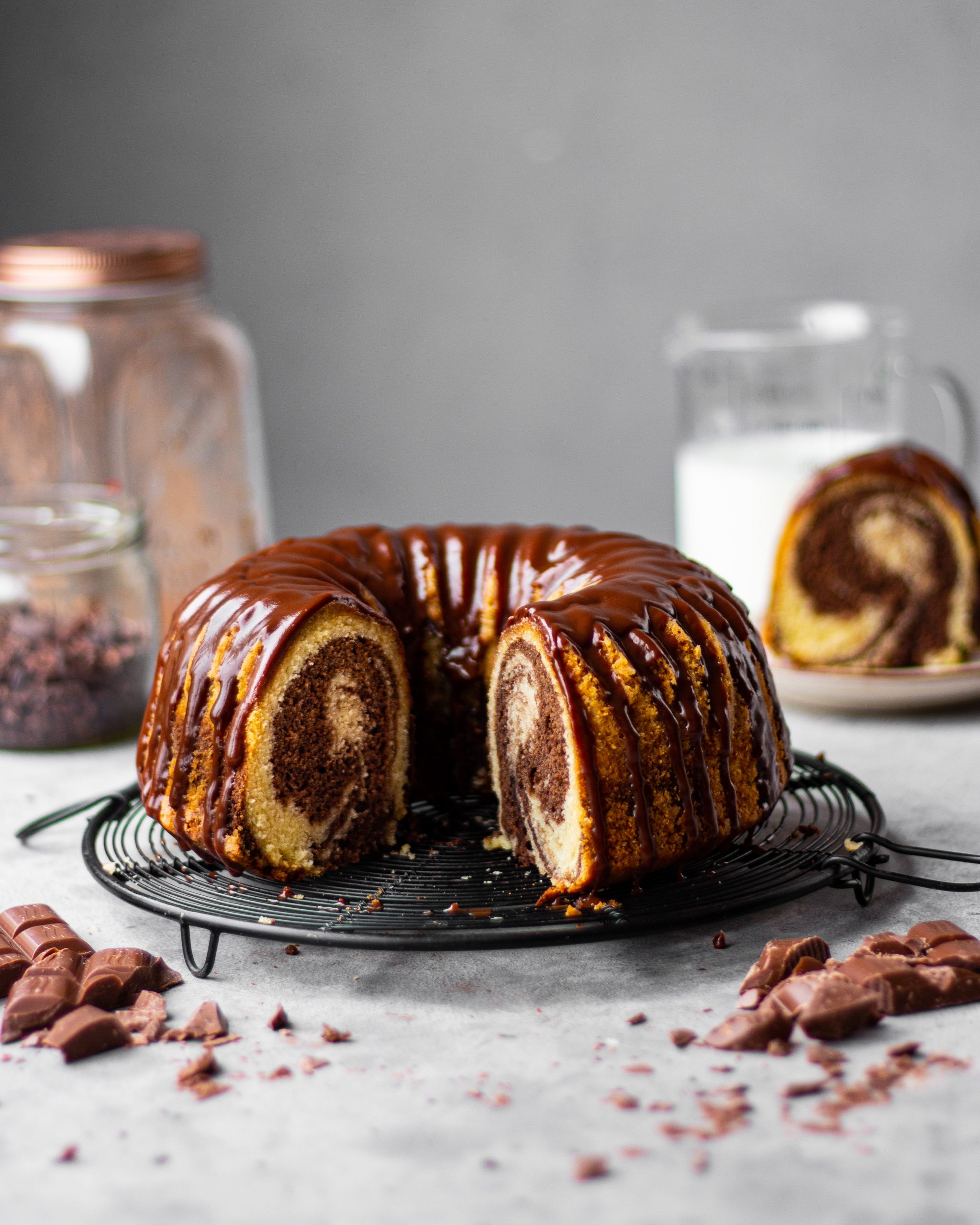 What is a marble cake
I would describe a marble cake as the best of both worlds! Why choose between vanilla and chocolate, when you can have both? And its not like its a lengthy process and you have to prepare two separate batters from scratch. I've made one base vanilla batter and added cocoa powder to a portion of that batter to make the chocolate one. It's that easy! 
To make a marble cake, you just have to alternatively layer the two batters into a cake pan and swirl around with a skewer to give a marble effect. 
Demoulding the cake
Believe me when I tell you I have struggled with bundt pans! I cannot recall how many cakes I have broken while demoulding! The pan I use is very intricate, making the job tougher. The trick, however, is to turn the cake out when it's neither too hot nor too cold. If the cake is too hot, you'll end up breaking it. If the cake's too cold, it won't come out. 
I grease my pan with butter and dust it with flour before pouring in the batter. This step is very important and will determine if your cake will come out, so do it properly! I have also observed that butter cakes come out easily. Cakes with oils as fat lack the structure and tend to break. 
Glazing the cake
While the marble bundt cake looks absolutely gorgeous as is, making a chocolate glaze is not much effort and makes it look so much more irresistible! I've made a milk chocolate glaze and poured it over the marble bundt. To make a chocolate glaze, just melt chocolate, butter and golden syrup together in a bowl and voila! It's done! 

marble bundt cake
Ingredients
For cake
3 cups maida
2 teaspoon baking powder
1 teaspoon baking soda
1 cup butter
1½ cups caster sugar
4 eggs
2 teaspoons vanilla extract
1 cup milk
¼ cup cocoa powder
3 tablespoons milk
For glaze
1 cup milk chocolate
¼ cup butter
2 tablespoons golden syrup
Instructions
Preheat oven to 180C.
Prepare a bundt pan by greasing it with butter and dusting with flour.
In a bowl, dissolve cocoa powder in 3 tablespoon hot milk. Keep aside aside.
In a separate bowl, combine flour, baking powder and baking soda.
In a large bowl, beat together the butter and caster sugar until pale and fluffy.
To the butter mixture, add eggs one at a time. Add vanilla.
Alternate adding flour mixture milk, until the batter comes together and no large flour pockets appear. Do not overmix.
Add the cocoa mixture to one portion of the cake batter. This will be your chocolate batter.
Alternate adding chocolate and vanilla batters into the prepared pan, swirling with a cake skewer.
Bake at 180C for 45 minutes or until a toothpick inserted into the centre comes out clean.
Place cake on wire rack to cool for 15 minutes.
Whack the pan on the counter to loosen the cake and turn out onto wire rack to cool completely.
To make the glaze, microwave chopped chocolate, butter and golden syrup in a bowl together.
Pour it over the cake.