marble bundt cake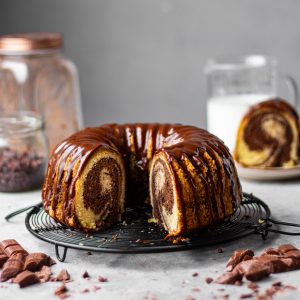 3 cups maida
2 teaspoon baking powder
1 teaspoon baking soda
1 cup butter
1½ cups caster sugar
4 eggs
2 teaspoons vanilla extract
1 cup milk
¼ cup cocoa powder
3 tablespoons milk
1 cup milk chocolate
¼ cup butter
2 tablespoons golden syrup
Preheat oven to 180C.
Prepare a bundt pan by greasing it with butter and dusting with flour.
In a bowl, dissolve cocoa powder in 3 tablespoon hot milk. Keep aside aside.
In a separate bowl, combine flour, baking powder and baking soda.
In a large bowl, beat together the butter and caster sugar until pale and fluffy.
To the butter mixture, add eggs one at a time. Add vanilla.
Alternate adding flour mixture milk, until the batter comes together and no large flour pockets appear. Do not overmix.
Add the cocoa mixture to one portion of the cake batter. This will be your chocolate batter.
Alternate adding chocolate and vanilla batters into the prepared pan, swirling with a cake skewer.
Bake at 180C for 45 minutes or until a toothpick inserted into the centre comes out clean.
Place cake on wire rack to cool for 15 minutes.
Whack the pan on the counter to loosen the cake and turn out onto wire rack to cool completely.
To make the glaze, microwave chopped chocolate, butter and golden syrup in a bowl together.
Pour it over the cake.