Bento cakes also called lunchbox cakes are minimalistic, pretty and quirky cakes made to serve two people. Started trending over a year ago, these cakes are surely one of the cutest things on the internet. Since Valentine's Day is around the corner, I made a cute little eggless red velvet bento cake. It's perfect for those of you who want to celebrate the special day with just your loved one. Super easy to make and assemble, baking this cake would surely feel like a cakewalk.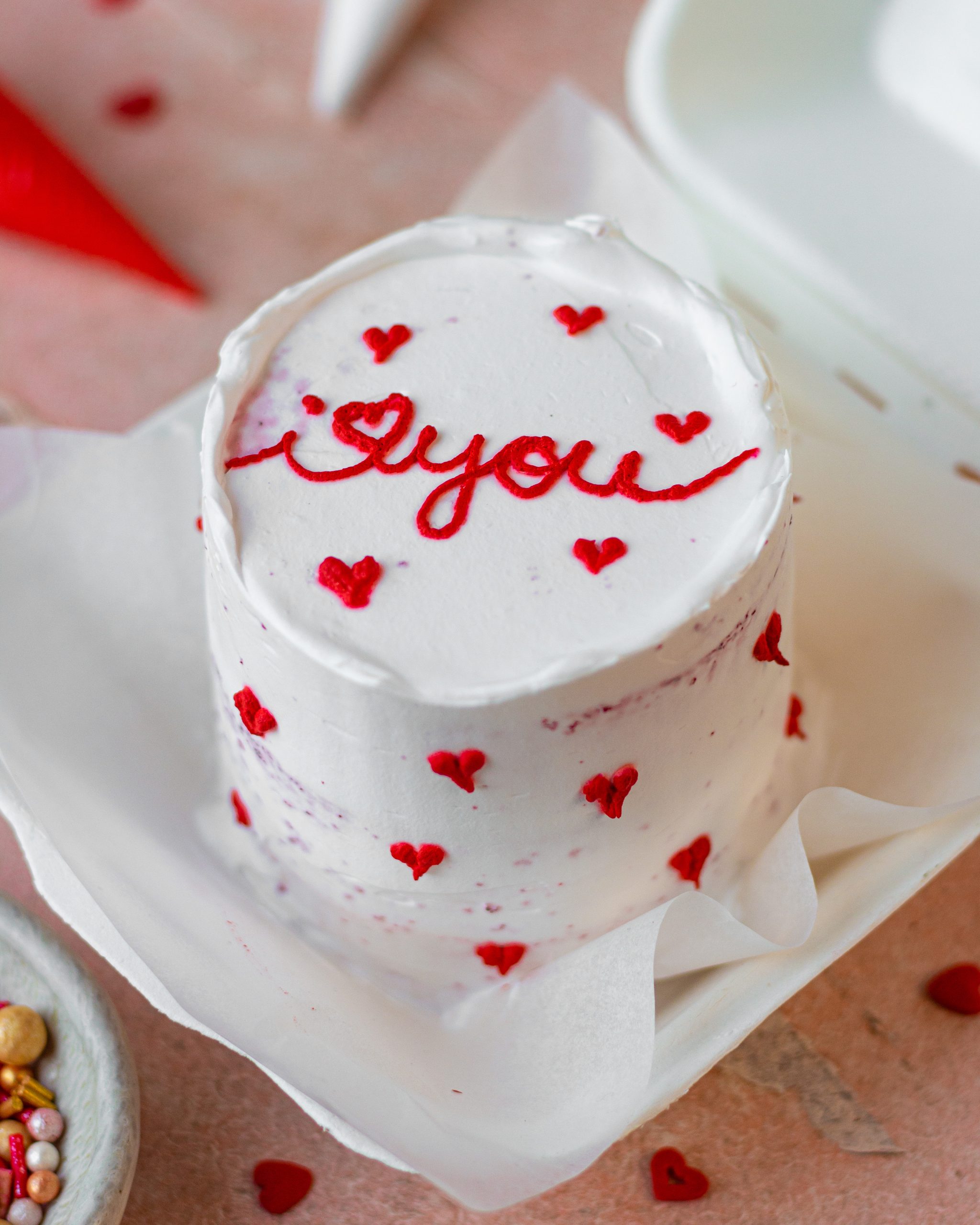 EGGLESS RED VELVET BENTO CAKE INGREDIENTS
Besides the basic flour, cocoa powder, baking soda and vanilla extract that you need, you also need sugar, lemon juice, yogurt and white vinegar to make this easy eggless red velvet bento cake. I use vinegar and lemon juice because they are acidic in nature and react with the baking soda to make this cake truly soft and velvety. So please don't skip either of these ingredients. For the colour, I use edible artificial gel red color. You can use liquid color as well.
PROCESS OF MAKING EGGLESS RED VELEVT BENTO CAKE
To make our eggless red velvet bento cake batter, we will start with some superfine castor sugar and any neutral vegetable oil in a large mixing bowl. Whisk the two well together till the mixture becomes light and pale. Once that is done, we will add buttermilk, process of which is mentioned down below. Followed by vanilla extract. If you are looking for a good quality vanilla, this is the one I recommend. Once all of this is mixed well, add lemon juice and yogurt. Mix everything well together. Add a few drops red gel food colour. Your wet mix is ready. We'll sift in the dry ingredients next- all-purpose flour, cocoa powder and baking soda. Fold the dry mix gently and pour the batter over the pre prepared tray. Bake and let the cake cool down completely before cutting layers using a circular cutter.
Once you have the layers ready, frost the cake with your choice of frosting. I have linked a few down below. For a cute decoration, I did typography on my cake using whipped cream. You can use anything from sprinkles to fresh strawberries or even strawberries dipped in chocolate. And your eggless red velvet bento cake is ready!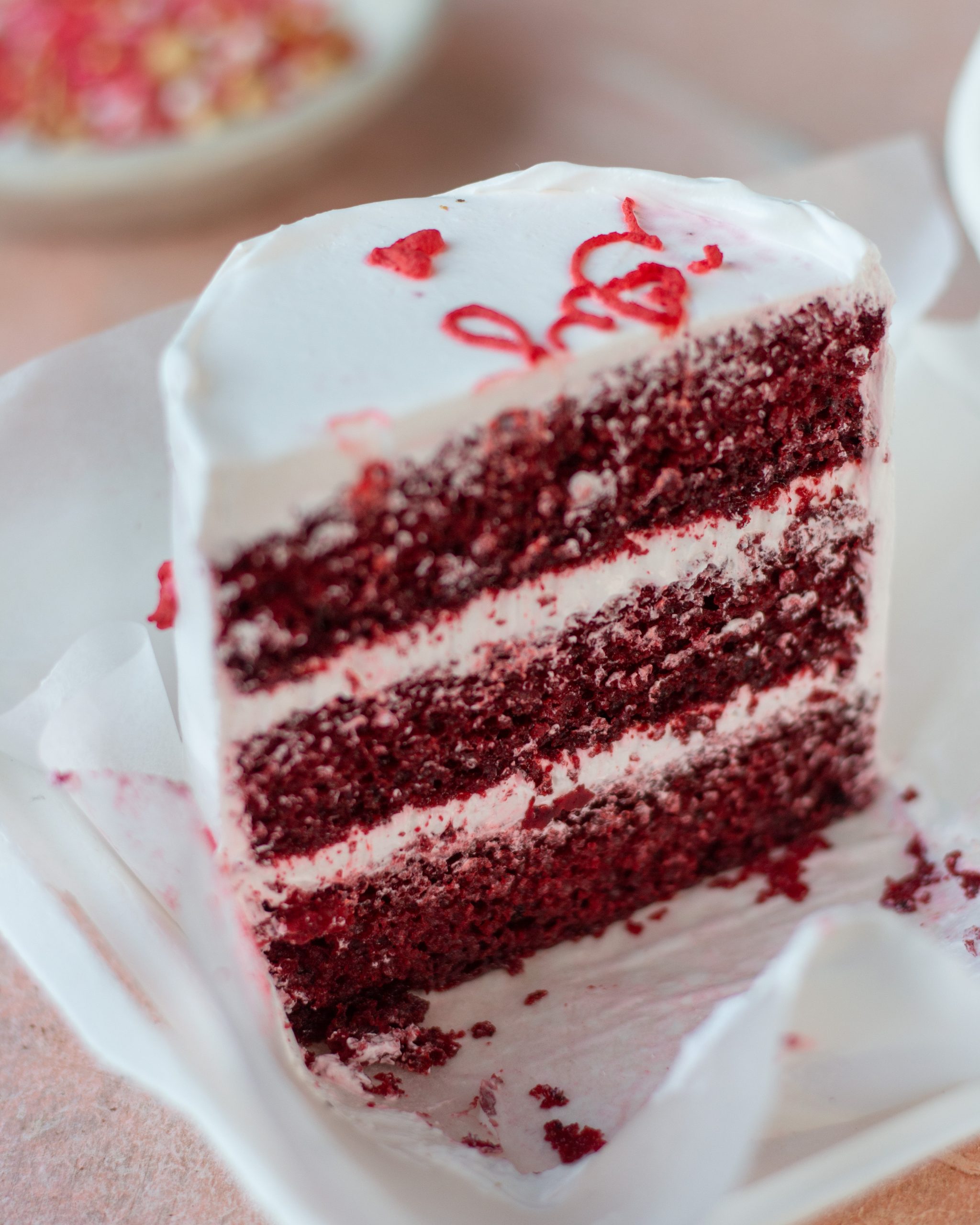 RED VELVET CAKE WITH BUTTERMILK
To make butter milk for this cake, simply add 1 teaspoon white vinegar to 1/2 cup + 2 tablespoons of warm milk. Let it rest on the counter for 5-7 minutes. You will see that the milk curdles a little. That's your buttermilk. You need to add this mixture to your red velvet cake. It makes the cake super soft and velvety.
RED VELVET CAKE FROSTING
I usually love my cakes without frosting but I recommend topping this eggless red velvet bento cake with frosting. You will see me using a different kind of packaged frosting in the video, but no worries if you can't get your hands onto that. My choice of frosting with red velvet cake is cream cheese frosting. If you don't have cream cheese, go ahead and smother the cake with some vanilla bean buttercream frosting. Don't forget to let the cake cool completely before you cover it with frosting.
And if you try this recipe and like it, do try other tea cake recipes from the blog. I am sure you are going to love them too!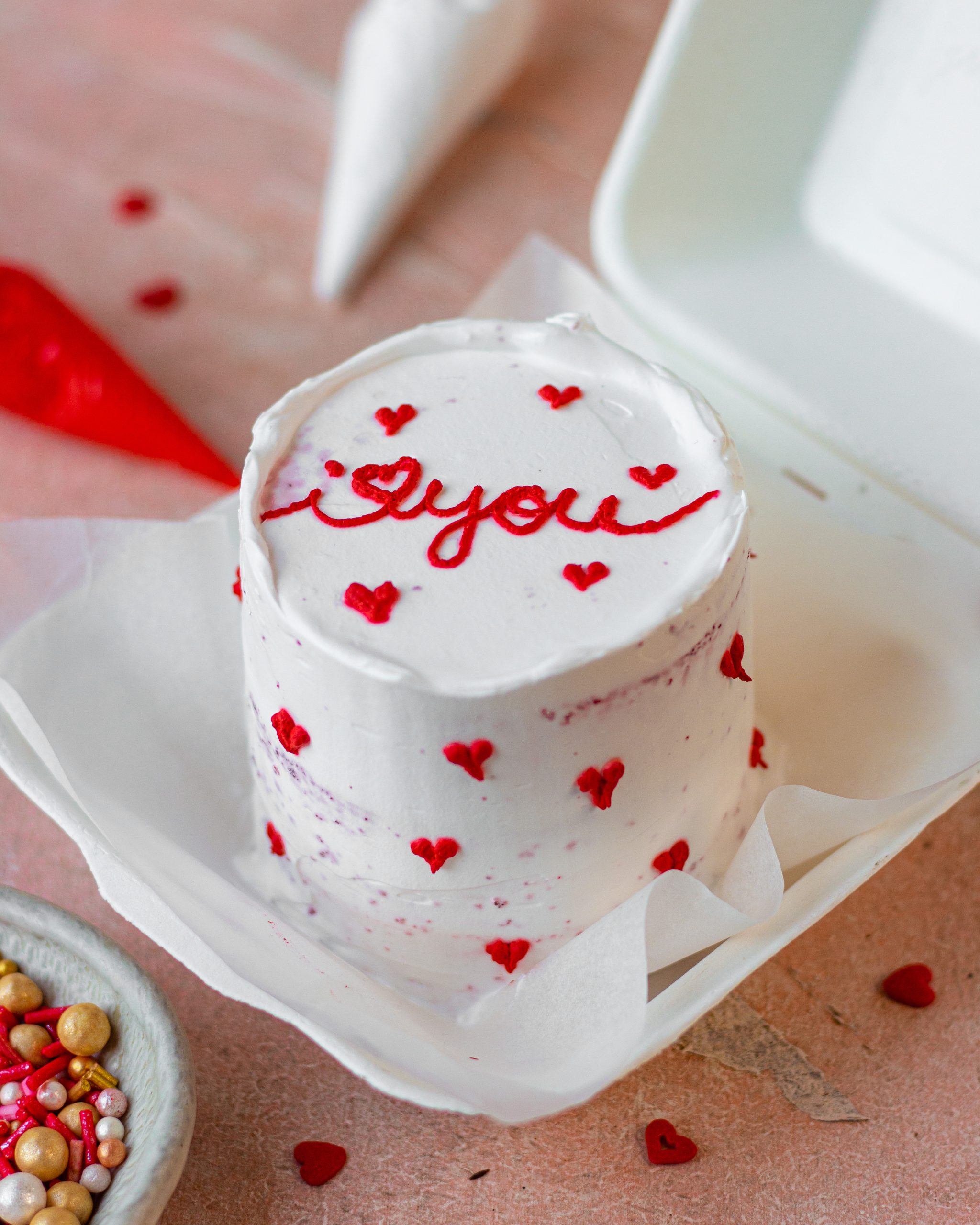 OTHER RED VELVET RECIPES ON THE BLOG
EGGLESS RED VELVET BENTO CAKE
Ingredients
½ cup (113gm) castor sugar
¼ cup (60gm) vegetable oil
½ cup (113ml) buttermilk
1 tsp (5ml) vanilla extract
1 tsp (5ml) lemon juice
2 tbsp (36gm) yogurt
3-4 drops red food colour
¾ cup (90gm) maida
1 tbsp (7gm) cocoa powder
½ tsp (3gm) baking soda
Buttercream to frost
Instructions
Preheat the oven at 180C and line an 8inch square or rectangular tray with parchment paper.
In a large bowl add the sugar and vegetable oil and beat well until pale.
Add the buttermilk, vanilla extract, lemon juice, yogurt and mix well.
Add red food colour to this.
Sift in the flour, cocoa powder and the baking soda and mix until everything is well combined.
Transfer the batter into the prepared tray.
Bake For 15-20 minutes or until a skewer inserted comes out clean.
Once the cake has cooled down completely, using a 3 inch circular ring cut 3 layers for the cake.
Frost and assemble the cake with your choice of frosting. I have linked various frosting options in the article above.
Once frosted, decorate the eggless red velvet bento cake however you like. I did some cute typography using whipped cream and kept the cake minimalistic.
If you like my eggless red velvet bento cake recipe and happen to make it in your kitchen, do tag me on 
Instagram
 and share pictures with me using #Bakewithshivesh. Happy Baking!