Trends come and go and I am someone who loves to try them and experiment with them! Though bento cakes came in last year, I am so happy that I finally tried them. Those who don't know, bento cakes or lunch-box cakes are minimalist, mini cakes. They are super cute and perfect for one or two serving. A perfect reason to make a tiny cake which you can eat all by yourself, that too guilt-free!
It is also perfect for Valentine's Day, where you can definitely make it for your loved one. I have experimented with two flavors of bento cakes here and as I love chocolate, I am sharing my recipe for chocolate banana nutella bento cake and chocolate bento cake with strawberry preserve!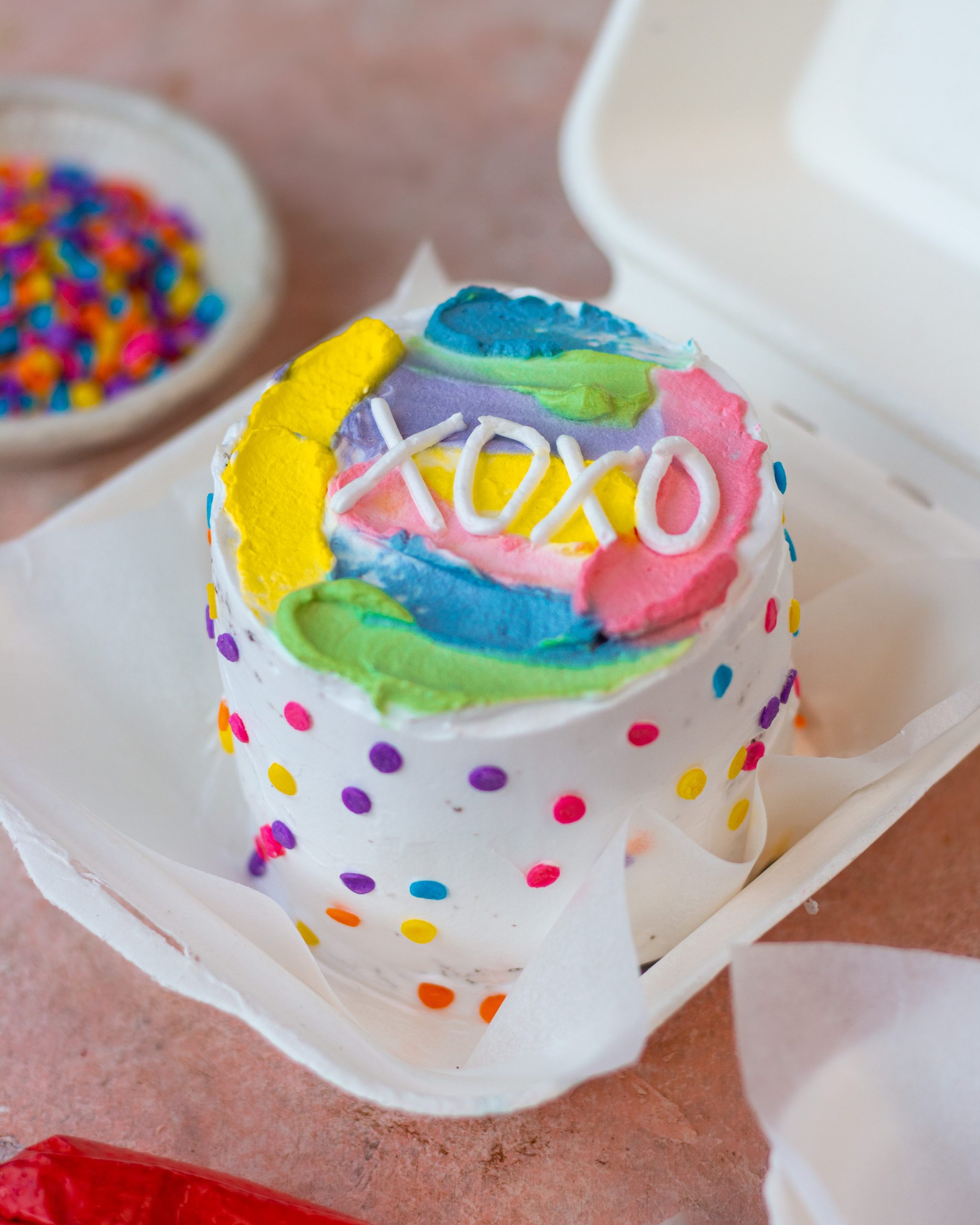 Ingredients used in eggless bento cakes
For the cake base for both the bento cakes, I have used eggless chocolate sponge which is super moist and nice. It has all-purpose flour, baking soda, baking powder, caster sugar and cocoa powder as dry ingredients. If you want you can also substitute 50% of all-purpose flour with whole wheat flour. I have used unsweetened cocoa powder here by Cadbury, you can use the same too as it is available almost everywhere easily!
The wet ingredients for this recipe are, refined oil, greek yogurt, vanilla extract and buttermilk. You can use any flavorless oil, and for the yogurt I have used home-made yogurt but it is quite thick. Make sure you use yogurt without water. I always tell everyone to invest in good quality vanilla extract; I use sprig's vanilla extract which is really good. For the buttermilk, in ½ cup of milk 1 teaspoon of vinegar is added and kept aside to curdle. Make sure your milk is warm, as it helps to make good buttermilk.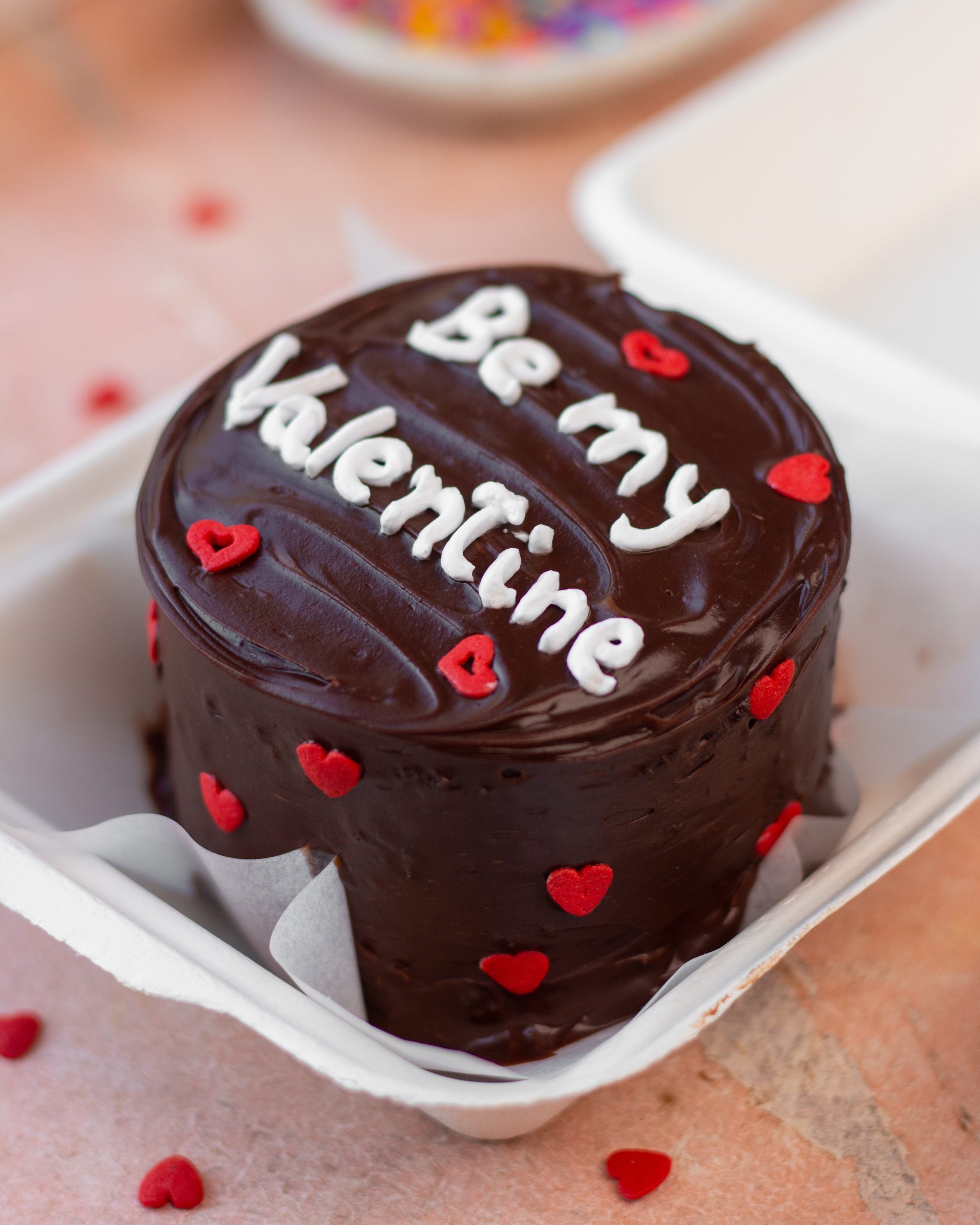 Chocolate banana nutella bento cake
For this flavor of bento cake, I have simply frosted my cake with store-bought ganache but you can obviously make it yourself here. In between layers I have added thinly sliced bananas and a good drizzle of nutella! Well because who doesn't love nutella?
Chocolate and strawberry preserve bento cake
For this flavor of bento cake, I have used the same eggless chocolate sponge and added store-bought strawberry preserve in between layers. Strawberry and chocolate is a great love story itself and is an even more perfect flavor for Valentine's Day!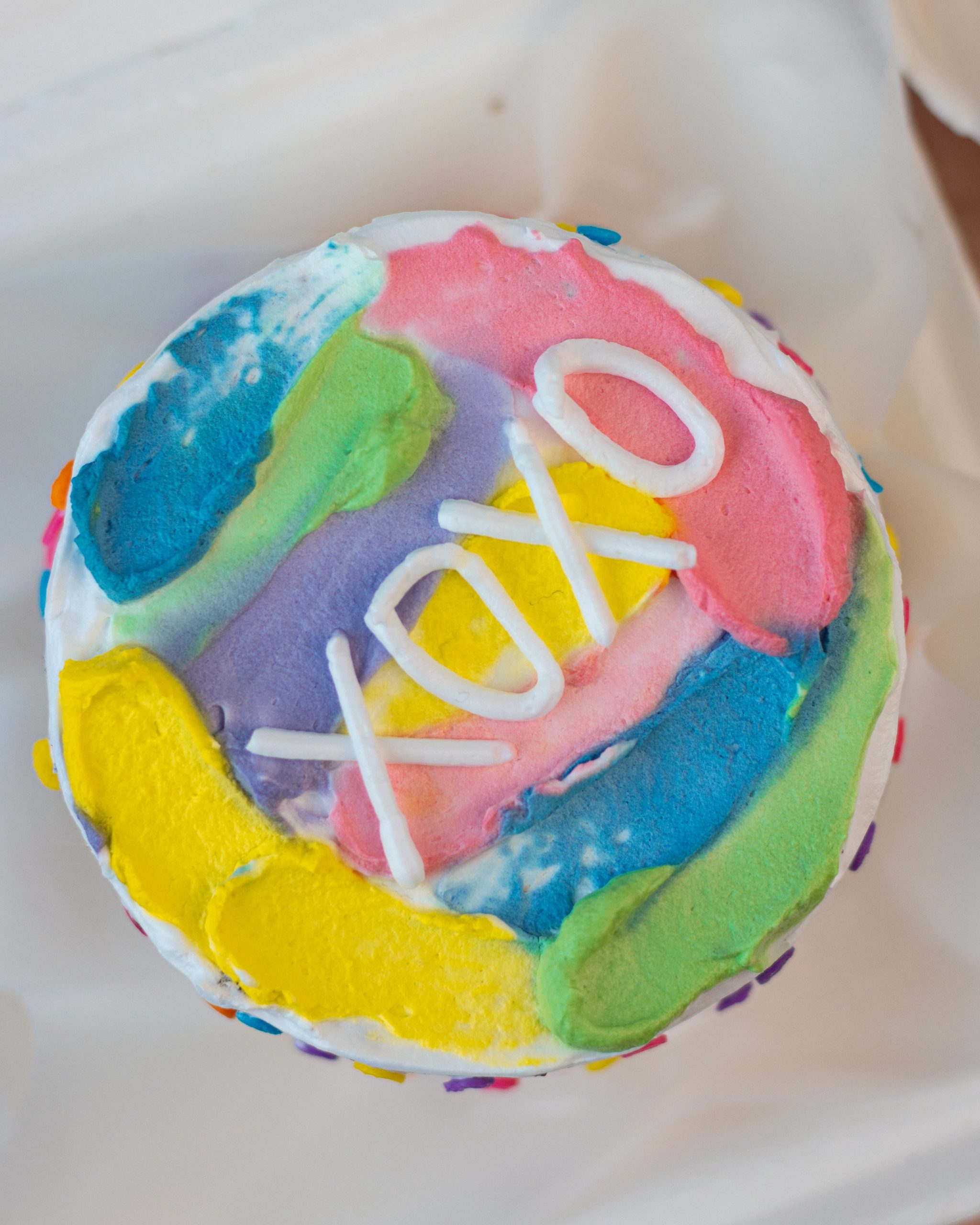 Assembling eggless bento cakes
To make bento cakes, the chocolate batter is simply poured in a baking tray or a 8×8 inch square pan to make a sheet cake as we don't want the thickness more than 2 inches. Also, we need a 3 inch cookie cutter to cut circles and our layers for the bento cakes. For each bento cake, we will need 3 layers. After each layer there will be a layer of frosting. This recipe will make 2 thin sheets which will make two bento cakes. I know there will be leftover sides after taking out the circular layers and with it you can always make a pudding or cake pops! So don't worry, nothing will go to waste, I promise!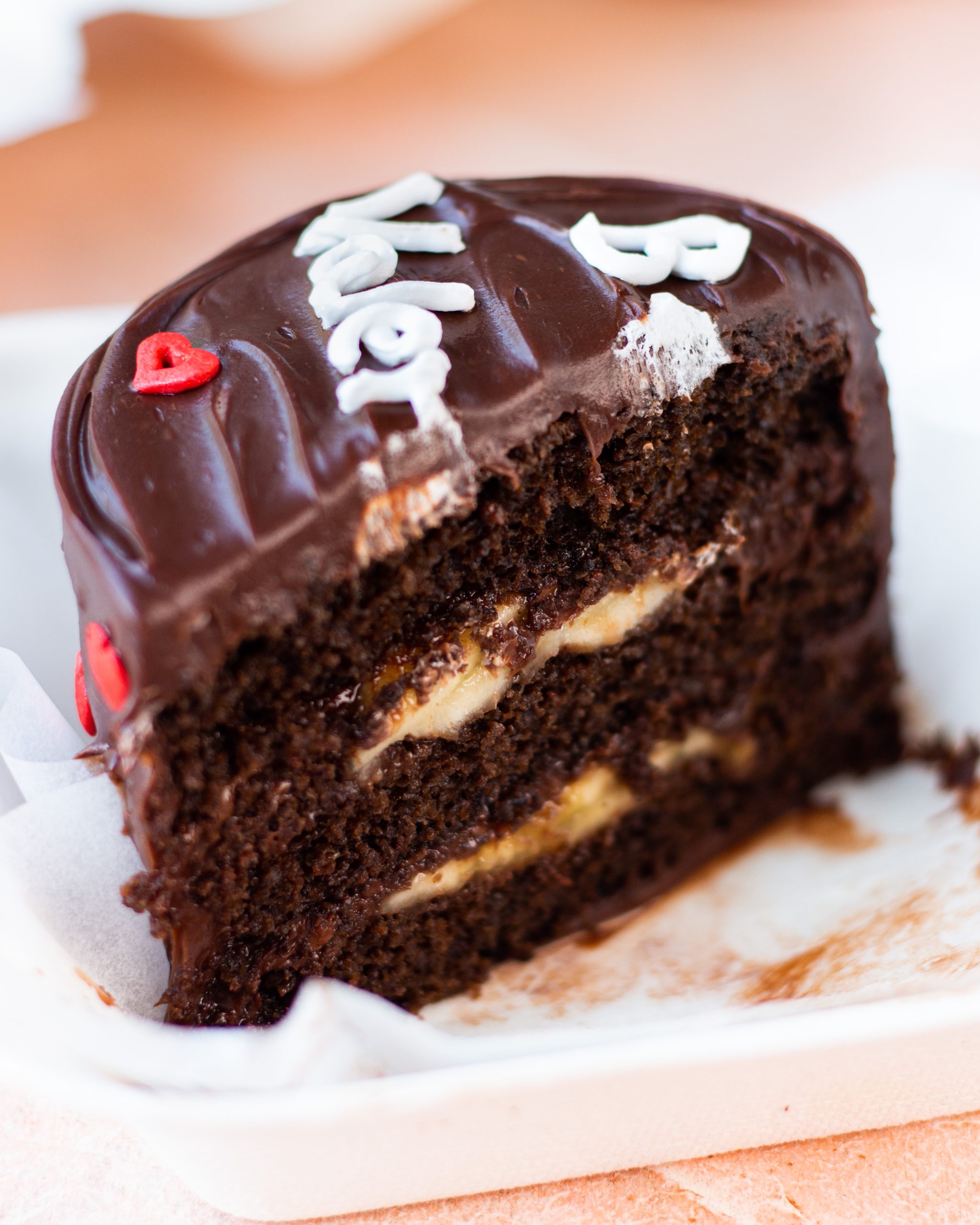 Tips for making the best bento cakes
Make sure you measure all your ingredients carefully and level them up while measuring them from cups.
Use gel food colors for frosting and for decorating the top of the cake by the frostings.
Mix your cake batter, just till all the ingredients are combined together. This will ensure a moist and tender cake.
As it is a very tiny cake, to avoid wastage; when you are making different colors of frosting to decorate your cake make sure to take less quantities of it.
Use a toothpick to engrave your design or message on the cake. This helps ensure your letters are centered and evenly spaced.
It is better to keep the layers in the fridge for at least 20 minutes before starting the assembling process as then the cake is more stable and easy to get frosted.
After the cake is frosted and you transfer the cake onto the butter paper, be as careful as you can be and cut the butter paper evenly from all the four sides as while putting the cake with the butter paper in the lunch-box, if the butter paper has long sides it can ruin the cake from the sides.
After the sheet cakes are ready, while cutting the round layers by the cookie cutter; clean the cookie cutter every time before cutting the next layer as it helps with the shape and less crumb fall.
Make sure the cake layers and the cream layering of the bento cake is not very thick as then when the cake will be placed in the lunch-box, the lid will not be able to close.
There are endless options and endless flavors you can experiment with, once you get the gist of bento cakes. All the flavors we make for the big layered cakes can be made with bento cakes too!
If you liked these recipes for bento cakes, then do check out my red velvet bento cake recipe.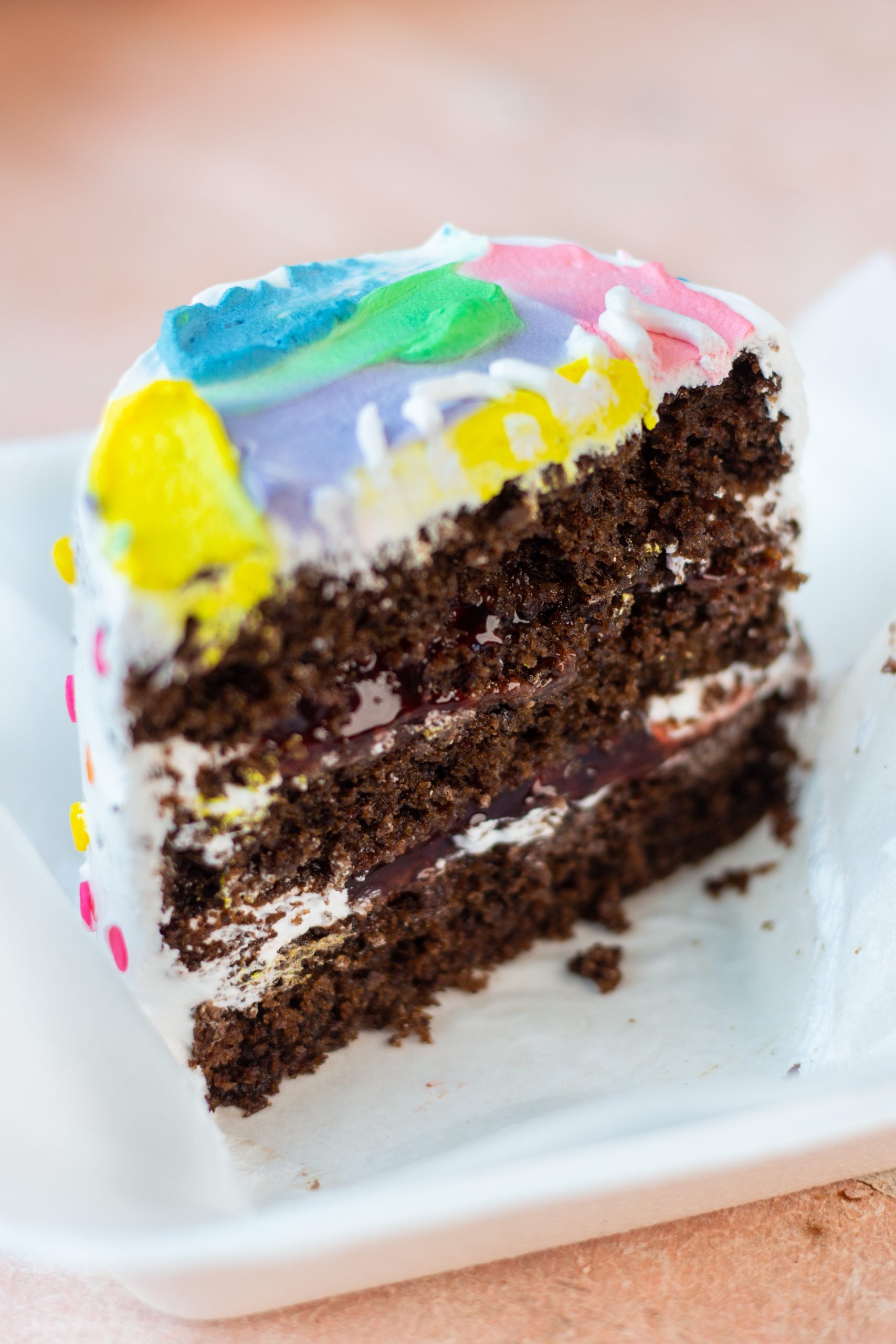 Eggless bento cakes recipe
Eggless Bento Cakes
Ingredients
For the eggless chocolate cake
¾ cup all-purpose flour
⅓ cup cocoa powder
¼ tsp baking soda
½ tsp baking powder
⅓ cup oil
¾ cup caster sugar
½ cup yogurt
¼ cup warm milk
½ tsp white vinegar
For layering of chocolate banana nutella bento cake
½ thinly sliced banana
Nutella
Chocolate ganache
For layering of chocolate strawberry bento cake
Strawberry preserve
Whipped cream
Instructions
Pre-heat the oven to 180 degrees celsius. Line two 8x8 inch square pans with parchment paper and set aside.
In a bowl whisk together cocoa, all-purpose flour, caster sugar, baking soda and baking powder.Into this, add oil and yogurt and give it a good mix.
Add vanilla extract and give it a mix.
Add the buttermilk and give it a final mix till all the ingredients are well incorporated.
Pour the batter into the two lined pans.
Bake the sheet cakes at 180*C for 15-20 minutes or until the skewer inserted comes out clean.
Once the sheet cakes are ready, allow them to cool completely.
Take a 3 inch round cookie cutter and cut 6 circles.
For assembling the chocolate banana bento cake, place a square butter paper on the turn table and place a layer of cake on it.
Pipe the chocolate ganache on the outer circumference of the round cake layer. In the middle, add the banana slices and drizzle with nutella.
Repeat this process again with the second layer of the cake.
Once all the layers are stacked, frost the cake with ganache and garnish with sprinkles.
Hold the butter paper from both the sides and carefully keep the cake in the lunch-box.
For assembling the chocolate strawberry cake, place a square piece of butter paper on the turn
table and one layer of the cake on it.
Pipe the whipped cream around the circumference of the round layer and put one spoon of strawberry preserve in the center.
Repeat this process for another layer.
Frost the cake with whipped cream and decorate it as you like.
By holding the sides of the butter paper, carefully place the cake in the lunch-box and enjoy!
If you liked these recipes and happen to make them in your kitchen, do tag me on 
Instagram
 and share pictures with me using #Bakewithshivesh. Happy Baking!