Valentine's Day is all about sharing little acts of kindness and warmth with the ones you love – be it a special someone, family, friends or even just you. Nothing beats celebrating special occasions with good desserts and it's my life's agenda to bring such incredible desserts to you for every such celebration!
If you've been here with me for a while, you know that I absolutely love playing around with chocolate. And what better way to celebrate Valentines Day than by making a Death By Chocolate Cake. It's a super soft and delicious chocolate cake with an intense salted caramel ganache frosting which I know you love so, let's get started.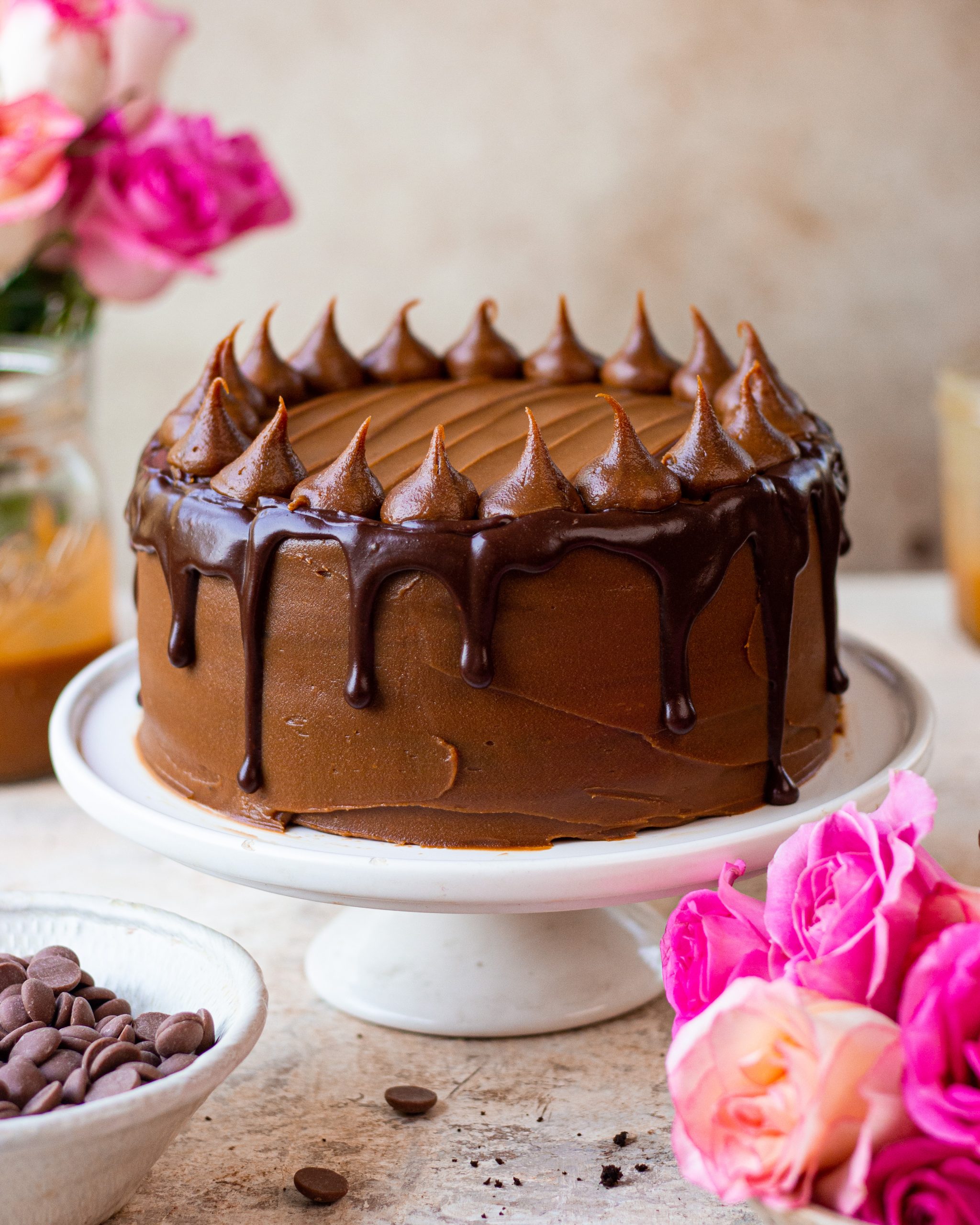 Elements of Death by Chocolate Cake
This is the chocolate cake of my dreams and though making a layered cake may seem complicated, this recipe is quite easy! It has four elements needed to bring the cake together so let's talk about those –
Eggless Chocolate Sponge: Chocolate cake is such a crowd pleaser, no matter how you make it! This is why I've made sooo many chocolate cakes in my last few years of baking, my back to basics chocolate cake being my absolute favorite. But the recipe for the eggless chocolate cake that I'm sharing today is extra special as the chocolate cake sponge needs the most minimal ingredients – no curd, no condensed milk! But just using a simple buttermilk, you can get a chocolate cake sponge that is super soft, fluffy and all things delicious!
Salted Caramel Chocolate Ganache: To frost my death by chocolate cake, I made a salted caramel chocolate ganache which is a very interesting twist on your regular chocolate ganache. It's intense, slightly salty and chocolatey at the same time, making it the perfect companion to your valentine's indulgence! If you are feeling lazy and don't want to make a salted caramel, you can easily frost this cake with a normal chocolate ganache or a whipped chocolate ganache. Both work equally well with this chocolate cake! But I will always push you to expand your horizons and go the extra mile – so go make my salted caramel chocolate ganache and frost your cake with it. Trust me, you'll be thankful that you did!
Coffee syrup: Making a coffee syrup for layering the death by chocolate cake is my take on making this cake extra rich and flavorful. Coffee doesn't add a bitter taste of its own, but brings out the best notes of chocolate when used correctly! It also makes sure that your sponge soaks some liquid and becomes soft before you cut into it! You can also make a simple sugar syrup if that's more your gig.
Chocolate glaze: When it comes to assembling the death by chocolate cake, making this chocolate glaze and creating the beautiful drips was definitely the highlight of the whole process! It was soothing to watch the drips go down and more so, it adds an extra layer of chocolate to the recipe – making it true to its name. Death by Chocolate, haha!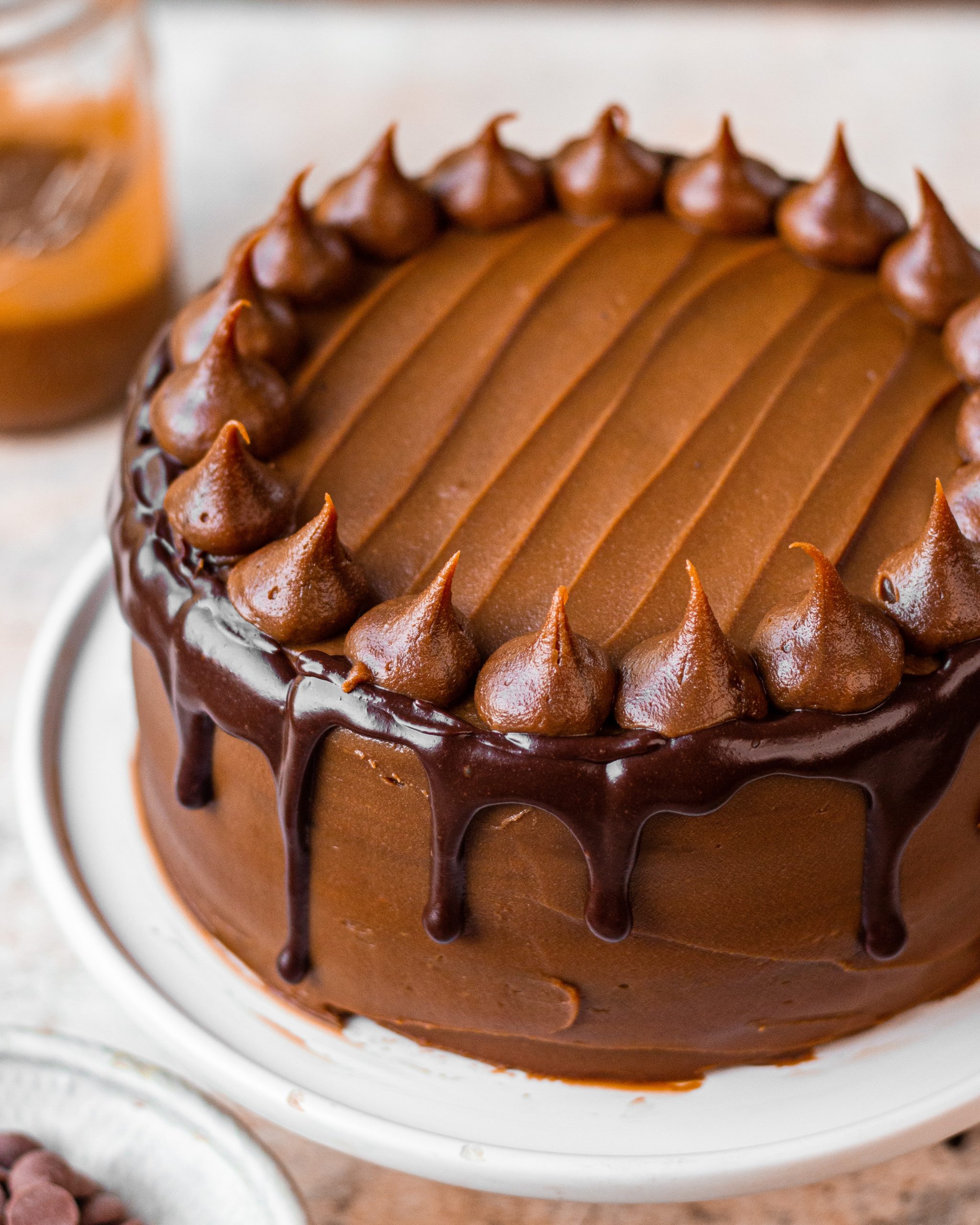 Ingredients & Equipment used in making Death by Chocolate Cake
To make this delicious death by chocolate cake at home, you need a couple of ingredients. For the sponge, I use maida / all-purpose flour to make this cake. I recommend using castor sugar instead of granulated sugar because granulated sugar does not melt completely in the oven when baking the sponge. For this eggless cake, you also need vegetable oil. You can also use olive oil. Do not use any strong tasting and smelling oil like mustard oil. If you want to make this cake with butter, you can replace oil with equal quantity of softened butter. As simple as that! This is truly a very easy to bake chocolate cake. Using a good quality cocoa powder is very important. I personally really like using Hershey's but you can use any good dark cocoa powder. Good quality mixing bowls, a sieve and a whisk is pretty much all you need for baking this chocolate sponge.
For the salted caramel chocolate ganache, I use simple pantry ingredients like sugar, salted butter, fresh cream and Callebaut milk chocolate! It's so surprising to me that a bunch of such easily available ingredients can make such a good frosting, so you have to try it for yourself. I make my salted caramel on an induction, but you can make yours on a stove as well.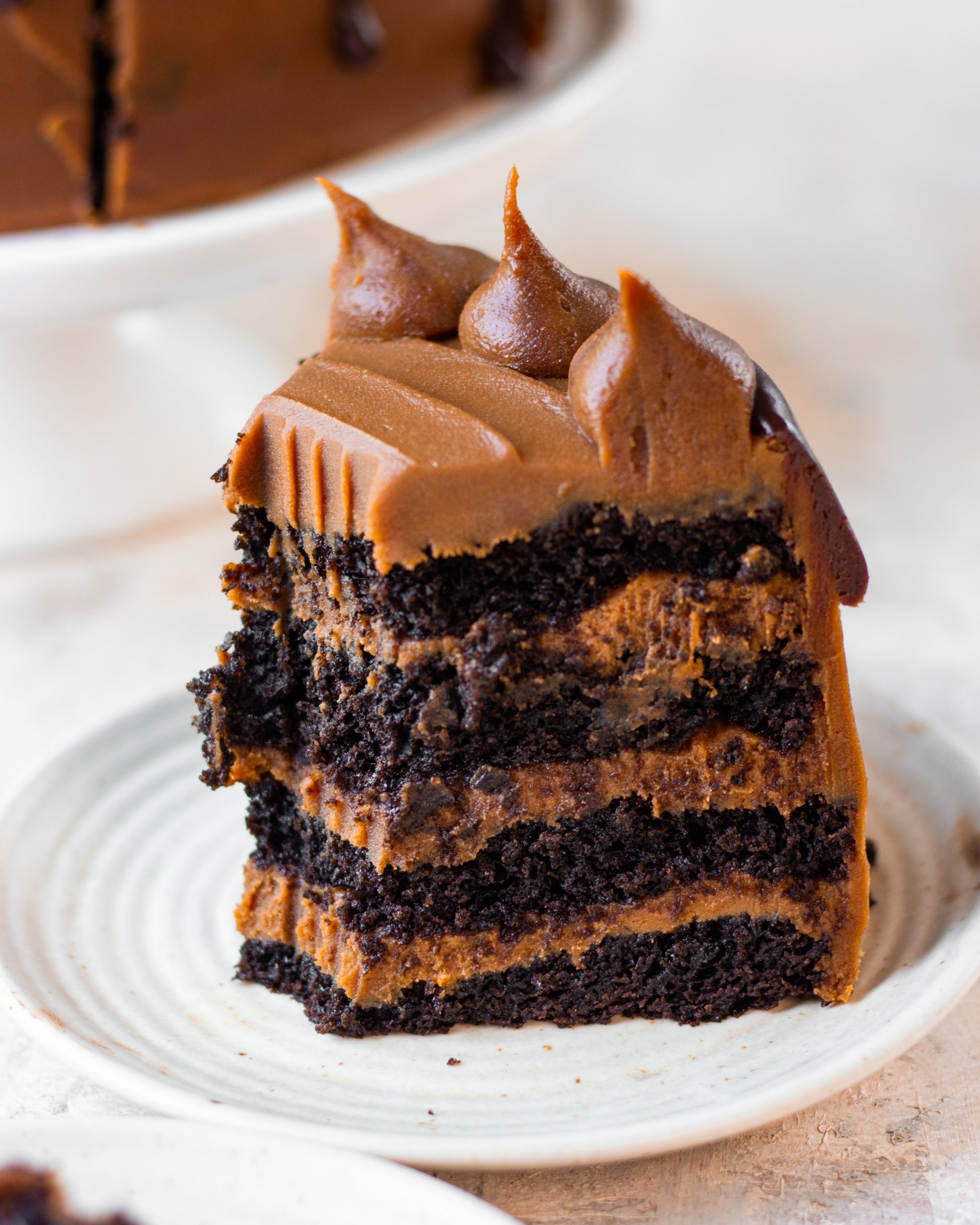 Baking tips for Death by Chocolate Cake
Before making this eggless death by chocolate cake, make sure you line your baking tin with parchment paper. If you don't have parchment paper, you can brush the pan generously with melted butter/ oil.
Make sure all your ingredients, including milk, are at room temperature. This is important because room temperature ingredients emulsify better.
While combining dry and wet ingredients, be sure to NOT over-mix. By over-mixing, you will knock out all the air and land up with a dense cake. Simply use an offset spatula and gently fold the dry ingredients into the wet ingredients.
I add vinegar to the milk before adding it to the batter because it makes the cake softer but if you don't have white vinegar, you can skip that and add lemon juice.
Let the cake cool completely before you start frosting it.
Salted caramel is a slightly finicky game to play so make sure you are careful with using the right type of sugar and only use warm cream for making it.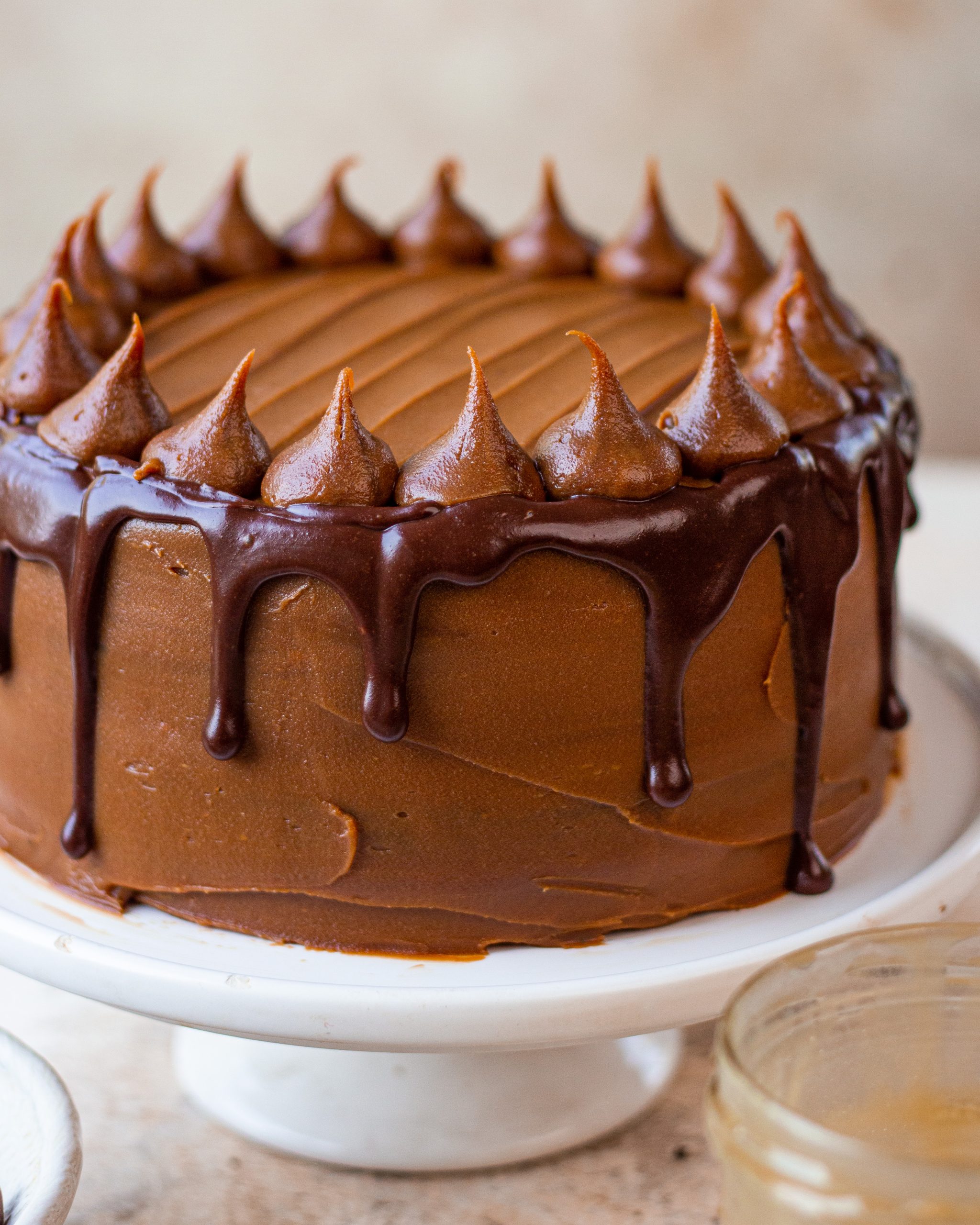 Assembling the Death by Chocolate Cake
To assemble the cake, the first thing you need to do is make sure your cake layers have baked and cooled completely. Your ganache should be chilled and ready to be added in between layers. Your coffee syrup and chocolate glaze should also be prepared beforehand.
Place one layer on your cake base/serving plate. Brush generously with the coffee syrup and pipe the salted caramel chocolate ganache on the edge of the cake, making a well in the center. Use an ice cream scoop to add a scoop of the ganache in the middle.
Use your offset spatula to spread the scooped ganache across the cake layer evenly. Repeat with as many layers of cake you have.
Once you have stacked the layers, spread some more ganache on the top layer. Cover the entire cake with the frosting using your offset spatula.
For final touches, pipe the chocolate glaze to form drips covering the sides of the cake.
Garnish with dollops of salted caramel chocolate ganache and serve.
I have been having a lot of fun sharing elaborate cake recipes with all of you. I am covering all the flavors that I love and ones that are always a crowd pleaser. You will find lots of options on the website!
Disclaimer: All product links are affiliate links.

Other Valentine's Recipes on the blog
Make these other incredible recipes for your loved ones this Valentine's Day –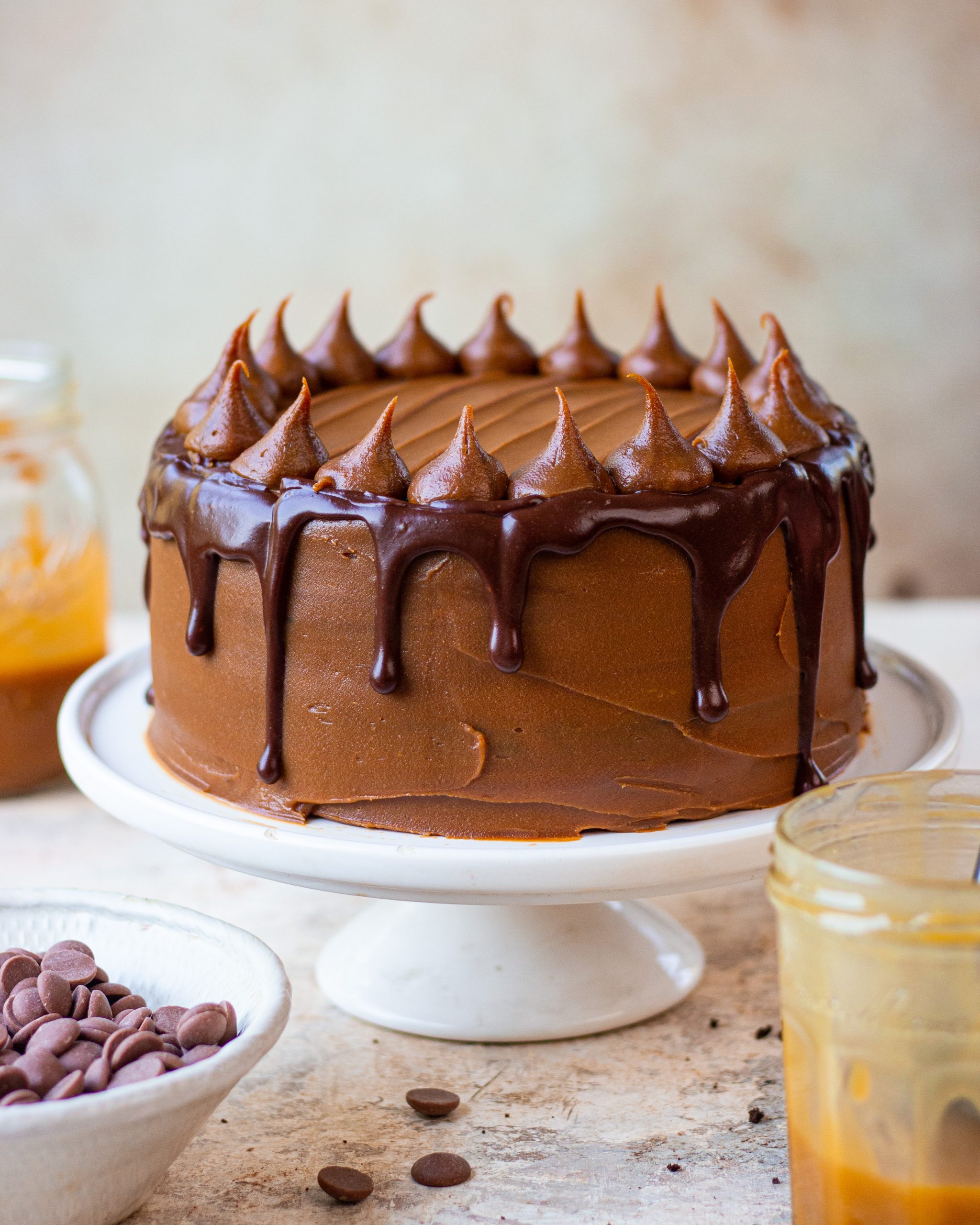 Death by Chocolate Cake Recipe
Death by Chocolate Cake
Ingredients
For Eggless chocolate cake
1 cup milk
1+ ½ teaspoons vinegar
1+ ½ cup caster sugar
¾ cup vegetable oil
1+½ cup all-purpose flour
¾ cup cocoa powder
1 teaspoon baking powder
½ teaspoon baking soda
For Salted Caramel Chocolate Ganache
1 cup caster sugar
½ cup salted butter
1+ ¾ cup fresh cream
1 cup milk chocolate
For Coffee Syrup
1 tsp coffee powder
½ cup sugar
¾ cup water
For Chocolate Drips
¼ cup dark chocolate
¼ cup fresh cream
Instructions
Pre-heat the oven to 180 degrees celsius. Grease two 6 inch round baking pans with oil and line them with parchment paper.
In a bowl, mix together milk and vinegar using a spoon and set it aside for 5 minutes to curdle. This is your buttermilk.
Whisk together cocoa powder, all-purpose flour, salt, baking soda and baking powder in a bowl.
In a separate bowl, beat together oil and sugar until the mixture is pale and light.
Add the flour mixture to the wet ingredients alternating with the buttermilk, starting and ending with flour mixture. Mix only until well combined. Don't over mix.
Transfer batter into prepared cake pans and bake at 180C for 20-25 minutes.
For the salted caramel chocolate ganache, make the caramel. In a saucepan over low heat, add in granulated sugar.
Let the sugar melt and caramelize without increasing the heat. You will see it turn into a beautiful light golden color.
Add in the cubed butter and use a wooden spoon to mix it in.
Next add in warm fresh cream. Be careful, the caramel will sizzle when you add cream. Use the wooden spoon to combine everything and lightly keep stirring till the mixture becomes slightly thick.
Pour the salted caramel over milk chocolate. Let it sit for 20 seconds and then use a spatula to combine the chocolate and cream till you reach a lump free and smooth consistency.
Put the ganache in the freezer for at least four hours.
To assemble the cake, place one layer on your serving base and pipe the salted caramel chocolate ganache on the edge of the cake, making a well in the center. Take an ice cream scoop and add a scoop of the ganache in the middle.
Use your offset spatula to spread the scooped ganache across the cake layer evenly.
Place the second cake layer on top and repeat the process for all the layers. Cover the entire cake with the ganache.
Pipe chocolate drips covering the side of the cake and garnish with dollops of salted caramel chocolate ganache. Refrigerate for 1 hour before serving. Enjoy!
If you like this recipe, don't forget to share pictures with me on Instagram
@shivesh17.
Happy Baking!