If you are looking for an easy-peasy, no-bake cheesecake with a deliciously creamy filling and a crumbly biscuit base, look no further! This recipe is such a winner. This no-bake cheesecake is a classic with a simple biscuit base made with crushed Oreos, topped with a light and fluffy white chocolate filling and finished with freshly whipped cream and some Oreo biscuits. Let's discuss the ingredients in details followed by the process.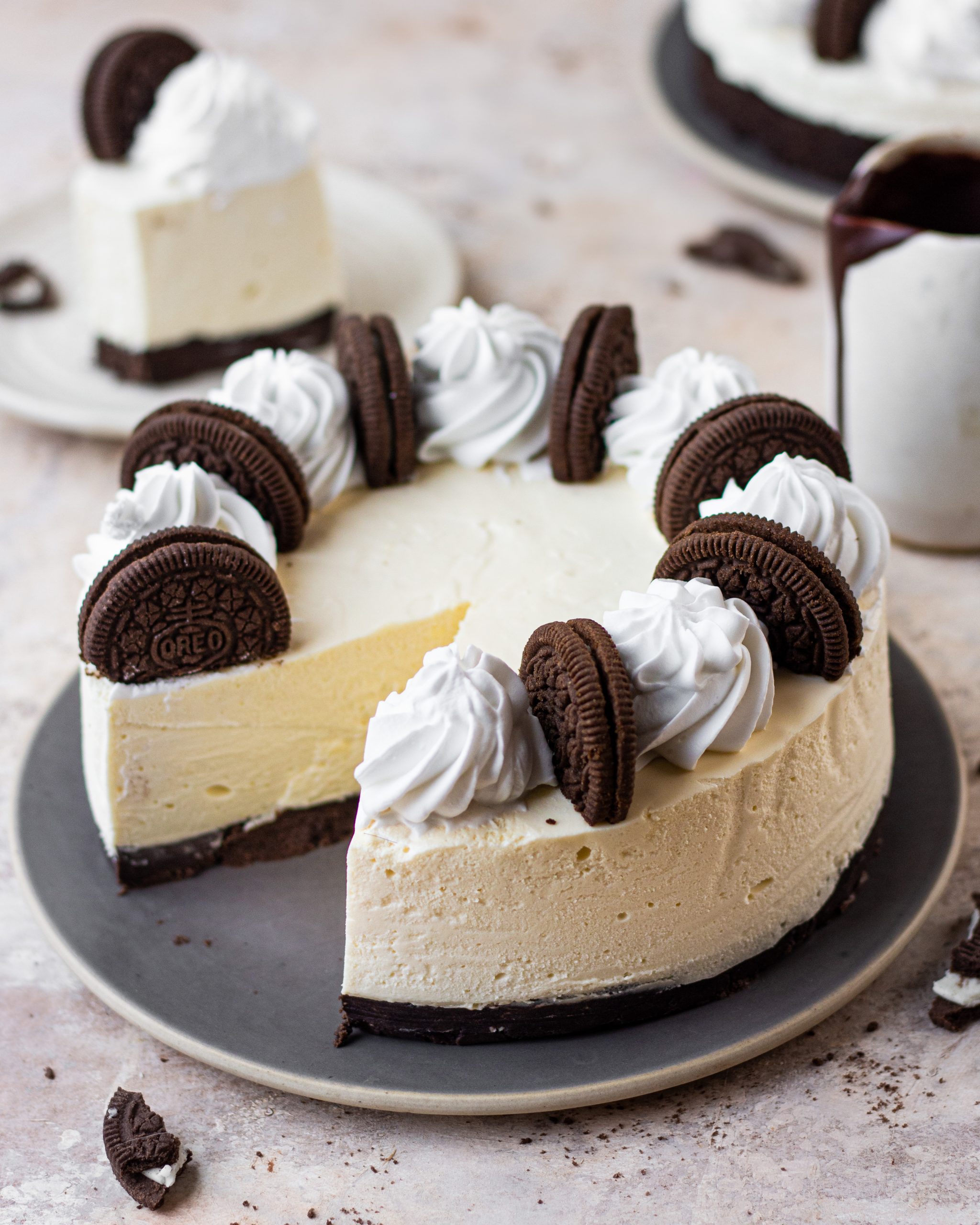 INGREDIENTS USED IN NO-BAKE CHEESECAKE
OREO BISCUITS
For the crumbly biscuit base for this no-bake cheesecake, I have used Oreo biscuits. Feel free to replace it with any other chocolate biscuit or even glucose biscuits, any of them works perfectly. Digestive biscuits, ParleG and even Marie Gold biscuits can be used instead of Oreos. I have removed the sandwiched cream before using Oreos, you can keep them if you like.
BUTTER
I have used salted butter for this no-bake cheesecake. Feel free to use unsalted if that's what you have in hand. Make sure you add a pinch of salt in case you are using unsalted butter. You will need to melt the butter before combining it with crushed Oreo biscuits.
HEAVY CREAM
To bring that richness and fluffiness in this no-bake cheesecake, I have used heavy cream. The brands that I trust for heavy cream are Tropolite and Rich. These are soy based, non-dairy heavy cream and are a permanent part of my kitchen.
WHITE CHOCOLATE
I have used Callebeaut white chocolate in this no-bake cheesecake. Feel free to use any other, good quality coverture white chocolate. You can also swap white chocolate with milk or dark chocolate and make another variation of the no-bake cheesecake.
CREAM CHEESE
For cream cheese, Dlecta or Philadelphia are some of the good brands. You can even use Britannia's cream cheese if the other two aren't available near you. All of them works well in this no-bake cheesecake.
ICING SUGAR
I have used this icing sugar in the no-bake cheesecake, but incase you are unable to get your hands on it, you can use a combination of powdered sugar and corn flour in place of icing sugar. For each cup of icing sugar, you will need equal quantity of powdered sugar and one and a half tablespoon of corn flour.
VANILLA EXTRACT
Using the best kind of vanilla has always made all the difference in any dessert. Please avoid using vanilla essence as it is not real but synthetic and chemically made vanilla flavour. Make sure you use good quality vanilla extract or bean for this no-bake cheesecake. I recommend this one.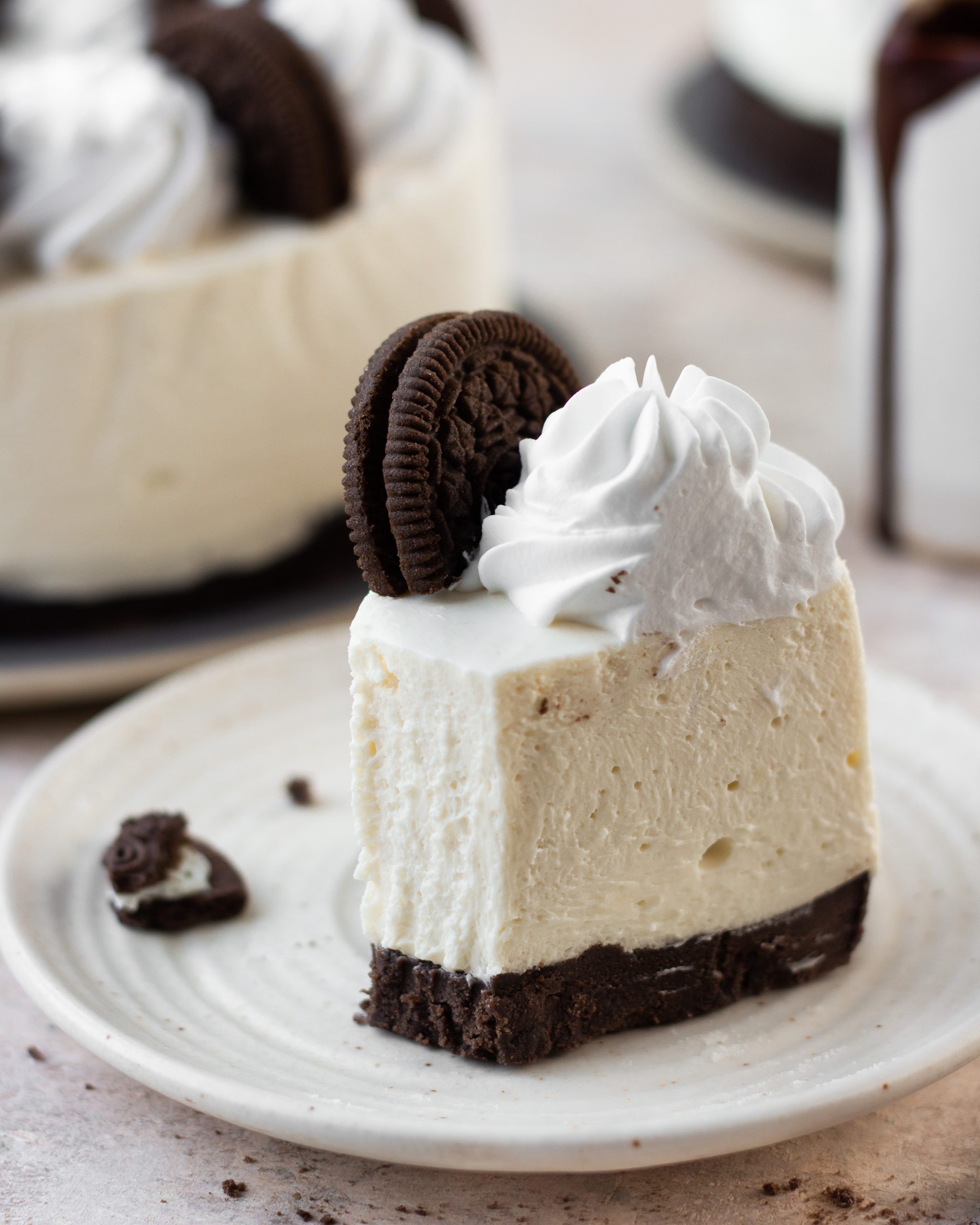 PROCEDURE FOR NO-BAKE CHEESECAKE
To make this no-bake cheesecake, we'll start by removing the cream from Oreo biscuits and crushing them until we get a powder form. We'll combine this with melted butter and that's our crumbly base for the no-bake cheesecake. For the filling, we'll start with some softened cream cheese in a large bowl and add sifted icing sugar to this. Once combined well, we will go ahead and add whipped heavy cream followed by cooled down melted white chocolate and vanilla extract.
It's very important that your melted white chocolate has come to room temperature before you add it in your batter, otherwise the batter can split. Once everything is well combined, we will transfer it to our pan with the crumbly base and let it set in the fridge for atleast 8 hours or overnight.
Finish it however you like, I used some freshly whipped cream and Oreo biscuits. You can also top it with white chocolate ganache or dark chocolate ganache. If you like, you can also make the base with any glucose biscuit and top it with fresh berries or any other fruit that's in the season. This no-bake cheesecake recipe is a classic, make it yours however you like!
And if you try this recipe and like it, do try other cheesecake recipes from the blog. I am sure you are going to love them too!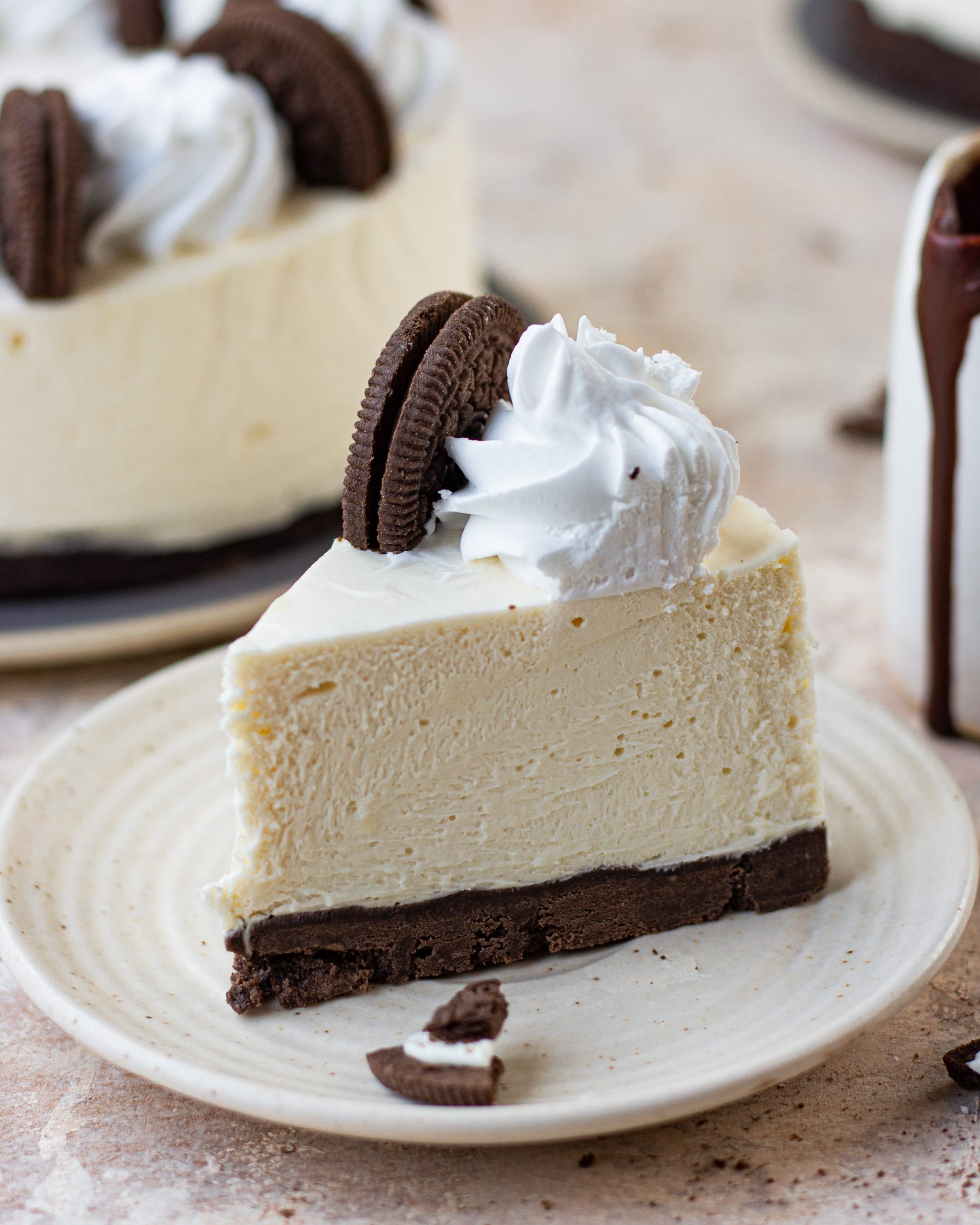 OTHER CHEESECAKE RECIPES FROM THE BLOG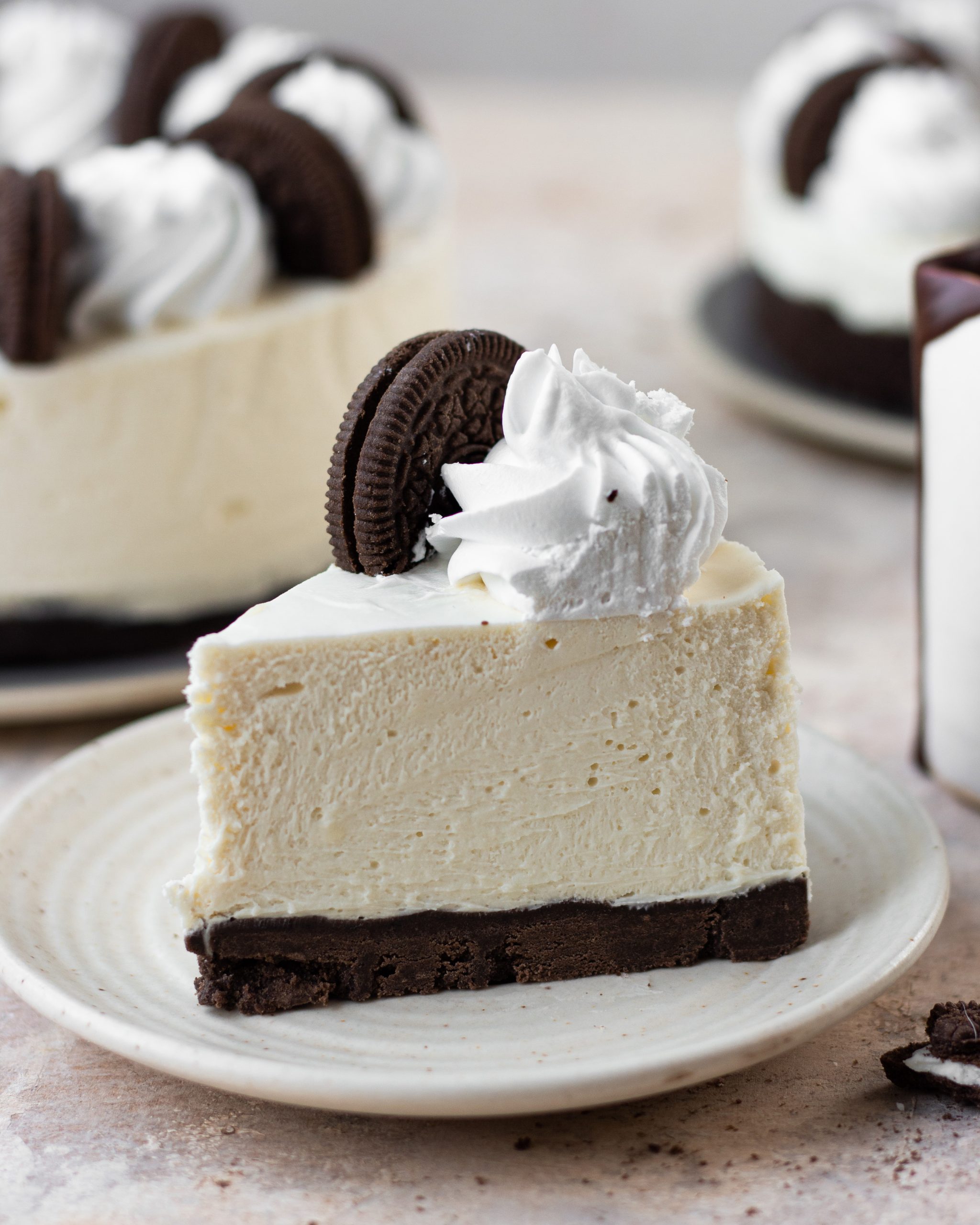 NO-BAKE CHEESECAKE
Ingredients
For Base
½ cup butter
26 Oreo biscuits
For Filling
1 + ½ cup whipping cream
1 cup white chocolate
2 cups cream cheese
½ cup icing sugar
1 tsp vanilla extract
Instructions
For the base, in a food process add the Oreo biscuits and process them until fully crushed. Transfer to a large bowl. Add melted butter and combine using a spatula.
Transfer the biscuit crumbs into a 6' inch springform pan and press down evenly. Set it in the fridge for 10-15 minutes.
For the filling, start with softened cream cheese in a medium sized bowl.
Whip it until there are no lumps.
Add sifted icing sugar and whip again.
In a large mixing bowl, whip heavy cream until soft peaks.
Mix in cream cheese mixture to this.
Add your cooled melted white chocolate and vanilla extract to the bowl.
Mix until everything is well combined and you see no lumps.
Transfer the batter in the pan with biscuit base and let it set in the fridge for atleast 8 hours.
Once set, finish it with some freshly whipped cream and more Oreo biscuits.
If you like my no-bake cheesecake recipe and happen to make it in your kitchen, do tag me on 
Instagram
 and share pictures with me using #Bakewithshivesh. Happy Baking!