God knows I love this pecan bundt cake like anything! Super soft and moist and with the best ever glaze- this cake is beautiful and absolutely delicious! There has been a slight summery freshness in the air the past week – just the faintest whisperings of spring – so naturally, I found myself in the kitchen baking this gorgeous pecan bundt cake.
Contrary to popular opinion, Bundt cakes are easy. They're also popular and for good reason. Something about their moist, soft, sweet flavor just leaves you wanting seconds every time! You will not be able to get enough of this delicious Pecan Bundt Cake. Bundt cakes, in general, are towards the top on my list of favorite desserts. How could they not be? They are just too good to ever pass up! The taste is only half of it with bundt cake recipes! You will not believe how simple and easy these recipes are to make. Nothing is better than a recipe that takes hardly any time to throw together, yet it still tastes absolutely and undeniably incredible!
I take bundt cakes with me to all sorts of occasions! I have made these recipes for birthday cakes and for Sunday night dessert! Bundt cakes are amazing because they are a dessert that truly fits for all occasions and celebrations! Especially this Pecan Bundt Cake with the delicious glaze- which is utterly yum and so presentable too!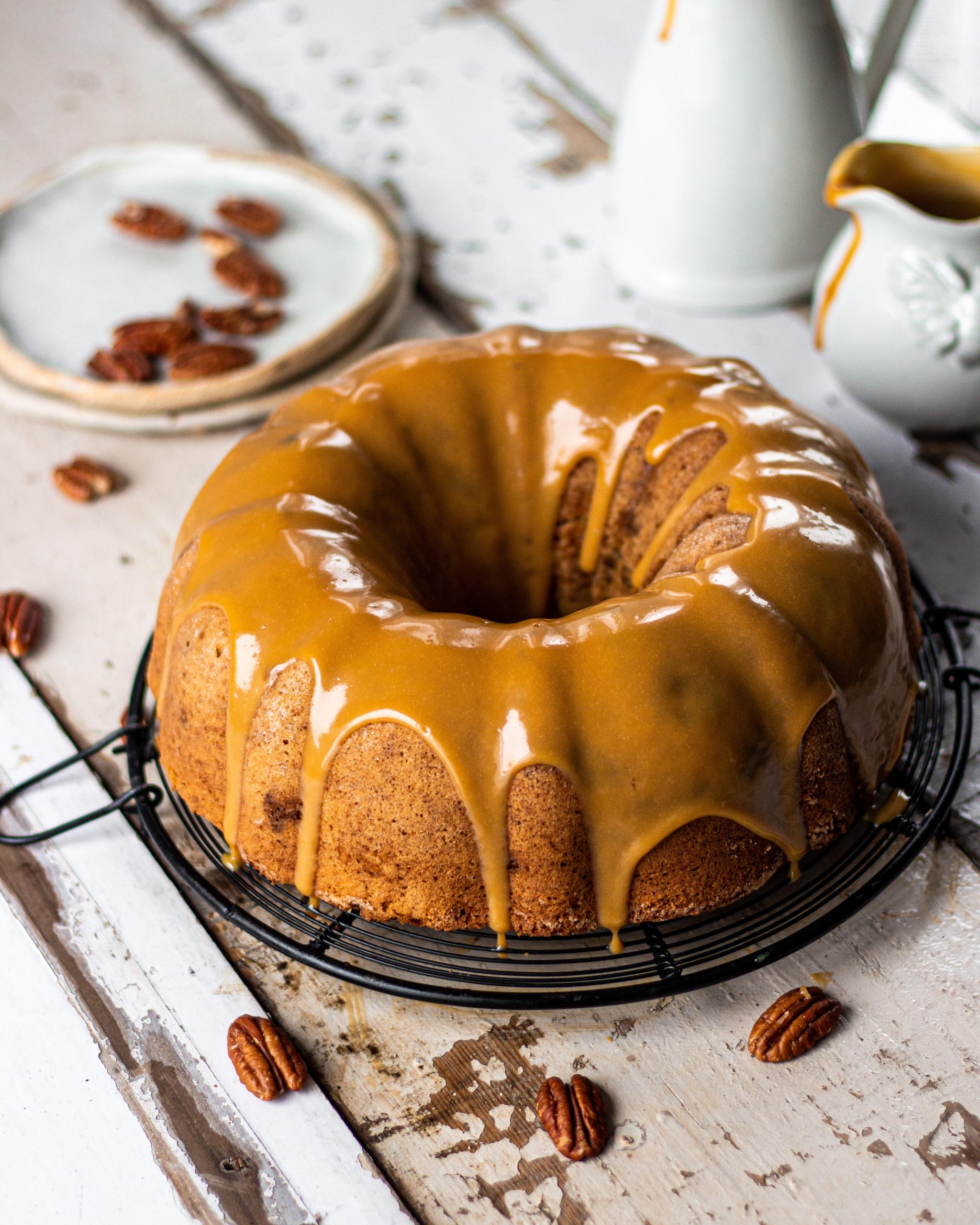 Ingredients of this Pecan Bundt Cake
The ingredients for this pecan bundt cake are very basic. You can easily get all of them in your nearby grocery store. I always say that if you are living in any area where you struggle with ingredients, just order online! Most efficient online stores are Big Basket and Modern Bazaar.
There are some tricks that you can always play around with to get perfect desserts. Like, instead of measuring one cup of butter, two small Amul butter packs get you one cup of butter. Though one can use powdered sugar, it will give you different results than when you use castor sugar. Castor sugar is the best type of sugar while baking desserts. Unlike powdered sugar, which dissolves too easily or unlike granulated sugar, which takes a lot of time to dissolve; castor sugar is the exact balance of these two sugars. All the other ingredients are, like I said, very basic. If you do have any issues with the ingredients, let me know on my Instagram!
Ingredients for the glaze
This three-ingredient glaze is the perfect glaze for this decadent pecan bundt cake. Truly, they are a match made in heaven!
The recipe tells you how to properly caramelize the white chocolate. But, the question arises- which white chocolate to use? I have explained everything about chocolates perfectly. But, just remember that chocolates like your cadbury are basically candy. They can not be used well in baking. A chocolate compound has cocoa powder and vegetable oil. While such composition does make the chocolate affordable, as compared to couverture chocolate, compound is not 'real chocolate'. Thus, for this recipe, please go ahead and purchase a couverture white chocolate. Options are Morde, Callibout, and so on. Golden syrup is also easily available.
Demoulding the pecan bundt cake
Believe me when I tell you I have struggled with bundt pans! I cannot recall how many cakes I have broken while demoulding! The pan I use is very intricate, making the job tougher. The trick, however, is to turn the cake out when it's neither too hot nor too cold. If the cake is too hot, you'll end up breaking it. If the cake's too cold, it won't come out. 
I grease my pan with butter and dust it with flour before pouring in the batter. This step is very important and will determine if your cake will come out, so do it properly! I have also observed that butter cakes come out easily. Cakes with oils as fat lack the structure and tend to break. 
Glazing the cake
While the pecan bundt cake looks absolutely gorgeous as is, making a white chocolate glaze is not much effort and makes it look so much more irresistible! I've made a white chocolate glaze and poured it over the pecan bundt cake.
To make a white chocolate glaze, just caramelize the chocolate, butter, and golden syrup together in a bowl and voila! It's done! 
Pecan Bundt Cake recipe
Pecan Bundt Cake with white chocolate glaze
Ingredients
3 cups maida
2 teaspoon baking powder
1 teaspoon baking soda
1 cup butter
1½ cups caster sugar
4 eggs
2 teaspoons vanilla extract
1 cup milk
1 cup pecans
½ cup butter
1 teaspoon cinnamon powder
3 tablespoons brown sugar
For glaze
1 cup caramelised white chocolate
2 tablespoons butter
2 tablespoons golden syrup
Instructions
Preheat oven to 180C.Prepare a bundt pan by greasing it with butter and dusting with flour.
In a bowl, combine flour, baking powder and baking soda.
In a separate bowl, beat together the butter and caster sugar until pale and fluffy.
To the butter mixture, add eggs one at a time. Add vanilla.
Alternate adding flour mixture milk, until the batter comes together and no large flour pockets appear. Do not overmix.
In a bowl, toss pecans with softened butter, cinnamon powder and brown sugar. Fold into the cake batter.
Transfer the batter into the prepared pan and bake at 180C for 45 minutes or until a toothpick inserted into the centre comes out clean.
Place cake on wire rack to cool for 15 minutes.
Whack the pan on the counter to loosen the cake and turn out onto wire rack to cool completely.
To make the glaze, caramelise the white chocolate.
To do so, place chopped white chocolate on a baking tray lined with silicon mat and into the oven preheated at 120C.
Stir the chocolate after every ten minutes until desired golden colour is reached.
Microwave the caramelised white chocolate together with butter and golden syrup in a bowl.
Pour over the bundt cake. Top with chopped pecans.