I love everything about chocolate cake. I really might know only a few people who don't love a good old chocolate cake! Chocolate is such a versatile flavor, it is intense I know but there are so many things which go with it and make it even better! I know for a fact a classic old school chocolate cake, on its own is amazing but when berries or mint or coffee are added to it, it is top notch!
This time I made a chocolate pomegranate bundt cake. I love a bundt cake because of its classic, rich feel! And the pomegranate seeds in this cake, simply adds some extra crunch and moistness! This chocolate pomegranate cake is so moist and mellow that it simply melts in your mouth, making you want it more.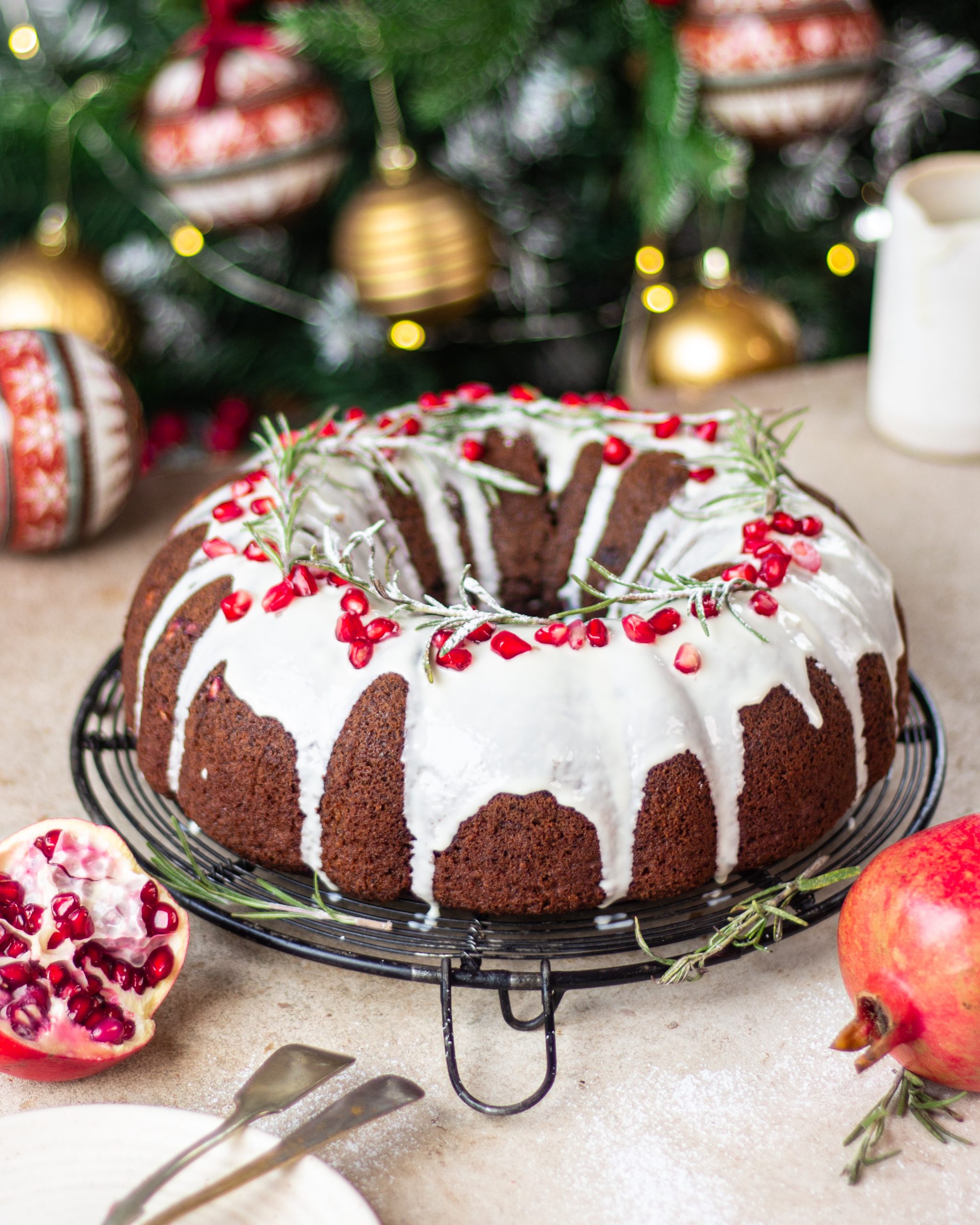 Ingredients used in this Chocolate Pomegranate Bundt Cake
The best part about this cake is it is eggless and yet so soft and moist. We are using a good amount of cocoa powder in this cake, so as I always say use the best kind of cocoa powder you can get! Hershey's and Cadbury make a good quality of unsweetened cocoa powder, so you can use that. It also has butter; softened butter is used in the recipe. You can use salted or unsalted butter; I am using the salted one in this recipe. I am also using caster sugar, also called as breakfast sugar here. If you want you can use half caster sugar and half brown sugar, for more intense flavor. I am also using condense milk in this recipe, which is what makes this cake so moist and giving such good mouth-feel. You can easily find condensed milk in your nearby market. The quantity of caster sugar is quite less in this recipe because we are adding condensed milk. I am adding some milk too, for that extra protein and because it is an eggless recipe. Vanilla extract is also a part of this recipe; a good quality vanilla extract is really a great investment! I use sprig's vanilla extract, which is one of the bests till date! Lastly, we will need
pomegranate seeds; which make the star of this cake and make it different than rest of the chocolate cakes that we have baked in the past!
I am also making a glaze for this chocolate pomegranate bundt cake, which is made up of only two ingredients – white chocolate and vegetable oil. I love how it makes this cake so beautiful and graceful.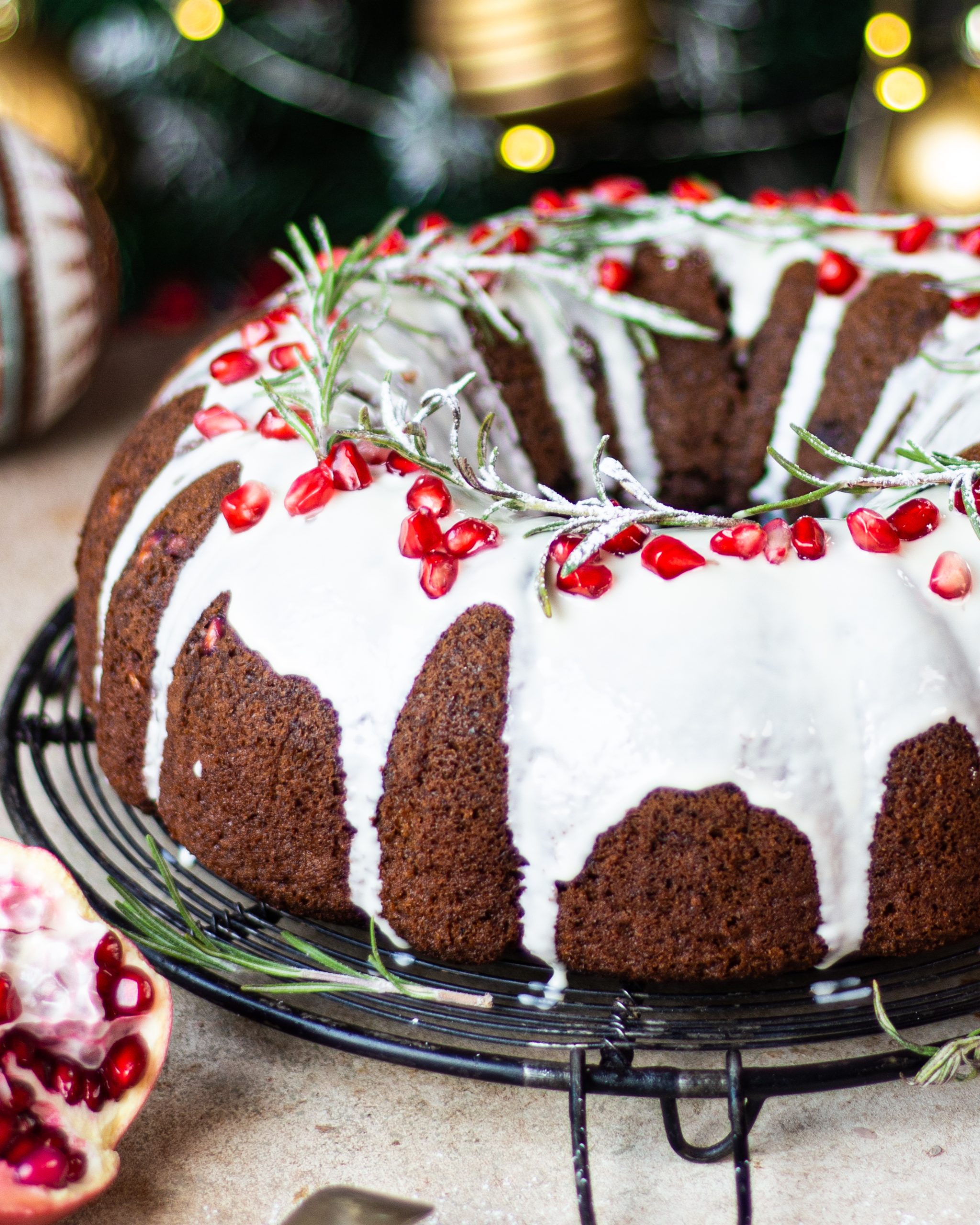 Tips to make this cake
On its own, this cake is one of the easiest of the bunch but here are some quick tips which will make sure it turns out effortlessly for you –
 If you are using a bundt cake mould like me, you need to properly butter it up as it is really important for your cake to come our properly.
Essential to a bundt cake is a non-stick bundt pan. I've had to many bundt cakes stick to bad pans in the past, it's worth an investment into a decent one; if not you can simply make it in a round cake tin.
Make sure your cake cools off a bit, before you de-mould your cake.
As there are a lot of wet ingredients in this recipe, it is suggested to heat the milk up, as to avoid lumps; resulting a smooth batter.
Be careful not to over-bake this cake as it will make it dry and will make the moisture escape.
If possible, use room temperature ingredients, so it is easy to blend them all properly without a lumpy batter.
Make sure, that the glaze is not too hot or not too cold as it can disrupt the whole look of the cake.
Serve the cake at room temperature. While you can store it in the fridge for a longer shelf-life the texture is best at room temperature. The best thing about this cake is its beautiful crumb.
More bundt cake recipes on the blog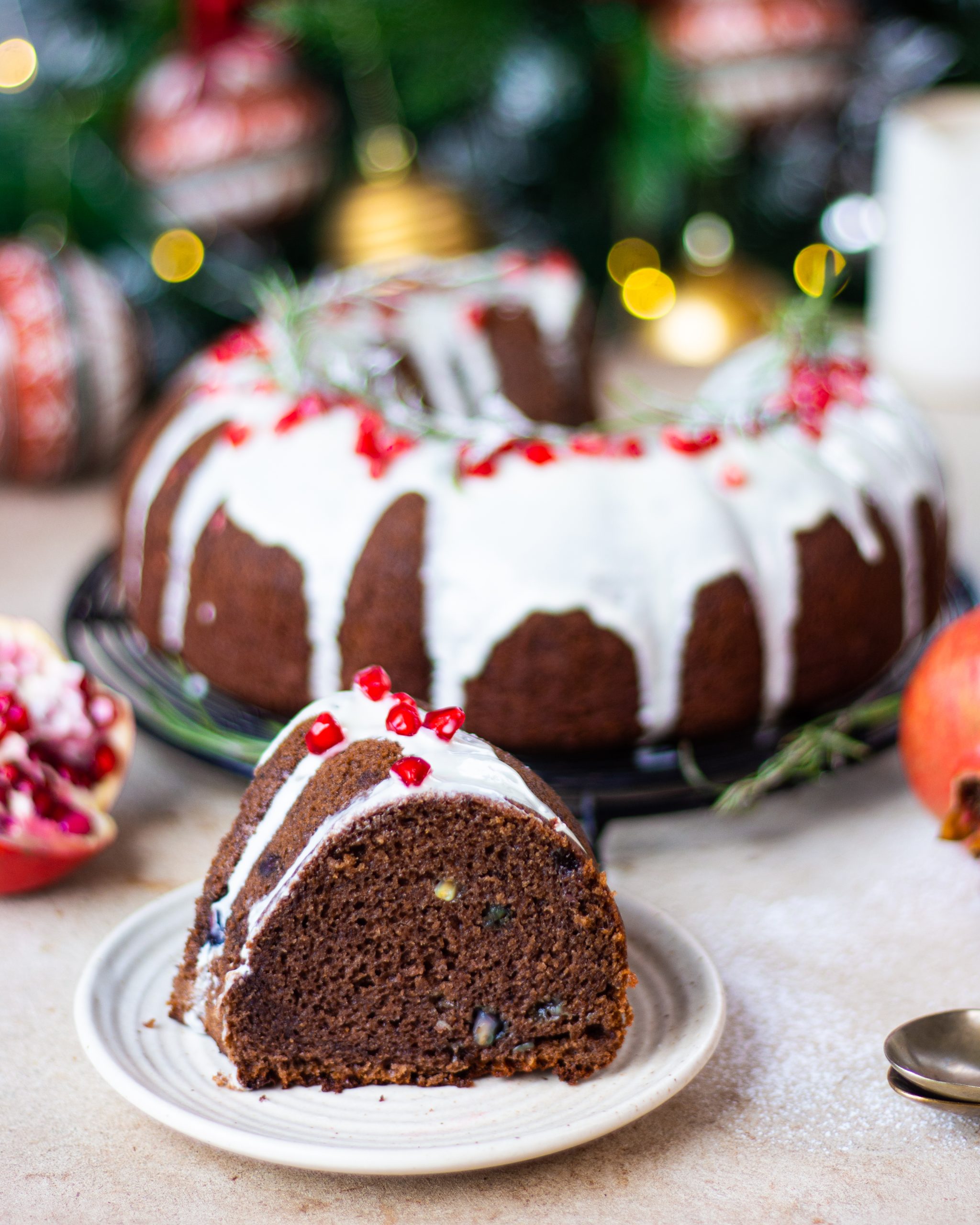 Chocolate pomegranate bundt cake Recipe
Chocolate pomegranate bundt cake
Ingredients
2 cups (240g) All-purpose flour
½ cup (60g) cocoa powder
2 teaspoon (10g) baking powder
1 teaspoon (4g) baking soda
1 cup (200g) softened butter
½ cup (100g) caster sugar
1 cup (400g) condensed milk
1 teaspoon (5g) vanilla extract
1 cup (130ml) milk
1 cup (100g) pomegranate seeds
For White chocolate glaze
1 cup (175g) chopped white chocolate
2 tablespoon (25g) vegetable oil
Instructions
Pre-heat the oven at 180*C and line the bundt pan generously with softened butter.
In a bowl add measured softened butter and sugar and give it a quick mix.
To this, add condensed milk and heat the milk separately and add it to the mixture.
Mix this properly so it all comes together and no lumps are left.
In another bowl add all the dry ingredients – all-purpose flour, baking powder, baking soda and
cocoa powder.
Add the dry mixture into the wet mixture and mix it properly, till no large flour pockets are seen.
Fold in pomegranate seeds to this and mix.
Pour this mixture into the lined bundt pan and bake it for 30-35 minutes.
To make the glaze, simply melt the white chocolate in microwave and add the oil into it and mix
properly. Once the cake cools for a bit, carefully take it out from the pan and let it cool completely.
Pour the glaze over it and to decorate you can add some more pomegranate seeds and some
fresh rosemary. Serve and enjoy!
If you liked this recipe and happen to make it in your kitchens, do tag me on
Instagram
using #bakewithshivesh. Happy Baking!