Chocolate pomegranate bundt cake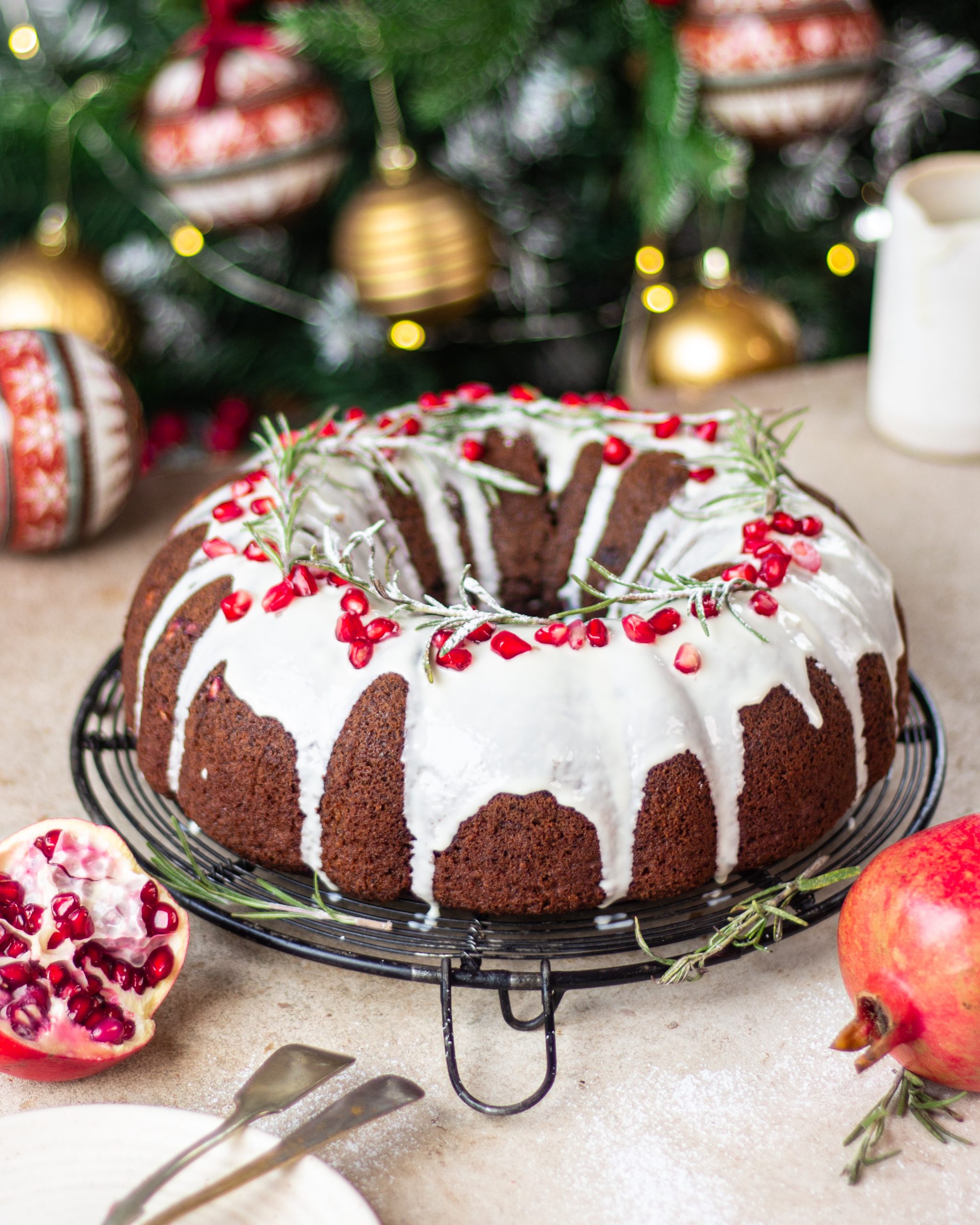 2 cups (240g) All-purpose flour
½ cup (60g) cocoa powder
2 teaspoon (10g) baking powder
1 teaspoon (4g) baking soda
1 cup (200g) softened butter
½ cup (100g) caster sugar
1 cup (400g) condensed milk
1 teaspoon (5g) vanilla extract
1 cup (130ml) milk
1 cup (100g) pomegranate seeds
1 cup (175g) chopped white chocolate
2 tablespoon (25g) vegetable oil
Pre-heat the oven at 180*C and line the bundt pan generously with softened butter.
In a bowl add measured softened butter and sugar and give it a quick mix.
To this, add condensed milk and heat the milk separately and add it to the mixture.
Mix this properly so it all comes together and no lumps are left.
In another bowl add all the dry ingredients – all-purpose flour, baking powder, baking soda and
cocoa powder.
Add the dry mixture into the wet mixture and mix it properly, till no large flour pockets are seen.
Fold in pomegranate seeds to this and mix.
Pour this mixture into the lined bundt pan and bake it for 30-35 minutes.
To make the glaze, simply melt the white chocolate in microwave and add the oil into it and mix
properly. Once the cake cools for a bit, carefully take it out from the pan and let it cool completely.
Pour the glaze over it and to decorate you can add some more pomegranate seeds and some
fresh rosemary. Serve and enjoy!
Recipe by
Bake with Shivesh
at https://bakewithshivesh.com/chocolate-pomegranate-bundt-cake/