If you're an 80s or 90s Indian kid, you'd be familiar to these OG bakeries in every street of India which have beautiful dry cakes stacked on the shelves! I've grown up eating these cakes and one of my absolute favorites is tutti frutti cake! A rich, soft vanilla cake studded with tutti frutti is a perfect treat for Christmas and it has been one of the best cakes I've made in my kitchen this year.
Not to forget, this cake comes together in a jiffy and you don't have to worry too much about cleaning up as it is made in a blender! This quick, eggless tutti frutti cake is perfect for you if you wanna whip up something delicious at the last minute and I'm sure everybody will still go absolutely gaga over it. So let's get into the recipe.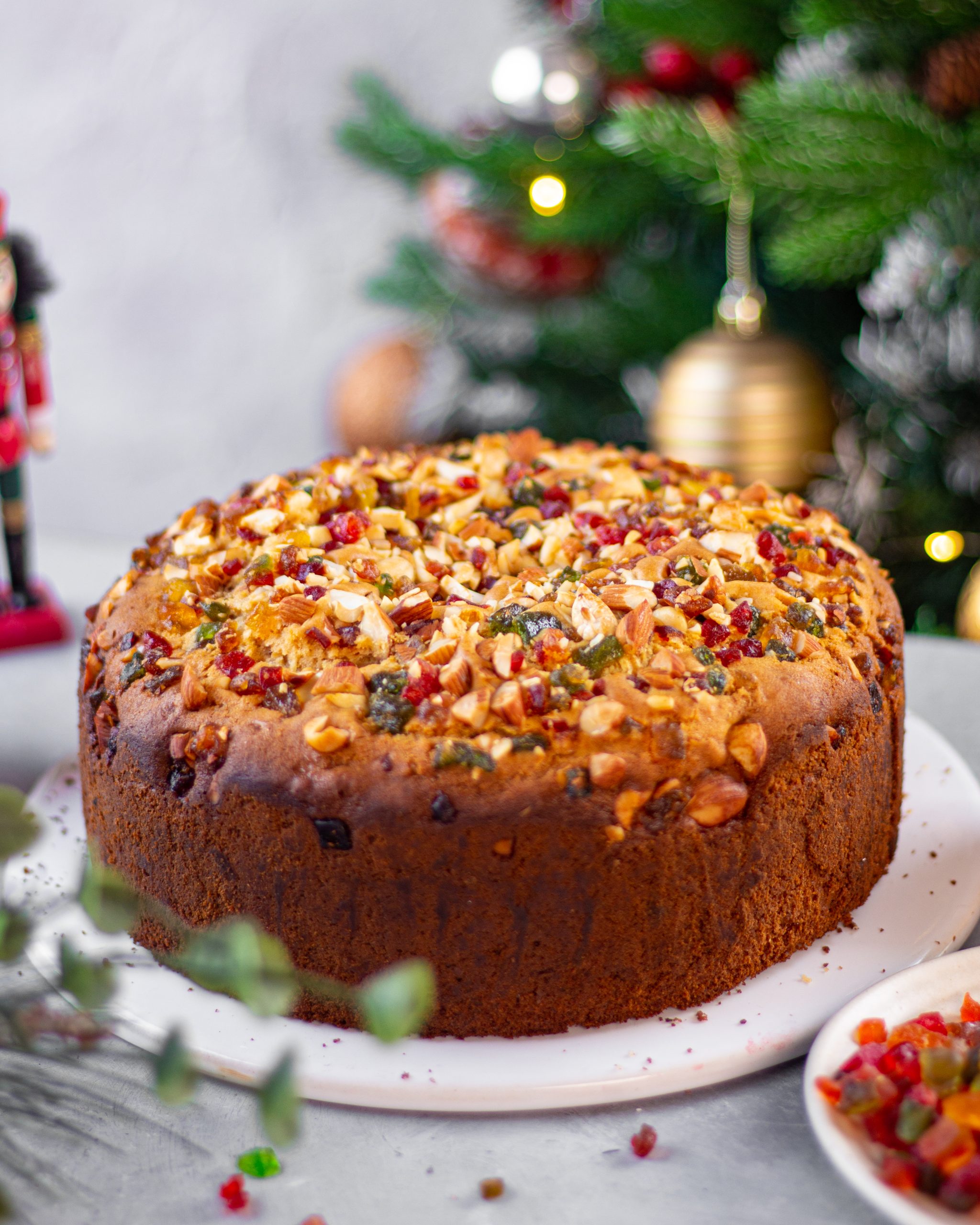 What is tutti frutti?
Tutti frutti is a colorful confectionery containing various chopped and usually candied fruits, or an artificial or natural flavouring simulating the combined flavor of many different fruits. It is most notable in Western countries outside of Italy in the form of ice cream.
Fruits used for tutti frutti include cherries, watermelon, raisins, and pineapple. In India, it is seen commonly used in bakeries in tutti frutti cakes or in ice cream sundaes.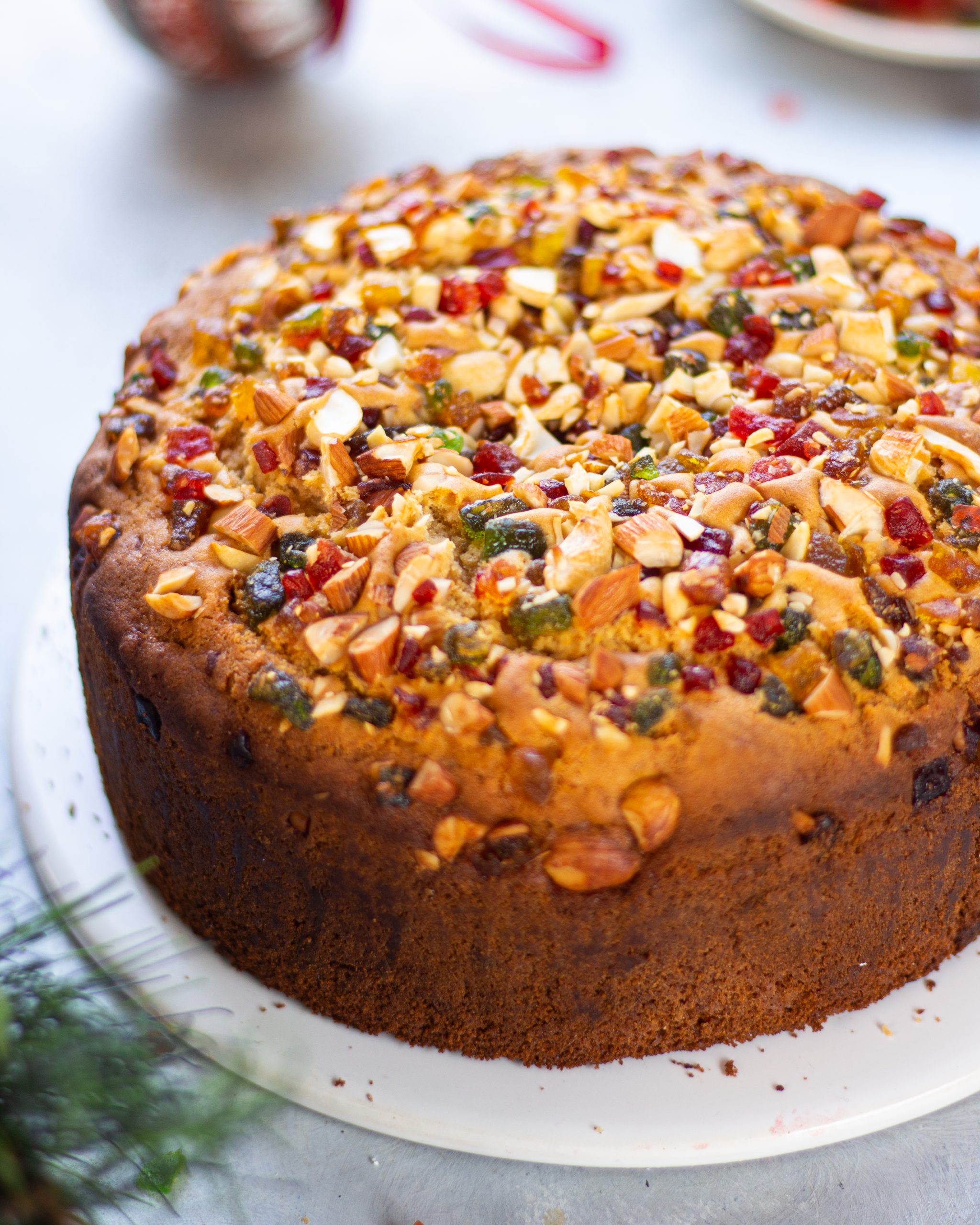 Ingredients needed for making this eggless tutti frutti cake
THE FLOUR
For the perfect texture and taste, I always use all purpose flour for all my baking needs. However, this eggless tutti frutti cake will taste wholesome as well if you wish to use whole wheat flour. The nuttiness and earthiness in whole wheat flour will compliment the richness from the condensed milk. Know more about types of baking flour here.
THE CONDENSED MILK
In eggless cakes, condensed milk or yogurt performs the role of eggs and gives the cake a fluffy texture. My trick is as soon as I decide what I am baking, the first thing I did was to pull the condensed milk out of the fridge and let them sit on the counter until I measure the rest of the ingredients. This gives it time to come at a base temperature which will help it mix well in the batter and the cake will come out better.
THE BUTTER
For most of my recipes where I use butter, I have leaned towards using salted butter. Butter gives a delicious taste to the cake and helps to create a light and tender texture in the cake batter. In the all-in-one blender method, liquid butter and other liquid ingredients are mixed with dry ingredients in a single step. So butter is your best baking buddy for these eggless tutti frutti cake.
THE SUGAR
Caster sugar is the way to go, it is the perfect size of grain to make our eggless tutti frutti cake. Smaller sugar crystals of the caster sugar dissolve better when mixed with fats. If we were to use granulated sugar, the sugar crystals will not dissolve properly and will leave the cake with an unnecessary crunch from the sugar. For the caster sugar I use the brand Trust. Know more about different types of sugar here.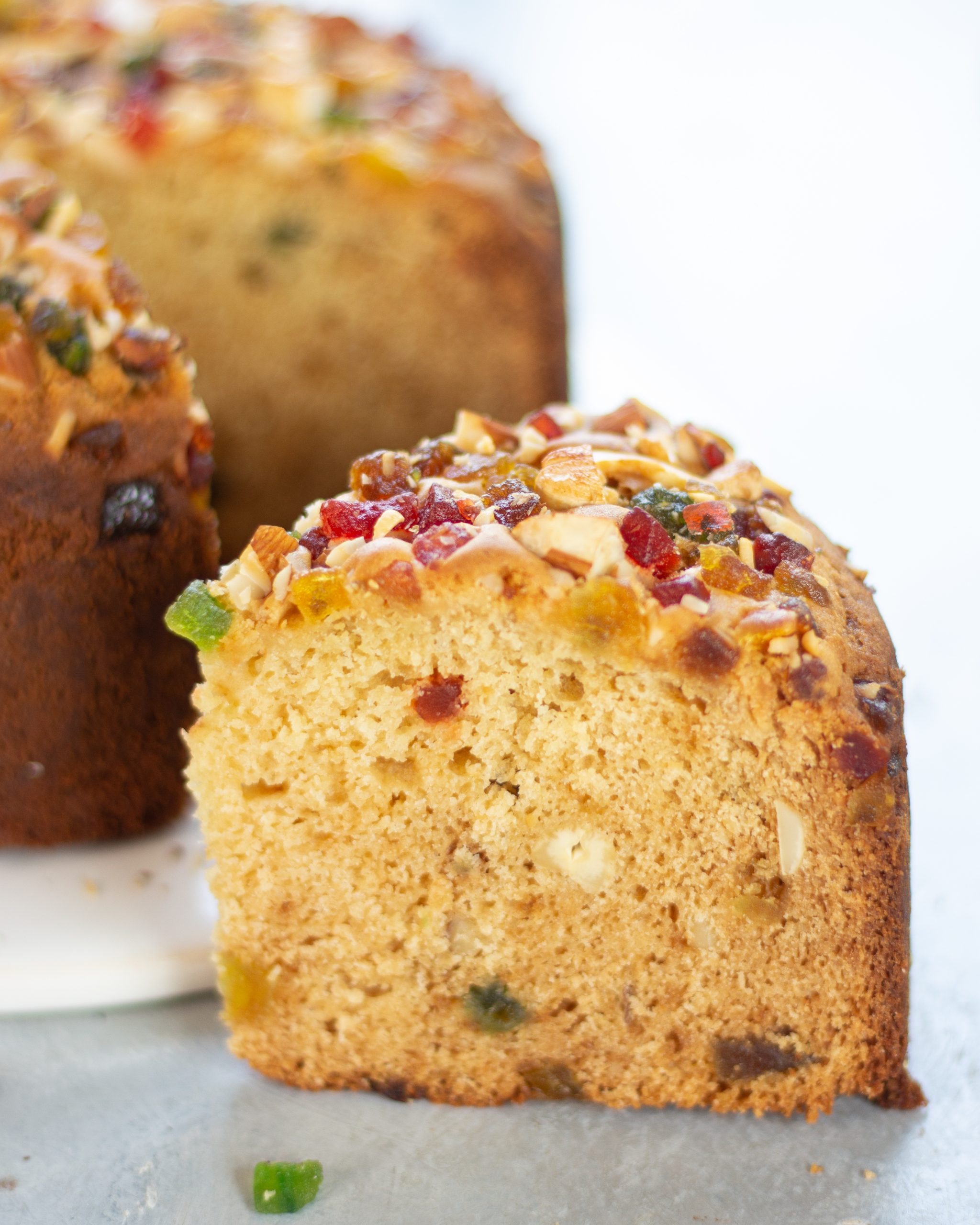 THE MILK
I like adding milk to cake batters, especially when baking a tea cake. Milk improves the texture of our cake and also gives our cake a soft crumb. Mouthfeel of the cake is also upgraded when milk is added to our cake batters. Milk has natural sugar in it, which when comes in contact with heat, caramelises. This means the perfect golden brown top for our cake!
THE LEAVENING AGENT
Baking powder and baking soda are the leavening agents that I have used to make my eggless tutti frutti cake super fluffy. When the alkaline and acid in the baking powder mix with wet ingredients, baking powder is activated. And if you are uncertain about the uses of baking powder vs. baking soda in your baking, I have a detailed blog post about baking powder vs. baking soda.
THE VANILLA
If it is a tea cake, it needs the best quality of vanilla. I have used a good quality vanilla extract here. If you have vanilla beans, that would also be amazing here in this recipe. The vanilla extract that I used for this eggless tutti frutti cake is by sprig.
THE CRUNCHY BITS
I am all for textures. To make this eggless tutti frutti cake taste even more amazing. I had to make an addition of nuts along with tutti frutti. Here I have 2 of my favorites, cashews and almonds. You can also substitute these for walnuts, pistachios or pecans.
TIPS TO MAKE THE BEST EGGLESS TUTTI FRUTTI CAKE
Since we are making this eggless tutti frutti cake batter in the blender, it's necessary that you only blend everything till you see no flour pockets in the batter! Otherwise, we may risk overmixing and won't result in a nice, fluffy cake!
Use only good quality ingredients at room temperature, no matter what you're baking. It's a really important thing to consider as when you start using the real deal, you'll see a significant difference in your desserts!
I have so many more dry cake recipes on the website that I absolutely love! Eggless Strawberry Tea Cake with Fresh Strawberries, Lemon and Black Tea Cake with Fresh Blackberries, Eggless Whole-Wheat Apple Cake are some of my favorites.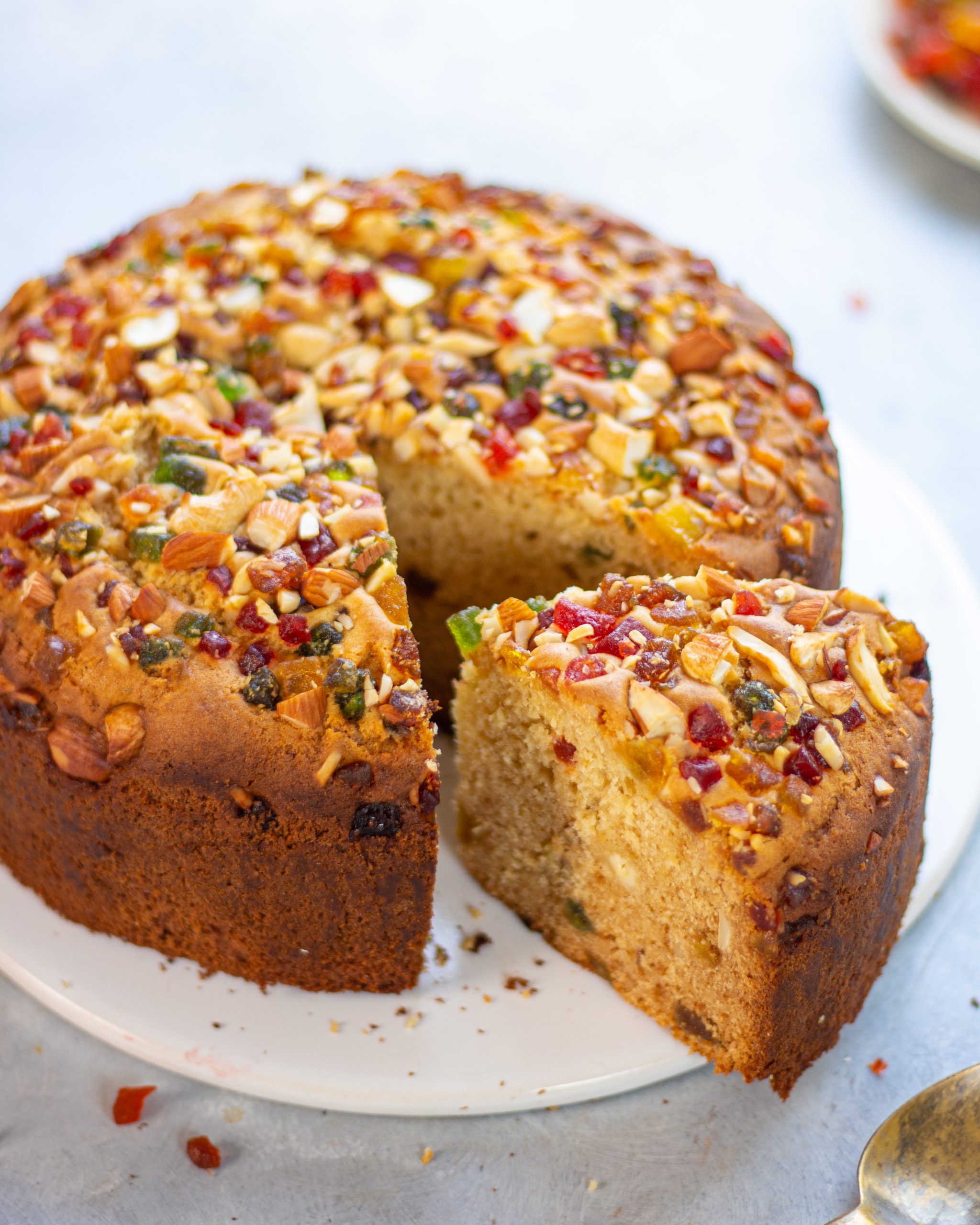 Eggless Tutti Frutti Cake Recipe
Eggless Tutti Frutti Cake
Ingredients
2 + ½ cups (300g) all-purpose flour
2 teaspoon (8g) baking powder
1 teaspoon (4g) baking soda
1 cup (226g) melted butter
6 tablespoons (48g) caster sugar
1 cup (306ml) condensed milk
1 teaspoon (2.5ml) vanilla
1 cup (240ml) warm milk
1 cup (240g) tutti frutti
¼ cup (35g) almonds
¼ cup (35g) cashews
Instructions
Preheat your oven at 180 C.
In the jar of your blender, add melted butter, caster sugar, warm milk, condensed milk and vanilla extract.
Blend till everything comes together nicely.
Add in the all-purpose flour, baking powder and baking soda. Blend till you get a smooth cake batter.
Transfer the batter to a bowl and add in tutti frutti, chopped almonds and chopped cashew nuts.
Using a spatula, fold the dry fruits in the cake batter.
Transfer the batter in an 8" cake pan lined with parchment paper.
Add more tutti frutti and chopped nuts on top,
Bake the cake at 180 degrees celsius for 50-55 minutes or until a skewer inserted comes out clean.
If you like this recipe and make it for Christmas this year, do share pictures with me by tagging me on
Instagram
using #bakewithshivesh. Happy Baking!