If you are looking for something cozy and delicious this winter season, there's nothing better than a hot glass of mulled wine. It's fruity with a hint of spices and all things delish. Turn on your favorite holiday music, light on some candles, gather the winter fruits and spices of your choice and the red wine you love. Now you are just fifteen minutes away from mulled wine!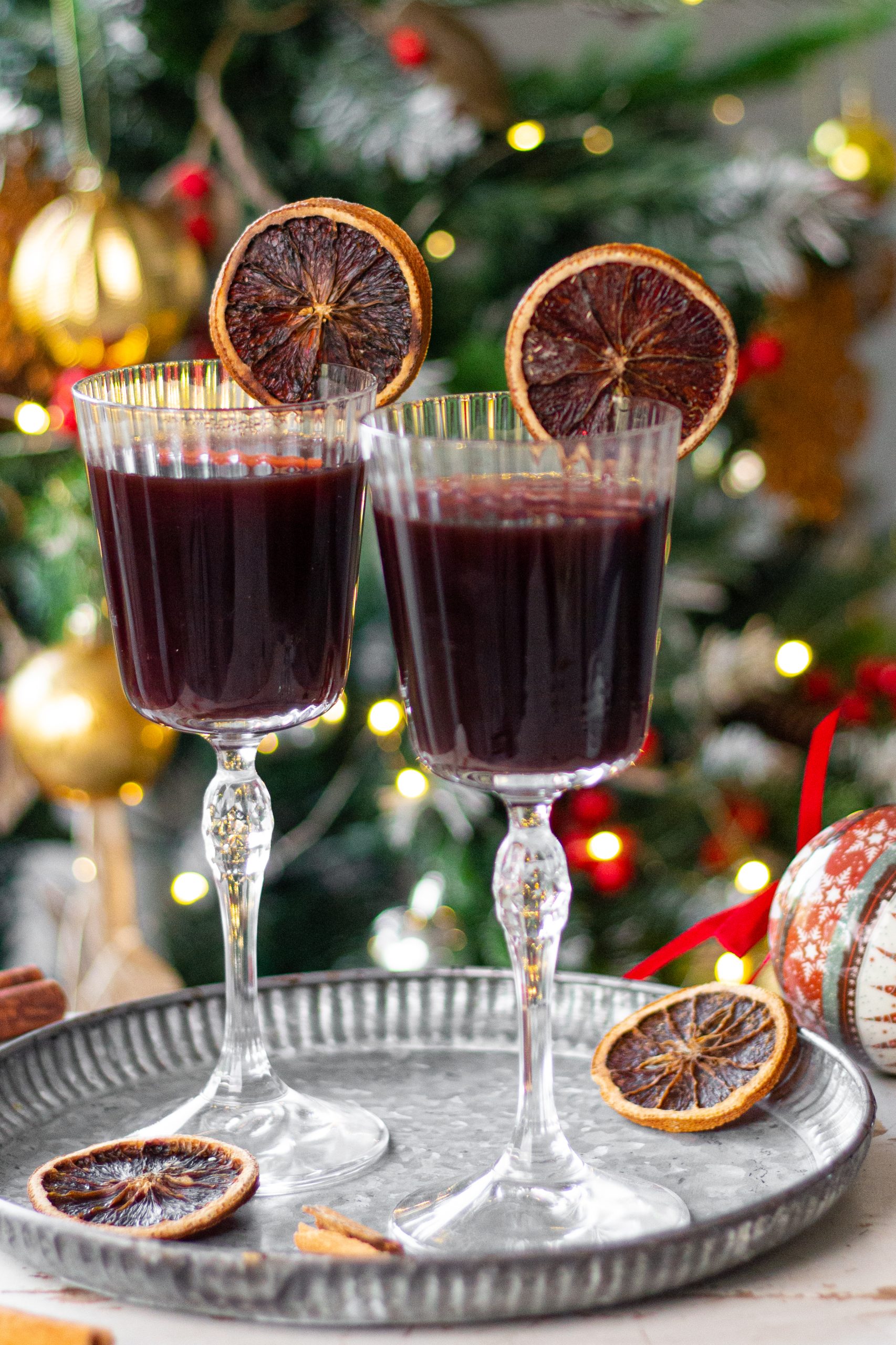 INGREDIENTS YOU NEED FOR MULLED WINE
RED WINE
Traditionally, mulled wine is made with red wine. But you can absolutely substitute it with white wine. You can use any affordable bottle of Sula or Merlot or any wine of your choice.
RUM OR BRANDY
Similar like Sangria, it's also traditional to spike your mulled wine with an extra bit of liquor. Brandy is the traditional choice but you can substitute it with rum or bourbon or even equal quantity of apple juice.
MAPLE SYRUP
You can use any sweetener of your choice in mulled wine of even absolutely skip it too. I have used maple syrup but feel free to substitute it with honey, jaggery, brown sugar or any other sweetener you like.
ORANGES
When it comes to fruity flavors, orange is definitely among the top five of my lists. For the longest time I have been having orange juice as a staple with my breakfast and I absolutely love it. You can replace oranges in mulled wine with pomegranate, pear, cranberries or even apples.
SPICES
Feel free to add the spices of your choice while making mulled wine. I used a combination of cinnamon, star anise, clove and a little bit of nutmeg. I feel cardamom would go really well too.
HOW TO MAKE MULLED WINE?
CHOOSE YOUR WINE
Start with carefully choosing your wine. You don't need a very expensive wine for this recipe. In a pot, start by adding half a bottle of wine. You can double the whole recipe and use the whole bottle to make mulled wine too. With this recipe you will get nearly 2 glasses of wine. Start by pouring wine in a pot and keep it on stove on low.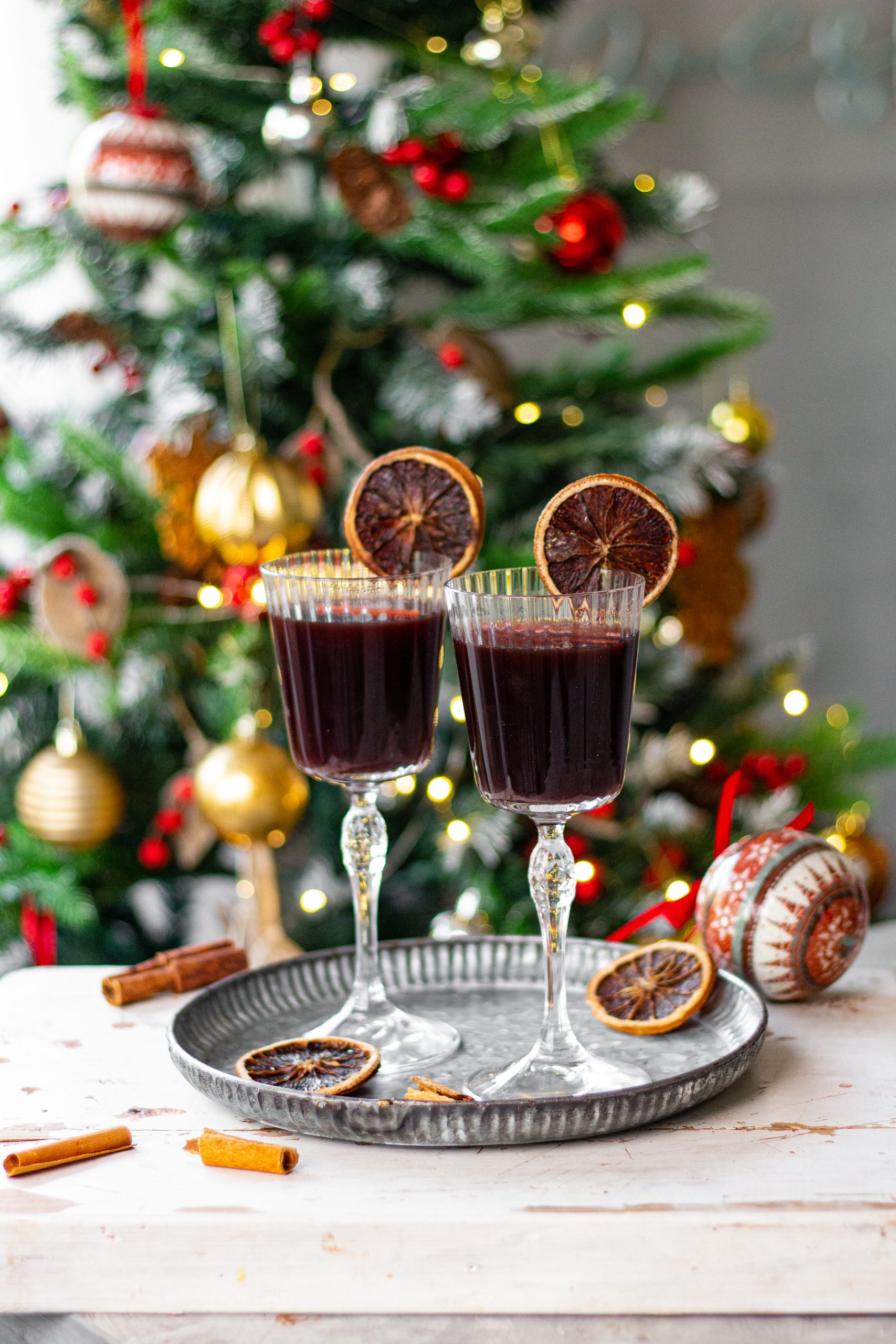 HEAT SLOWLY
Do not hurry the process. Keep the flame on all times low is very important. You don't want the alcohol to evaporate. Hold on that urge to increase the heat while making mulled wine.
NEXT GOES IN RUM AND SWEETENER
Dump in rum or brandy whatever you have with you followed by the sweetener of your choice. The quantity of sweetener would absolutely depend on how sweet you would like your mulled wine to be.
LASTLY, ADD FRUITS AND SPICES
Once all the liquid is in, add in your fruits and spices of your choice. Cover the pot and let the wine simmer for some time so that all the flavors come together nicely and you get the perfect mulled wine.
STRAIN AND SERVE
Use a strainer to strain wine to avoid adding any whole spices in the drink. You may add the oranges or whatever fruits you have used while serving mulled wine. On and, serve hot!!!
FLAVOUR VARIATIONS
You can bring in plenty of flavor variation when it comes to mulled wine. Feel free to swap red wine with white wine. You can add your favorite flavor tea bag while cooking wine. You can also go ahead and pair the tea bag with fresh ginger slices or lemon slices or zest of a few lemons for that tang.
Here are some of the other winter recipes from the blog
MULLED WINE RECIPE
MULLED WINE
Ingredients
2 + ½ cup (375ml) red wine
2tbsp (60ml) rum
1tbsp (22ml) maple syrup
½ orange, sliced
1 cinnamon stick
2-3 star anise
a few cloves
Instructions
Start with pouring all the wine in the pot kept on stove on low.
Add rum or brandy followed by the sweetener. You may want to hold back on the sweetener and not add all of it at once.
Slice half an orange. You can slice rounds or in half, either way.
Dump the oranges followed by all the spices.
You may want to taste at this point and adjust the sweetener.
Let the wine sit covered and simmer for a few minutes.
Once all the flavors have come together nicely, switch off the flame.
Strain the mulled wine.
Add back the slices of orange and serve hot.