Tis' the season for all things warm and sweet! This gingerbread latte is a cozy cup of creamy latte filled with all the warm winter spices. It's everything you need this winter while reading a book in the favorite corner of your house or while you want to enjoy that romcom this holiday season.
INGREDIENTS YOU NEED TO MAKE GINGERBREAD LATTE
MILK
I used regular toned milk in this recipe. Feel free to use full fat milk if you have that in hand. This recipe of gingerbread latte makes one big mug of latte, you can easily divide the recipe in half if you want to make a smaller portion.
JAGGERY POWDER
For sweetener, I have used jaggery powder in this recipe. I love how jaggery complements the latte that is coffee and ginger powder in this gingerbread latte. Here's the link of the jaggery powder I used. But feel free to substitute jaggery with any sweetener of your choice. A few suggestions would be regular granulated sugar, brown sugar-dark or light, honey or even maple syrup.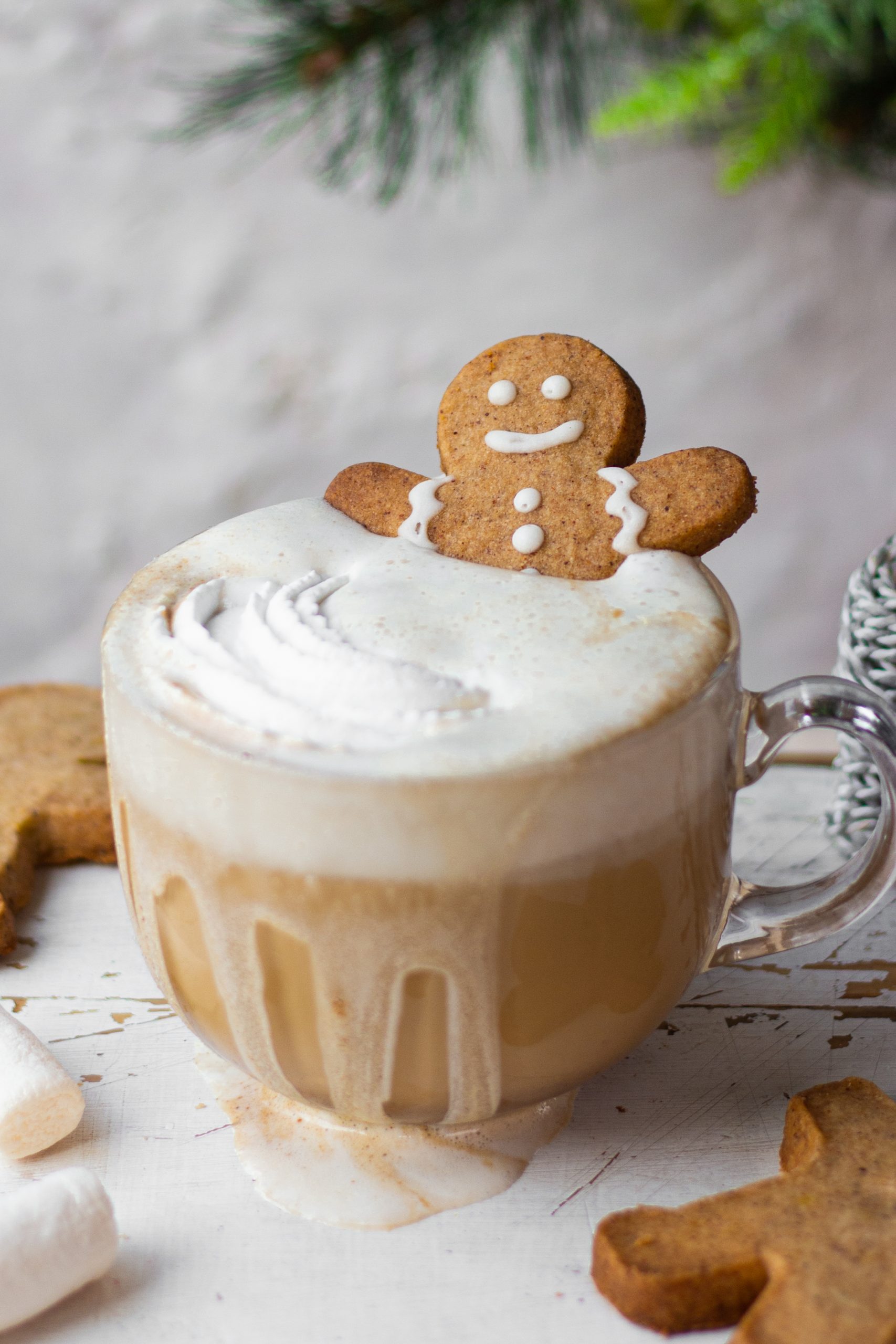 GINGER POWDER (OFCOURSE!)
This gingerbread latte is filled with ginger as a spice and I absolutely loved it when combined with coffee shot in this drink. Feel free to reduce ginger powder or even increase the quantity that I have used in this recipe as per your liking.
OTHER SPICES
I also used some cinnamon and nutmeg to complement the ginger powder in this gingerbread latte. You can also add the spices of your choice. It could be ground cloves, cardamom, star anise or any other spice.
COFFEE SHOT
I made this coffee shot with instant coffee and hot water. Feel free to make it the traditional way if you have the required equipment. To make this shot, I used 1 tablespoon of coffee, which may seem a lot (not for a coffee lover like meee!), please alter it as per your liking. But if you are a coffee fan like me, go ahead and add that tablespoon without any worry. I am sure you will love it in this gingerbread latte.
VANILLA EXTRACT
I have said it before, I will say it again. Please use the best quality of vanilla you can get your hands on. And avoid using vanilla essence as its not real but artificial, synthetic and chemically made. I used this Spring Vanilla Extract in this gingerbread latte and would highly recommend it.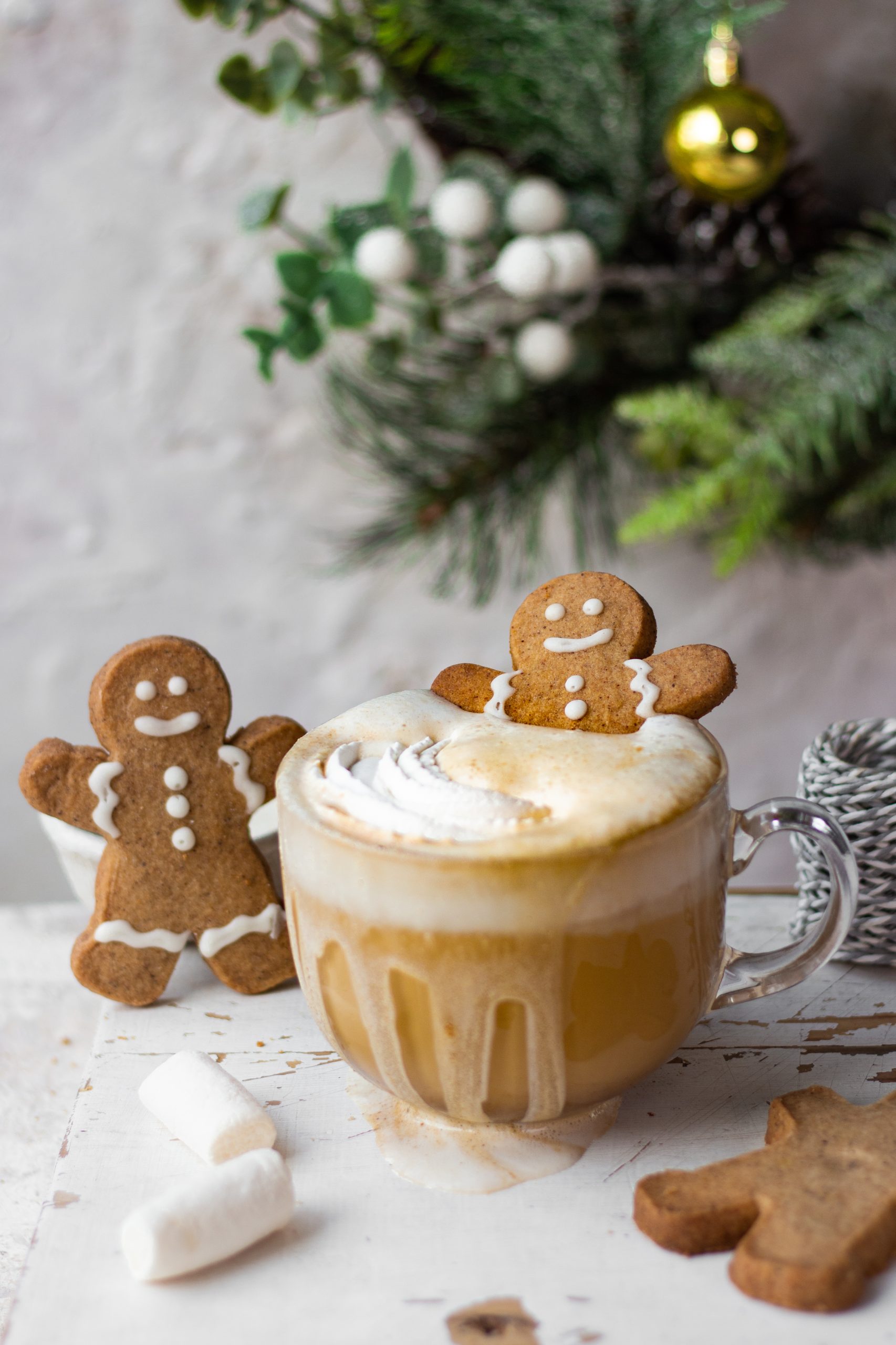 WHIPPED CREAM
In this gingerbread latte, whipped cream is optional. It sure adds a creamy touch to the latte but if you don't have whipping cream at home, do not stress it. You can make this latte without the cream and it will still be absolutely delicious. If you plan on buying one, here's the one I recommend.
HOW TO MAKE GINGERBREAD LATTE
It's a fairly simple recipe. You start by adding milk to a pot set over medium heat. Dump in jaggery powder followed by the spices of your choice. I used ginger powder, cinnamon powder and a bit of grated nutmeg. Next goes in our coffee shot. Just combine instant coffee with hot water and add it to the pot. Once the mixture comes to a slight boil, add vanilla and that's it. Made in no time, this gingerbread latte has become everyone's favorite at home so quickly. At the end finish it off with whipped cream if you have it. And my favorite part is to enjoy this gingerbread latte with an eggless ginger bread cookie. Click here for the recipe.
Here are some other wintery-cozy recipes from the blog-
GINGERBREAD LATTE RECIPE
GINGERBREAD LATTE
Ingredients
1 + ¼ cup (300ml) milk
2 tbsp (40gm) jaggery powder
1 tsp (3gm) ginger powder
¼ tsp cinnamon powder
a pinch of grated nutmeg
1 (45ml) shot of coffee (2tbsp hot water + 1tbsp coffee powder)
¼ tsp vanilla extract
whipped cream and gingerbread men, to serve
Instructions
In a pan set over medium heat, add milk.
Followed by jaggery powder, ginger powder, cinnamon powder and nutmeg.
Once everything is well combined and the jaggery has melted, add the coffee shot and mix it well.
Lastly add vanilla and let the mixture come to a boil.
Serve the gingerbread latte topped with some whipped cream and paired with a gingerbread cookie.