You all are already aware with, the love I have for cookies! I have even stopped counting cookies as desserts because they are my go-to snack! And I ALWAYS have them in my house or chilled dough, resting in my freezer. There are so many things we can add in cookie dough, from nuts to dried berries, chocolate chips to peanut butter; the list is endless! For this holiday season, I wanted to experiment and thought about creating something unusual from the rest of my stuff and these chocolate peppermint cookies just ticked all the boxes. I love how thick and chocolaty they turned out to be and the added peppermint, reminds me of the chocolate, after eight I used to have as a kid! These cookies will go perfect with your hot chocolate, this winter season.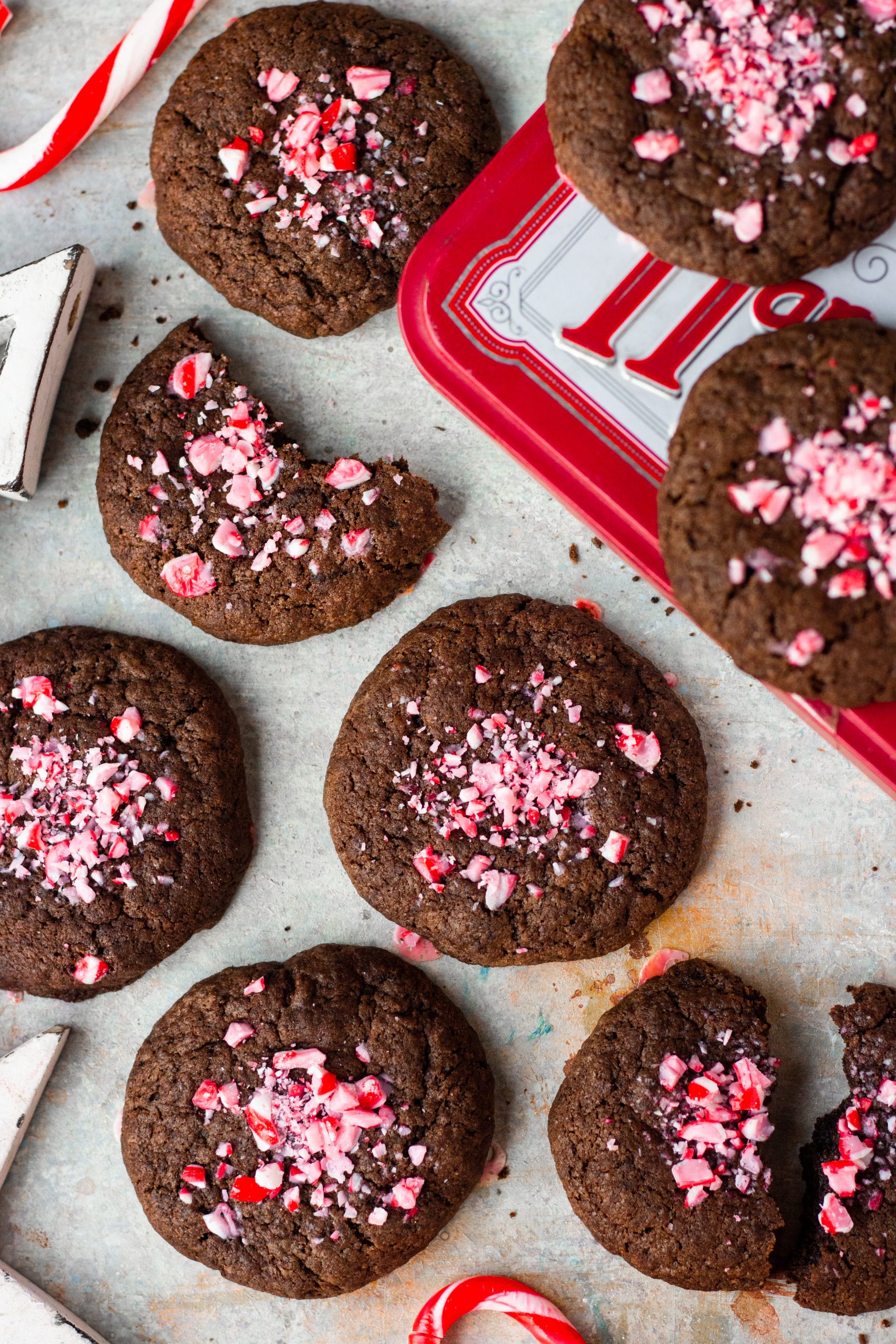 Ingredients used in chocolate peppermint cookies
Butter – Like all cookie dough, this also requires butter. Make sure you are using softened butter and not hard butter, straight from your refrigerator as it won't let the creaming process to work properly. Soft butter will whip up nicely and make the sugar dissolve without any struggle.
Sugar – I am using dark brown sugar for this cookie dough because that is in fact, the best kind of sugar and it is used for most of the cookie dough. Brown sugar provides that beautiful caramel flavor and chewiness to the cookies and for this kind of dough that is essential.
 Salt – If you are using salted butter, you can simple skip this ingredient but if you are using unsalted butter, you don't know what, a pinch of salt can add to your dough! Generally, like in cooking salt is a necessity, just like that in baking, it is an essential ingredient too although doesn't get much of a recognition. Salt, basically enhances the flavor and help bring out the best of all the other ingredients.
Cocoa powder – In chocolate cookies where the main ingredient is not chocolate, a good quality unsweetened cocoa powder is very important. Because of it only, the chocolate cookies will have its chocolaty flavor. I use Cadbury's cocoa powder generally, which is easily available on every local grocery store. Other brands which can be used are Hershey's, Callebaut and Weikfield.
Cornflour – Cornflour helps in soak the extra moisture from the cookies and gives them that added crunch. It also helps the cookies in retaining their shape. When your cookies are stored in the air-tight container, cornflour helps them to remain crunchy too. But if you do not have it or don't wish to add it, simply substitute its quantity with all-purpose flour.
Peppermint cane- Crushed peppermint cane when sprinkled on top of the cookies before baking, adds the minty flavor we want. You believe it or not dark chocolate and peppermint goes really well together! This ingredient will make your simple chocolate cookies, more festive and fun!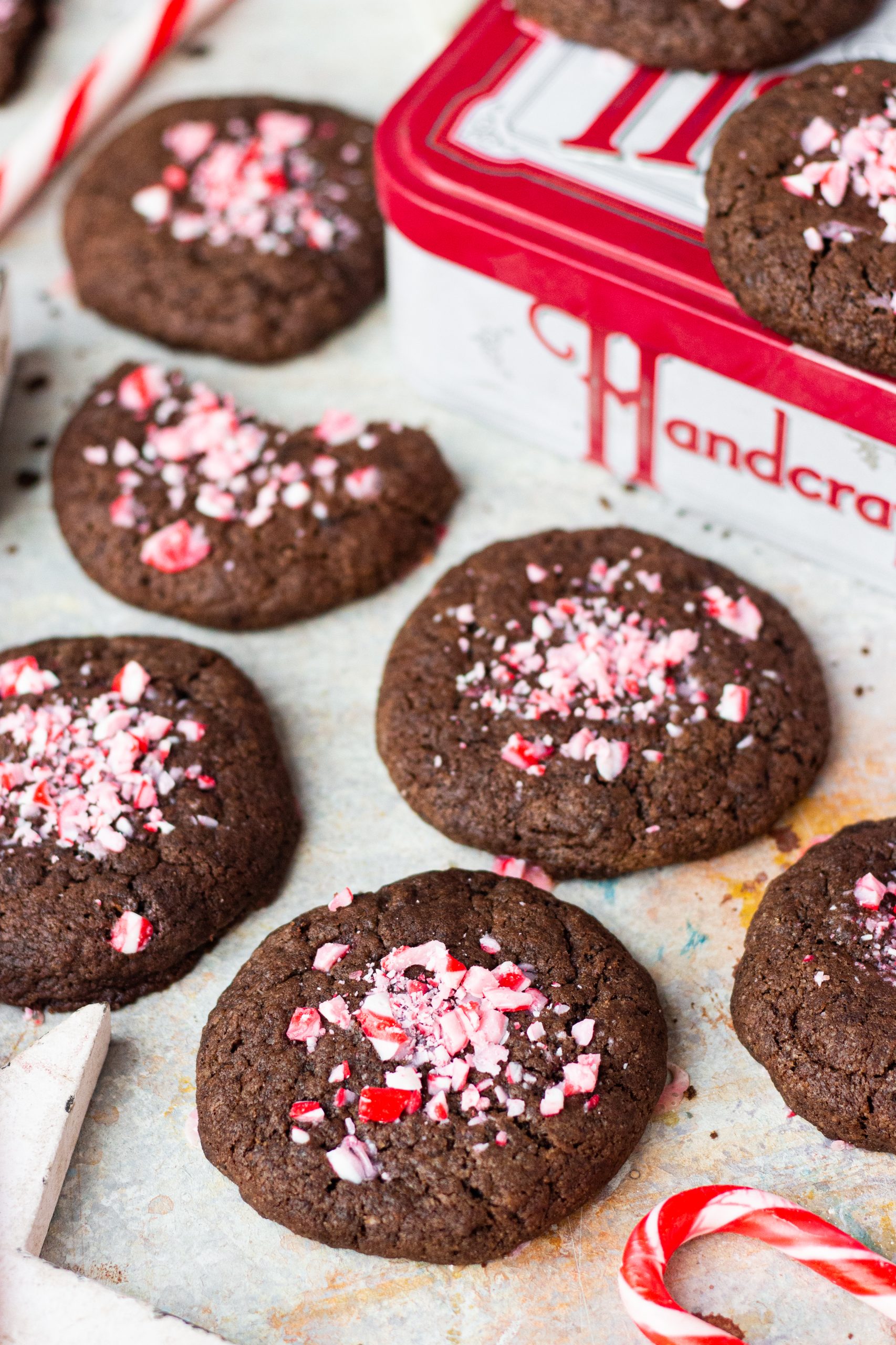 Tips to make the perfect cookies
1. If your recipe calls for softened butter, make sure it's actually room temperature. Do not melt it, that it becomes too soft.
2. Always chill the dough properly, I know after the preparation of the dough, it might feel hard to resist baking them; but always chill your dough properly. They make the best and the most pretty cookies then. Making same sized balls and chilling them is always recommended than chilling the entire dough altogether.
3. Do not forget to pre-heat your oven. When you are baking the chilled dough balls in the oven, it has to be pre-heated; it makes them form structure properly.
4. Do not over-bake the cookies. They might seem soft or under-baked but once the edges are formed, they are baked.
5. As you take them out from the oven, the crushed peppermint cane can be melted. At this point you can add some fresh, crushed peppermint cake when the cookies are hot. It will make the cookies look prettier and who doesn't like some extra mint!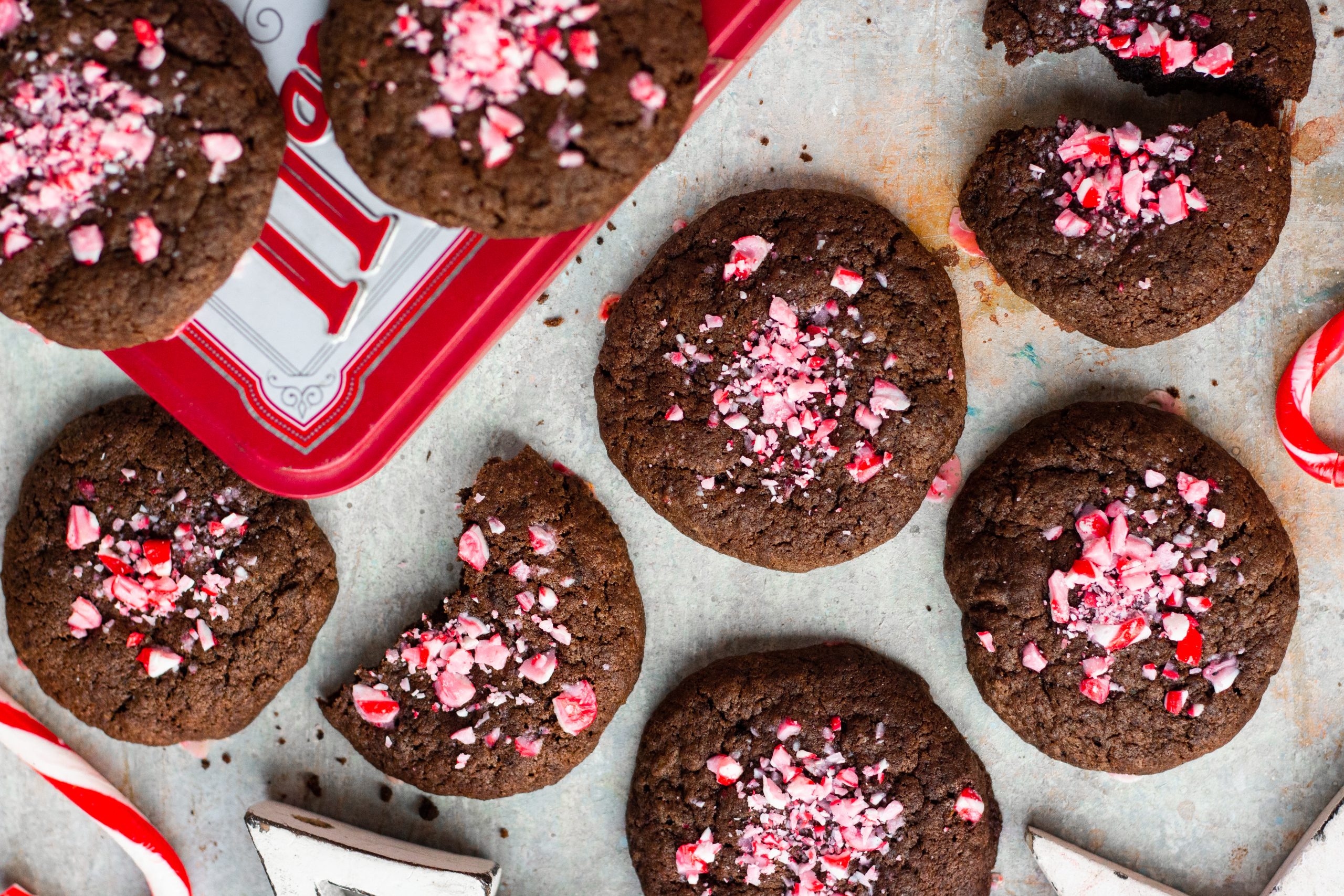 EQUIPMENTS USED TO MAKE CHOCOLATE PEPPERMINT COOKIES
The kind of equipment you use when you're baking makes a huge difference to the end result! I would recommend you to use good quality mixing bowls and other equipment so that your cookies comes out delicious.
To bake my chocolate peppermint cookies  I have used my Borosil 60L Oven. It's been a part of my kitchen for a few months now and I absolutely love it.
Other Christmas recipes on the blog
Chocolate Peppermint cookies recipe
Chocolate Peppermint Cookies
Ingredients
½ cup (113g) butter
½ cup (100g) caster sugar
1 teaspoon vanilla extract
1 cup (120g) all-purpose flour
½ teaspoon baking soda
A pinch of salt
¼ cup (30g) cocoa powder
1 tablespoon (12g) cornflour
¼ cup (30g) milk
Crushed peppermint cane to sprinkle
Instructions
In a medium size bowl, add softened butter and dark brown sugar. If you are using the
stand mixer, use the paddle attachment. If you are whisking it manually, do it till the
mixture gets light and fluffy.
Add a good quality vanilla extract and combine all three things together.
To the same bowl, add all the dry ingredients. This includes all-purpose flour, baking
soda, salt, cocoa powder and cornflour. Mix it well with the help of spatula until there
are no big flour pockets.
To this, add in the milk and mix everything together; one last time.
Once the cookie dough is ready, with the help of an ice-cream scooper, scoop them on a
tray and chill them in the freezer for 30 minutes.
While the dough is resting, pre-heat your oven to 180*C and line a baking tray with
parchment paper or a silicone pad.
Once the dough balls are rested, place them on the lined tray with some distance as to
not stick to each other, while baking.
Flatten the balls a bit with your palm and sprinkle the crushed peppermint cane on each
one of them.
Bake the cookies for 12-15 minutes. Once the cookies are out from the oven, sprinkle
some more crushed peppermint candy cane and let them cool completely.
If you liked this recipe and happen to make it in your kitchen, do tag me on Instagram using #bakewithshivesh. Happy Baking!