Meringue cookies also known as meringue kisses are perfect for a dessert, to just pick them up and eat like that or even better for decorating your desserts! They are super cute and it is surprising to know that they are made with just a few ingredients! Something made with a hand full of ingredients, so cute and fancy to look at. I love how versatile they are and one can add any color or flavor to it. Piping meringue is therapeutic to me, after a busy and tiring day, I can always have some room to pipe them, and they straight away make me happy and light!
Just recently I found out why meringue cookies are called meringue kisses as well, you will find it funny! When we kiss someone the way our lips are formed, that's exactly the way the meringue cookies are pointed; and that's the reason, people refer them to as meringue kisses.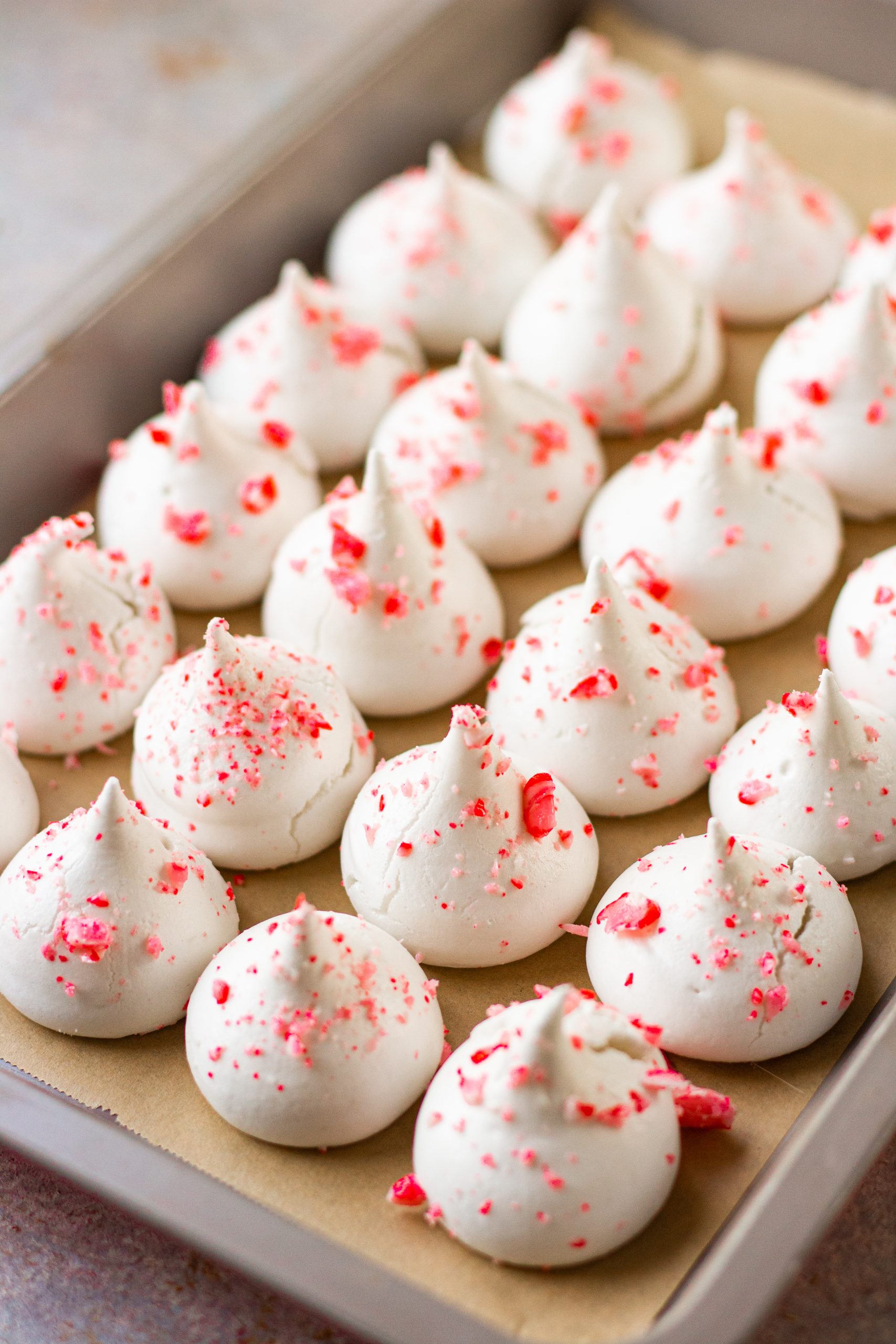 What are the three types of meringue?
French meringue or a basic meringue is the method best known to most of the people. It is when egg whites are beaten till soft peak and then caster sugar is added gradually. This method is commonly used to make meringue cookies.
Italian meringue is made with boiling sugar syrup, instead of caster sugar. This method creates much more stable meringues and prevents collapsing. In this method, sugar syrup is whipped into softly whipped egg whites until stiff and fluffy, and until the meringue is cooled.
Swiss meringue is whisked over a double boiler to warm the egg whites and let the caster sugar dissolves completely, and then whisked steadily until the whites cool. It makes the most fluffy and glossy marshmallow-like meringue. They are also denser than the rest.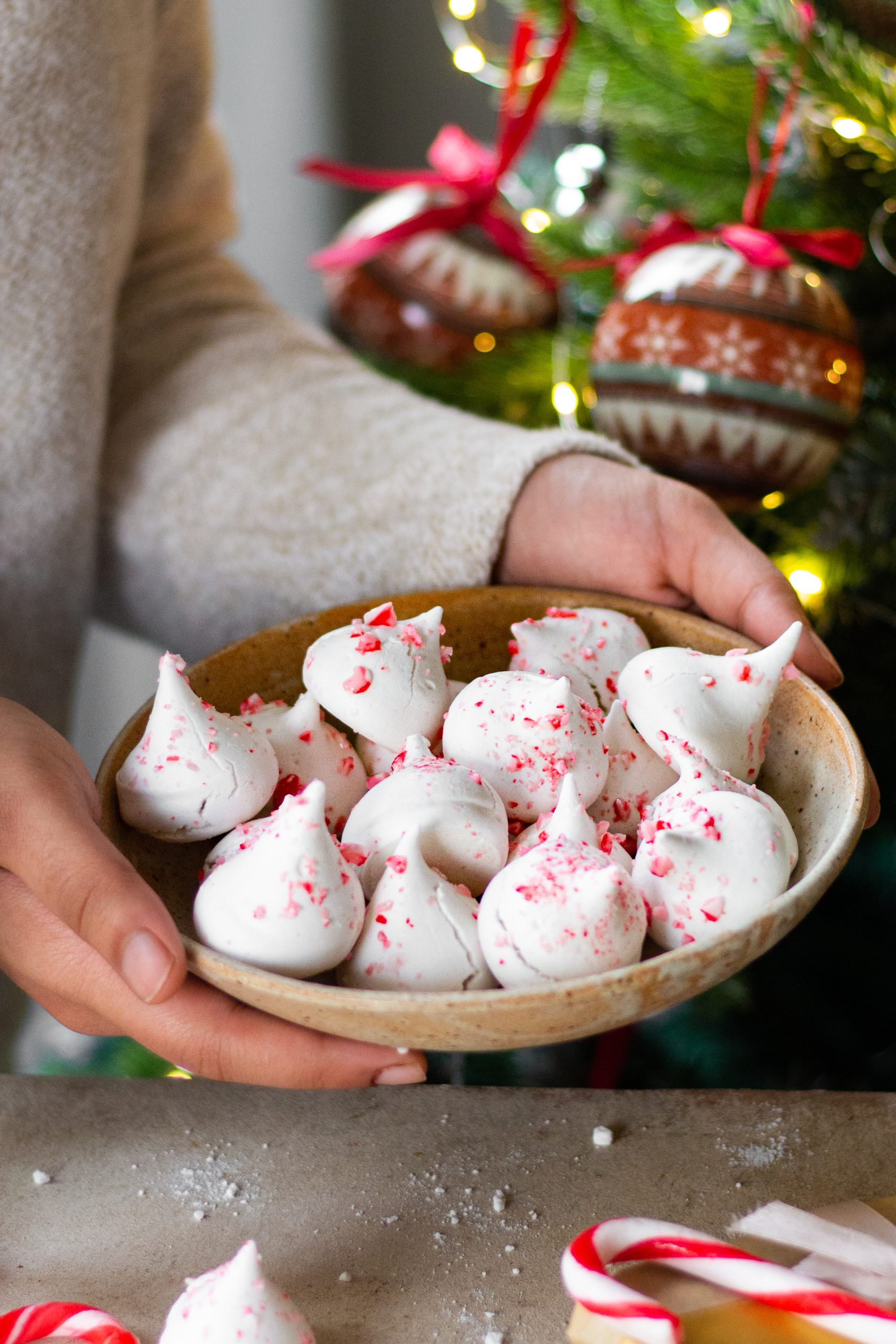 Storage and shelf life
Meringue kisses have to be stored in an air-tight container; as they tend to absorb moisture from the air around. Storing meringue kisses in an air-tight container will prevent humidity from affecting the sugar.  In room temperature they can be stored for two weeks but if you want to increase its shelf life, you can also put them in your freezer and they can be crunchy and good as new for up to three months. But under all circumstances, they need to be stored in an air-tight container.
Tips to keep in mind, while making meringue cookies
Separate each egg white into a small bowl, before adding them into the mixer, this way if a yolk breaks in, you won't have to repurpose the whole batch into some other dish.
Make sure there is not even a single water droplet in the bowls as water drops are a big no-no while making meringue.
Add your caster sugar, one spoon at a time. It will make your sugar dissolve properly with your fluffed up egg whites and also improves the quality of the final product.
Pipe the meringue cookies as soon as they are done. This way they will not lose the incorporated air.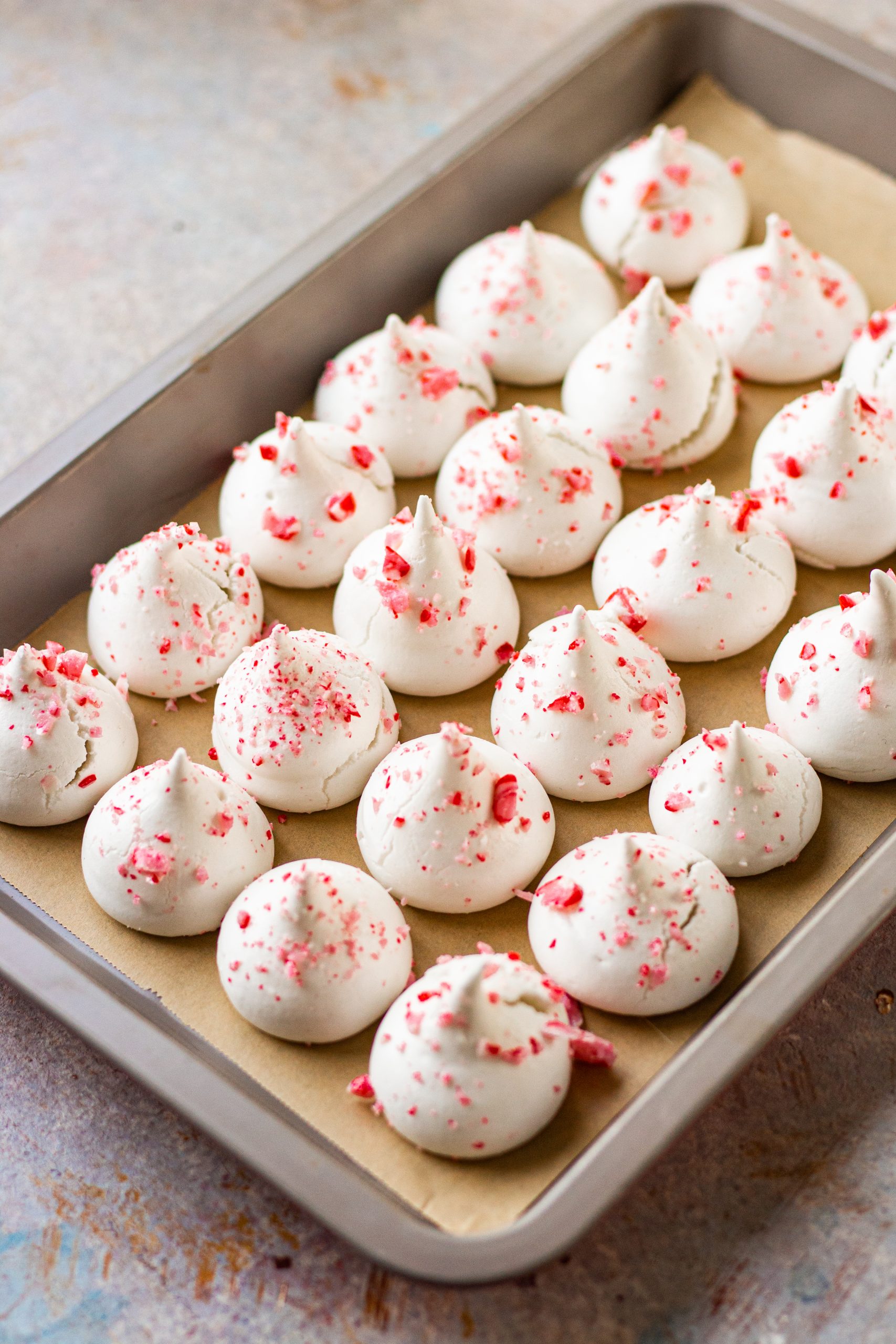 When your meringue cookies tray goes in the oven, do not open it again and again. They need to stay in that warm place properly for some time.
Don't make your meringue on a humid day. As the humidity will make them very sticky, even after baking them for a long time.
Add the exact amount of sugar and egg whites, as given in the recipe.
Add a ½ teaspoon of citric acid or lemon juice, if making white meringue cookies as they help with the whiteness of your kisses.
Variations
The variations which can be performed with the meringue cookies are so many! In this recipe we are adding crushed peppermint canes in the spirit of Christmas. You can add a dust of cocoa powder before baking or a colorful crumb too. You can add different colors and divide a batch into two, to make two shaded swirls. You can also add ½ a teaspoon of vanilla or almond extract for them to taste like it. After baking and cooling, you can always dip a half of your meringue cookie in chocolate and drizzle some nuts on it, if you like a little extra!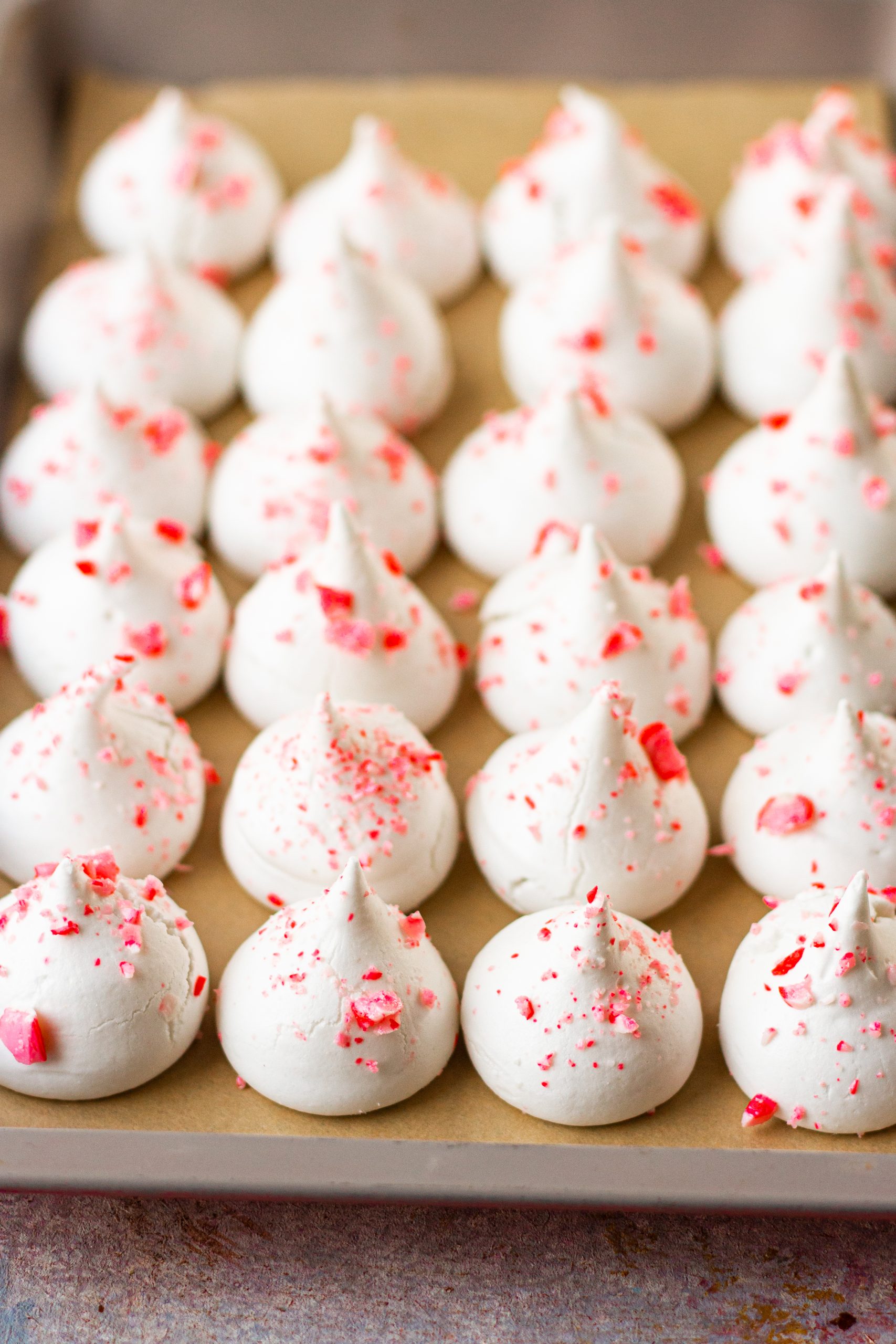 Other Christmas recipes on the blog
PEPPERMINT MERINGUE COOKIES RECIPES
PEPPERMINT MERINGUE COOKIES
Ingredients
75g caster sugar
75g icing sugar
75g egg whites
1 peppermint candy can crushed
½ teaspoon lemon juice
Instructions
Pre-heat the oven to 90*C and line 1-2 baking trays with parchment paper or silicone mat.
In your mixing bowl, add egg whites and start whisking them on a medium speed and once they start to fluff-up, add the caster sugar; one spoon at a time.
Make sure your mixture gets stiff after each addition of caster sugar spoon.
Add the lemon juice in between.
Once all the sugar has been added, continue to whisk at high speed, until you have a smooth, stiff and glossy mixture. Continue to whisk it for 5-10 minutes and you will see no sugar particle leftovers.
Remove the mixing bowl and add the icing sugar slowly. And fold it in with the help of spatula till you see no big sugar pockets in there.
Place the mixture in your piping bag with your desired nozzle tip and pipe out the meringue cookies on the lined tray; in straight lines.
Once all the mixture is piped nicely, sprinkle the crushed peppermint cane on your meringue cookies and put the tray in the pre-heated oven.
Bake for one hour at 90*C and if you feel they are not properly dried out, bake for another hour at 80*C.
In the end, you will know they are done, once you are able to pick them without any struggle, easily without sticking and they feel very light to you.
Once they are cooled, store them in the air-tight container and enjoy them just like that or with your favorite desserts!