Winters are here and there are so many treats I am attracted to try. Winters, for me means Christmas and New Year's and family and friends and fun get-togethers and potlucks and what not! I am so happy to share this recipe today, what is better than cookies on a winter evening? Cookies with all kinds of spices incorporated in them to keep me warm with some warm milk of course!
These edible spiced cookie cups will brighten up even the gloomiest winter day! They are very quick and easy to make and they are so so cute! Is it just me who loves small cute edibles and feels like a giant or you too feel it? Well, I love this recipe and you should most definitely try it! They are fun to make and to eat as well.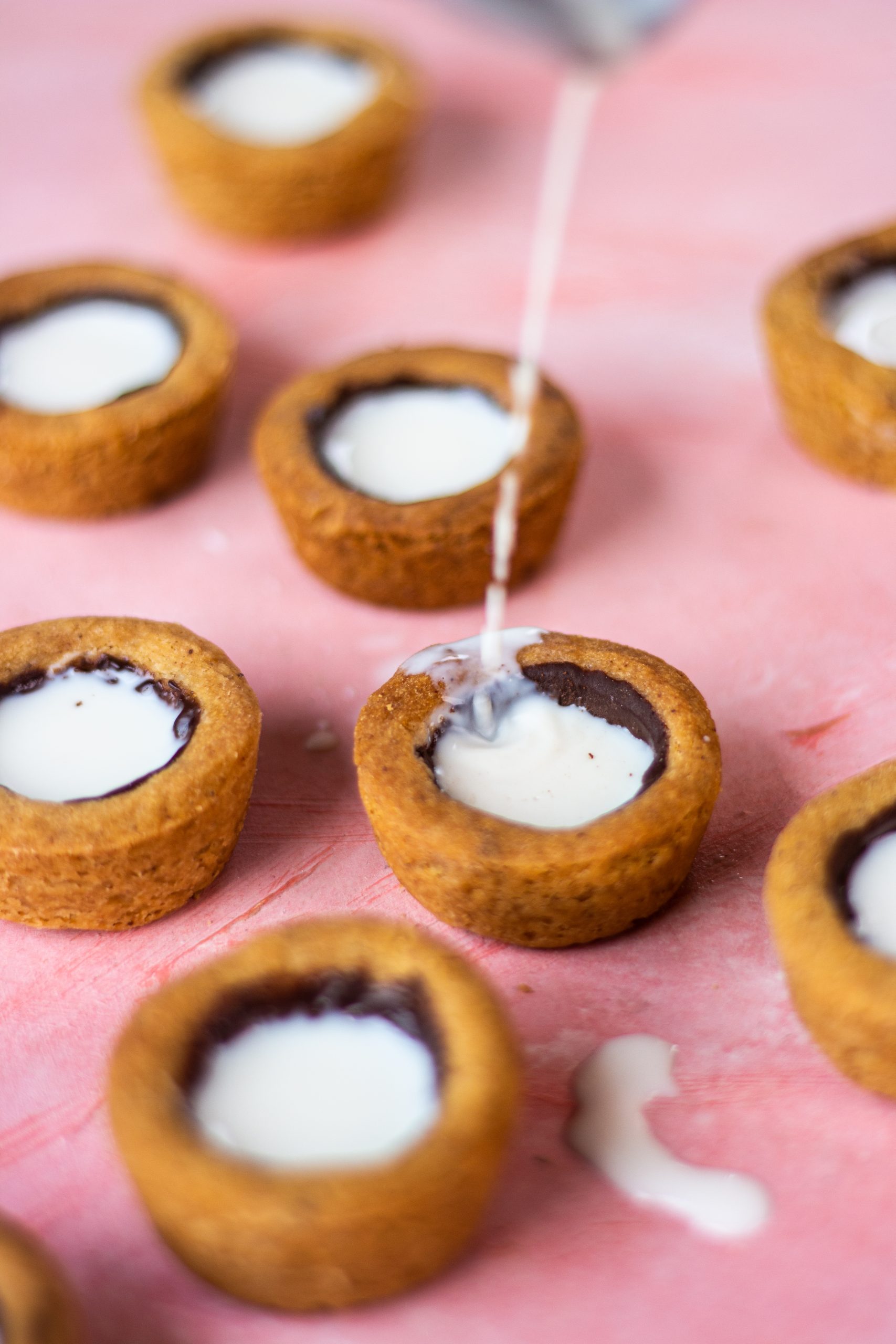 Ingredients used in Spiced Cookie Cups
Butter – Like all cookie dough, this also requires butter. Make sure you are using softened butter and not hard butter, straight from your refrigerator as it won't let the creaming process to work properly. Soft butter will whip up nicely and make the sugar dissolve without any struggle.
Icing Sugar – I am using icing sugar for this cookie dough and not caster sugar or brown sugar. You can try making these spiced cookie cups with any sugar you like.
Winter spice – Using a good dose of spices in my desserts is my favorite thing about winter and this cookie is no exception! Cinnamon and ginger powder adds such a delicious flavor to this cookie and you can actually add any other spice you like – clove powder or nutmeg. Whatever suits your taste
Apart from this, I use melted couverture dark chocolate to dip my cookies in and also fill them with some milk for that cookie and milk classic!
Tips and variations for spiced cookie cups
Always chill the cookie cups for an hour or two, before baking. As they will hold the shape then and will come out pretty cute!
 The creaming of icing sugar and butter needs to be proper. Do not hurry at this step.
Coat the insides of the baked cookie cup with a nice layer of good quality dark chocolate, as it will help the milk to stay in for longer period of time and it will be extra indulgent!
Instead of spices you can add endless types of things in the cookie dough like confetti sprinkles to make it for a birthday party may be or chocolate chips. Very thin slices of any kind of nut like pistachios or almonds can also be added in the dough. You can even add saffron strands and cardamom powder in the cookie cup dough or even in the milk served in it.
Instead of milk, you can add hot chocolate too and top it up with some whipped cream. You can even pipe some chocolate ganache in the hollow space and finish with some sprinkles to make them extra adorable.
If you want to go a little extra, after the spiced cookie cups are baked and cooled properly, you can make the handle for it with pretzels and stick it up with the help of some melted dark chocolate and even a straw with the help of a peppermint candy cane.
You can simply line the tray of cookie cups and keep it in the freezer for about a month and bake them, if guests are coming out of a sudden! These can be perfect for a dessert or even a cute little hot beverage!
Use your fingers to shape the ball of the spiced cookie dough in the small muffin pan or even by the back of a wooden spoon.
After they are baked and as they are hot, it is very important to shape them if your cookie dough puffs up! As at that time, it is very easy to mould the cookie cups into a properly shaped cup and once it is cooled, it cannot be further shaped.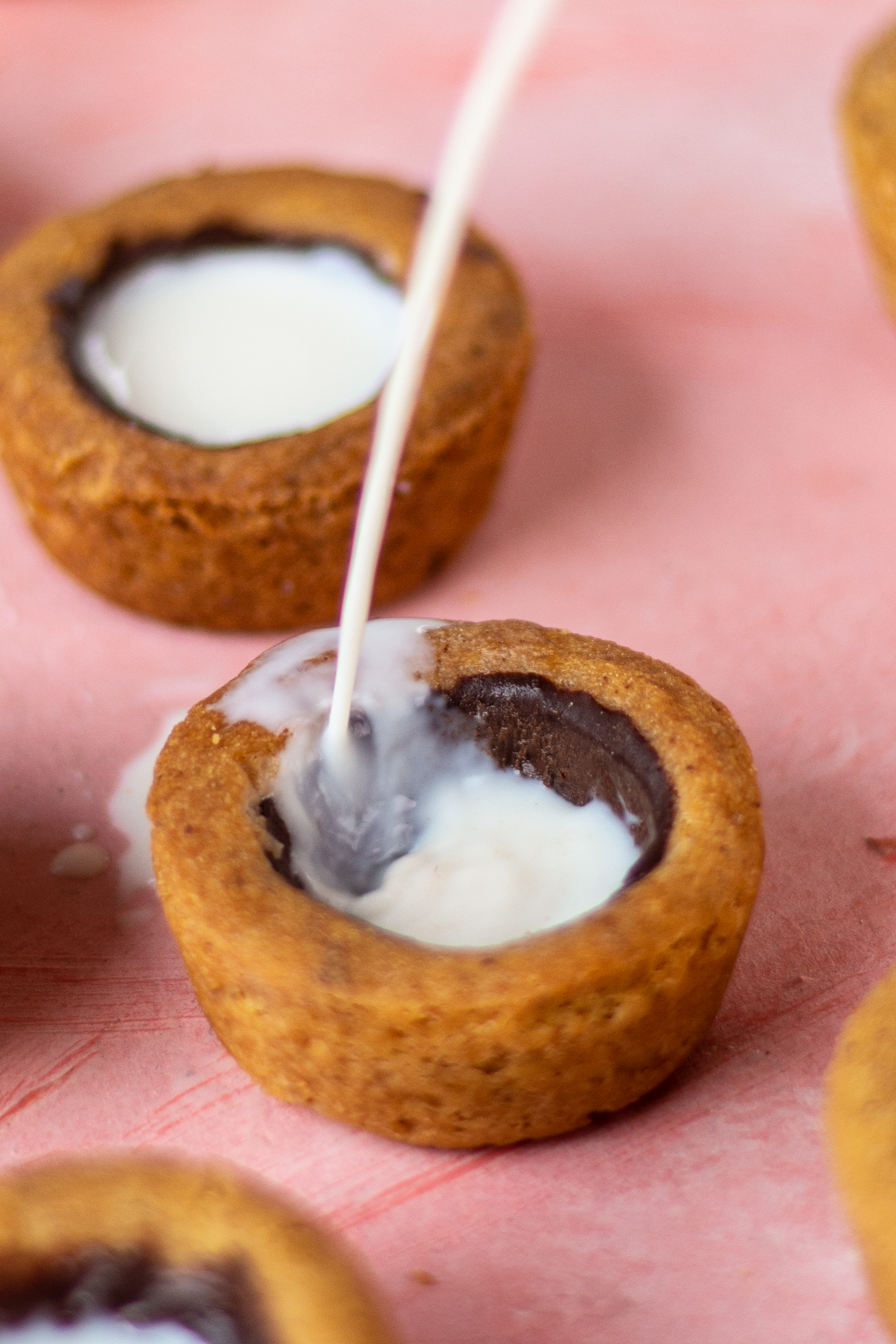 Other Christmas recipes on the blog
Spiced cookie cups
Ingredients
½ cup (113g) softened butter
¼ cup (30g) icing sugar
1 teaspoon (5g) vanilla extract
1 teaspoon (5g) cinnamon powder
½ teaspoon (3g) ginger powder
1 cup (120g) all-purpose flour
Melted dark chocolate to coat the insides of the spiced cookie cups
Some milk to fill them
Instructions
Pre-heat the oven to 180*C.
Cream the butter and icing sugar until fluffy.
Stir in vanilla extract, cinnamon powder and ginger powder.
Add flour and mix well. Mix until the dough comes together.
This dough made 12 cups for me; it can make more or less for you; according to the size of your muffin mould. I am using a mini muffin tray here and weighed the dough into 12, 20g balls. You can use an ice-cream scooper or eye-ball it.
Place one ball of spiced cookie dough in the bottom of each mini muffin baking cup. Using your fingers gently press the dough up and along the sides of the pan to make a cup shape. You can even use the back of a wooden spoon, if you like.
Bake for 10-12 minutes until they are lightly brown in color. Immediately after removing the cookie cups from the oven with the help of a teaspoon or the back of a wooden spoon, gently reform the "cup shape" by widening the center and flattening the bottom of the cup.
Bake for an additional 2 minutes.
Remove from the oven and let it cool completely. Once cooled, use the end of the knife to gently pop out the cookie cups.
Melt some dark chocolate and coat the insides of each cup with the help of the back of a teaspoon or you can use your finger. Try to evenly coat the inside of your spiced cookie cup.
Add some milk and serve. Enjoy and cheers!
If you liked the recipe and it makes it to your Christmas spread this year, then do share pictures with me by tagging me on Instagram using #bakewithshivesh. Happy Baking!