The year end holidays are for sleeping in, drinking coffee at the kitchen table; while catching up with my family and for making a delicious home-made breakfast! I am a person who loves breakfast meals, more than any kind of meals! I love eating breakfast meals for lunches and even for dinners.
These eggless chocolate oreo waffles are something I have been meaning to try! They are light and crispy on the outside and soft and fluffy on the inside. With added oreo bits, they are perfect for not just Sunday but even for a dessert, when topped with some ice cream and chocolate sauce of course! I feel waffles are underrated; as people feel they require a lot of work and ingredients, but in reality they can be made quicker than pancakes! Trust me; this recipe will be your go-to recipe from now on!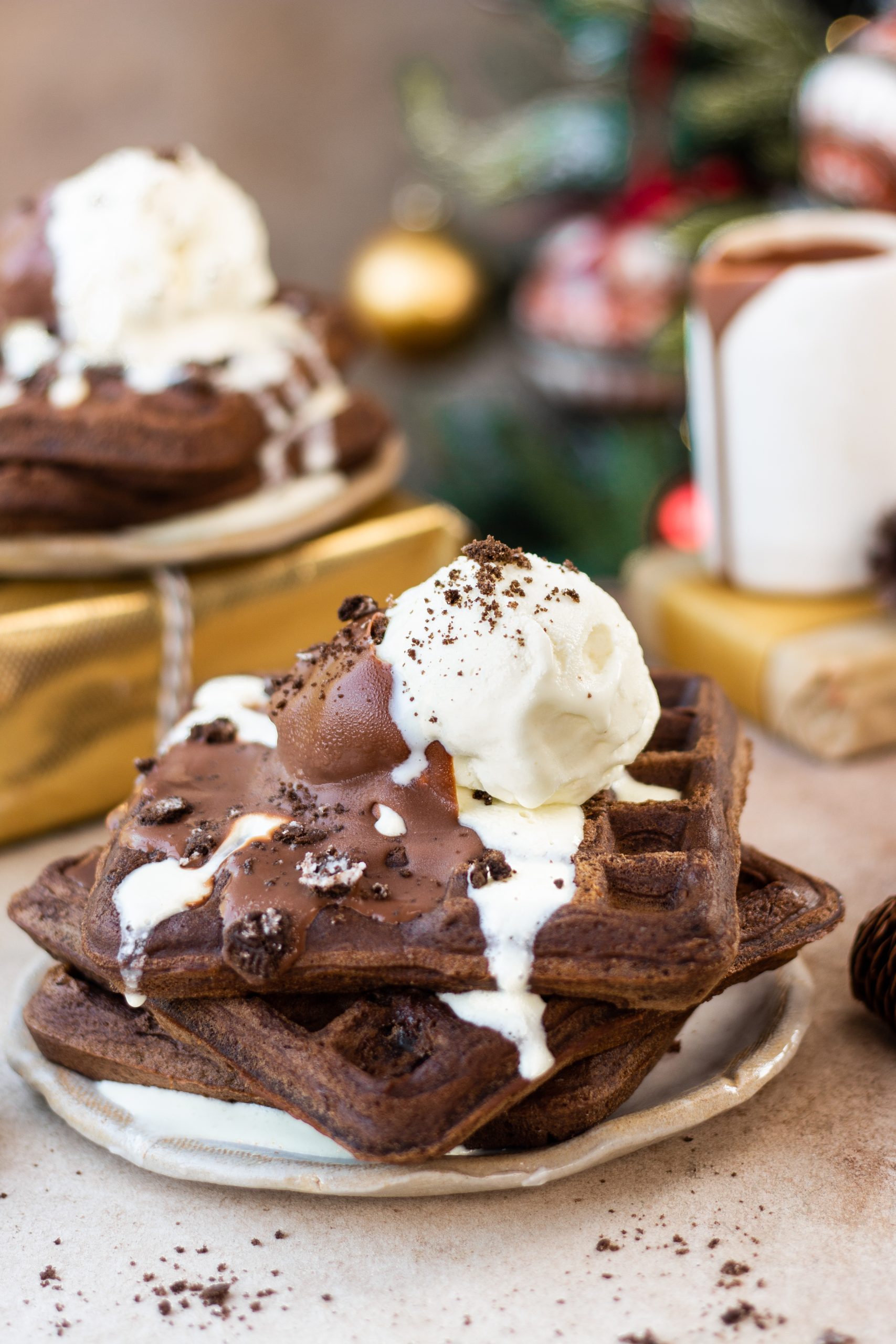 Ingredients for your eggless chocolate Oreo waffles
Butter milk – As we are not using eggs in this recipe, our chocolate oreo waffles need some kind of protein without the eggs! And hence, we are making our own butter milk for this recipe. We are combining milk with lemon juice to have out butter milk. The trick is to make our milk 'split'. If you want, you can also use vinegar instead of lemon juice to do the job. The acid in lemon juice when comes in contact with the fat of the milk, it will form small pockets of curd. The key is to let the mixture sit for 10-12 minutes, undisturbed. Using milk at room temperature will help the curdling process happen faster.
Refined flour – Refined flour or all-purpose flour is what we are using in this recipe, if you want you can even substitute half of the refined flour with whole wheat flour; it will result in a darker color and a thicker batter.
Cocoa powder – We are using cocoa powder here for that chocolate flavor, we want in our waffles. Using a good quality unsweetened cocoa powder would be suggested. I use Cadbury or hershy's cocoa powder generally.
Coffee powder – I am adding coffee powder here because cocoa and coffee when added together in a recipe, the flavor comes out to be more intense and the final product is really good! If you do not want to add coffee powder, you can simply skip it in your recipe.
Caster sugar – Do not miss adding caster sugar in your waffle batter as you need some sweetness in them after all!
Butter – we need some melted butter to grease the waffle iron.
Vanilla extract – A good quality vanilla extract will enhance the overall flavor.
Oreos – Of course, we need some crushed oreo bits to go up a notch!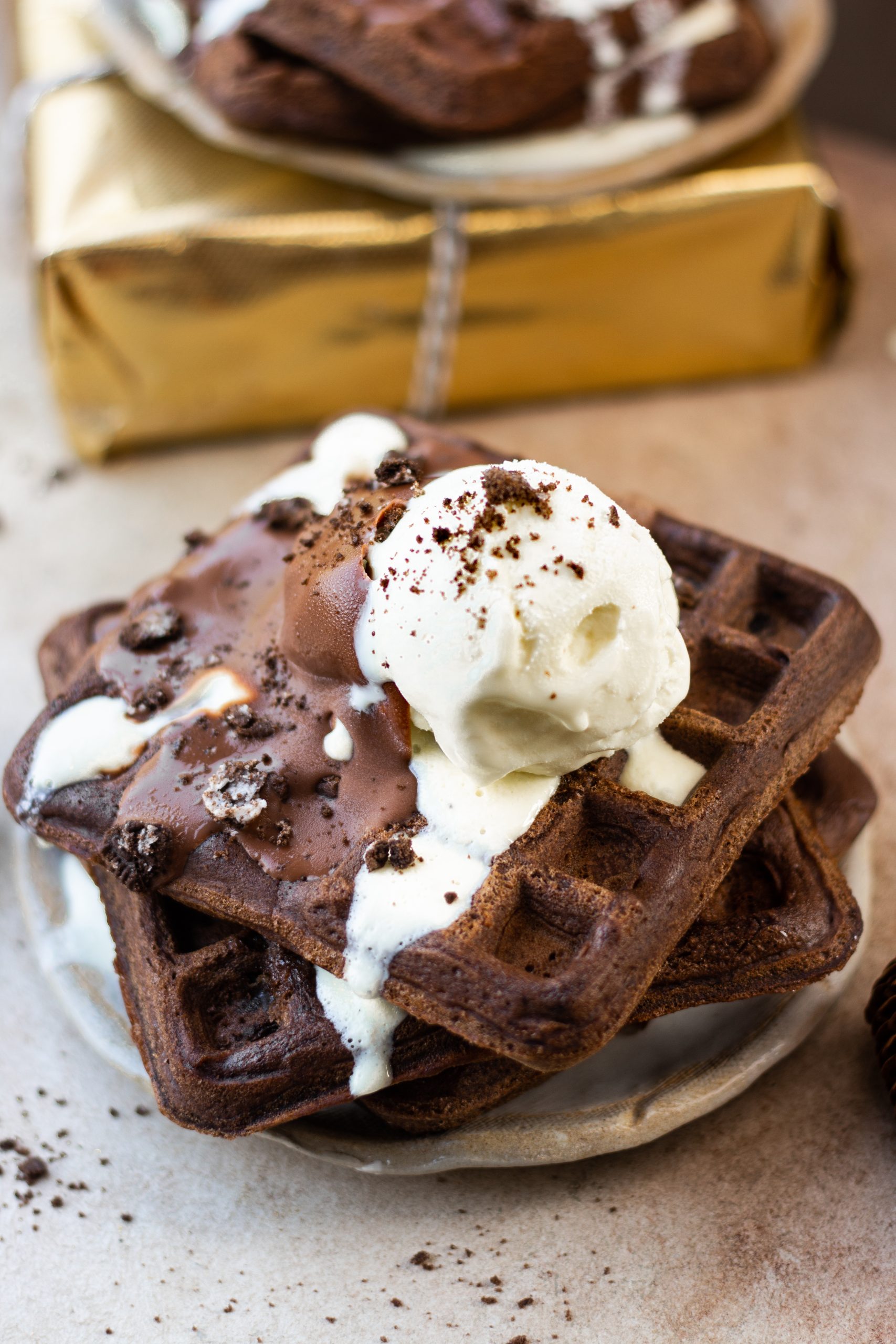 Equipment being used to make our eggless chocolate oreo waffles
The kind of equipment you use when you're baking makes a huge difference to the end result! I would recommend you to use good quality mixing bowls and other equipment so that your waffle batter comes together nicely and your eggless chocolate waffles turn out absolutely delicious!
To mix all my ingredients together, I'm using Borosil's 100% Borosilicate Glass Bowl which is microwave and oven safe, plus the bowls are super easy to clean and handle, which makes my baking process totally hassle free!
I am also using Borosil's hand mixer to mix my dry and wet ingredients and to bring my batter together. This great hand mixer comes with 5 variable speed options and chrome finished beaters which makes sure my waffle batter is super smooth and velvety.
And finally, to make my waffles, I am using Borosil's Neo Waffle Maker which is the perfect addition to my kitchen as it is super aesthetic and has some pretty cool features like a 90 degrees easy access and automatic temperature control. The best thing about this waffle maker is that both the waffle plates are non-stick so I don't have to worry about my waffles burning or sticking to the bottom.
To buy the entire borosil range, visit www.myborosil.com.
Variations in eggless chocolate oreo waffles
If you do not want chocolate flavored waffles as the base, you can remove cocoa powder and substitute it with all-purpose flour. Instead of crushed oreos, you can also add any other biscuit bits if you like. You can top your waffles with butter, maple syrup or chocolate fudge sauce. And if like oreos a lot, like I do; you can even add them on the top. And simply add any kind of ice-cream to top it up! You can also dust your eggless chocolate oreo waffles with some icing sugar for that Christmassy and snowy look this season.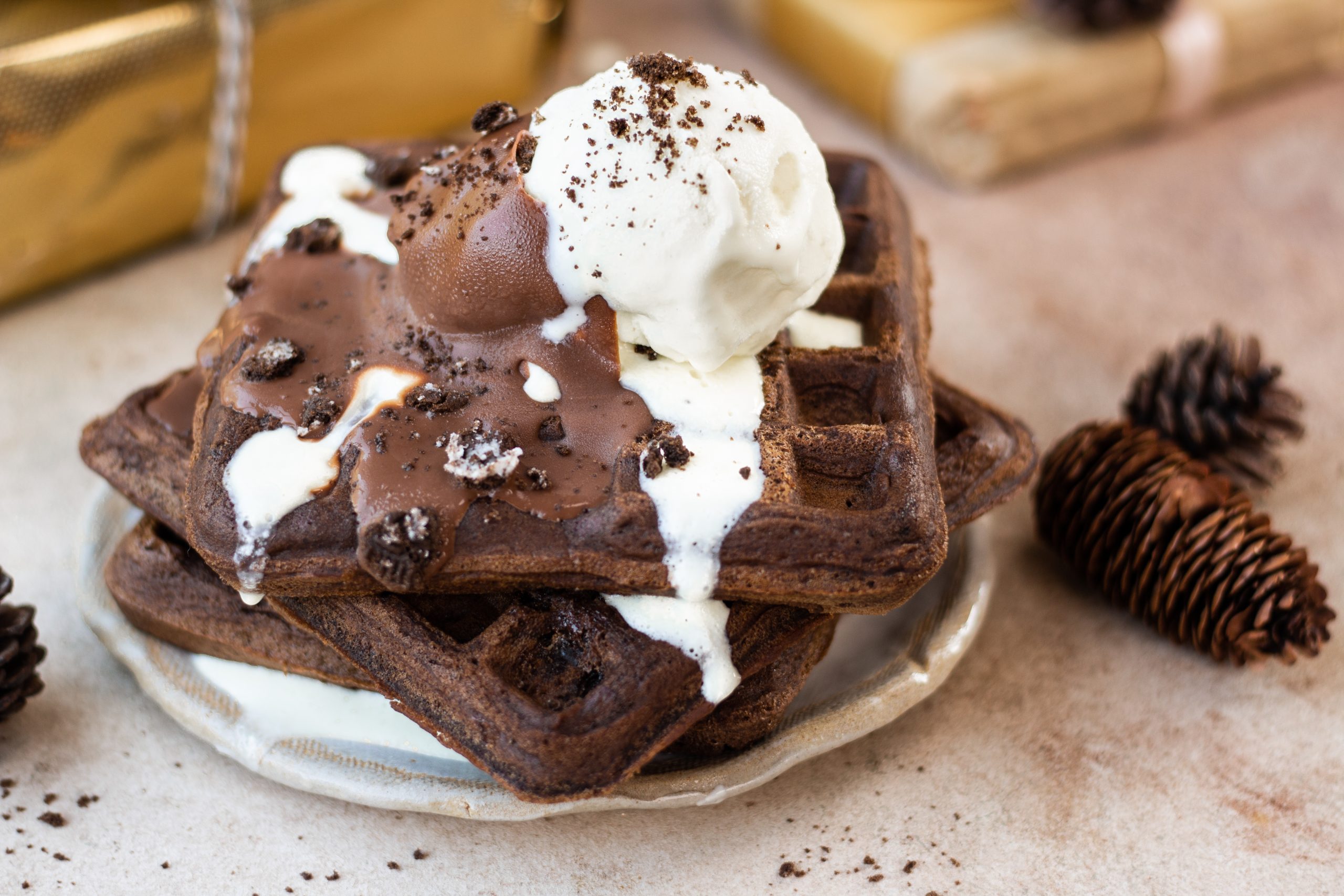 Tips to get the perfect eggless chocolate oreo waffles
Always pre-heat your waffle maker for the best kind of waffles, as it will be evenly cooked and takes less time.
Always brush your waffle maker with melted butter generously. It will help them get crispier and easily removable, once they are done.
Do not overfill your waffle mould. Overfilling will create a massive mess for you as it will overflow the batter, which can cause raw waffles!
Do not add a lot of crushed oreos, as the batter might not be able to hold on to them. Follow the recipe!
Eggless Chocolate Oreo Waffles Recipe
Eggless Chocolate Oreo Waffles
Ingredients
1 + ½ cup (180g) refined flour
¼ cup (30g) cocoa powder
2 teaspoon (8g) coffee powder
1 tablespoon (12g) baking powder
½ teaspoon (3g) baking soda
¼ cup (30g) caster sugar
2 cups (480ml) milk
2 tablespoon (25ml) lemon juice
⅓ cup (80ml) oil
½ teaspoon (3ml) vanilla extract
5-7 crushed oreos
Melted butter for brushing the waffle iron
For Milk chocolate sauce
1 cup (170g) milk chocolate
3 teaspoon (20ml) oil
Instructions
In a bowl add milk and in to it pour the lemon juice and set aside for 10 minutes, until it curdles.
In another bowl, add all the dry ingredients, including; refined flour, cocoa powder, coffee powder, baking powder, baking soda and caster sugar; mix them all properly.
As our milk is curdled now and our buttermilk is formed, add oil and vanilla extract to it.
Add the wet ingredients into our dry ingredients and for the final step, fold crushed oreos in the batter.
Till this batter rests for 5 minutes. Pre-heat your waffle iron and let's prepare our milk chocolate sauce.
In a bowl add your chopped milk chocolate or milk chocolate chips and melt them, add the oil and mix it properly, and there you go!
As your waffle iron is pre-heated now, brush it up with melted butter generously and pour the batter carefully; do not overfill at this stage.
Let it get cooked and once you see the steam coming out of your iron, in around 10-12 minutes; your waffles are ready! Serve them with vanilla ice-cream, some more crushed oreos and the milk chocolate sauce we made, enjoy!
If you liked the recipe and it makes it to your Christmas spread this year, then do share pictures with me by tagging me on 
Instagram
 using #bakewithshivesh. Happy Baking!