Eggless Chocolate Oreo Waffles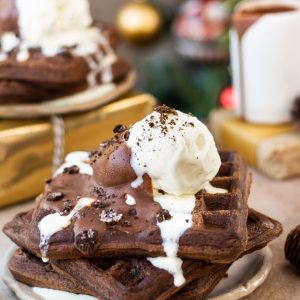 1 + ½ cup (180g) refined flour
¼ cup (30g) cocoa powder
2 teaspoon (8g) coffee powder
1 tablespoon (12g) baking powder
½ teaspoon (3g) baking soda
¼ cup (30g) caster sugar
2 cups (480ml) milk
2 tablespoon (25ml) lemon juice
⅓ cup (80ml) oil
½ teaspoon (3ml) vanilla extract
5-7 crushed oreos
Melted butter for brushing the waffle iron
1 cup (170g) milk chocolate
3 teaspoon (20ml) oil
In a bowl add milk and in to it pour the lemon juice and set aside for 10 minutes, until it curdles.
In another bowl, add all the dry ingredients, including; refined flour, cocoa powder, coffee powder, baking powder, baking soda and caster sugar; mix them all properly.
As our milk is curdled now and our buttermilk is formed, add oil and vanilla extract to it.
Add the wet ingredients into our dry ingredients and for the final step, fold crushed oreos in the batter.
Till this batter rests for 5 minutes. Pre-heat your waffle iron and let's prepare our milk chocolate sauce.
In a bowl add your chopped milk chocolate or milk chocolate chips and melt them, add the oil and mix it properly, and there you go!
As your waffle iron is pre-heated now, brush it up with melted butter generously and pour the batter carefully; do not overfill at this stage.
Let it get cooked and once you see the steam coming out of your iron, in around 10-12 minutes; your waffles are ready! Serve them with vanilla ice-cream, some more crushed oreos and the milk chocolate sauce we made, enjoy!
Recipe by
Bake with Shivesh
at https://bakewithshivesh.com/eggless-chocolate-oreo-waffles/