The holiday season marks my favorite time of the year. And I am someone who is a little obsessed with Christmas treats! I literally wait for Christmas to come every year; as to try new and different recipes in my kitchen and to gobble them with my friends and family. The best recipes are always which everyone, around the world can make and the ingredients are available easily. Even better thing for a perfect recipe is, if it includes very less ingredients and can be made in no time at all just like these toffee chocolate barks.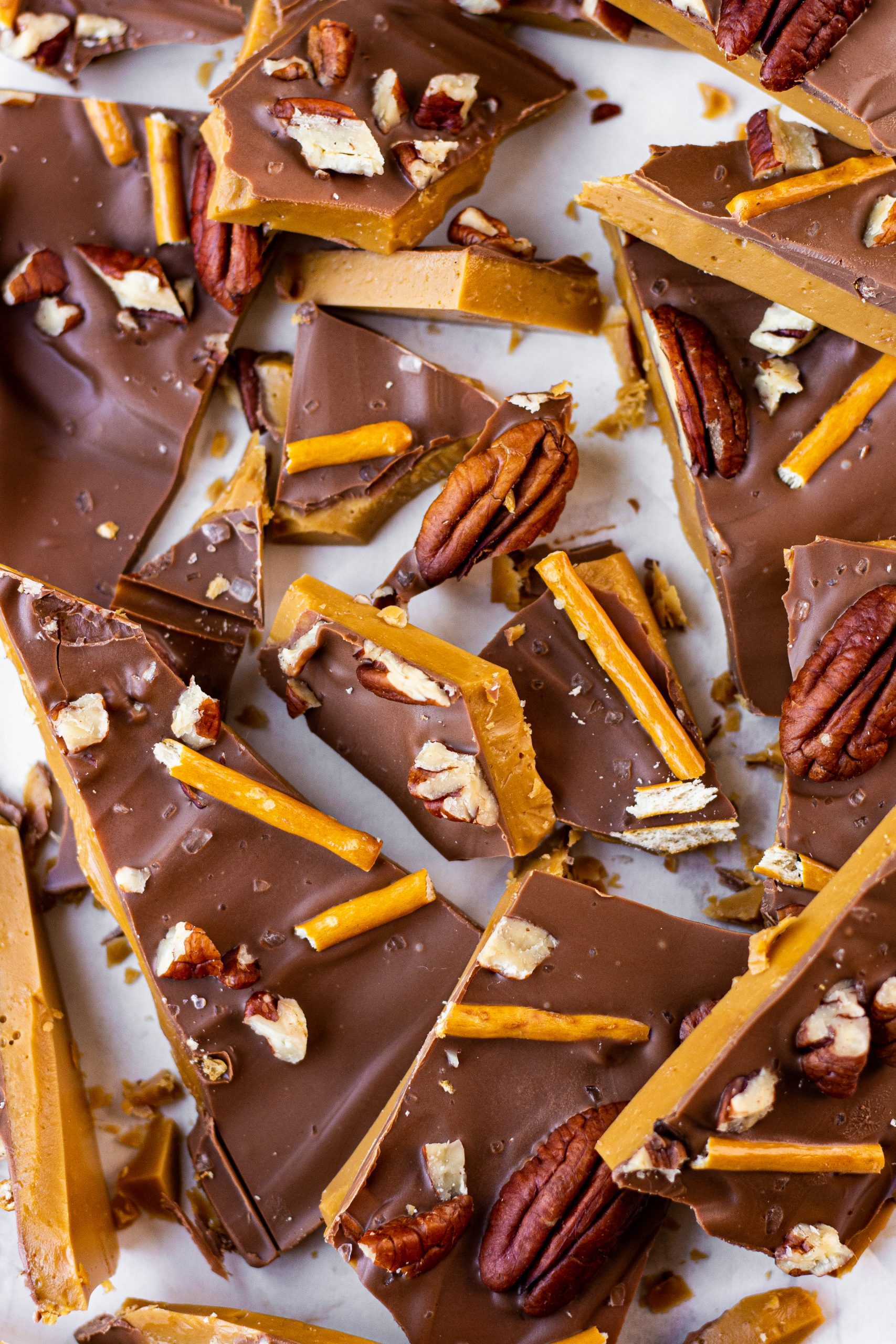 This toffee chocolate bark recipe is going to be your Christmas staple, I promise! It is super easy and requires very few ingredients and the end product is so yummy! I swear when I made these in my kitchen, I literally had to remove them from the sight of my eyes because I kept munching on them, even before clicking pictures! I love how crispy, buttery it is, with a nice caramel flavor.
WHAT IS TOFFEE IN THE TOFFEE CHOCOLATE BARK MADE UP OFF?
BUTTER
Butter is one of the main ingredients of this recipe and that is why using good quality butter. I recommend using amul butter or president butter.
SUGAR
I am using caster sugar in this recipe. You can also use granulated sugar here, but sometimes the grains don't tend to dissolve evenly that is why caster sugar is on the safer side.
VANILLA EXTRACT
I always tell people that a good quality vanilla extract is an investment. It enhances the flavor and the aroma of the product, overall. Also, don't you love the specs of it! Use the best quality; you can get your hands on.
SEA SALT
Any sweet treat when sprinkled with some sea salt turns extra indulgent! Salt is one of the best flavor enhancer and thus we are using some sea salt to sprinkle over the toffee bark.
PECANS
Pecans are beautiful nuts with that earthiness. I am using pecans in this recipe; feel free to use almonds, walnuts or peanuts, if you are unable to get pecans.
PRETZEL STICKS
It's another add on in this recipe. I love crunchy pretzel sticks and they make these toffee barks even cuter. If you do not have them, you can skip this ingredient.
MILK CHOCOLATE CHIPS
I am using milk chocolate thin layer for my toffee, if you think you like dark or white chocolate; they both work too!
HOW TO STORE THE TOFFEE CHOCOLATE BARKS?
Toffee chocolate barks can be stored in an air-tight container for up to two weeks. Keep the toffee barks in a cool and dry place as, if they come in contact with moisture or humidity, they can turn sticky and can even have a watery film.
TIPS TO MAKE THE PERFECT TOFFEE FOR THE TOFFEE CHOCOLATE BARK
Stir constantly while making toffee, keep the mixture moving, or it can scorch. And it can also cause the butter to separate from the mixture.
Avoid humidity when making toffee; if we need hard crack toffee, we need to avoid humid weather. Chewy toffee is not a very appealing toffee!
Use salted butter, salted butter not only adds flavor but also stabilize the sweetness of the toffee. If you are using unsalted butter, then a pinch of salt is a must.
Prepare everything you will need, before starting the toffee barks. Once the toffee is about to be done, it is important to pour it in the lined pan. You don't have a lot of time as it starts to harden quite quickly. So have everything ready!
Be sure to use a heavy bottomed pan. A heavy bottom pan, distributes heat properly and more efficiently. These kinds of pans are perfect for caramel making or toffee making.
Patience is the key. The toffee takes time to cook as it is done on a medium heat. There is a very thin line between a burnt toffee and a perfect toffee; so it is better to take it slow and easy!
Variants. You have ton of options for toffee barks. You can substitute pecans with almonds or peanuts or even cashews. You can add different percentage chocolate to coat the bark from one side. You can even make swirls with two different shades of chocolate. Those are your barks and you can decorate them as you like!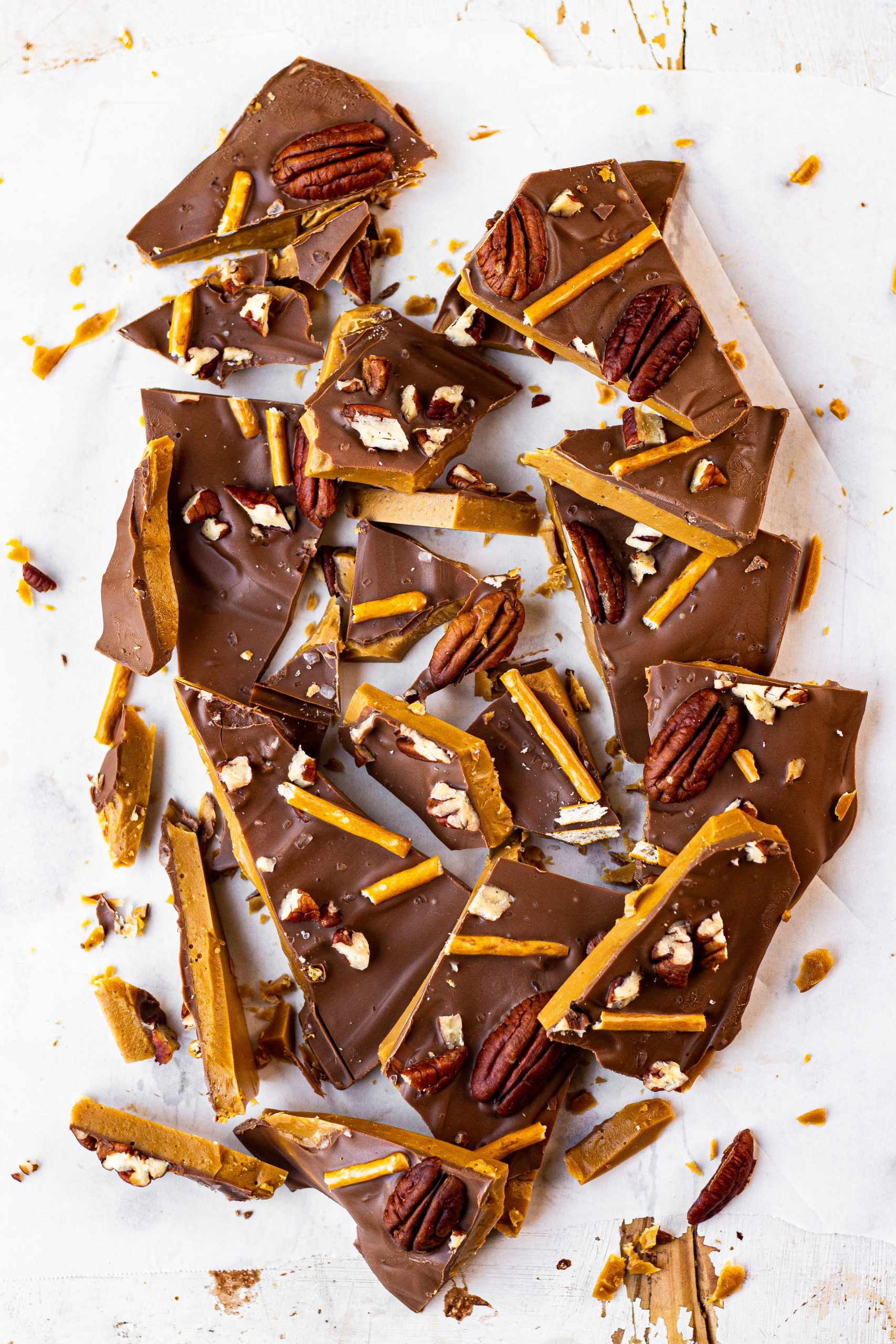 OTHER CHRISTMAS RECIPES ON THE BLOG
MULLED WINE
PEPPERMINT MERINGUE
GINGERBREAD LATTE
TOFFEE CHOCOLATE BARK RECIPE
TOFFEE CHOCOLATE BARKS
Ingredients
1 cup (200gm) butter
1 cup (200gm) caster sugar
1 teaspoon (5ml) vanilla extract
1 cup (200g) milk chocolate chips
¼ cup (32gm) pecans
¼ cup (10gm) pretzel sticks
Sea salt to sprinkle
Instructions
Line a 9 inch square pan or a baking tray with parchment paper and some butter.
In a heavy bottom pan, add butter and sugar and let the sugar dissolve completely.
Bring the mixture to a boil and stir continuously. As we are making the toffee barks without thermometer, a way to check if they are done is, to put a drop of the mixture in cold water and if it solidifies into a hard candy structure, it is done.
Turn off the heat and add the vanilla extract in the sauce pan.
Carefully pour the mixture onto the lined tray and let it cool.
Melt the milk chocolate chips on double boiler and then spread it oven the cooled toffee. It doesn't have to be perfect; you can even make a design out of it.
Stick the pecans and broken pretzel sticks on the chocolate side of the toffee and sprinkle some sea salt.
The toffee is ready, enjoy! Store them in an air-tight container for up to two weeks.