This festive season has been all about the most cosy desserts and lots of Christmas and new year parties! And if you're going to a fun family party in the next few days, I have a very interesting dessert for you today! I agree, a carrot cake may not be everybody's cup of tea. But I'm pretty sure cake pops are.
I love cake pops! Sadly, I never get the time to make them. But a few days back I made my favorite eggless carrot cupcakes and had some leftover with a bit of time in my hands. And so made these super indulgent and cute carrot cake pops with cream cheese frosting. Let's start by discussing the ingredients we will need for this recipe.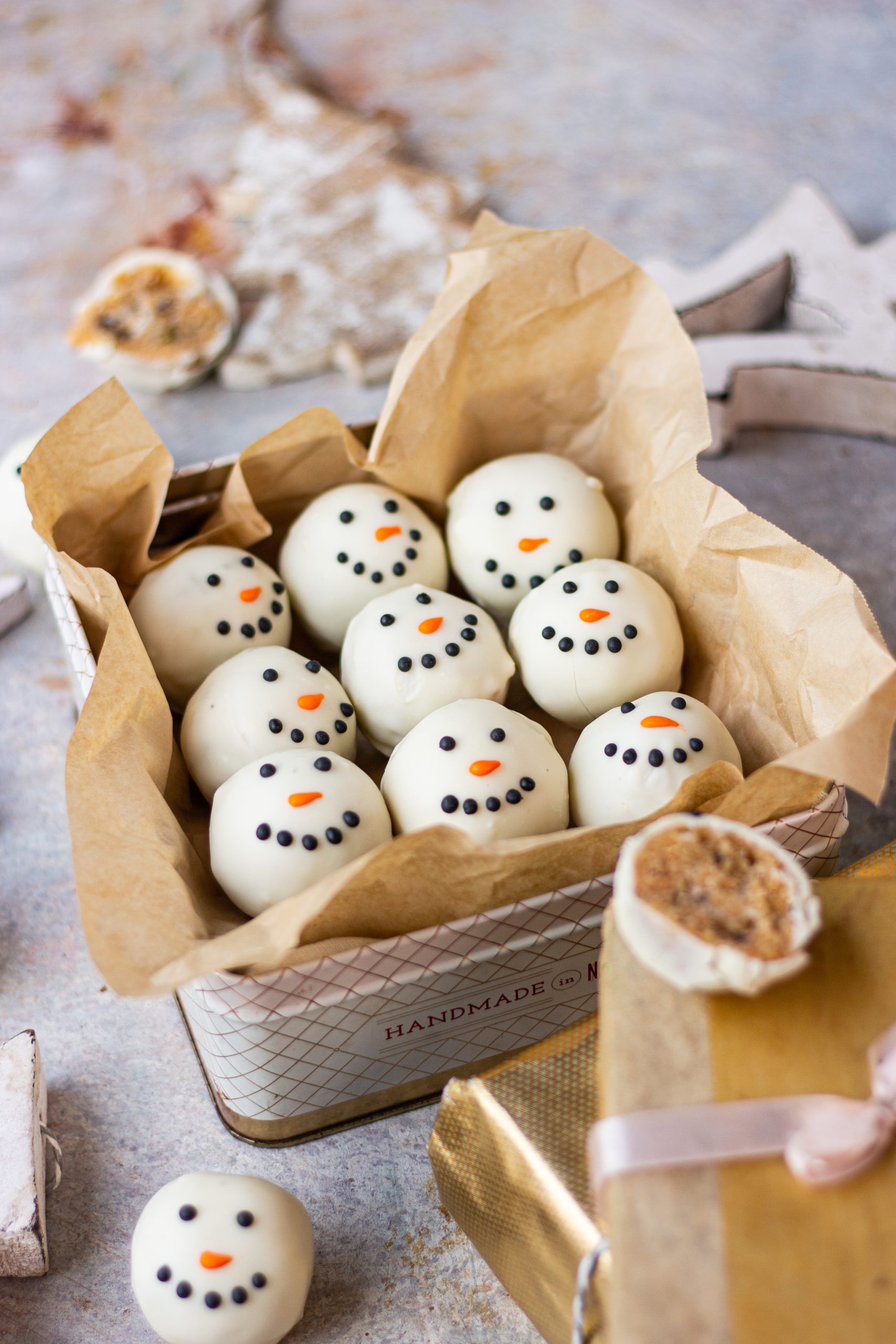 INGREDIENTS NEEDED FOR EGGLESS CARROT CAKE POPS
1. ALL PURPOSE FLOUR
In these carrot cake pops, I have used regular all-purpose flour or maida. But feel free to substitute it with whole wheat flour. Or you can click here and get to the recipe of eggless whole wheat carrot cake from my blog.
2. LEAVENER
I have used a combination of baking powder and soda both. In eggless cakes, a combination of both brings out a fluffy and moist cake just like with an egg.
3. WINTER SPICES
I love a combination of spices in my carrot cake. Cinnamon, ginger and just a pinch of nutmeg brings out the perfect contrast when paired with sweet winter carrots. You can alter the quantity of spices in these carrot cake pops very easily.
4. CONDENSED MILK
To replace eggs, I have used condensed milk in these carrot cake pops. Condensed milk helps in getting a moist cake with a really good structure when compared with a cake made with eggs.
5. MILK AND BUTTER
No eggless cake is complete without these two. Milk here gives the cake batter the flowing consistency and the same time, reacting with the baking powder and helping it in turn function. Whereas the butter helps result in a cake with better crumb structure than without it.
Tips to keep in mind for making these eggless carrot cake pops
Now if you know, it's quite an easy dessert to make but just in case you're new to making cake pops, here are some full-proof tips to make sure you get it right the first time you make 'em –
Make sure your eggless carrot cake muffins have cooled completely before you add your cream cheese frosting as the heat would melt the frosting and your eggless carrot cake pops will become sticky and weird in texture.
When you're crumbling your muffins, make sure you don't leave crumbs in the bowl which are too large. The crumbs need to be fine and even for them to coated properly and for the eggless carrot cake pops to have an even bite to them!
After adding the cream cheese frosting, make sure you refrigerate the balls for a good 2 hours so that when you dip them in white chocolate, they set and you get a beautiful coating of white chocolate.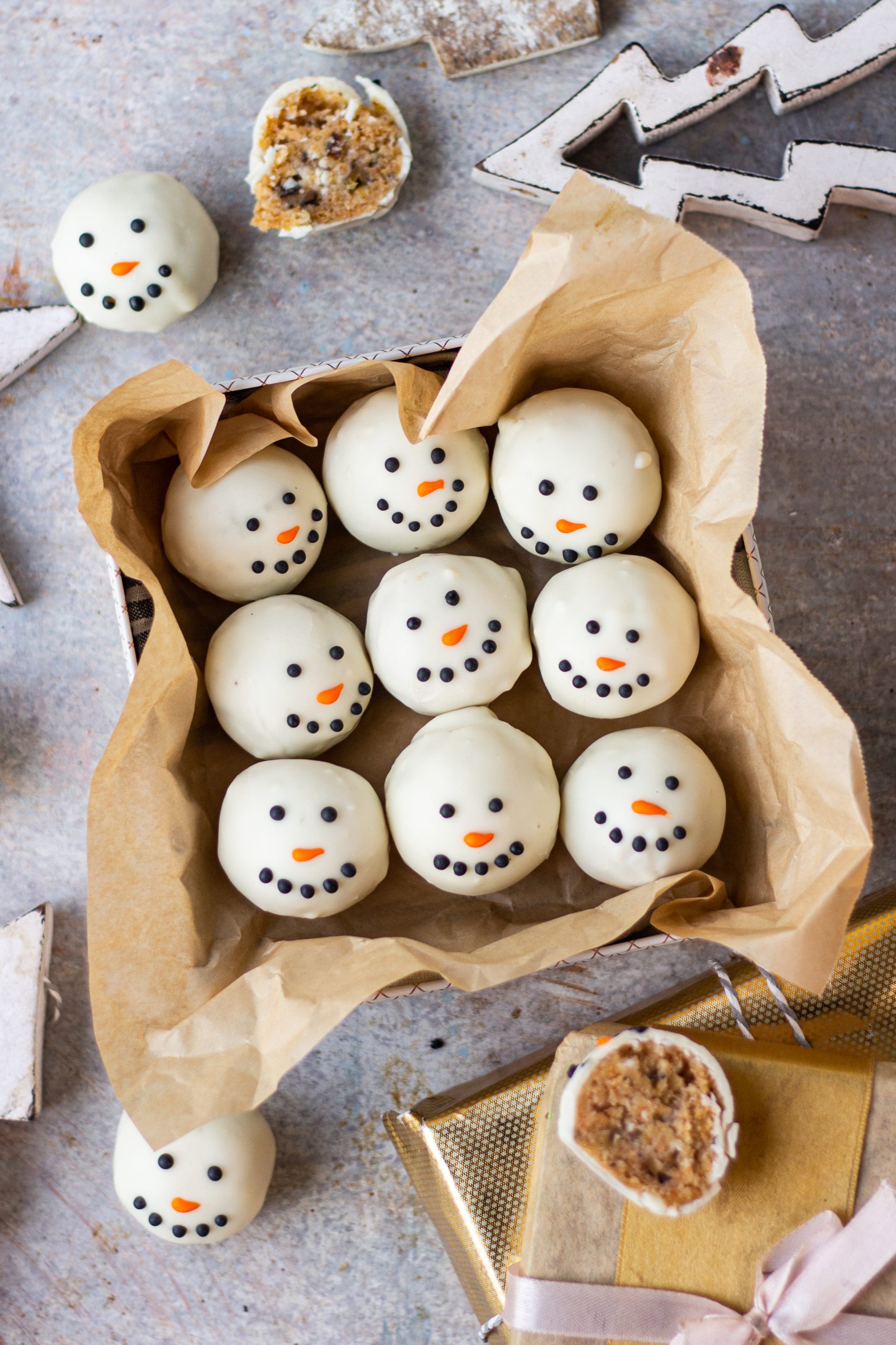 Eggless Carrot Cake Pops Recipe
Eggless Carrot Cake Pops
Ingredients
For cake-
½ cup (60gm) flour
¼ tsp (1gm) baking powder
¼ tsp (1gm) baking soda
½ tsp (2gm) cinnamon powder
¼ tsp (1gm) ginger powder
⅛ tsp nutmeg
¼ tin (100gm) condensed milk
⅛ cup (27gm) butter
⅛ cup (30ml) milk
⅛ cup (16gm) walnuts
1 large or 75gm grated carrot
For frosting-
¼ cup (56gm) softened butter
½ cup (60gm) cream cheese
¾ cup (97gm) icing sugar
½ tsp (2.5gm) vanilla extract
1 cup (170gm) Melted White Chocolate
2 tsp (2ml) Vegetable Oil
Royal Icing for decoration
Instructions
Pre-heat the oven to 180*C. Line a 6 muffin pan with muffin liners.
In a bowl, whisk together flour, baking powder, baking soda, cinnamon powder and ginger powder
In a separate bowl, whisk together butter and condensed milk. Whisk in the milk.
Using a spatula, fold the dry ingredients into the wet ingredients. Do not over-mix.
Fold in the carrots and walnuts. Transfer the batter to the muffin pan using an ice cream scooper and bake at 180*C for 15-20 minutes or until a toothpick inserted into the center comes out clean.
To prepare cream cheese frosting, in a bowl beat the butter and cream cheese together until the mixture is light and fluffy.
While the mixer is running, gradually add the icing sugar and the vanilla extract and mix well until well combined. Don't over-mix.
Crumble the cooled muffins into a bowl and add the cream cheese frosting to it.
Using a spatula, mix well till all the crumbs are well coated in frosting.
Roll into balls and place the balls on a lined baking sheet. Refrigerate for 2 hours or freeze for 1 hour.
To make the coating for the cake pops, melt some white chocolate on a double boiler / in the microwave. Add in the oil and using a spatula, mix well.
Dip the cake ball into the melted white chocolate until it is completely covered. Repeat with remaining cake balls, making sure that the cake balls are cold when dipped in the white chocolate mixture.
Refrigerate again for 2 hours.
Once set, decorate with royal icing and enjoy!
If you liked the recipe and it makes it to your Christmas spread this year, then do share pictures with me by tagging me on 
Instagram
 using #bakewithshivesh. Happy Baking!