Eggless Carrot Cake Pops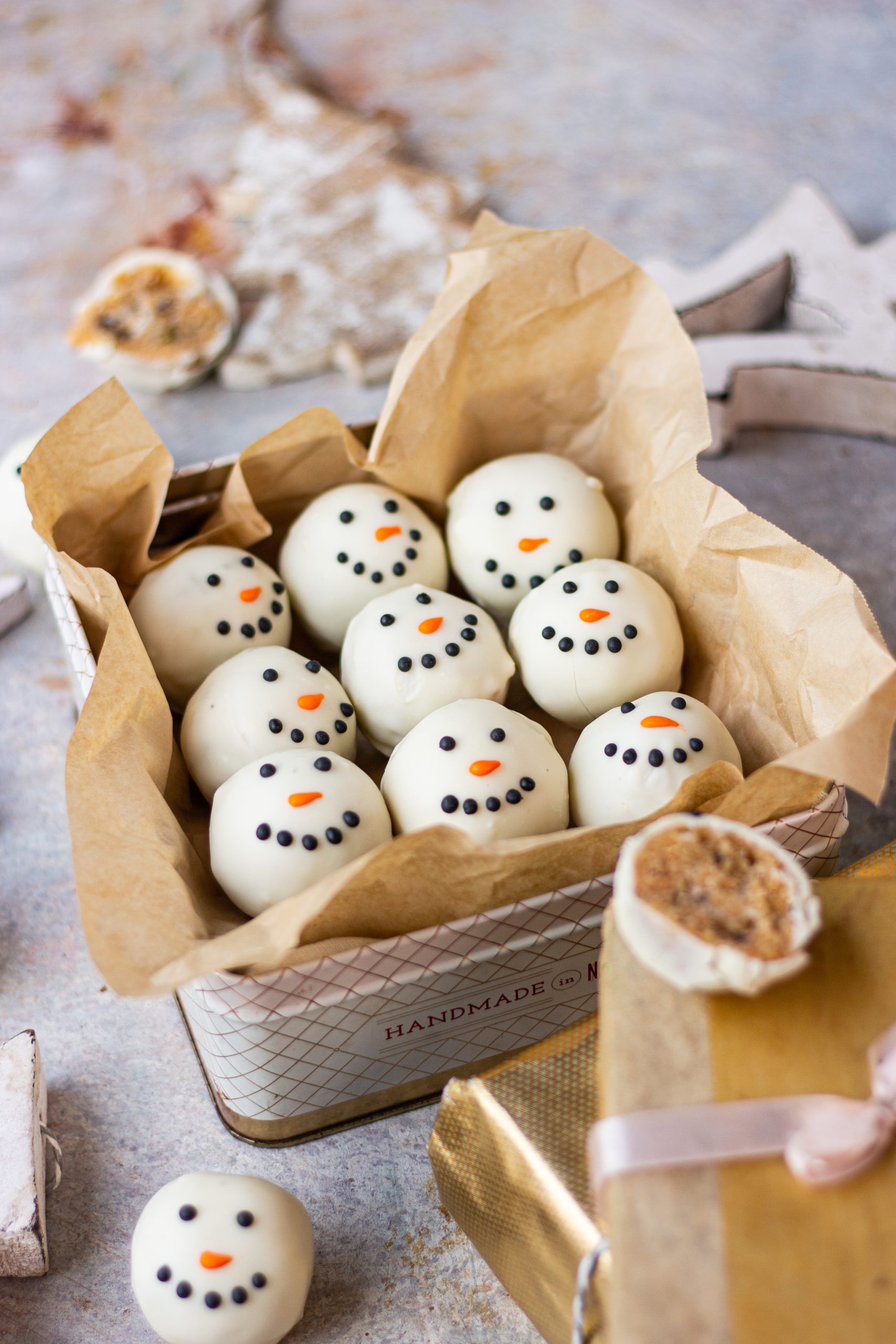 ½ cup (60gm) flour
¼ tsp (1gm) baking powder
¼ tsp (1gm) baking soda
½ tsp (2gm) cinnamon powder
¼ tsp (1gm) ginger powder
⅛ tsp nutmeg
¼ tin (100gm) condensed milk
⅛ cup (27gm) butter
⅛ cup (30ml) milk
⅛ cup (16gm) walnuts
1 large or 75gm grated carrot
¼ cup (56gm) softened butter
½ cup (60gm) cream cheese
¾ cup (97gm) icing sugar
½ tsp (2.5gm) vanilla extract
1 cup (170gm) Melted White Chocolate
2 tsp (2ml) Vegetable Oil
Royal Icing for decoration
Pre-heat the oven to 180*C. Line a 6 muffin pan with muffin liners.
In a bowl, whisk together flour, baking powder, baking soda, cinnamon powder and ginger powder
In a separate bowl, whisk together butter and condensed milk. Whisk in the milk.
Using a spatula, fold the dry ingredients into the wet ingredients. Do not over-mix.
Fold in the carrots and walnuts. Transfer the batter to the muffin pan using an ice cream scooper and bake at 180*C for 15-20 minutes or until a toothpick inserted into the center comes out clean.
To prepare cream cheese frosting, in a bowl beat the butter and cream cheese together until the mixture is light and fluffy.
While the mixer is running, gradually add the icing sugar and the vanilla extract and mix well until well combined. Don't over-mix.
Crumble the cooled muffins into a bowl and add the cream cheese frosting to it.
Using a spatula, mix well till all the crumbs are well coated in frosting.
Roll into balls and place the balls on a lined baking sheet. Refrigerate for 2 hours or freeze for 1 hour.
To make the coating for the cake pops, melt some white chocolate on a double boiler / in the microwave. Add in the oil and using a spatula, mix well.
Dip the cake ball into the melted white chocolate until it is completely covered. Repeat with remaining cake balls, making sure that the cake balls are cold when dipped in the white chocolate mixture.
Refrigerate again for 2 hours.
Once set, decorate with royal icing and enjoy!