Well, as the year 2021 is ending, I made a lot of recipes this year; be it different kind of cookies, granola bars, brownies and what not! This year too had its ups and downs but trying out different recipes and baking kept me going. And I hope it helped you keep yourself sane too! As I would be posting some of
the last recipes of this year, I wanted to try anything and everything.
One fine day, I felt this urge to have a baked cheesecake and clearly like anyone like you, I didn't have cream cheese at home! But there was some cheese spread lying around in my fridge and I thought to myself, the texture was alike to that of a cream cheese then why can't I try to incorporate it in a cheesecake as well. And that's when after few trials, this recipe came to life! A baked, eggless, cheesecake without cream cheese but with CHEESE SPREAD! Trust me when I say this, this cheesecake is no less than a cheesecake made with cream cheese. It has a silky, smooth texture and is so rich and creamy.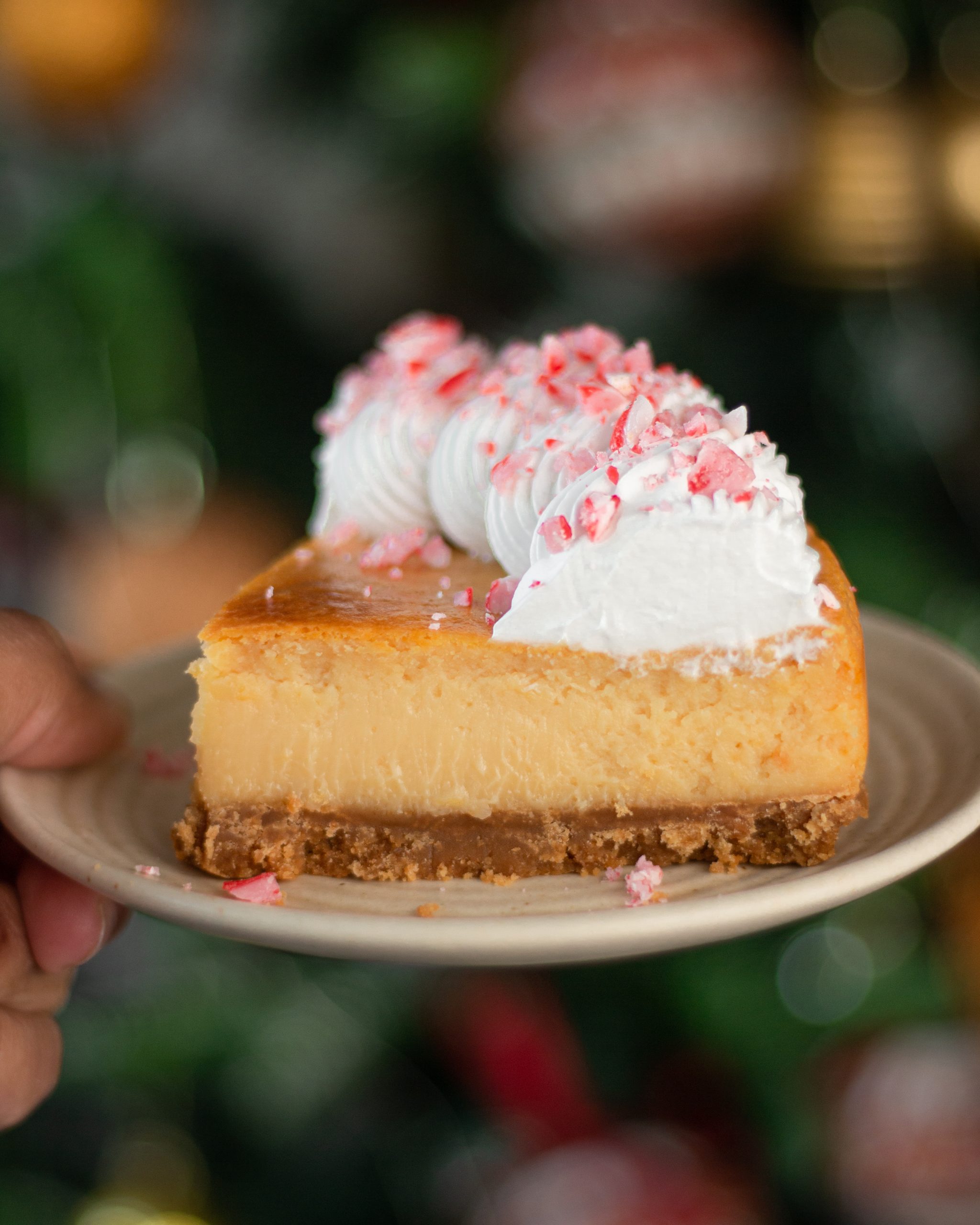 Elements of Baked Cheesecake Without Cream Cheese
1.Biscuit base
Like any other cheesecake, the base is pretty basic and same. So I am making my biscuit base with digestive biscuit. The base is generally made with biscuits and butter, blended together. I love how the digestive biscuits are inexpensive and have so earthy flavor. The butter I am using is salted here; you can even use unsalted butter if you want. When biscuits and butter are blitz together, they form a very smooth and not so crumbly base which is easy to combine.
2. Filling
This cheesecake is different from all the cheesecakes I have ever made! And surprisingly, it is so rich and creamy, which I never expected in my wildest dreams. It has cheese spread as the main ingredient for the filling! I thought it would be too salty but it is quiet balanced.
3. Topping
The topping is what will make your cheesecake stand out! There are many ways in which you can decorate your cheesecake; be it different flavors or looks or even occasions for that matter. As I am making mine near the end of this year, I am piping some whipped cream and sprinkle some crushed candy cane to give it a Christmas-new year vibe! You can use fruit compote like the one made with strawberries or blueberries. You can even pipe some chocolate mousse on
the top or even some nutella-peanut butter.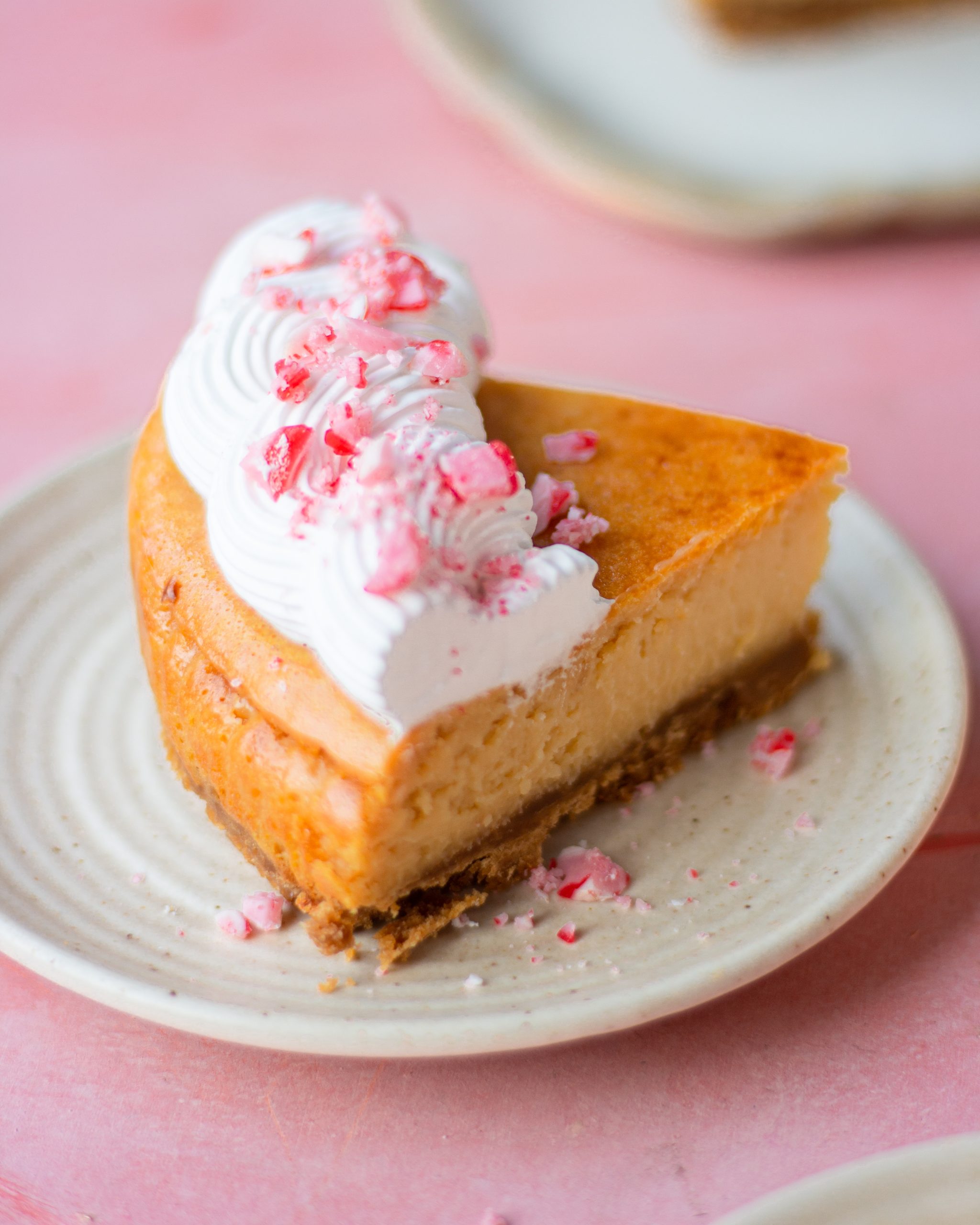 Tips for making a creamy baked cheesecake
Make sure your cheese spread is always softened and lump free! For that you need to whisk it vigorously, until no lumps are seen. You can even warm it in the microwave for 15-20 seconds. Trust me you will thank me later because after the whole filling is prepared, it is very hard to remove lumps if left.
Do not forget to add cornflour. Cornflour basically, makes sure that we don't end up having a cracked cheesecake top because let's face it, no one likes a cracked cheesecake top.
Do not over mix. I know you would want to mix it again and again to see the smooth filling but you don't need to do that trust me! Over mixing is never good.
Prepare your spring form pan correctly. I generally line it with parchment paper and for more secure covering; I wrap it twice with tin foil as I do not want water to make my buttery crust soggy.
Always prepare a water bath. A water bath, make sure our cheesecake is baked slowly and evenly. Always heat the water before hand as with the oven heat it will take longer for the water to heat first and then start baking the cheesecake, which is pointless!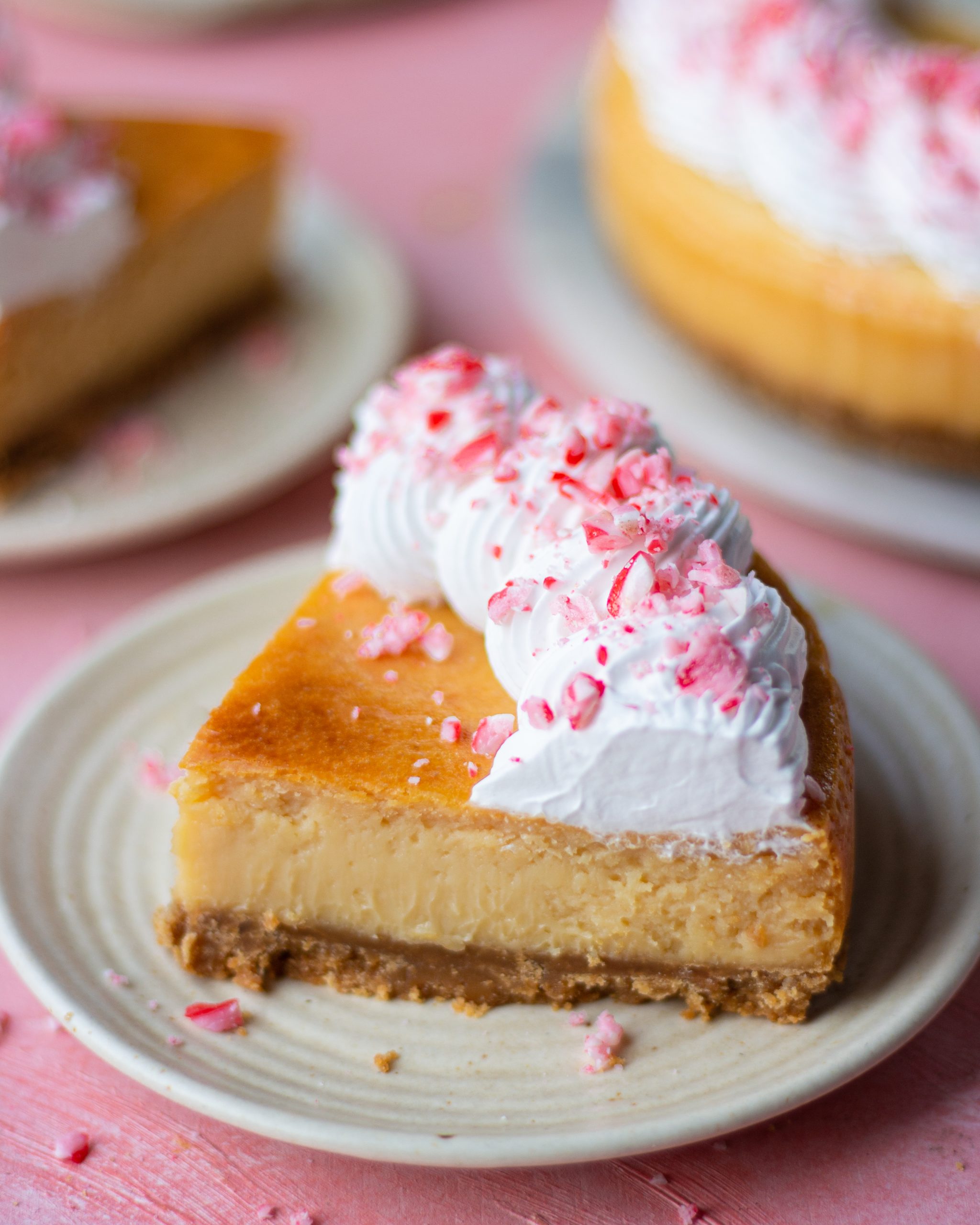 EQUIPMENTS USED TO MAKE BAKED CHEESECAKE WITHOUT CREAM CHEESE
The kind of equipment you use when you're baking makes a huge difference to the end result! I would recommend you to use good quality mixing bowls and other equipment so that your cheesecake comes out delicious.
To bake my cheesecake I have used my Borosil 60L Oven. It's been a part of my kitchen for a few months now and I absolutely love it.
Other cheesecake recipes on the blog
Baked Cheesecake without cream cheese Recipe
No Cream Cheese Baked Cheesecake
Ingredients
For the crust
1+½ cups (150g) crushed digestive biscuits
¼ cup (58g) melted butter
For the filling
1+ ½ cup (225g) cheese spread, softened
½ cup (120g) fresh cream
2 tablespoon (15g) cornflour
2 teaspoon (15g) vanilla extract
1 cup (306g) sweetened condensed milk
Whipped cream
Crushed peppermint candy cane
Instructions
In a food processor, add the biscuits and process them until you get fine crumbs.
Transfer into a large bowl and add melted butter. Combine them using a spatula.
Transfer the prepared biscuit mix into a 6' inch spring form pan lined with
parchment paper.
Press the biscuit crumb evenly with the help of the back of the spoon or your fingers. Let it set in the fridge for 15-20 minutes.
Till the biscuit layer is setting, for the filling, in a separate bowl, add the cheese spread.
Using an electric mixer, beat the cheese spread till you see no lumps.
To this, add fresh cream, condensed milk, vanilla extract and cornflour.
Transfer this mixture onto the biscuit base layer. Seal the bottom of the spring form pan with foil paper.
Place the spring form pan in a bigger dish with hot water to prepare a water bath.
Put the cheesecake to bake in a pre-heated oven at 160*C for about 1 hour.
Once it is baked fully, run the knife around the edges while the cheesecake is still warm.
Transfer the cheesecake into the fridge for 4-6 hours so that it's set properly.
Frost your cheesecake with some whipped cream and garnish with crushed candy cane. Enjoy!
If you liked the recipe and it makes it to your Christmas spread this year, then do share pictures with me by tagging me on 
Instagram
 using #bakewithshivesh. Happy Baking!