Homemade fudge is one of the easiest treats one can make at home. They do not take much of your time for the preparation and the ingredients are easily available too! At my home, whenever we are making fudge, there is no way we do not make big batches of it, to gift it to all our friends and family. Generally a fudge contains some good quality chocolate and sweetened condensed milk but this rocky road fudge will uplift your holiday spirit much higher, with its added ingredients.
Who doesn't like some extra cheer or should I say an extra block of sweetness to make this holiday season merrier? These thick, decadent and perfect rocky road fudge squares are here to do that. The texture is so unusual with the crunch and the stickiness but somehow it all goes perfectly and melts in your mouth just like that.
Ingredients for my rocky road fudge
Fudge is extremely easy to make and the variations to do with it are, endless! Here while making rocky road fudge, the ingredients I am using are dark chocolate, sweetened condensed milk, butter, pistachios, almonds and mini marshmallows. I have used dark chocolate here which is easily available anywhere and everywhere. I am using amul's dark chocolate here. You can use morde, callebaut or any good quality chocolate you can get your hands on. Just make sure you get coverture chocolate and not compound as here chocolate is the main ingredient and the taste of your fudge will be determined by the quality of chocolate you are using. For that smooth, silky, melt in your mouth fudge it is required.
Sweetened condensed milk is available in all the markets very easily; different brands which you can use are nestle and amul as both will do the job perfectly. Salted butter would be perfect as it can cut the sweetness of the fudge but if you have unsalted butter, that can do the trick too, just add a pinch of salt along.
I am adding pistachios and almonds; I love how the green color of pistachios makes them more unique and cuts the brown-ness of the fudge. You can even roast them before adding for that extra earthy crunch. And the marshmallows make this fudge different from the rest! The elasticity of them is quite appealing and gives you that festive feeling. When we cut the fudge into those squares, the popping marshmallows make the squares look colorful and cute!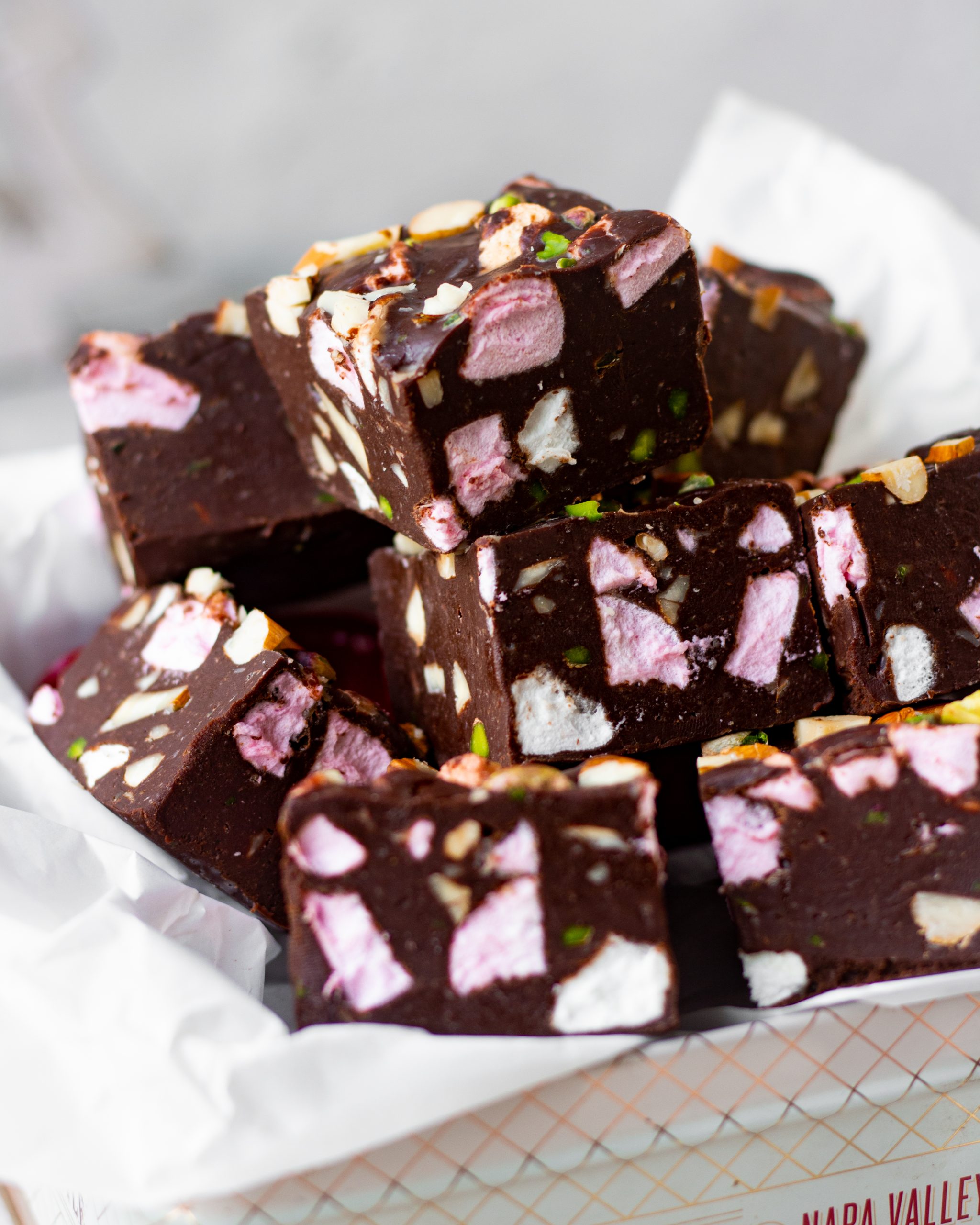 Variations of flavors in rocky road fudge
This rocky road fudge is so flexible and versatile. You can replace the nuts I am putting with your favorite nuts too. Some people like them with salted peanuts as they cut the sweetness of the fudge squares as well. Toasted hazelnuts or pecans can be great too. You can literally go nuts here! Just remember to balance the quantities with the one in the recipe, as we don't want your fudge to be dry! You can even add gummy bears if you like. The quantity of the marshmallows can be reduced with the gummy bears for that added cuteness! You can even add some graham cracker or digestive biscuits in it or even Oreo biscuits for that matter. If you like peppermint and that's what makes this fudge more Christmas-like for you, then you can add peppermint extract or crushed peppermint barks too! The more colorful they are, the more appealing they are! If you like fudge, then you would absolutely love the recipe of my 3-ingredient chocolate fudge. 
How to store rocky road fudge
This fudge can be stored in your fridge very conveniently for 2 weeks, when kept in an airtight jar; you can even cling wrap them separately. In the freezer they are good for up to two months. Before having them, you just need to thaw it properly. They can stick to each other so parchment paper in between layers can be perfect! If your family or friends are coming over on a short notice, the refrigerator-stored fudge can then come handy! I know I happen to be in that situation quite often and that is why my fridge is always stocked with this rocky road fudge. They are not just festive treats but absolutely good for any day.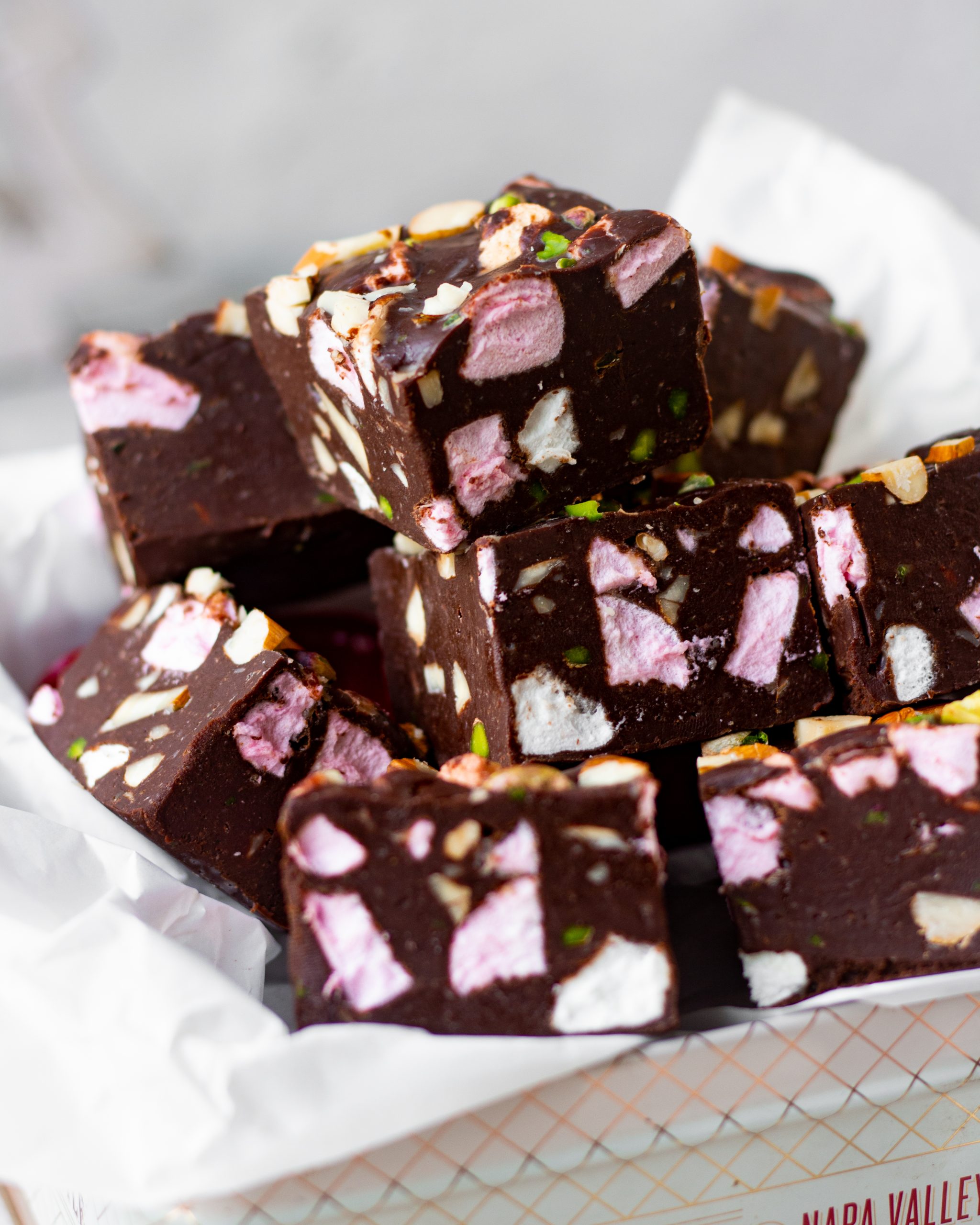 Rocky Road Fudge Recipe
Rocky Road Fudge
Ingredients
2 cups (350g) chopped dark chocolate
1 can (400g) sweetened condense milk
2 tablespoon (30g) melted butter
¼ cup (31g) pistachios
¼ cup (35g) almonds
½ cup (60g) mini marshmallows
Instructions
Grease your square pan or a loaf pan with butter and line it with parchment paper
properly with handles on both sides and set it aside.
Melt your chopped chocolate in a bowl in your microwave or on double boiler.
In the same bowl add the sweetened condensed milk and melted butter. Combine
everything really well and you have a thick and glossy mixture.
Add the pistachios, almonds and mini marshmallows and give it a quick mix.
Pour in all the fudge mixture into your lined pan and refrigerate for 4-5 hours or until it
completely sets.
Remove the fudge from the pan and once it sets, cut it into neat squares. Enjoy!
If you liked the recipe and it makes it to your holiday spread this year, then do share pictures with me by tagging me on 
Instagram
 using #bakewithshivesh. Happy Baking!