When you are having a family size meal, you definitely need a family size dessert! There would be so many of you out there, who would want to celebrate Christmas and New Year's Eve at home, with your family and friends, like me! This eggless fudge brownie with chocolate mousse will be perfect for you. I don't think I know anyone who doesn't love brownie! I love fudge brownie and I love a spoonful of chocolate mousse and when they are put together, it is nothing but bliss!
What is better than a nice, fudgy brownie? A thick layer of fluffy and light mousse over it is my answer. The best part of this dessert is, yes it is eggless but even better thing about it is, you can make it in a big dish or your square baking pan for your big family and serve in it only! Where in, everyone could dig in it directly or squares can be cut out of it and served. No need to make individual desserts this holiday season, they add extra time and effort and have a possibility of being short! This eggless brownie mousse cake is best for your family table, this festive season!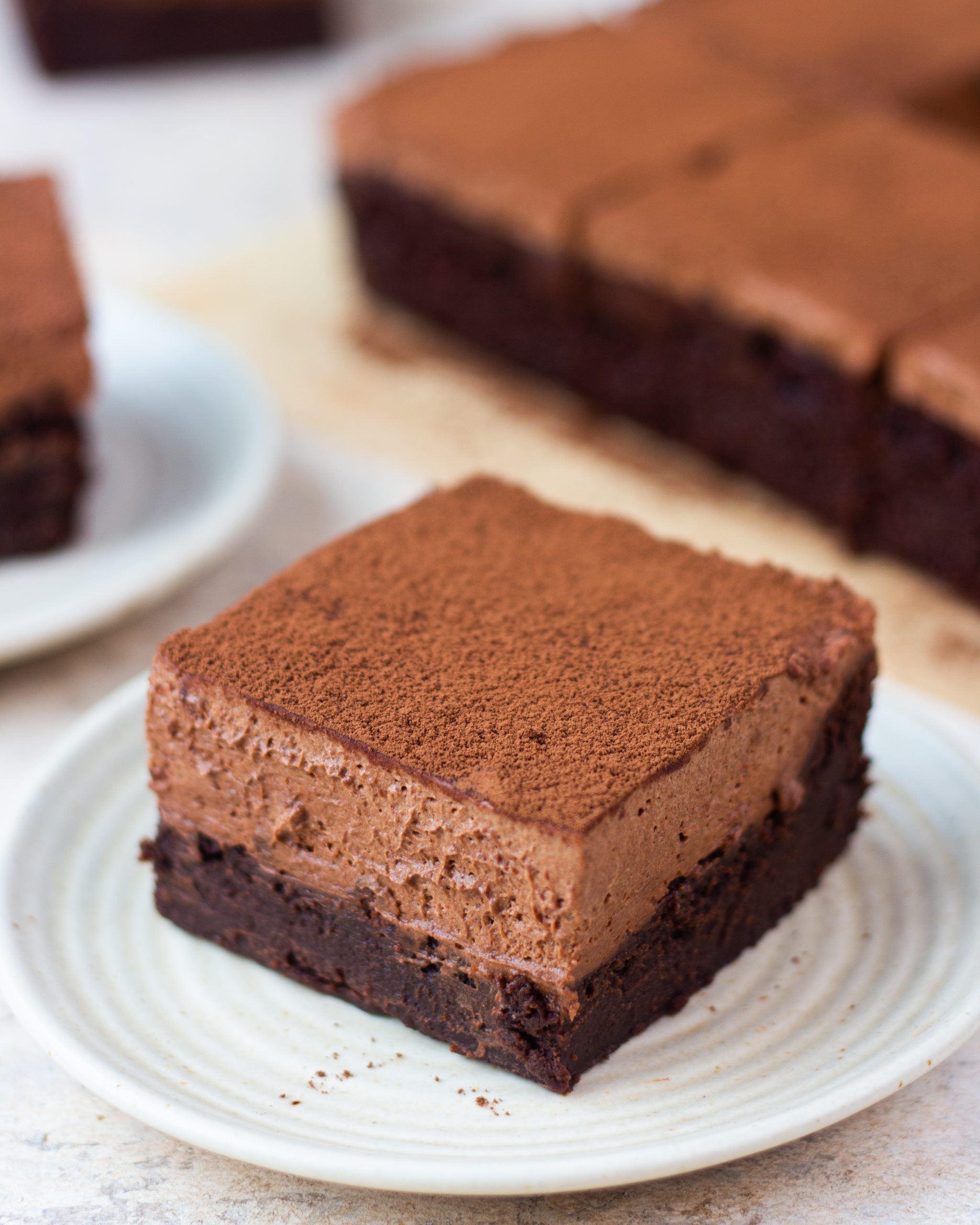 Ingredients used for eggless brownie mousse cake
Dark chocolate – A good quality chocolate is what is needed in this fudge brownie. Also, in the chocolate mousse layer. Make sure you get your hands on the best chocolate you can get; as it is one of the major ingredients in this dessert.
Butter – I am using salted butter in this recipe, if you want you can use unsalted butter too and add ¼ teaspoon of salt in the recipe.
Caster sugar – I am using caster sugar here. You can also use the same if you have it. Do not use granulated sugar. A half and half of brown and caster sugar can also be used, for more intense flavor.
All-purpose flour – I am using all-purpose flour here, which is required in a very less quantity, in this recipe.
Cocoa powder – unsweetened cocoa powder is what I am using. A good quality cocoa powder brings out a very good flavor in the eggless brownie base.
Greek yogurt – As it is an eggless recipe, I am using greek yogurt instead of eggs. You can also use hung curd, prepared at home.
Whip cream – For the mousse, I am using whipping cream to make the chocolate ganache and separately for whipping purpose too. If you don't have that amount of whip cream, you can use the fresh cream to make the chocolate ganache.
Vanilla extract – Use good quality vanilla extract as it really makes a difference in the recipe.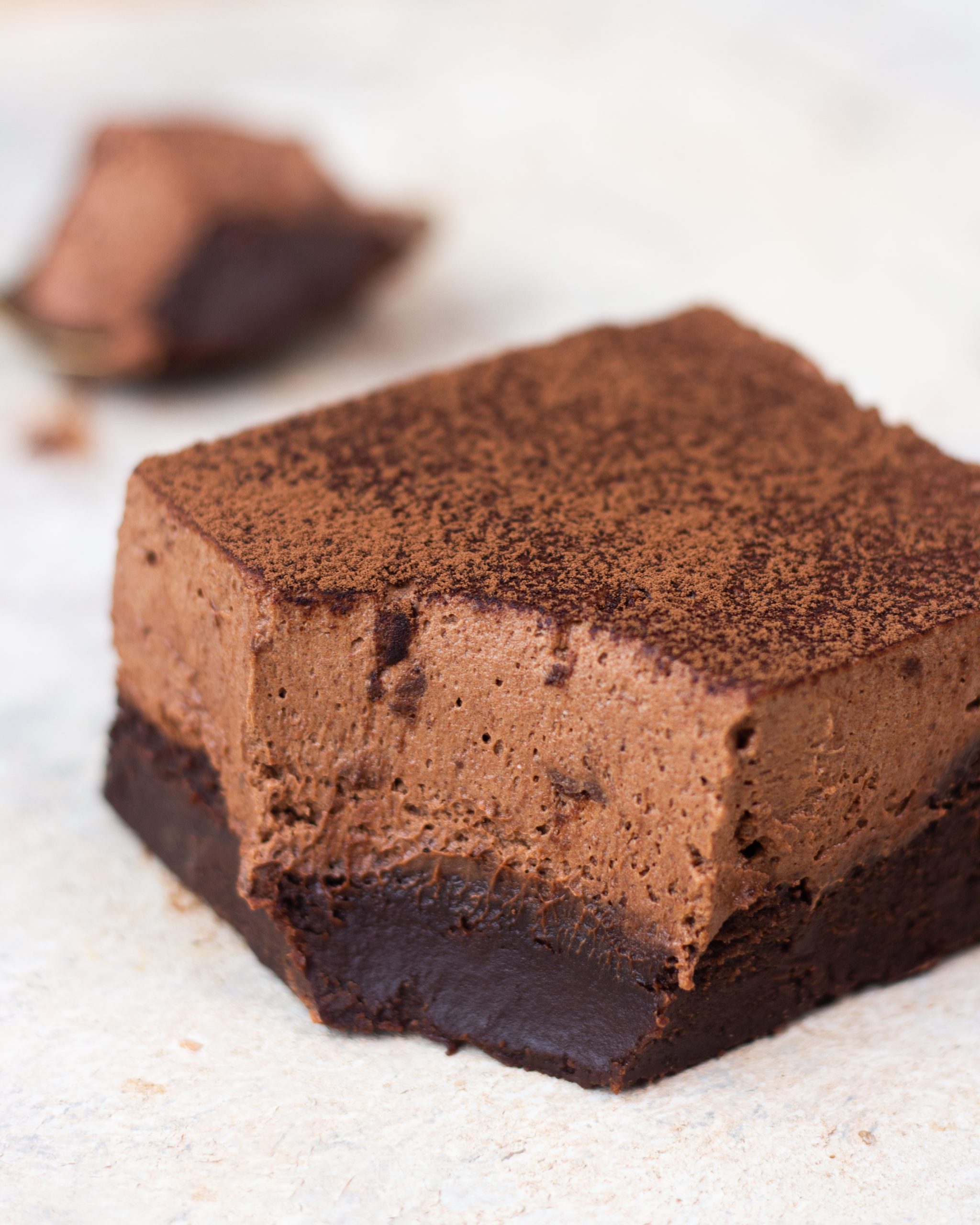 Tips to make this eggless brownie mousse cake
Make sure to not over-mix the brownie batter, as we want a fudge brownie and it will become cakey, if we aerate it more.
Do not use any other yogurt than greek yogurt or hung curd; as yogurt with water will not provide a proper texture, we required.
Do not over-whip the whipping cream for the mousse, we want soft peaks for that light and airy mousse and hence, a stiff peak is a big no-no.
The ganache which will be added in the whipped cream to make the mousse should be mildly warm and not cold. As if cold ganache is added to the whipped cream, it won't mix properly, resulting in unmixed ganache pockets!
We tend to over-bake our brownies. Do not over-bake them, as we don't want them to be dry.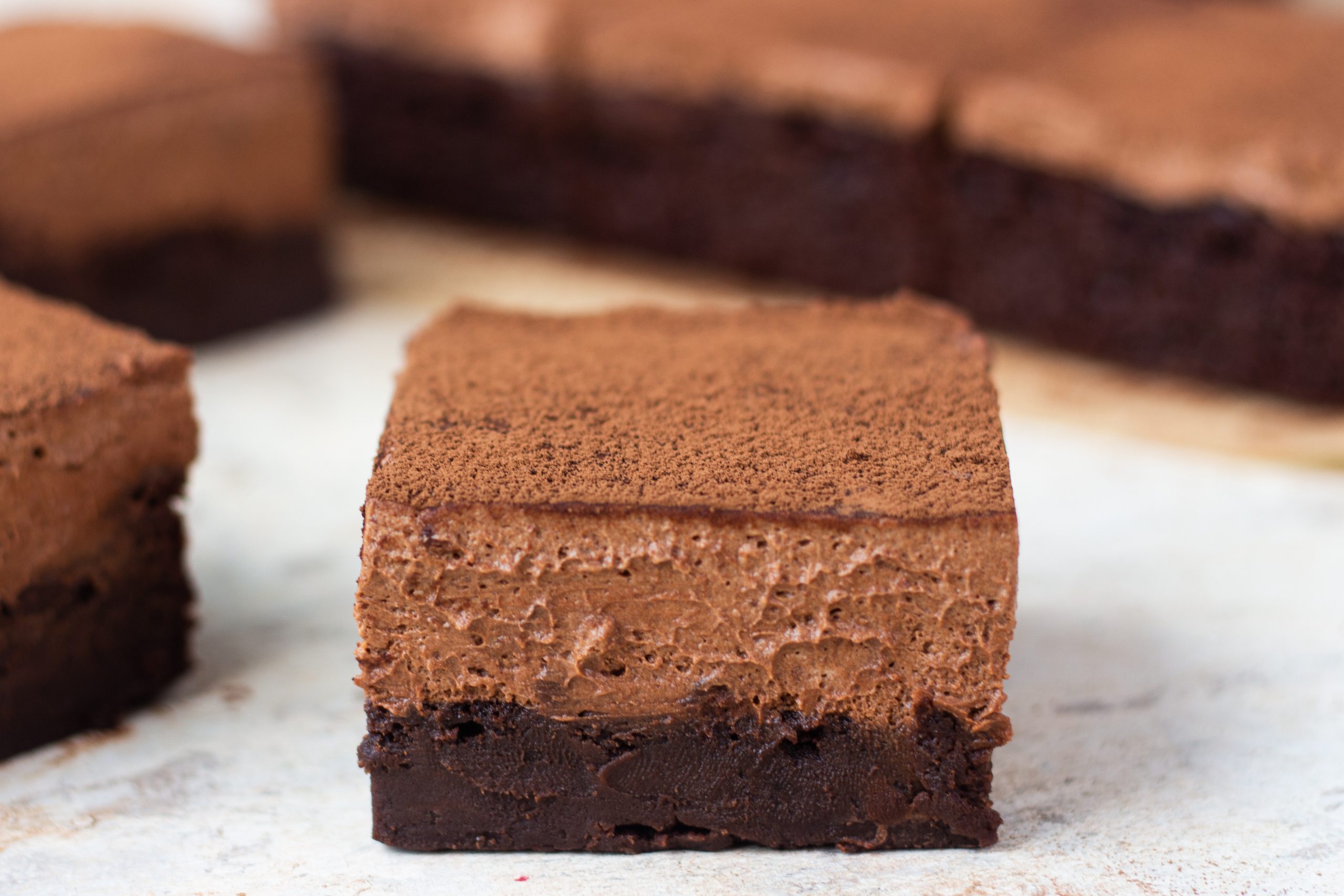 Can I make the eggless fudgy brownies in the microwave?
This has to be one of the most asked questions on my youtube channel – can I bake this in the microwave? My answer is yes! You can bake these eggless fudgy brownies in the convection mode of the microwave at the same temperature, however the time may vary slightly depending on your microwave. So keep an eye out, you'll know that the brownie is cooked when the brownie gets a nice crinkly top or you can always insert a skewer to see if your brownie is cooked or not.
If you're new to microwave baking, then this video on all about microwave will help you with all your doubts!
More shareable desserts on the blog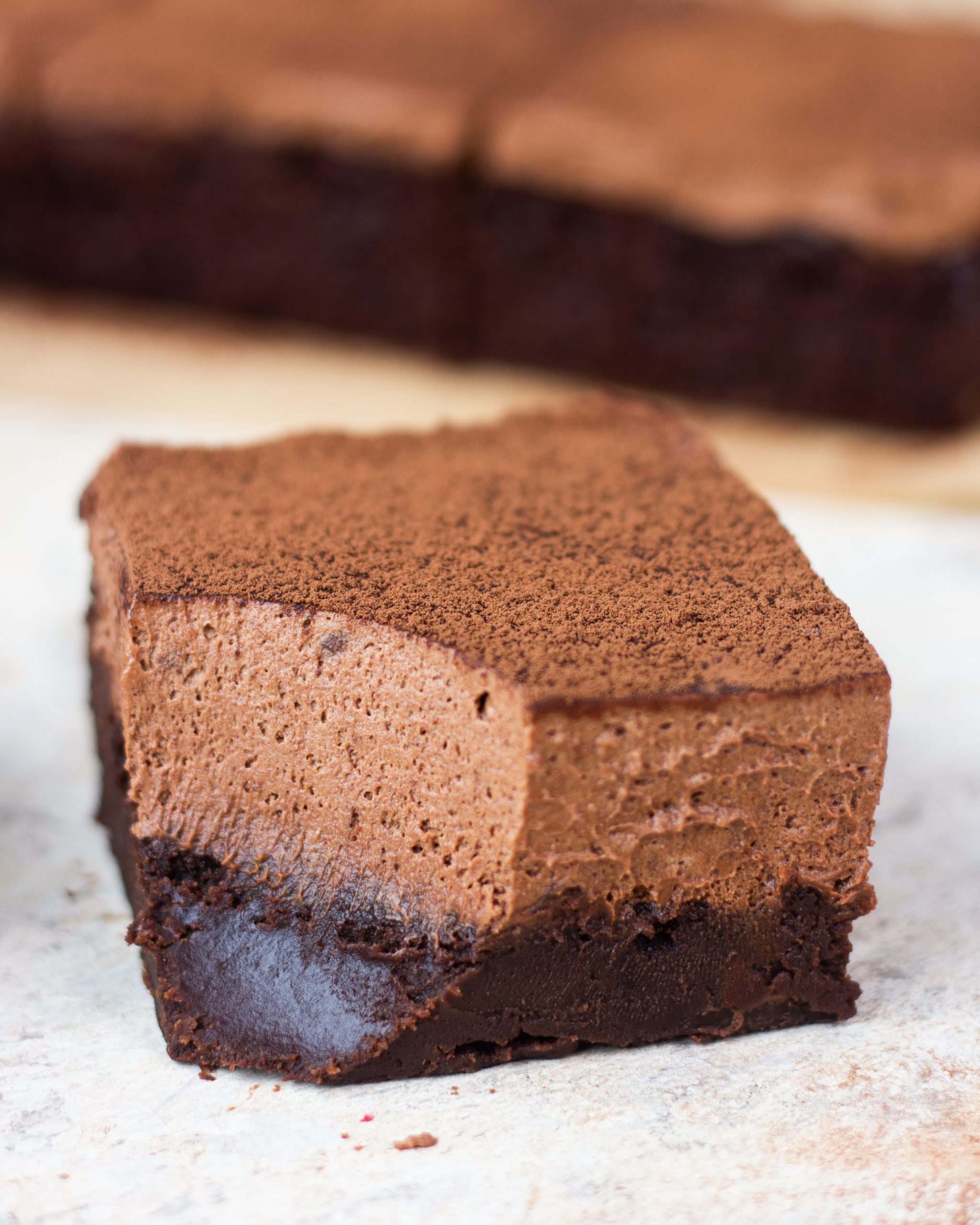 Eggless Brownie Mousse Cake Recipe
Eggless Brownie Mousse Cake
Ingredients
For Brownie layer
1 ½ cup (262g) chopped dark chocolate
1 cup (170g) butter
1 ½ cup (300g) caster sugar
1 cup (120g) flour
1 ½ teaspoon (7g) baking powder
35g cocoa powder
1 ½ cup (425g) greek yogurt
For Mousse layer
2 cups (350g) chopped dark chocolate
½ cup (230g) whipping cream
1 cup whipped cream
Instructions
Grease an 8" square pan and line with parchment paper leaving handles on both sides.
Pre-heat the oven to 180*C
In a sauce pan, set over low heat, melt butter and chocolate.
Once melted, set it aside and let it cool.
In another bowl, combine sugar, greek yogurt and vanilla extract and mix properly.
Add the cooled chocolate mixture into the yogurt sugar mixture.
Add in the flour, cocoa powder and baking powder and mix properly.
Transfer the batter to the lined pan and bake it at 180*C for 35-40 minutes.
Once the brownie is baked, let it cool completely.
Till the brownie is cooling, prepare your chocolate mousse. In an microwave safe bowl, add whipping cream and warm it up in the microwave.
Add this cream to your chopped chocolate and allow it to sit for 3-4 minutes. Using a spatula, mix well till you get a glossy ganache.
In another bowl, take some whipping cream and using a hand mixer, whip till you get soft peaks.
Add the ganache to the whipped cream and fold gently, till you see no lumps.
Spread the chocolate mousse over the cooled brownie and refrigerate for one hour.
Once it sets, dust with cocoa powder and cut into neat squares. Enjoy!
If you liked the recipe and it makes it to your holiday spread this year, then do share pictures with me by tagging me on 
Instagram
 using #bakewithshivesh. Happy Baking!