What's better than a chocolate chip cookie? Yes!! A giant skillet cookie which is stuffed with loads and loads of nutella! I love cookies and I love nutella and when they both are combined, it is a match made in heaven. This dessert is so in indulging and so quick that you wouldn't even believe. It is perfect for a small family to eat after dinner, where no plates are required and everyone can just dig in, in the skillet and go all the way! You can always have some scoop of vanilla ice cream once it's out of the oven like I have.
This Nutella stuffed giant cookie is made with all the ingredients you can find in your kitchen pantry. Even if you don't have a skillet with you, you can make it! YES, you heard me right. You can simply make it in your cake tin, that's what I did till I had bought a skillet for myself.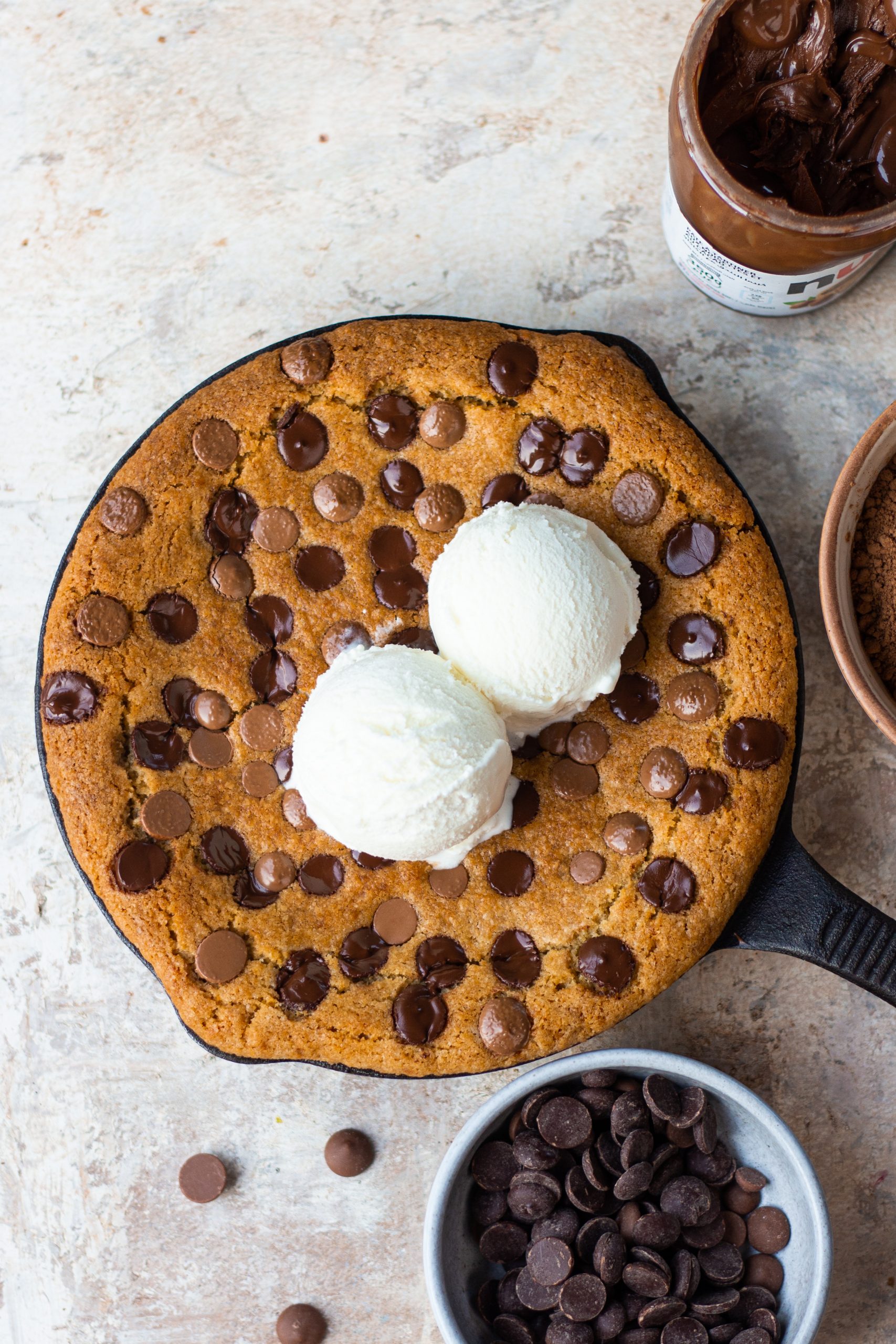 Things to keep in mind while making Nutella stuffed skillet cookie
This nutella stuffed skillet cookie is incredibly simple to make, but here are a few tips which will make sure you end up with a fabulous dessert that goes in your baking repertoire –
Always keep your oven pre-heated to 180*C before sliding the skillet in the oven.
It is better to divide the dough into two parts, once the dough is ready. As we need two layers; the top layer and the bottom one and in between the nutella will be spread out.
Do not over-mix the dough as we don't want gluten formation.
Once the dough is divided into two parts, the bottom layer needs to be spread evenly as we don't want it to be raw from different parts. So the thickness needs to be uniform.
For the upper layer of the dough, you can roughly roll it out as that of your skillet diameter and chill it before putting it on top as to not let it puff up too much! This step is very important.
Variations you can use for Nutella stuffed skillet cookie
This is a Nutella stuffed skillet cookie so of course I am used loads of Nutella. But you'll be surprised to know how many variations you can make with just one base recipe!
Instead of Nutella you can even put some peanut butter or biscoff spread if you like.
You can even spread a layer of Cadbury silk chocolate cubes in between both the layers, it will still be so delicious!
You can even add some nuts in between or even jam! Anything is possible with this recipe's stuffing!
If you do not have light brown sugar, you can use dark brown sugar instead of that or even just caster sugar.
It is advisable to eat it when out of the oven for that sizzling, hot dessert feeling!
You can absolutely put any flavor of ice-cream scoops on top with may be some more nutella.
Don't forget to use a good quality vanilla extract, as I always say.
We are using melted butter in this recipe, instead of softened butter for that fudgy, gooey texture so it is better to use melted butter.
If you don't have a cast iron skillet, bake the skillet cookie in your preferred cake tin of choice.
I use Callebaut chocolate as it is the best chocolate I have ever used, but you can also use Vanhouten or any couverture chocolate you can get your hands on. Do not use compound chocolate as it won't melt and you won't get a nice texture in your skillet cookie.
If you liked this nutella stuffed skillet cookie, then you should definitely check out my Oats & Walnut Pizookie.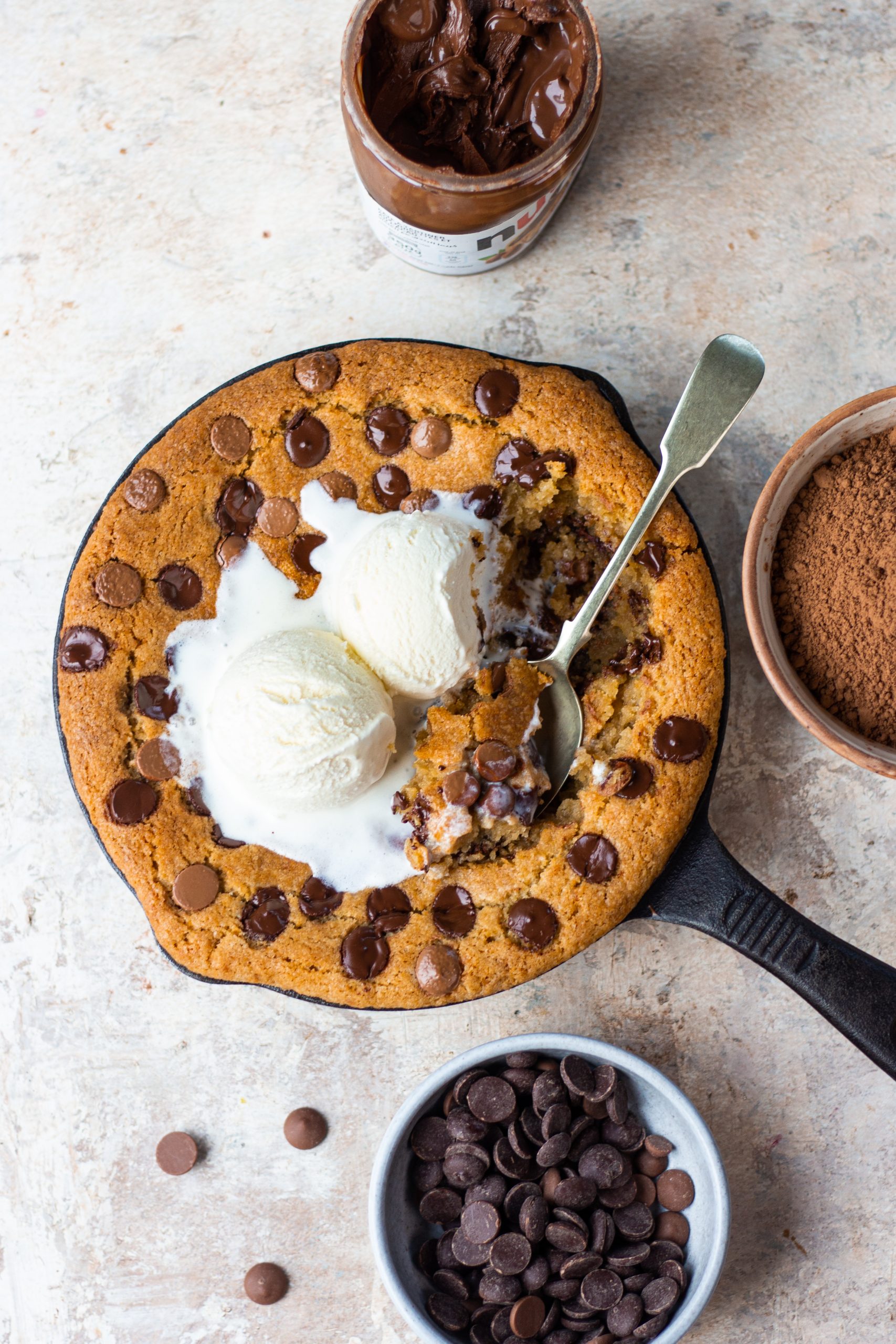 Nutella Stuffed Skillet Cookie Recipe
Nutella stuffed skillet cookie
Ingredients
1 cup (227g) melted butter
½ cup (100g) light brown sugar
½ cup (100g) caster sugar
2 + ¼ cup (270g) all-purpose flour
1 teaspoon (5g) baking soda
4 tablespoon (60ml) milk
1 teaspoon (5ml) vanilla extract
½ cup (175g) Nutella
Chocolate chips
Instructions
Pre-heat the oven to 180*C.
In a bowl, combine melted butter with light brown sugar and caster sugar.
Stir in the vanilla extract.
To this mixture, add flour and baking soda. The dough will be very thick at this stage.
At the milk and mix it all well.
As the dough is ready, in the same bowl roughly divide the dough into two and spread one half
on the skillet evenly.
Roll the other half roughly as the diameter of your skillet on cling wrap or parchment paper and
chill it for about 30-45 minutes in the freezer.
Till then, spread the nutella spread generously over your first layer of cookie dough.
Flip the other layer on rolled cookie dough over the nutella filling and stud it with chocolate
chips. I have used a mix of dark and milk chocolate chips; you can use whatever you get your
hands on.
Put it in the oven for about 30 minutes, till the cookie releases it sides and turns golden brown in color.
Once baked, remove it from the oven, add in scoops of ice-cream; I have added vanilla scoops you can add any. Dig in and enjoy!
If you liked the recipe and make it in your kitchen, then do share pictures with me by tagging me on 
Instagram
 using #bakewithshivesh. Happy Baking!