Strawberry season is on full swing in Delhi right now and they are my favourite berries to snack on, to bake with, make smoothies, ice-creams and the list is never ending. The strawberries we get here are on a little tangy than the sweet side. So, when paired in a sweet dessert, they bring out the perfect contrast. This strawberry chocolate mousse cup is one such dessert! A perfectly creamy, fluffy strawberry mousse filled in a dark chocolate shell, topped with fresh strawberry and an edible flower. SO YUM! Let's discuss the elements of this dessert in depth.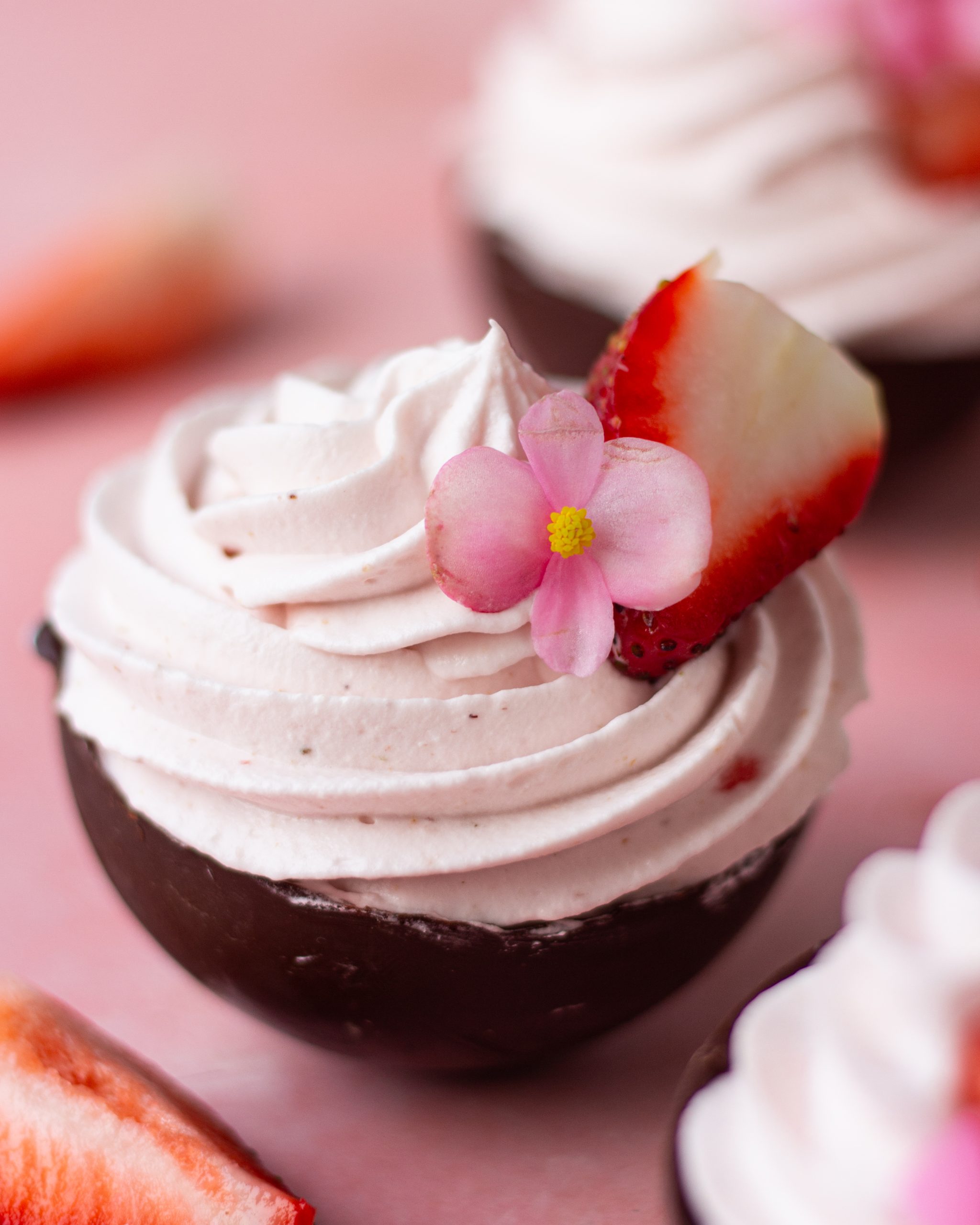 CHOCOLATE SHELL FOR STRAWBERRY CHOCOLATE MOUSSE CUPS
For the base, I made the cups by melting some good quality dark chocolate. Poured nearly a tablespoon of melted chocolate in the spherical silicon mould I had. Make sure you adjust the quantity as per the size of your mould. Now with the help of a pastry brush, I made sure that the chocolate is evenly spread in the mould. Be careful while you are doing this step. The coating should be of equal thickness on all sides. To be on the safer side, I did two coats for these strawberry chocolate mousse cups. But if you feel the thickness is done well in the first coat, you can skip doing it again. Once coated, let it set in the fridge till the shell hardens.
STRAWBERRY MOUSSE FOR THE STRAWBERRY CHOCOLATE MOUSSE CUPS
This strawberry mousse has three components:
WHIPPED CREAM
For the base of the mousse, I whipped some sweetened heavy cream to stiff peaks. Make sure you whip the cream well. If it is under whipped, the mousse will not hold its structure nicely. And if over whipped, the whipped cream will split and that's not we are looking for. The brands that I trust for heavy cream for these strawberry chocolate mousse cups are Tropolite and Rich. These are soy based, non-dairy heavy cream and are a permanent part of my kitchen.
STRAWBERRY PUREE
To get that beautiful fresh sweet-tangy strawberry flavour, I pureed fresh strawberries. If you do not have fresh strawberries for these strawberry chocolate mousse cups, no worries! I got you! You can either replace it with any other berry of your choice or even with frozen strawberries. Just make sure you get that puree consistency by fixing it with some water.
WHITE CHOCOLATE GANACHE
For white chocolate ganache, I used fresh cream and some good quality white chocolate. I used Callebaut White Chocolate Chips but you can also get your hands on this if that's not accessible to you. If you do not have fresh cream, feel free to replace it with heavy cream in this strawberry chocolate mousse cups. You might want to hold back the chocolate a little otherwise it would result in a super sweet ganache.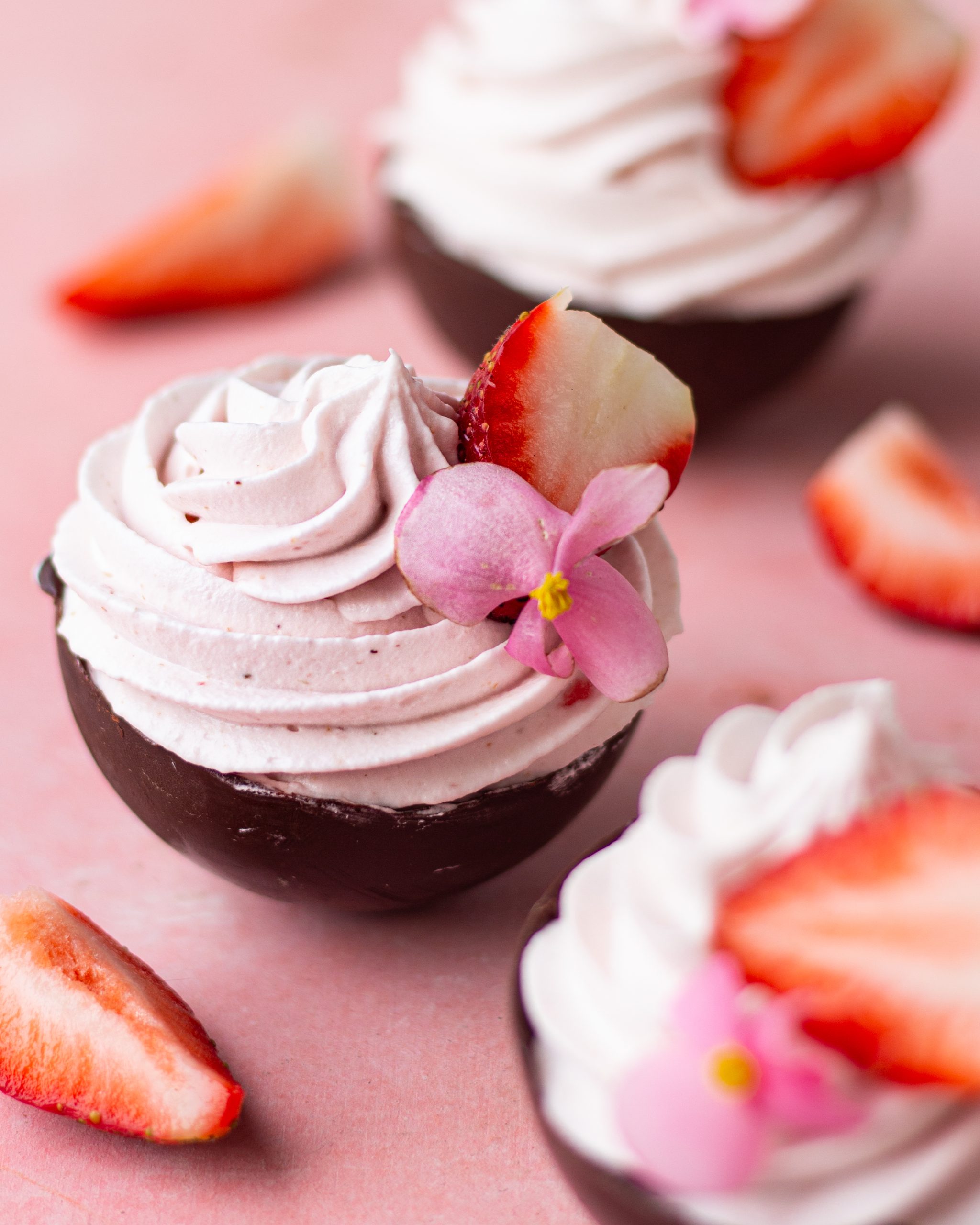 HOW TO ASSEMBLE STRAWBERRY CHOCOLATE MOUSSE CUPS
Once the chocolate cup sets, demould it very carefully. Make sure you do not break the edges while doing this. Transfer the strawberry mousse in a piping bag. If its not in the piping consistency, freeze the mousse for a while. But since its freezing cold in Delhi right now, my mousse came together perfectly well and was easily pipeable. Pipe the mousse in the cups and top it with some fresh strawberries. I even used an edible flower on top. These strawberry chocolate mousse cups were TOO CUTE to eat honestly!
EQUIPMENTS USED TO MAKE STRAWBERRY MOUSSE
The kind of equipment you use when you're baking makes a huge difference to the end result! I would recommend you to use good quality mixing bowls and other equipment so that your mousse comes out delicious.
I have used Borosil Smartmix Hand Mixer 300W to make the mousse.
OTHER THINGS TO MAKE WITH STRAWBERRY MOUSSE
There are so many things you can make with this versatile strawberry mousse. You can make a cake, frost a cake, fill in mini tartlets or even a large tart shell and top with more fresh berries and other fruits you have and make a show stopped fruit tart. If you do not want to make chocolate cups or do not have the mould, you can simply pipe the mousse in a glass and make it a glass dessert. The options are endless!
I love baking with strawberries every year and there are so many berry recipes on the blog. Don't forget to check them out-
STRAWBERRY CHOCOLATE MOUSSE CUPS RECIPE
STRAWBERRY CHOCOLATE MOUSSE CUPS
Ingredients
1 cup (160g) white chocolate
½ cup (60g) fresh cream
¾ cup (174g) strawberry puree
1 cup (240g) whipped cream
½ cup (80g) dark chocolate
Instructions
Start by melting dark chocolate on a double boiler or microwave, whatever is convenient to you.
Brush the melted chocolate in the spherical silicon mould.
Freeze the mould until chocolate sets.
For the white chocolate ganache, in a saucepan over medium heat, bring the fresh cream to a simmer.
Pour the hot cream over chopped white chocolate and let it rest for a minute.
Whisk the chocolate cream mixture until everything is well combined.
Let the ganache cool in the fridge for a while before using.
For strawberry puree, I just blitzed some fresh strawberries.
To bring the mousse together, in a medium size bowl whip heavy cream to stiff peaks. Add strawberry puree and white chocolate ganache into this bowl. Give it a good mix until everything is well combined.
Transfer the mousse to a piping bag.
Carefully demould the chocolate cups once set.
Pipe the mousse in the cups and top them with some fresh berries.
If you liked this recipe and make it in your kitchen, then do share pictures with me by tagging me on
Instagram
 using #bakewithshivesh. Happy Baking!