Nutella stuffed skillet cookie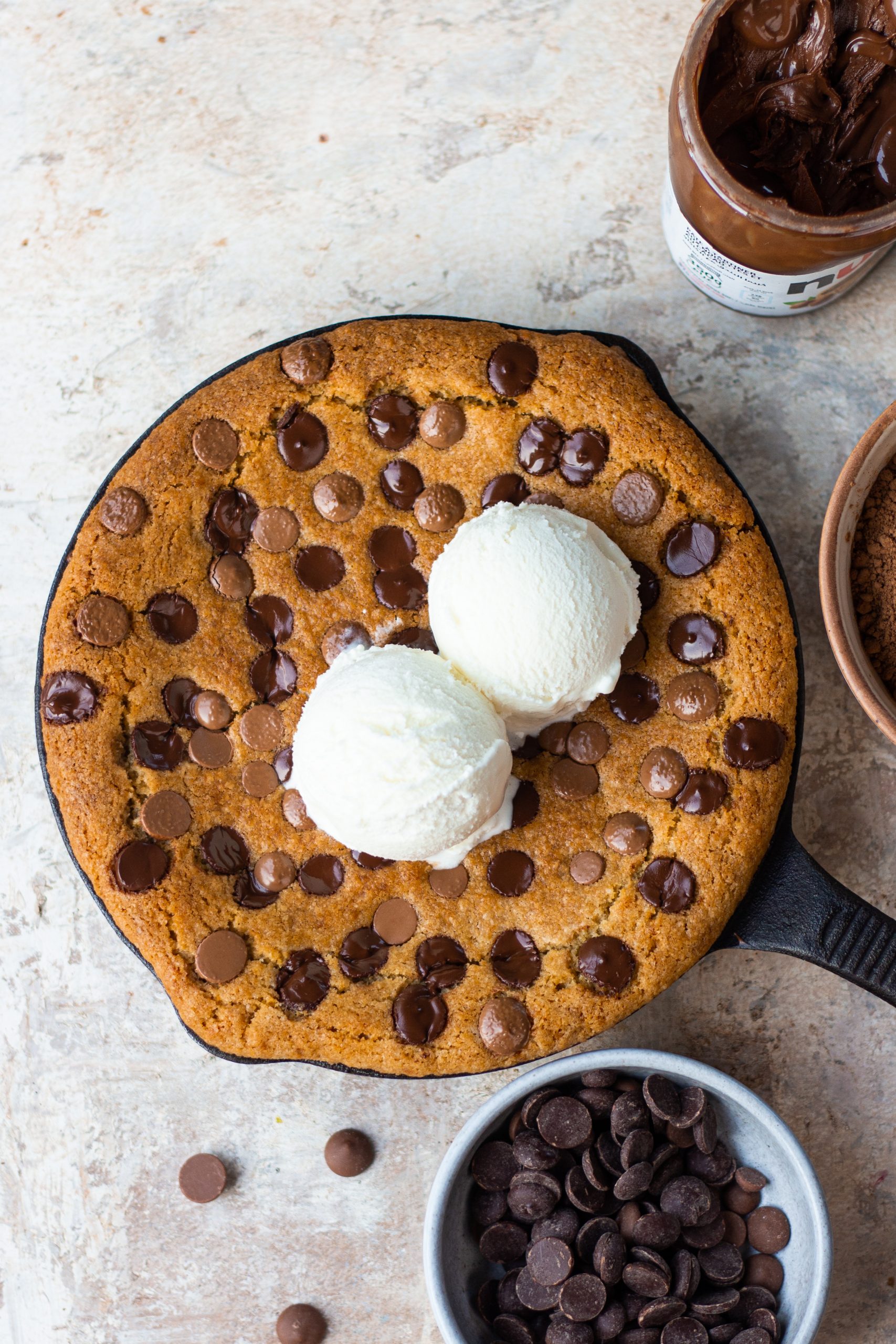 1 cup (227g) melted butter
½ cup (100g) light brown sugar
½ cup (100g) caster sugar
2 + ¼ cup (270g) all-purpose flour
1 teaspoon (5g) baking soda
4 tablespoon (60ml) milk
1 teaspoon (5ml) vanilla extract
½ cup (175g) Nutella
Chocolate chips
Pre-heat the oven to 180*C.
In a bowl, combine melted butter with light brown sugar and caster sugar.
Stir in the vanilla extract.
To this mixture, add flour and baking soda. The dough will be very thick at this stage.
At the milk and mix it all well.
As the dough is ready, in the same bowl roughly divide the dough into two and spread one half
on the skillet evenly.
Roll the other half roughly as the diameter of your skillet on cling wrap or parchment paper and
chill it for about 30-45 minutes in the freezer.
Till then, spread the nutella spread generously over your first layer of cookie dough.
Flip the other layer on rolled cookie dough over the nutella filling and stud it with chocolate
chips. I have used a mix of dark and milk chocolate chips; you can use whatever you get your
hands on.
Put it in the oven for about 30 minutes, till the cookie releases it sides and turns golden brown in color.
Once baked, remove it from the oven, add in scoops of ice-cream; I have added vanilla scoops you can add any. Dig in and enjoy!
Recipe by
Bake with Shivesh
at https://bakewithshivesh.com/nutella-stuffed-skillet-cookie/