Eggless Brownie Mousse Cake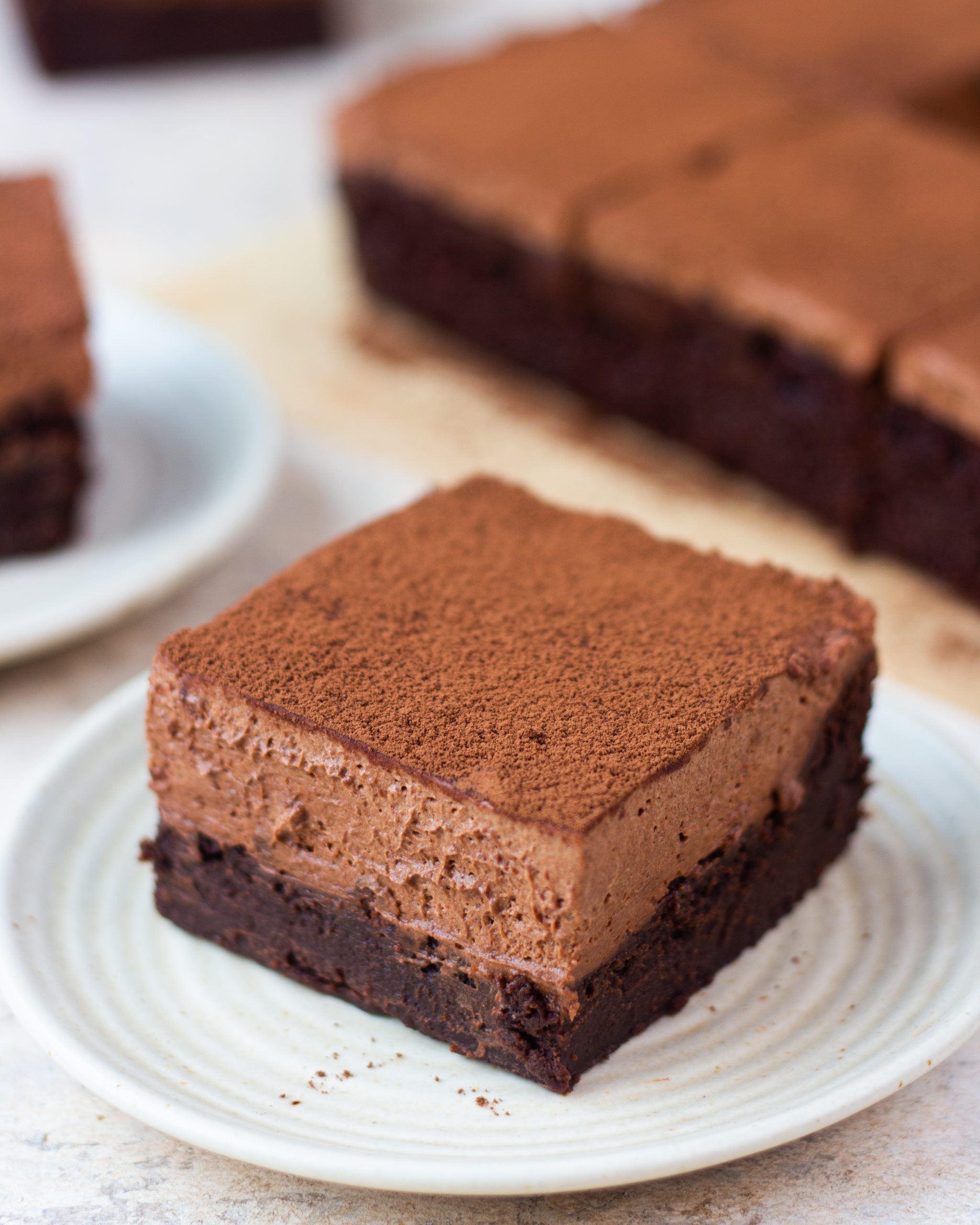 1 ½ cup (262g) chopped dark chocolate
1 cup (170g) butter
1 ½ cup (300g) caster sugar
1 cup (120g) flour
1 ½ teaspoon (7g) baking powder
35g cocoa powder
1 ½ cup (425g) greek yogurt
2 cups (350g) chopped dark chocolate
½ cup (230g) whipping cream
1 cup whipped cream
Grease an 8" square pan and line with parchment paper leaving handles on both sides.
Pre-heat the oven to 180*C
In a sauce pan, set over low heat, melt butter and chocolate.
Once melted, set it aside and let it cool.
In another bowl, combine sugar, greek yogurt and vanilla extract and mix properly.
Add the cooled chocolate mixture into the yogurt sugar mixture.
Add in the flour, cocoa powder and baking powder and mix properly.
Transfer the batter to the lined pan and bake it at 180*C for 35-40 minutes.
Once the brownie is baked, let it cool completely.
Till the brownie is cooling, prepare your chocolate mousse. In an microwave safe bowl, add whipping cream and warm it up in the microwave.
Add this cream to your chopped chocolate and allow it to sit for 3-4 minutes. Using a spatula, mix well till you get a glossy ganache.
In another bowl, take some whipping cream and using a hand mixer, whip till you get soft peaks.
Add the ganache to the whipped cream and fold gently, till you see no lumps.
Spread the chocolate mousse over the cooled brownie and refrigerate for one hour.
Once it sets, dust with cocoa powder and cut into neat squares. Enjoy!
Recipe by
Bake with Shivesh
at https://bakewithshivesh.com/eggless-brownie-mousse-cake/