COCONUT CAKE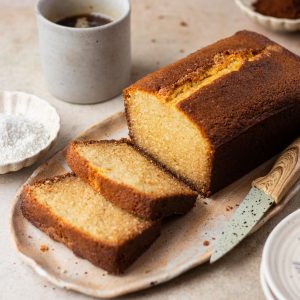 1 +1/2 cup (285g) all-purpose flour
¾ cup (71g) desiccated coconut
2 tsp (10g) baking powder
½ cup (113g) butter
1 cup (224g) castor sugar
3 (150g) eggs
1 tsp (5ml) vanilla extract
¾ cup (180g) milk
Preheat your oven to 180C. Line a loaf pan with parchment paper.
In a large bowl, cream softened butter and sugar with vanilla extract.
Add one egg at a time and whisk well.
Once everything is well combined, sift together flour, baking powder and dump in the desiccated coconut.
Fold using a spatula and make sure you do not over mix at this stage.
Pour the batter in the loaf pan.
Bake it at 180C for 30-35 mins or until the skewer inserted in the centre comes out clean.
If you want a crack in the centre of the cake, before putting it in the oven, make a line of butter in the centre of the batter. You can either use cold or melted butter.