This eggless dry fruit cake is soft, moist, comforting and full of nostalgia. You won't try another dry fruit cake recipe once you make this one, I can guarantee this for sure! It's one of those tea cakes which everyone loves in the family, from grand parents to babbies to cousins, everyone. Roasting the nuts before adding it to the batter brings out a beautiful nutty flavour and takes your cake up a notch so don't forget to do that. Let's get to the ingredients we'll need for this gorgeous cake.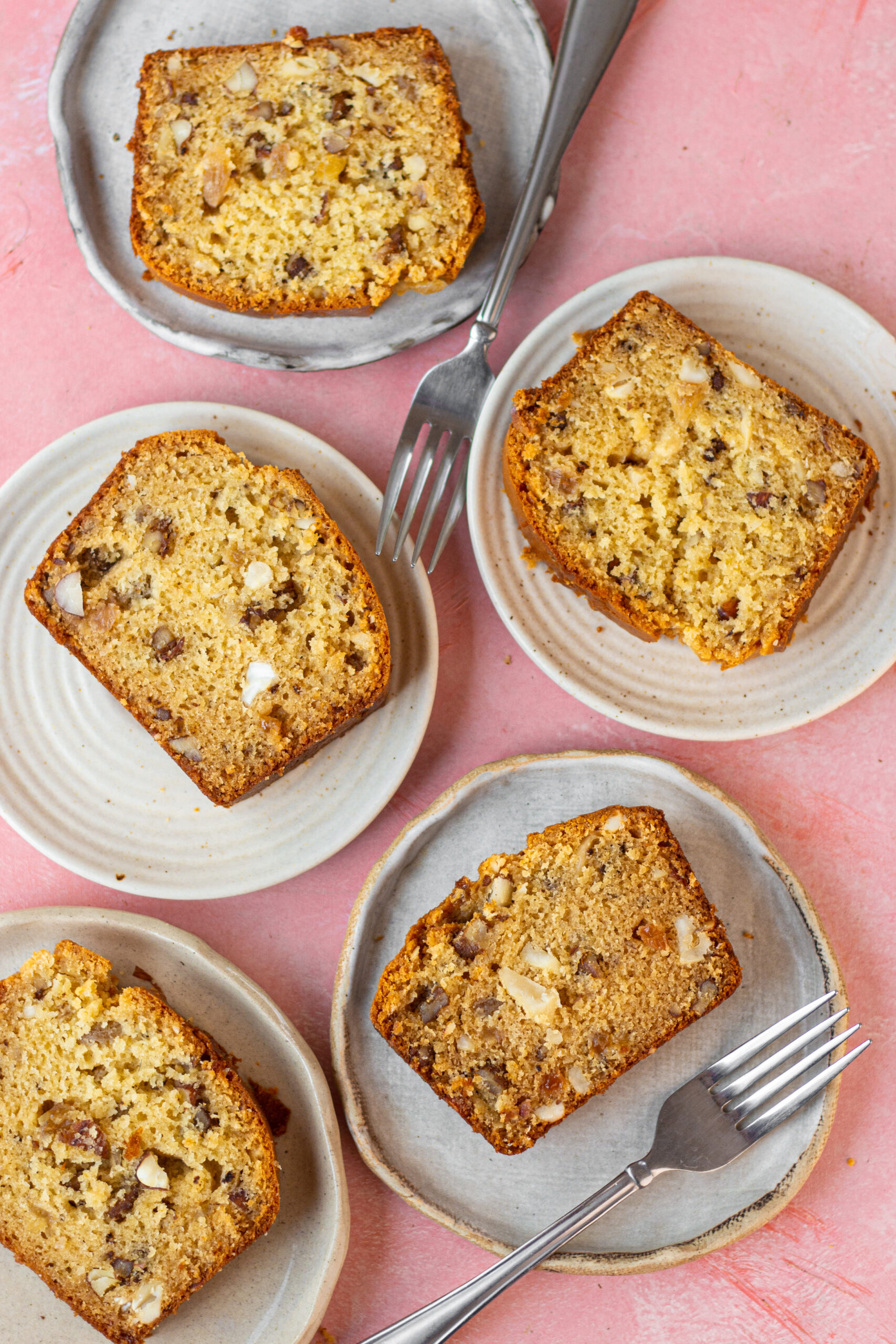 INGREDIENTS NEEDED FOR EGGLESS DRY FRUIT CAKE
MILK
To make my eggless dry fruit cake moist, soft and light, I have regular milk in this recipe. Make sure it is a little warm and not cold straight from the fridge. Since every flour is different, you might need a tablespoon less or a tablespoon more of milk to adjust the consistency of the batter.
BUTTER
I have used this salted butter for this eggless dry fruit cake. Feel free to use unsalted if that's what you have in hand. Make sure you add a pinch of salt in case you are using unsalted butter.
CONDENSED MILK
For that sweetness in eggless dry fruit cake, I have used sweetened condensed milk. You can use any condensed milk as long as its sweetened. It not only does add sweetness to the recipe but moisture and make the tea cake soft and moist.
VANILLA EXTRACT
Using the best kind of vanilla has always made all the difference in any dessert. Please avoid using vanilla essence as it is not real but synthetic and chemically made vanilla flavour. Make sure you use good quality vanilla extract or bean for this eggless dry fruit cake. I recommend this one. To know more about vanilla and which vanilla to use for your desserts, you can check out my article Vanilla 101.
CASTER SUGAR
I usually prefer castor sugar in all my recipe until mentioned otherwise. Castor sugar melts evenly unlike granulated sugar. If you don't have castor sugar in hand, feel free to substitute it with powdered sugar in this eggless dry fruit cake.
ALL PURPOSE FLOUR
I have used regular maida in this eggless dry fruit cake. Feel free to swap half of it for whole wheat flour or oat flour. Make sure you increase the quantity of milk in that case as these flour absorb more liquid in a recipe.
BAKING POWDER AND BAKING SODA
I have used both baking powder and soda in this eggless dry fruit cake. Baking soda and baking powder would react to the liquid in the recipe. I use this baking powder and this baking soda.
MIXED NUTS
I have used a combination of cashews, almonds, walnuts and raisins in this dry fruit cake. Feel free to use whatever nuts you have at home or like. Roasting the nuts is an additional step I do sometimes before adding the nuts to my cake batters to bring out that beautiful nutty flavour. You can also skip the step if you would like to.
PROCESS TO MAKE EGGLESS DRY FRUIT CAKE
In a large mixing bowl start with warm milk, add melted cooled down butter, room temperature condensed milk and vanilla extract. Give the wet ingredients a good mix until it looks like a homogenous mixture. Once you achieve that, add sugar and mix it in really well. Now sift in the dry ingredients that is maida, baking powder and baking soda. At this stage if you feel the batter is too thick, fix with the help of a little milk. Lastly add in the chopped nuts and give it one final mix. Transfer the batter to your lined and greased tin and bake the cake at 180C for 35-40 minutes.
EQUIPMENTS USED TO MAKE EGGLESS DRY FRUIT CAKE
The kind of equipment you use when you're baking makes a huge difference to the end result! I would recommend you to use good quality mixing bowls and other equipment so that your eggless dry fruit cake comes out delicious!
To mix all my ingredients together in, I'm using Borosil's 100% Borosilicate Glass Bowl which is microwave and oven safe, plus the bowls are super easy to clean and handle, which makes my baking process totally hassle free!
Not a single day goes in my kitchen when I don't use a Silicon Spatula, this is the one I recommend. Same goes for my set of Measuring Cups and Measuring Spoons.
Finally, to bake my brownies I have used a loaf pan, this one is quite similar to the one I have used.
And if you try this recipe and like it, do try other tea cake recipes from the blog. I am sure you are going to love them too!
OTHER TEA CAKE RECIPES FROM THE BLOG
Eggless Dry Fruit Cake
Ingredients
1 cup warm milk
1 cup melted butter
1 cup condensed milk
1 tsp vanilla extract
½ cup caster sugar
2 cups maida
2 tsp baking powder
1 tsp baking soda
1 + ½ cup mixed nuts
Instructions
Preheat your oven at 180C and line a loaf pan with parchment paper and grease it.
In a large mixing bowl, add warm milk, melted butter, room temperature condensed milk and vanilla extract. Give it a good mix.
Add the sugar and mix really well.
Sift in the flour, baking powder and baking soda. Mix until you see no large flour pockets.
Tip in the chopped nuts and fold them in.
Bake at 180C for 35-40 minutes or until a skewer inserted in the centre comes out clean.
If you like my eggless dry fruit cake recipe and happen to make it in your kitchen, do tag me on Instagram and share pictures with me using #Bakewithshivesh. Happy Baking!