Who doesn't like chocolate? Specially when you can sip on it! Thick chocolate shakes are tasty but finishing a whole cup of it, sounds like a task as they are so heavy. But what if I told you that I have come up with a recipe which is amazingly tasty and super chocolaty. You can sip a whole glass without feeling heavy and it's so refreshing. This quick drink is ready in no time which few ingredients and it's more addictive than coffee.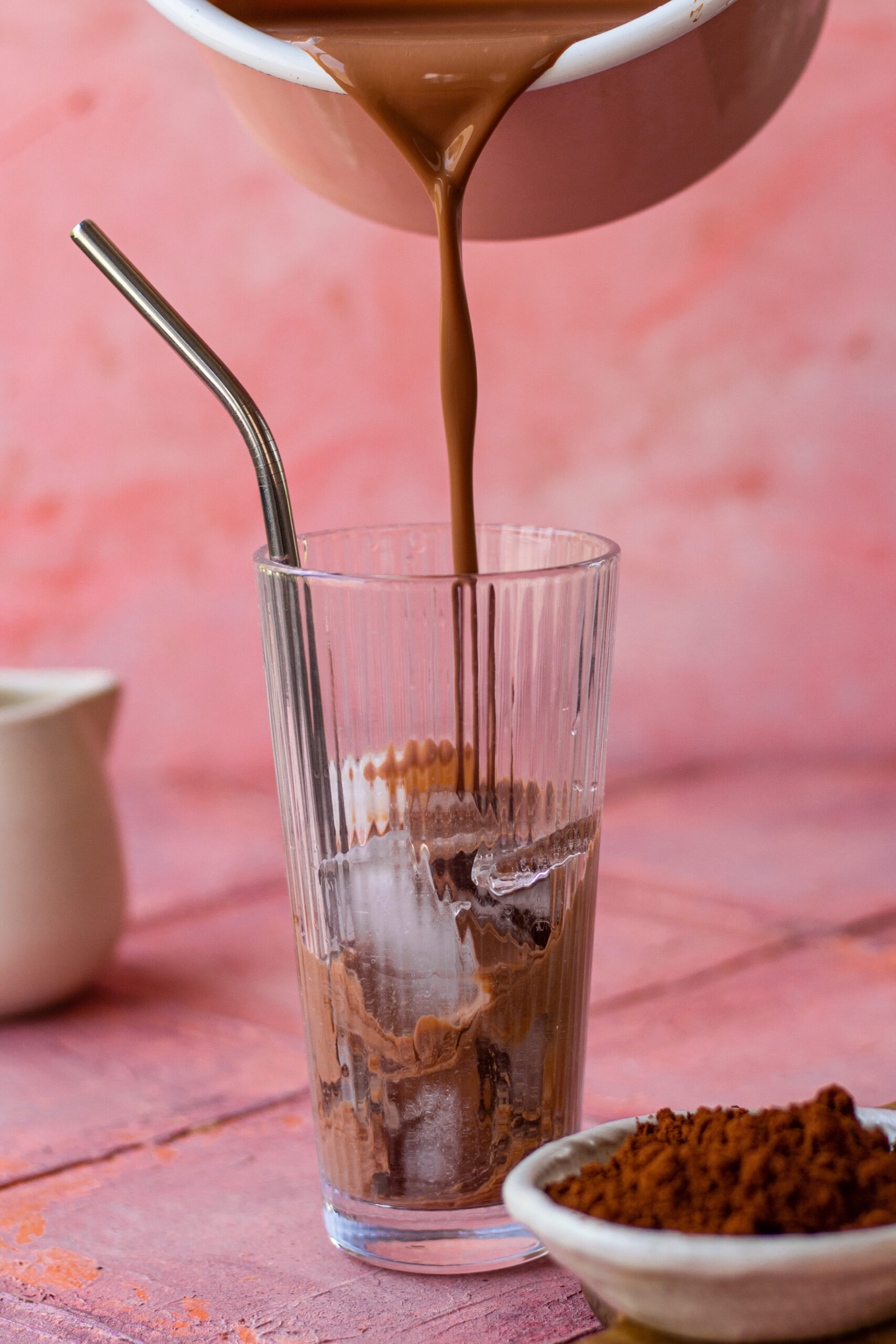 INGREDIENTS USED IN THIS COLD COCO
It is a milk based beverage and has 1 + ¼ cups of milk. 1 cup is added directly to the saucepan and the other ¼ cup milk is incorporated with other ingredients to form slurry. If you want to make for more people, you can simply double the entire recipe and you will be sorted! I generally use full cream milk as they make my drinks very rich and creamy. If you want you can use toned or cow milk as well.
I am adding two tablespoons of caster sugar. If you want you can also substitute it with brown sugar and you can also reduce the quantity of two tablespoons to one tablespoon, according to your taste preference!
For the thickening agent I am using corn flour which is cooked with other ingredients on the stove and make this cold coco nice and thick! Because of corn flour only, this col coco gets its velvety texture.
To make this cold coco have a nice chocolate flavor, I have added 1 tablespoon of unsweetened cocoa powder. Generally I use hershys and cadbury's cocoa powder as they have a great aroma and are easily available everywhere; if you have some other cocoa powder you can use that too.
To make this delicious cold coco super chocolaty and to add a great texture I have added 3tbsp of chopped dark chocolate chocolate. You can either use dark chocolate or milk chocolate according to your preference. If you want the drink to be on the sweeter side you can use milk chocolate.
It is a cold nutella coco so while serving it has to have ice cubes! I love my drinks to stay cold while I am sipping on them so I am adding ice cubes, if you don't want it to be that cold; you can skip it too.
TIPS AND TRICKS TO MAKE THIS COLD COCO
I recommend using full fat milk to make this cold coco for the perfect consistency.
Do not forget to mix immediately after adding corn flour to avoid lumps. Or you can make a slurry of corn flour , coco powder and little bit of milk before adding.
Make sure to cool the cold coco at room temperature properly before adding loads of ice while serving!
For the garnish, you can add marshmallows, grated dark chocolate or even dust cocoa powder.
You can even serve this cold coco with vanilla ice-cream or whipped cream and a generous drizzle of chocolate ganache on it.
If this cold coco gets lumpy, you can always sieve it before serving.
Make sure you cook it till it get thickens and let the corn flour gets cooked properly too.
EQUIPMENTS USED TO MAKE COLD COCO
The kind of equipment you use when you're baking makes a huge difference to the end result! I would recommend you to use good quality mixing bowls and other equipment so that your cold coco comes out delicious.
I have used Borosil Induction for making my coco. It makes cooking hassle free and quick.
OTHER SIMILAR RECIPES ON THE BLOG:
PEANUT BUTTER & NUTELLA MILKSHAKE
EGGLESS CHOCOLATE COOKIE CUPS WITH COLD COFFEE
CHOCOLATE CAKE MILKSHAKE – WITH 3 INGREDIENTS
COLD COCO
Ingredients
1 + ¼ cup milk (separately)
2 tablespoon sugar
1 tablespoon corn flour
1 tablespoon cocoa powder
3 tablespoon Dark chocolate
Lots of ice cubes
Instructions
In a saucepan, set over medium heat; pour 1 cup of milk and add sugar in it. Let the sugar dissolve properly and give it a stir in between.
While it is heating, in a bowl add ¼ cup of milk, corn flour and cocoa powder to make slurry. Mix it properly and set aside.
Add the slurry to the simmering milk and sugar mixture and give it a good mix.
Keep stirring everything so the milk doesn't burn from the bottom.
As it thickens add chopped chcolate and give it a mix.
Once the mixture thickens, take it off the heat and let it cool outside or you can even refrigerate it for 10 minutes for it to cool down properly.
Serve it in a glass with lots of ice cubes and enjoy!
If you end up making this cold nutella coco, don't forget to tag me on 
Instagram
 and use #BakewithShivesh.