Mangoes always have been an integral part of summers. Summers are equal to mangoes. I have grown up eating different varieties of mangoes and literally, I can't pick any favourite one because all are so yummy. I remember having mango shake with all my meals in childhood. This drink is nostalgic, delicious and also it's a Man-go crazy drink. Simple to make and so so refreshing. This Korean mango milk drink is so flavourful and fancy yet so simple and quick to make. All you need are good quality mangoes and boom you are done.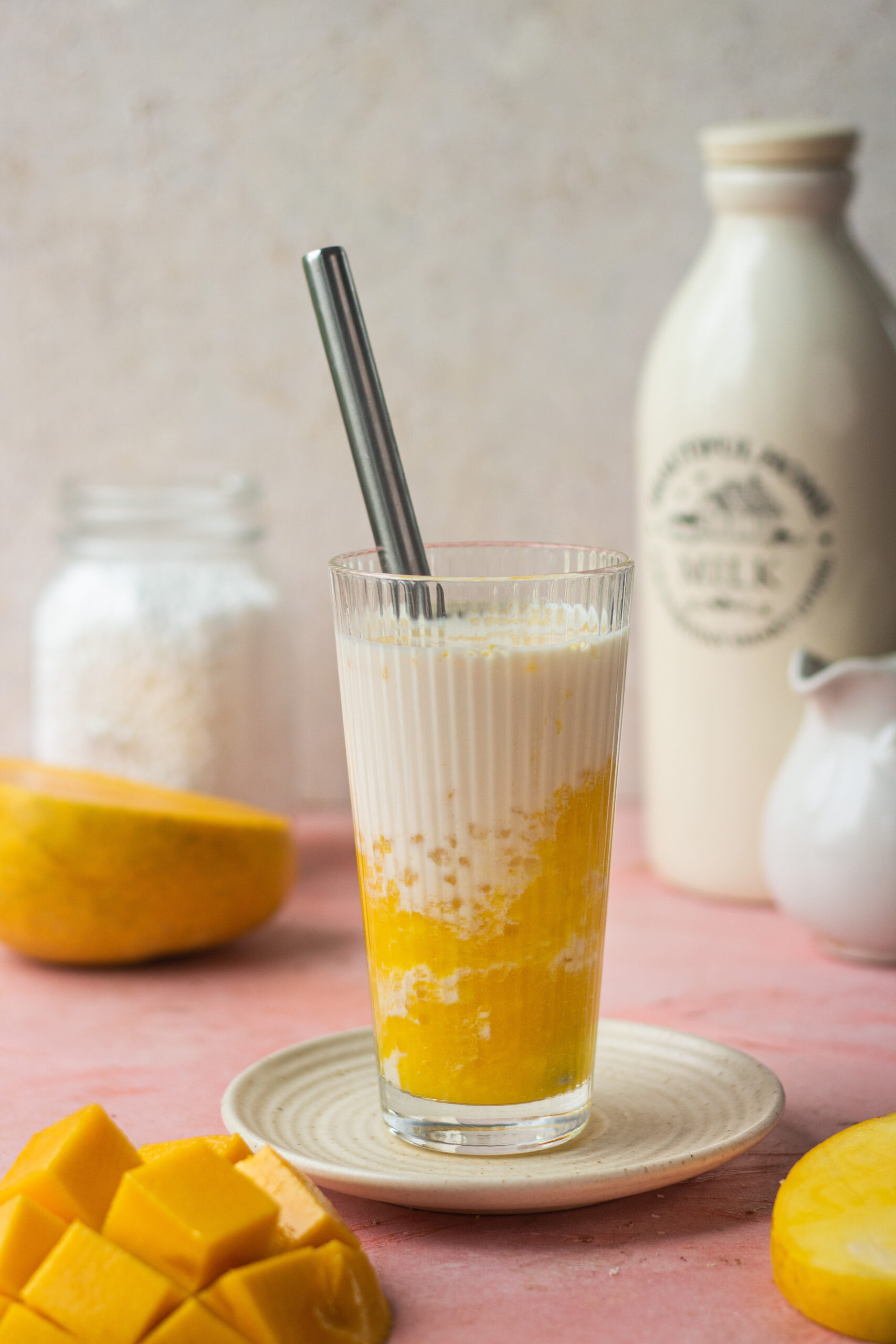 INGREDIENTS USED IN KOREAN MANGO MILK
MILK
As the name states, the first ingredient is obviously milk. For making this delicious Korean mango milk I have used nestle tetra pack milk. You can use the one kept in your fridge either full cream or skimmed depending upon your preferences.
MANGO
I have used dasheri mangoes for this Korean mango milk. You can use any kind of mango depending upon which is easily available to you and what you like. Make sure to use a good quality mango so as to make this drink flavourful.
SAGO PEARLS
Now this is the ingredient which will take your regular mango milk to another level. Sago pearls commonly known as Sabudana are very popular in Korea and are in used many desserts and drinks. They are so so refreshing and best to beat the summer heat. They sound fancy but are easily available in all grocery stores.
CASTER SUGAR
To make this Korean mango milk I have used caster sugar. As the mangoes are already sweet you just have to add a little to give it a better flavour. If you want you can also use the powdered sugar which is made by blending granulated sugar in the blender.
VANILLA ESSENCE
Vanilla essence makes everything better. And to make this Korean mango milk richer in flavour I have used this vanilla essence.
EQUIPMENTS USED IN MAKING KOREAN MANGO MILK
The kind of equipment you use in the kitchen makes a huge difference to the end result! I would always recommend you to use quality gadgets and other equipment to make your cooking and baking game strong.
To make mango puree I'm using Borosil's nutrifresh portable mini mixer and grinder. Which eases the work for me and makes blending and grinding hassle free.
TIPS TO MAKE THIS KOREAN MANGO MILK
1). To make this drink vegan you can use any plant based milk, soy milk or almond milk.
2). Sugar should be added according to the sweetness of the mango. You can substitute caster sugar with brown sugar or jaggery as well.
3). You can boil the sago pearls with sugar and skip adding it in puree.
4). You can boil sago pearls prior and store them in fridge as they take time to boil.
SIMILAR RECIPES ON BLOG
korean mango milk
Ingredients
½ cup mango puree
1tbsp caster sugar
2tbsp sago pearls
2tbsp mango chunks
¾ cup milk
½ tsp vanilla
Instructions
). Blend the mangoes and sugar in mixer to make puree. Keep it aside.
). Boil sago pearls until completely transparent which takes about 20-25 mins. Drain and rinse them and let them cool
In a glass add puree , sago pearls , mango chunks, chilled milk and vanilla. Combine everything and serve. Enjoy!
If you like my Korean mango milk recipe and happen to make it in your kitchen, do tag me on Instagram and share pictures with me using #Bakewithshivesh. Happy Baking!