Indian festivals are the pinnacle of happiness and light. People are having a good time with their loved ones and indulging in delicious sweets to spread their joy. With Holi approaching, it's that time of year when diets take a back seat and I just want to eat good desserts.
This holi I wanted to make saffron cupcakes because they have a strong exotic flavour along with a lovely golden colour. I also topped these cupcakes with a delicious saffron buttercream.
Saffron is a spice that is used in both savoury and sweet dishes, particularly Indian sweets. Saffron, in my opinion, is vastly underutilised. When it comes to saffron, a little goes a long way.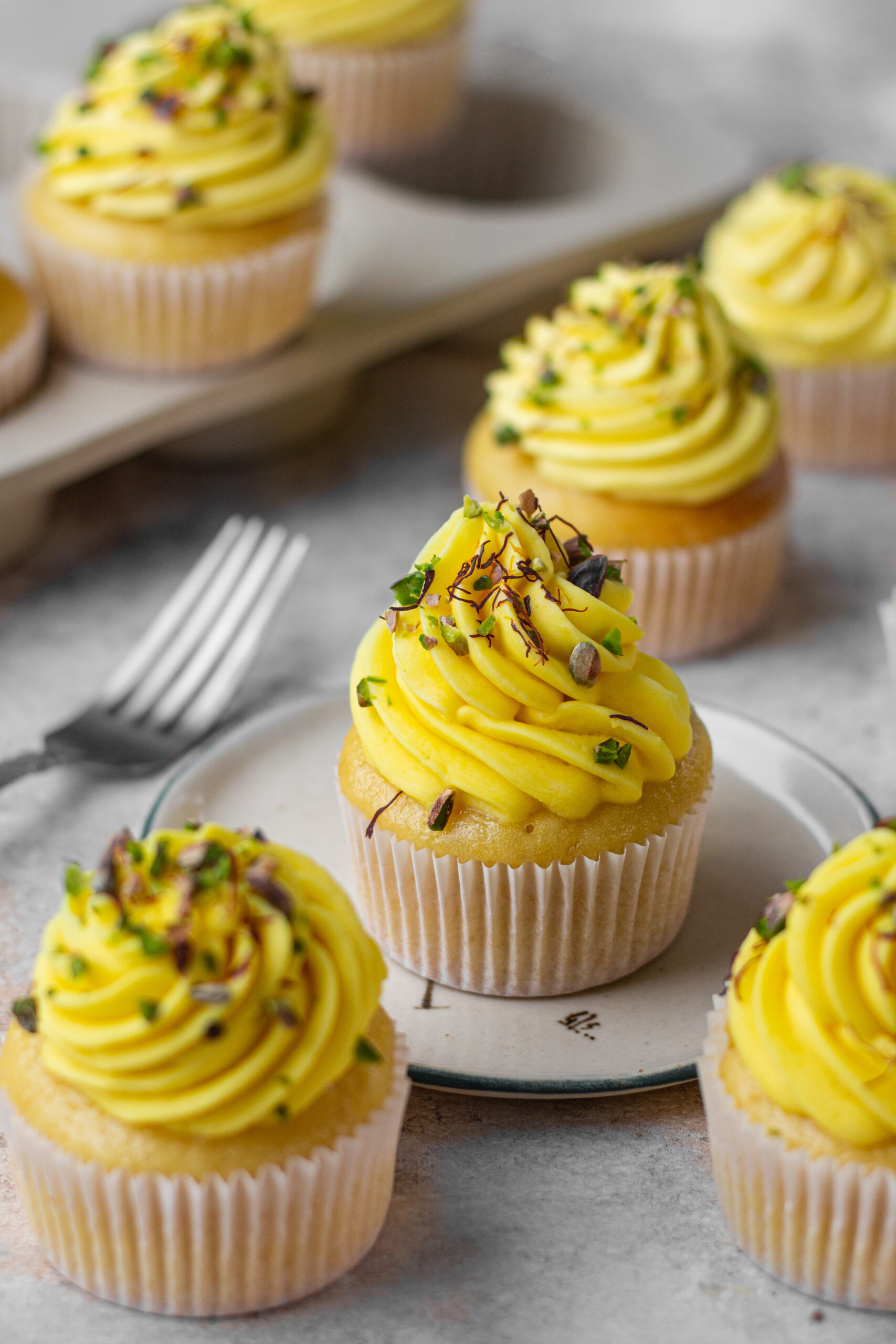 INGREDIENTS USED IN SAFFRON CUPCAKES
I am using vegetable oil instead of butter. Oil-based desserts are much lighter and have a fluffier sponge. They also have a longer shelf life than desserts made from butter.
Superfine sugar is the same as caster sugar and that is what I have used in this recipe. I would advise you to not use granulated sugar in dessert recipes. It has big sugar chunks that never fully dissolve into your dessert and you end up with sugar chunks in the end. You can read more about sugars here.
Yogurt is a very important ingredient in this recipe because it is responsible for adding structure and texture to the eggless vanilla cupcakes. In a normal recipe, this would be done by eggs. Now I know a lot of you are always wondering whether to use Greek yogurt or not. I always use normal homemade yogurt/Dahi for these cupcakes. Sometimes homemade yogurt can be too watery. If that is the case you should separate the thick yogurt portions and use that. In times when homemade yogurt is just slightly watery, you can use it just as is. There is no need to strain it. Hope you don't rush to the market to buy Greek yogurt the next time you need to use yogurt in a recipe, haha!
Wondering about more egg substitutes? There is an entire blog post dedicated to that and I know it will give you a better understanding of the entire thing!
For my dry ingredients, I used all-purpose flour, baking soda, and baking powder. Whenever I am making an eggless dessert, I make sure to sift in my dry ingredients. What this does is, make the dry ingredients that you are adding slightly lighter and therefore incorporate more air into your batter. A decent amount of air is needed in eggless desserts to help them get a better rise.
EQUIPMENTS USED FOR MAKING SAFFRON CUPCAKES
To combine all the ingredients for this recipe, I have used Borosil mixing bowl.
Measuring Cups and Measuring Spoons. are an integral part of any baker's kitchen and its very important to measure ingredients with precision.
I have used my cupcake tray to bake these saffron cupcakes in my Borosil 60L oven.
OTHER RELATED RECIPES FROM THE BLOG
TIPS TO MAKE THE PERFECT  SAFFRON CUPCAKES
Use an ice cream scooper to get the perfect quantity of the batter in the cupcake liners.
Infuse saffron strands in warm milk and keep it aside to get that perfect colour.
Adding baking soda over curd will incorporate a lot of air and structure to the cupcakes. Once the curd has almost doubled in quantity, that's when the mixture is ready.
Use the best quality vanilla you can get your hands on for these cupcakes, it'll help the main flavor shine throughout! If you feel confused about which kind of vanilla to use for your baking, I've written an entire article on All about Vanilla.
To test whether your cupcakes are done or not, you can always use a toothpick.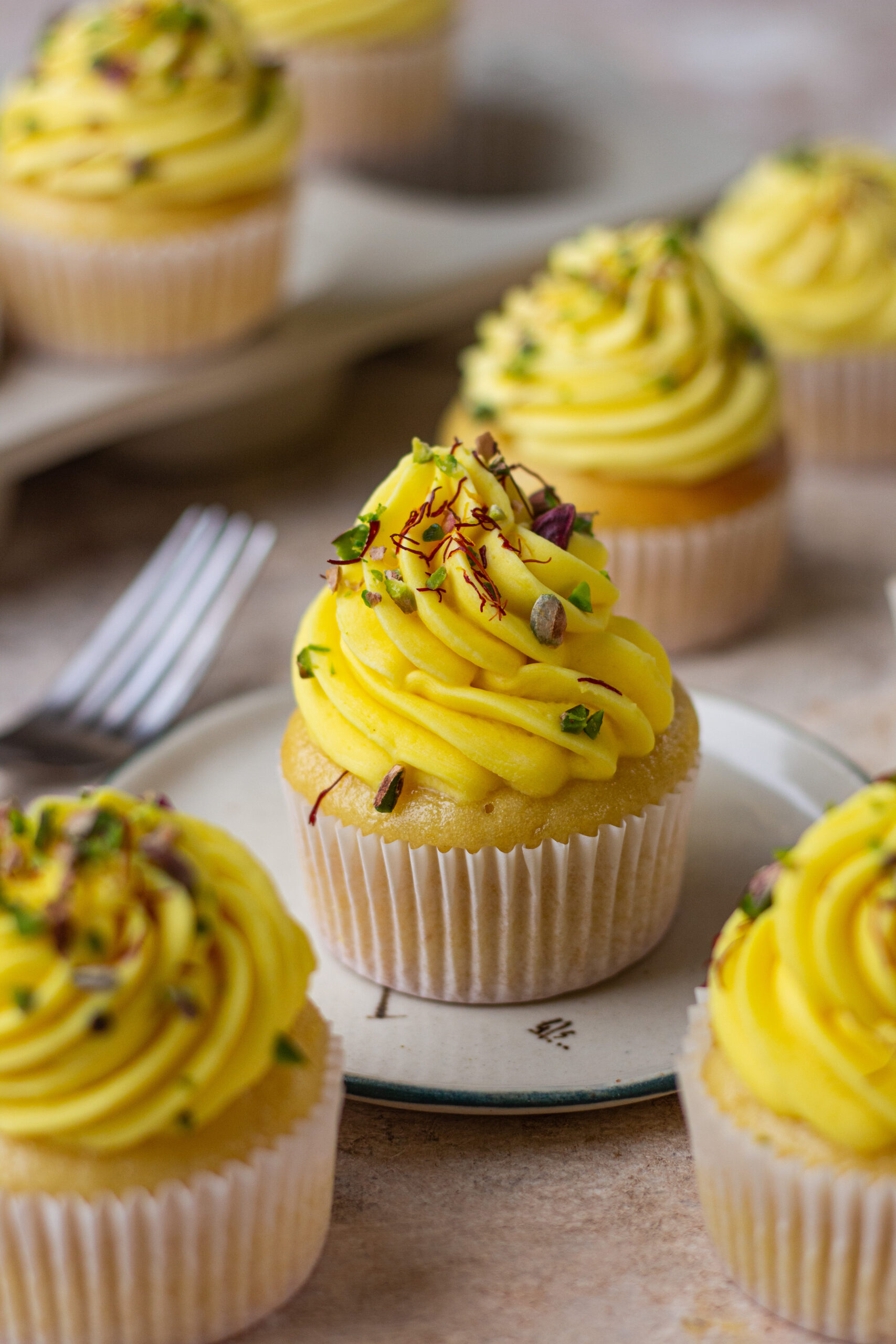 SAFFRON CUPCAKES
Ingredients
¼ cup warm milk
7-8 saffron strands
1 cup yogurt
½ tsp baking soda
¾ cup sugar
½ cup oil
½ tsp vanilla
1+1/2 cup all purpose flour (maida)
1 tsp baking powder
Buttercream frosting
½ cup softened butter
1 cup icing sugar
Vanilla
Yellow colour
For Garnish
Chopped pistachios
Saffron strands
Instructions
Add saffron strands into the warm milk and set it aside.
Mix baking soda with yogurt and let it rest for few minutes.
Add in the sugar, oil, vanilla essence and the saffron milk. Mix everything with the help of a whisk.
Sift in all purpose flour and baking powder and fold in carefully with a spatula without over mixing.
Line a cupcake tray and use an ice cream scoop to scoop in your batter. This recipe makes 12 cupcakes
Bake the cupcakes in a preheated oven at 180 C for 20-25 min until a skewer inserted into the centre comes out clean
For the buttercream frosting, add softened butter into a bowl and beat it for 4-5 minutes at high speed until it becomes pale and fluffy.
In the same bowl, add in vanilla and mix this in as well.
Mix your sifted icing sugar in two parts. Make sure all the sugar is nicely combined.
Add in few drops of yellow food colour and mix your frosting well. Frost your cupcakes with a big star nozzle. Garnish with some pistachios and saffron.
If you like my saffron cupcakes and happen to make them in your kitchen, do tag me on Instagram and share pictures with me using #Bakewithshivesh. Happy Baking!