Recently, I was out for a grocery shopping with my mom, and I came across a packet of frozen puff pastry and within a second I know what I must make next in my kitchen. These Nutella French hearts also called Nutella Palmiers recipe is very easy to make and only requires two basic components. These buttery, airy, crispy and light Nutella French hearts will melt in your mouth. It is a great addition to your evening teas and a post dinner sweet and is very impressive to make.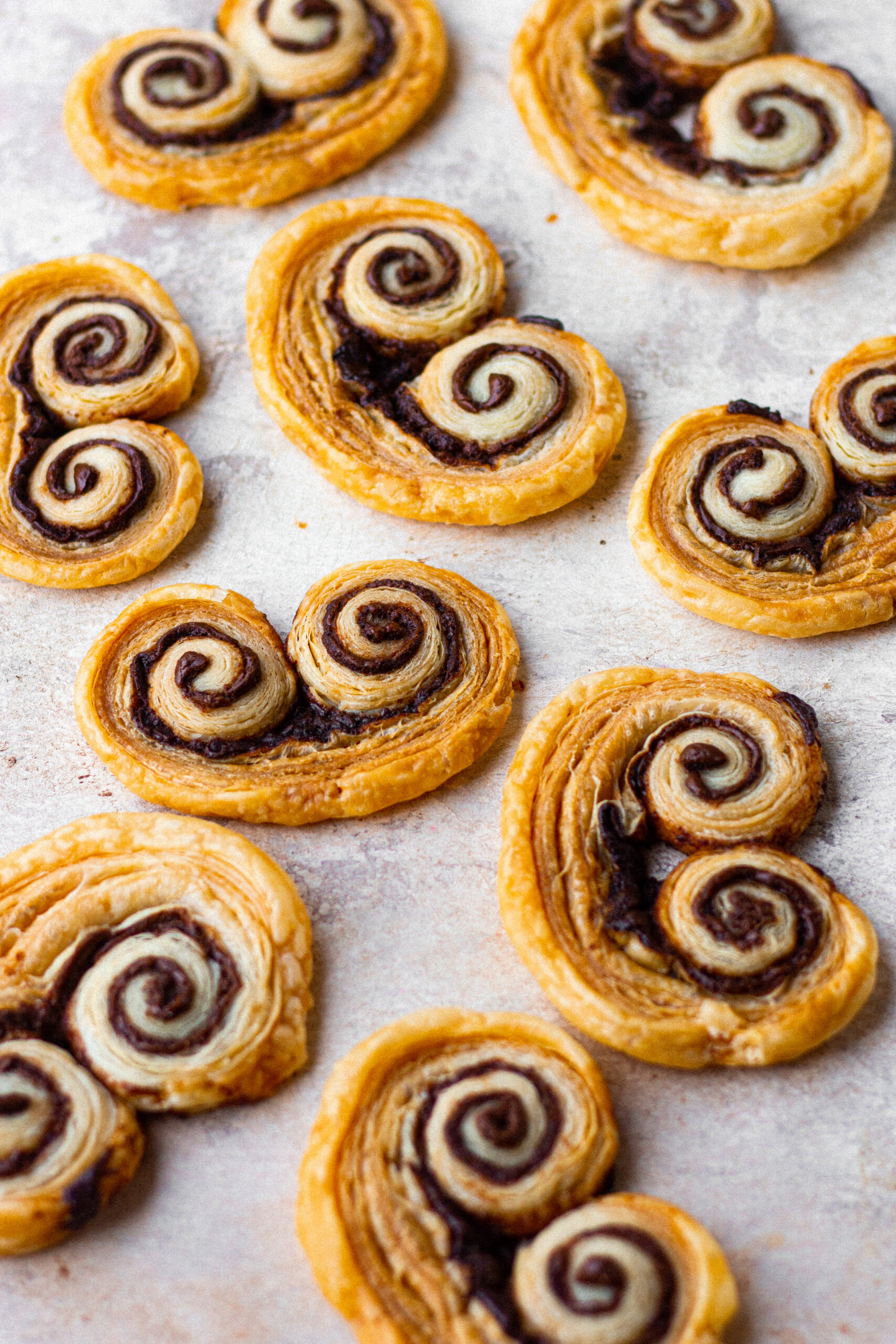 INGREDIENTS USED IN NUTELLA FRENCH HEARTS
PUFF PASTRY
You can easily find a packet of frozen puff pastry from a grocery superstore. I bought it from modern bazaar, but you can search it in your nearby stores. You can also make puff pastry at home which is a bit hectic but to make your life easy try to grab your hands-on store-bought puff pastry to make your life easy. 
NUTELLA
I can pair Nutella with anything and everything. Combining it into the puff pastry to make French Hearts was an absolute win win situation. For an alternative you can try it with normal cinnamon sugar or chocolate spread. 
WHAT ARE FRENCH HEARTS/PALMIERS?
Palmiers are made from puff pastry, a laminated dough similar to the dough used for croissant, but without yeast. Depending on your angle, a palmier is a delicate French confection designed to resemble a palm leaf or a butterfly. The delicious delicacy is made from puff pastry, whose layers separate during baking to make it light and crispy. Nutella is merely added to these tiny snacks as Nutella French Hearts. Making your own puff pastry for this recipe would be a significant undertaking, but by beginning with store-bought puff pastry, dessert preparation is actually quite simple. 
TIPS TO MAKE THESE NUTELLA FRENCH HEARTS
As you deal with the dough, make sure it remains cold. You must either work quickly or in groups if you want to keep the dough cold. When puff pastry gets heated, the butter melts, preventing the pastry from baking into lovely, airy layers.

 

Place the puff pastry dough back into the refrigerator or freezer to stiffen it up if it becomes too soft.

 

Use a marble slab if you have one to keep the puff dough cool while rolling.

 

Replace the parchment paper or clean the silicone surface in between batches if you're baking the nutella french hearts on it.

 

As the nutella french hearts bake, they will spread, so make sure there is enough room between them on the sheet pan.

 

Puff pastry is sometimes fragile. The likelihood of it breaking or cracking increases if you don't let it completely thaw before rolling it out.

 

These nutella french heart requires high temperature to bake. If you feel your oven does not behave, properly use an oven thermometer. Puff pastry dough does not contain yeast so it requires high steam to puff up otherwise it will bake flat.

 
EQUIPMENTS USED FOR NUTELLA PALMIERS
To place my Nutella French Hearts, I have used this silicon mat 
I have baked Nutella French Hearts in my Borosil 60L oven. 
And if you try this recipe and like it, do try other recipes from the blog. I am sure you are going to love them too! 
OTHER RECIPES ON THE BLOG
NUTELLA FRENCH HEARTS 

Ingredients
1 sheet of puff pastry
¼ cup Nutella
Instructions
Thaw your puff pastry and dust some flour on the counter. Roll out the puff pastry to one inch thick.
Spread a thin layer of Nutella on your dough.
Roll up one end tightly to the centre of the puff pastry and follow the same process for the other side
Wrap the rolled dough in parchment paper and freeze it for 20 minutes. Once it's frozen, cut the log into ½ inches thick slices
Preheat the oven to 180 degrees Celsius.
Place the sliced French hearts on the baking sheet leaving some space for them to spread out.
Bake for 15 minutes until they become crisp and golden brown.
If you like my Nutella French Hearts recipe and happen to make it in your kitchen, do tag me on Instagram and share pictures with me using #Bakewithshivesh. Happy Baking!