The word 'Banoffee' is made from the combination of two words- banana and toffee. The wonderful and heart-warming flavor of toffee or caramel combines beautifully with soft bananas to give us this pudding.
This no-bake banoffee pie is a delicious dessert that requires no effort. And, contrary to popular belief, it is extremely simple to prepare, and if you follow this recipe, you will have a proper balance of all ingredients!
And I assure that you will be in heaven when you have a bite of this banoffee pie which has a sweet and crumbly biscuit base, a thick layer of dulche de leche, rows of freshly sliced bananas, a generous blanket of freshly whipped cream, and some chocolate shavings.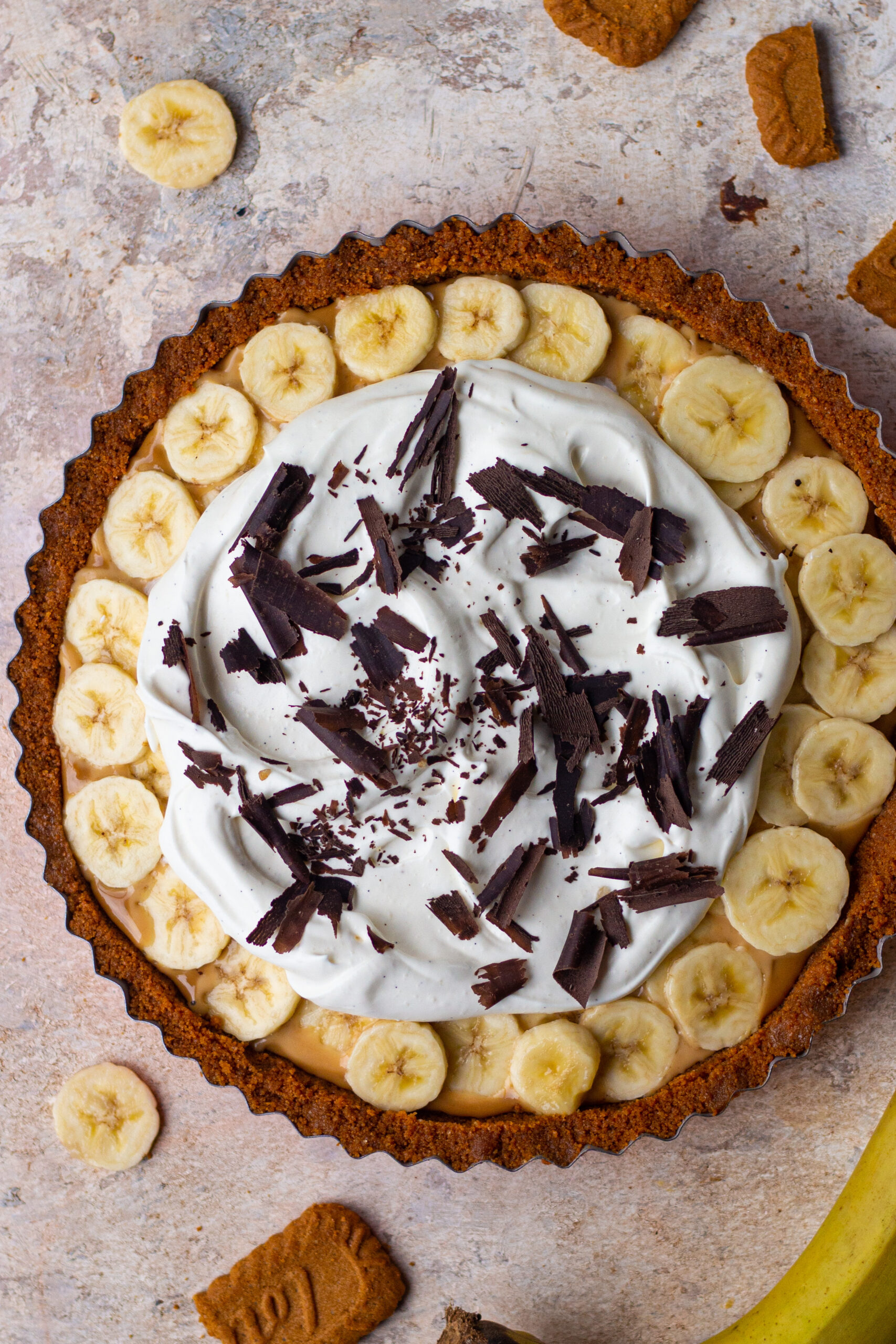 INGREDIENTS USED IN BANOFFEE PIE
You  can use any biscuit of your choice for the crunch layer. I have used lotus biscoff biscuits in my recipe.
I have used a can of nestle condensed milk and cooked it in a saucepan with water for the dulche de leche layer.
If you are worrying about whipped cream, don't worry, I have you sorted there because there is an entire blog post on the website on how to make whipped cream which will surely take all your whipped cream nightmares away!
EQUIPMENTS USED FOR MAKING BANOFFEE PIE
This recipe really easy to make and hardly requires any equipments.
Measuring Cups and Measuring Spoons. are an integral part of any baker's kitchen and its very important to measure ingredients with precision.
I have used 8 inch tart pan.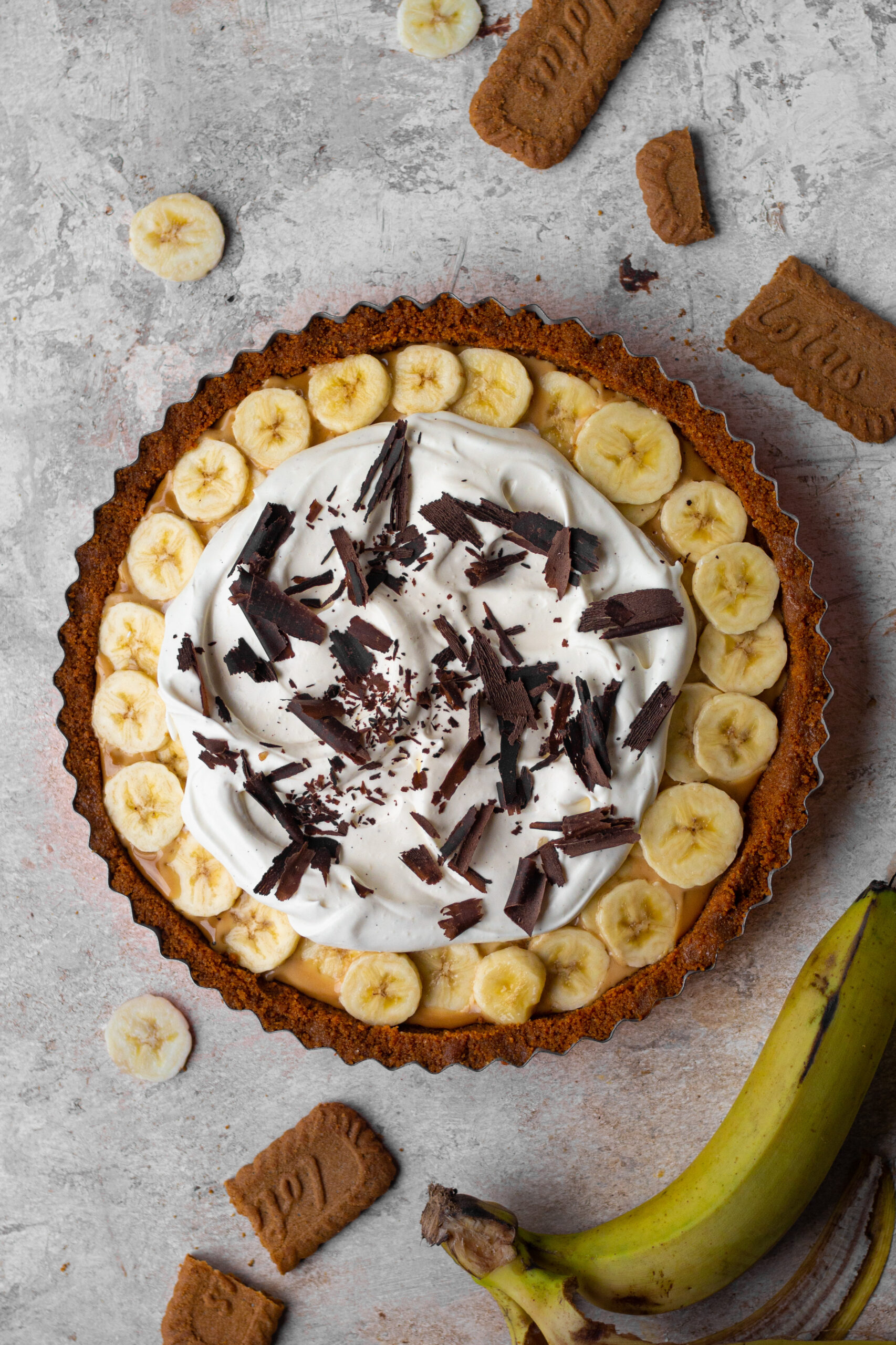 OTHER RELATED RECIPES FROM THE BLOG
TIPS TO MAKE BANOFFEE PIE
You can use any biscuits of your choice. I have used lotus biscoff biscuits in my recipe.
To make dulche de leche, place the condensed milk can in a large saucepan filled with water over low heat. Cook for 3 hours with the submerged can. Once completely cool, open the can and your dulce de leche is ready. A cooker can also be used. Remember to keep an eye on the water level.
Please use fresh and perfectly rice bananas. Using squishy bananas will take away a lot of flavor and texture!
Spread as much cream as you'd like over the pie after whipping it to stiff peaks.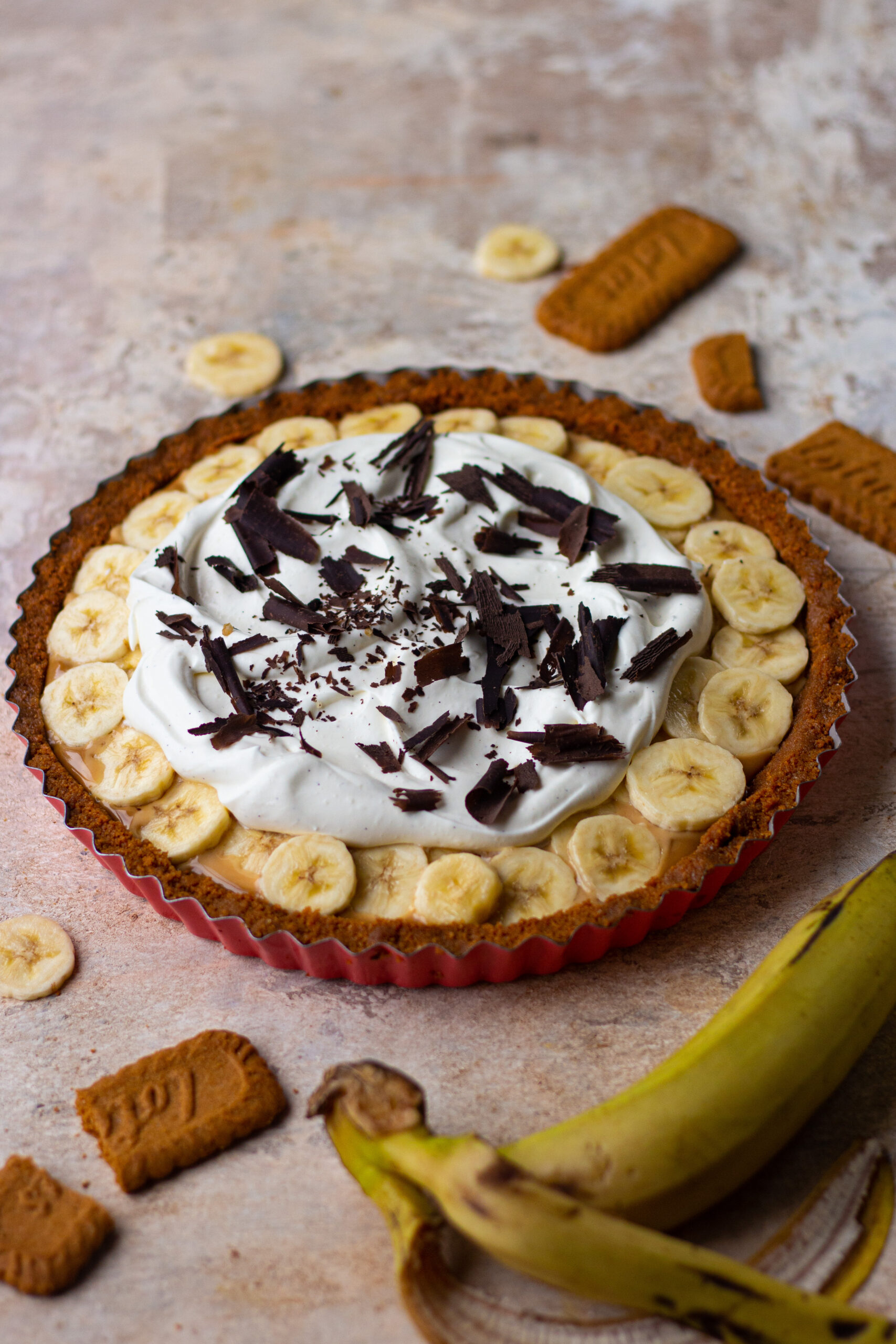 BANOFFEE PIE
Ingredients
1 packet lotus biscuits (32 biscuits)
6 tbsp melted butter
1 can condensed milk
3 bananas, sliced
½ cup whipped cream
Chocolate shavings, to garnish
Instructions
Place the can of condensed milk in a large saucepan filled with water. Cook the submerged can for 3hrs. Open the can once it cools completely and this is your dulce de leche filling
In a bowl combine crushed biscuits and melted butter. Mix until the biscuits crumbs are evenly coated with butter.
Press this mixture into the bottom and sides of an 8" tart pan. Refrigerate for 30-40 minutes.
Once cooked, spread the dulce de leche on the biscuit crust.
Place banana slices on top and cover with whipped cream. Garnish with chocolate shavings.
If you like my banoffee pie recipe and happen to make them in your kitchen, do tag me on Instagram and share pictures with me using #Bakewithshivesh. Happy Baking!