The rich notes of coffee and walnuts fills up the air in your kitchen and makes it dreamier. My mom loves eating healthy cakes filled with nuts, so this EGGLESS MOCHA WALNUT cake is what I made to treat her. It's a piece of heaven on a plate top which melts in your mouth. I have made this cake using atta, but you can also replace it with all-purpose flour.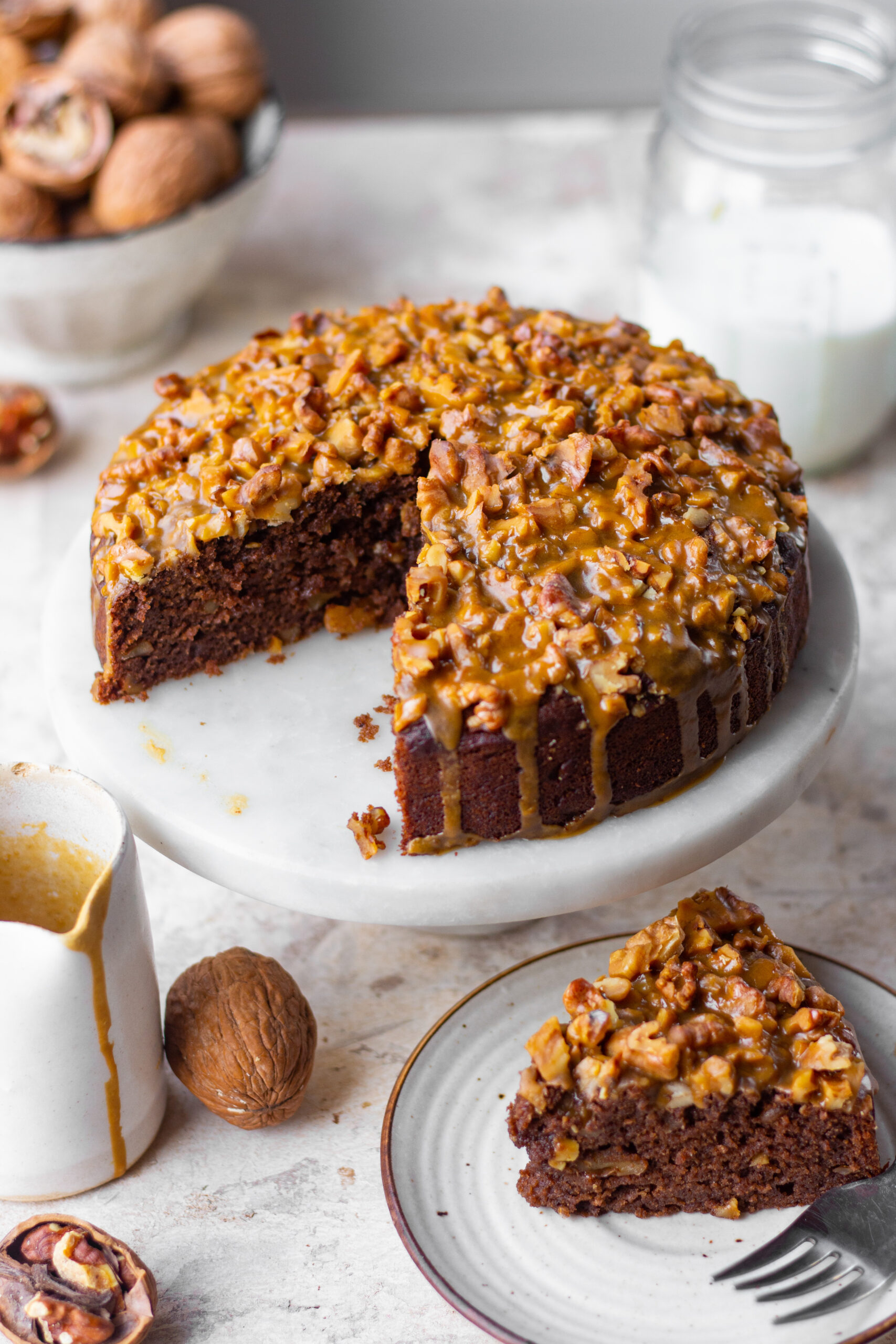 INGREDIENTS USED IN MOCHA WALNUT CAKE
YOGURT
This eggless walnut mocha cake calls for yoghurt, which is crucial because it gives the baked goods structure and eliminates the need for eggs. Although I'm using homemade yoghurt in this recipe, you are welcome to substitute store-bought. Remove any water from your yoghurt before using the solid portion to make mocha walnut cake. the process that occurs when I combine yoghurt and baking powder; the resulting bubbles make the batter overall fluffier and softer. 
CASTOR SUGAR
I have used castor sugar for my eggless walnut cake. I recommend using castor sugar instead of granulated sugar because granulated sugar does not melt completely in the oven when baking the sponge. I always use superfine sugar in all my desserts, until mentioned otherwise. 
VEGETABLE OIL
For this eggless mocha walnut cake, you also need vegetable oil. You can also use olive oil. Do not use any strong tasting and smelling oil like mustard oil. If you want to make this cake with butter, you can replace oil with equal quantity of softened butter. As simple as that! This is truly a very easy to bake mocha walnut cake 
COCOA POWDER
Using a good quality cocoa powder is very important. I personally really like using Hershey's but you can use any good dark cocoa powder. Cocoa powder is actually the most significant ingredient in this eggless kocha walnut. 
TIPS TO MAKE THIS EGGLESS MOCHA WALNUT CAKE
Always have your baking pan prepared with parchment paper and some oil, spread out correctly, before making eggless mocha walnut cake.

 

Do not overmix when combining the dry and wet components! Because all the air added will have been compressed, over-mixing a batter will make your cake dense.

 

If it isn't stated in the recipe that a component should be cold or warm, make sure that all of your ingredients are at room temperature.

 

When making an eggless mocha walnut cake, always set aside the yoghurt and baking soda first because they need time to bubble up correctly before being combined with the other ingredients.

Given that the eggless mocha walnut batter is on the thicker side, you can add any type of grain or dried fruit.

 

Use a thicker yoghurt for the eggless mocha walnut cake rather than one that is very watery.

 

Never overlook the crucial process of preheating your oven before baking your cakes.

 

Although it can be tedious to wait for the cakes to chill, let them cool fully before removing them from the cake tins for clean sides.

 
EQUIPMENTS USED FOR EGGLESS MOCHA WALNUT CAKE
To combine all the ingredients for this recipe, I have used Borosil mixing bowl. 
Measuring Cups and Measuring Spoons. are an integral part of any baker's kitchen and its very important to measure ingredients with precision. 
I have used a 6'' circle tin for baking this heart shape red velvet cake instead of using heart shape tin and is baked in my Borosil 60L oven. 
And if you try this recipe and like it, do try other cake recipes from the blog. I am sure you are going to love them too! 
OTHER RECIPES ON THE BLOG
EGGLESS MOCHA WALNUT CAKE
MY FAVOURITE MOCHA WALNUT CAKE
Ingredients
For the cake-
1 cup yogurt/ dahi
½ tsp baking soda
One espresso shot (1 tbsp coffee + 3 tbsp hot water)
½ cup oil
1+1/4 cup atta (whole wheat flour)
¾ cup sugar
¼ cup cocoa powder
1 tsp baking powder
⅓ cup milk
½ cup walnuts, chopped
For the glaze-
1 cup icing sugar
1 tbsp coffee
3 tbsp milk
Instructions
Preheat the oven at 180 degrees Celsius and line a 6-inch springform pan.
Mix yogurt and baking soda together and keep it aside for few minutes so that it foams up.
Next, add in espresso shot, oil, sugar and milk together and mix everything together until it combines fully.
In the same bowl, sift in atta, cocoa powder, baking powder, and walnuts and mix everything together. Do not over mix at this stage.
Pour the batter in the lined pan and top it with more walnuts.
Bake at 180 degrees Celsius for 30-35 minutes.
For glaze – mix icing sugar, coffee and milk together.
Pour the glaze over the cake when it cools down and serve!
If you like my favourite eggless mocha walnut cake recipe and happen to make it in your kitchen, do tag me on Instagram and share pictures with me using #Bakewithshivesh. Happy Baking!