This small serve biscuit pudding is incredibly simple and hassle-free, so you don't need to be an expert to make it! It has a very simple ingredient list, so you can find everything you need in your kitchen to prepare it. You can make this chocolate biscuit pudding for any occasion. And I assure you that this pudding is ideal for a dessert table.
INGREDIENTS USED IN SMALL SERVE BISCUIT PUDDING
Coffee powder is added in warm water to soak our biscuits for this biscuit pudding. The in-between biscuit layer gives structure to our pudding and wanted it to be as tasty as our pudding. Thus, coffee is added to enhance the all over flavor of the pudding.
For the biscuit layer, I have used digestive biscuits as I love their flavor and thickness. If you want you can use parle-g or marie biscuit for this biscuit pudding.
Cocoa powder is important in this recipe as it helps us with a great color and taste. I use hershey's or Cadbury's cocoa powder in my recipes. 
Generally, eggs are added in a pudding as a thickening agent but since we are making this biscuit pudding eggless, I am adding corn flour which will give us a good consistency. It is easily available everywhere and works great for this recipe. 
EQUIPMENTS USED FOR MAKING SMALL SERVE BISCUIT PUDDING
To combine all the ingredients for this recipe, I have used glass ramekin.
Measuring Cups and Measuring Spoons. are an integral part of any baker's kitchen and its very important to measure ingredients with precision.
OTHER RELATED RECIPES FROM THE BLOG
WHAT IS THE IDEAL TEXTURE FOR A PUDDING?
A pudding is supposed to be creamy and smooth. That is why it is very important that your pudding doesn't have any lumps and the pudding base is cooked properly. Even if by chance, you do have lumps you can always strain the mixture with a big sieve.
Each bite of the pudding should give you a silky and smooth deliciousness in a spoon. Making pudding from scratch is therapeutic and gives you the best results even though we have a lot of pre-mixes available in the market these days.
TIPS FOR MAKING THIS BISCUIT PUDDING
Make sure to cook the milk with corn flour properly and long enough as we don't want the uncooked corn flour after taste!
Keep stirring the pudding mixture with a whisk or a wooden spoon as it can burn easily, if left on the heat without stirring.
Keeping all ingredients ready before starting is advisable here with the dish or glasses you want to serve the pudding in; as everything happens one after the other and there won't be time in between to think or make changes.
Once, the pudding is layered it needs to chill in the fridge for 3-4 hours or overnight for best results but if you do not have that kind of time a couple of hours can be fine too but it can remain a bit liquid consistency then. The flavor would be perfect though.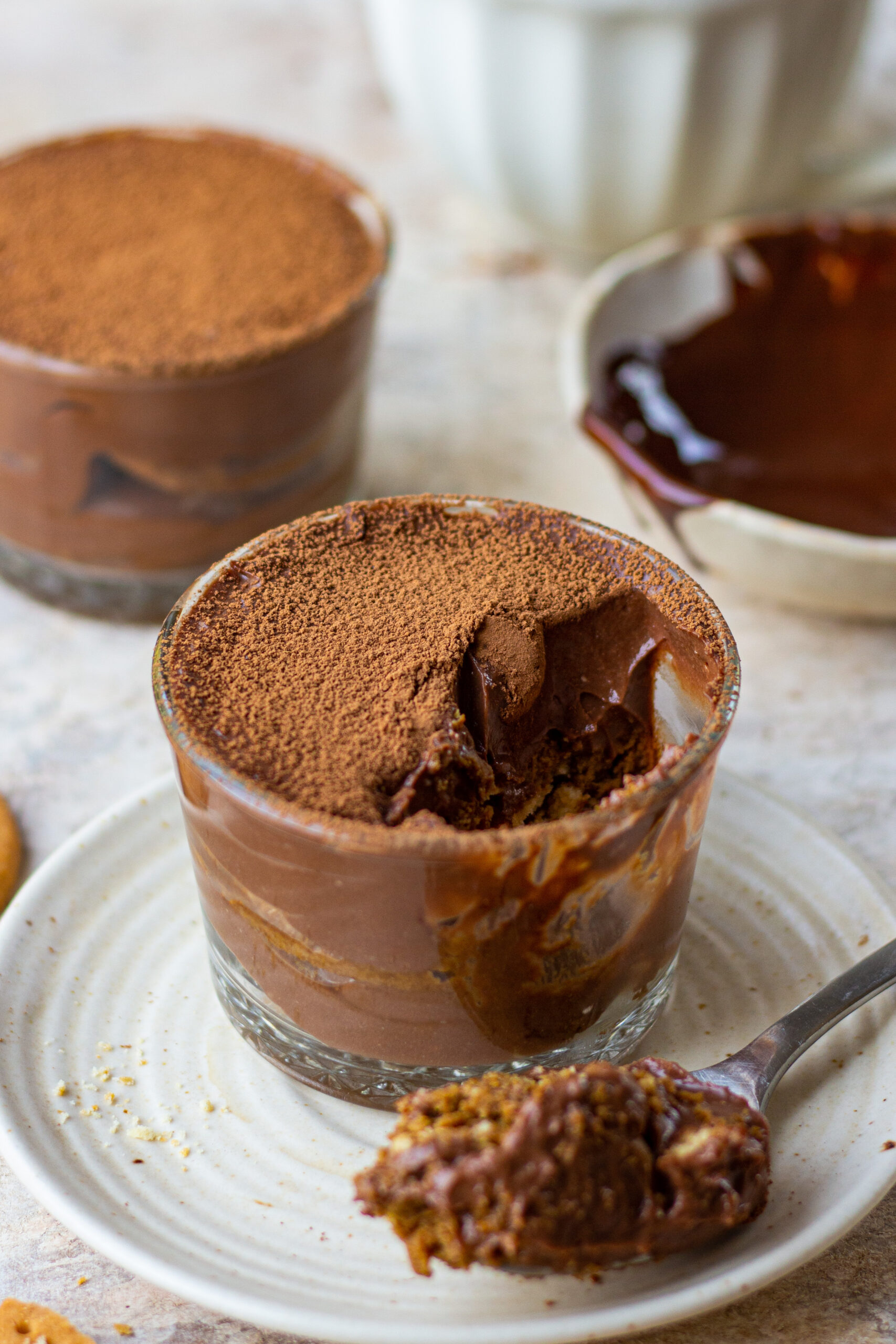 SMALL SERVE BISCUIT PUDDING
Ingredients
¼ cup dark chocolate
½ cup milk
2 tbsp cream
1 + ½ tsp cornflour
1 + ½ tbsp sugar
½ tbsp cocoa powder
5 digestive biscuits
One espresso shot (1 tbsp coffee + 3 tbsp water)
Instructions
In a bowl add chocolate and milk together. Microwave it for 30 secs until chocolate melts.
Now add cream, cornflour, cocoa powder, sugar and mix it well.
Microwave the batter for 2 mins until it becomes thick.
Now in a glass add digestive biscuits and soak them with espresso shot then pour the batter on top of it.
Repeat the process again.
Lastly, dust cocoa powder and enjoy!
If you like my small serve biscuit pudding recipe and happen to make them in your kitchen, do tag me on Instagram and share pictures with me using #Bakewithshivesh. Happy Baking!