The dessert which does not take much of your time and can be made readily with very limited ingredients is what I love! If you are not an expert baker and if you are not that confident about making desserts and dessert making make you feel intimidated; here is a this no-bake eggless mango biscuit pudding, the perfect recipe to start off, for you!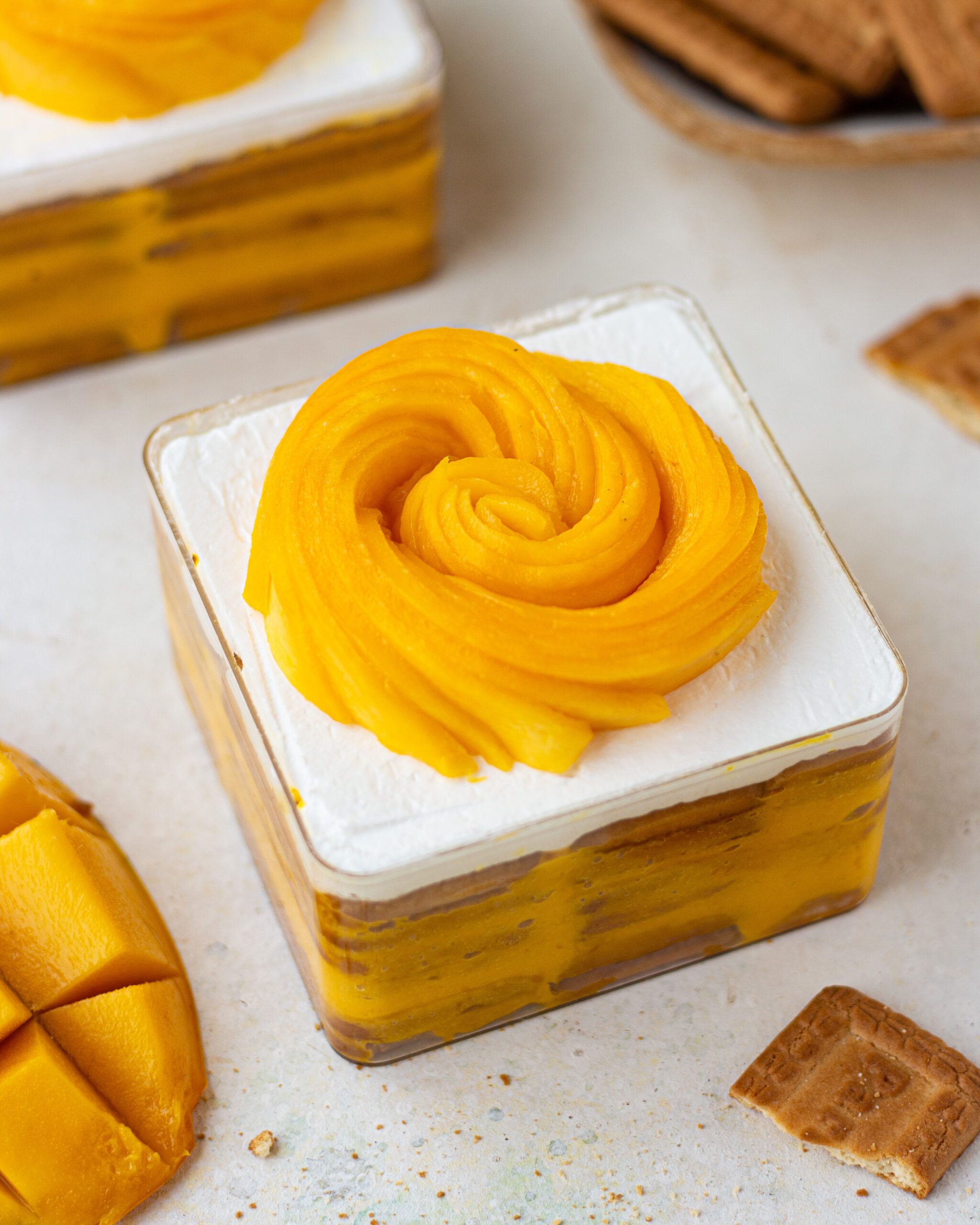 I love preparing eggless biscuit puddings, in the past I have made many! I had a kilo of mangoes at my home and I thought to myself, why not make an mango biscuit pudding with it. This eggless mango biscuit pudding has layers of biscuits and mango custard. It is perfect for any occasion or simply for your mango cravings! And the process is too simple too be true.
INGREDIENTS USED FOR THIS EGGLESS MANGO BISCUIT PUDDING
MILK
Like all puddings, this mango pudding also requires milk. I am using 1 + ½ full fat milk as they make the best and rich puddings, if you want you can use skim milk or cow milk too. Milk gives base and structure to this eggless mango biscuit pudding and is used instead of eggs. Eggs are used in the traditional puddings but since we want it to be eggless, milk is the perfect substitute.
SUGAR
To sweeten my eggless mango biscuit pudding, I am adding caster sugar. The quantity of which is very less which is 2 tablespoons as the eggless mango biscuit pudding, gets it sweetness by mangoes and biscuit too! But if you are a sweet tooth and like desserts on the sweet side, feel free to add 1-2 extra tablespoons of caster sugar. If you want you can also use granulated sugar as it just needs to be dissolved in the milk.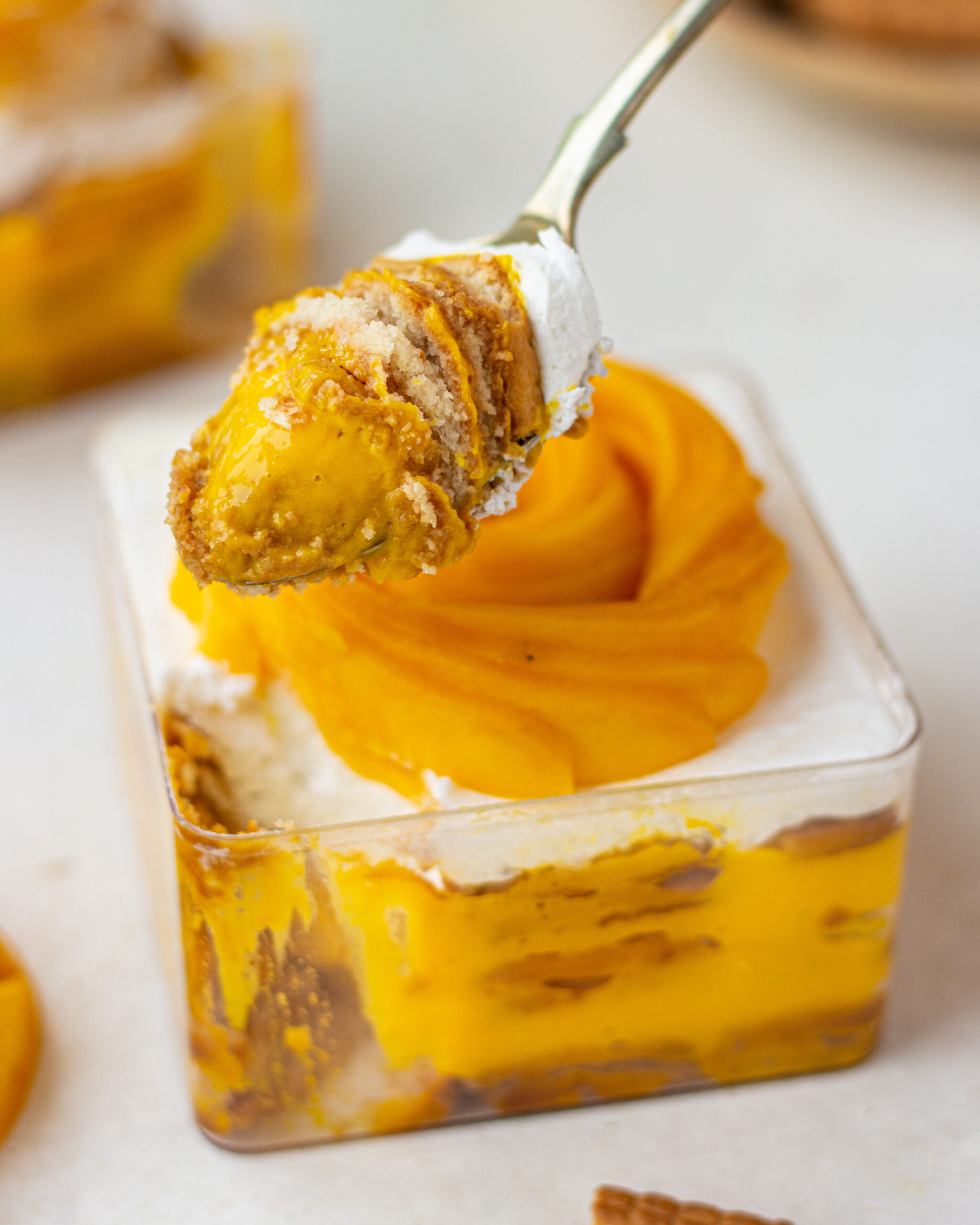 CUSTARD POWDER
I love the taste of vanilla custard and that's why instead of corn flour, I am adding 3 tablespoons of custard powder. If you have access to mango custard powder, that will be even better! But I had vanilla custard powder so I made this eggless mango biscuit pudding, using that. The custard powder needs to be added with ½ cup of milk to form slurry and then added to the main mixture and cooked till everything thickens.
MANGO PUREE
For the mango flavor I am adding 1 cup of mango puree which I made by blending mango chunks into a blender to form a nice and smooth paste. This will be added in the cooled custard and mixed properly to make the filling of this eggless mango biscuit pudding. Because of mango puree this mixture is fresh and yum. I would not suggest to add artificial flavor or mango essence.
MANGO JUICE
To make the soak for the eggless mango biscuit pudding, I am using mango juice to soak the parle g biscuits for each layer of biscuit. It makes the pudding stick together and helps forming a structure. I am using real mango juice, if you want you can use mango frooti or mango slice or maaza; absolutely anything works!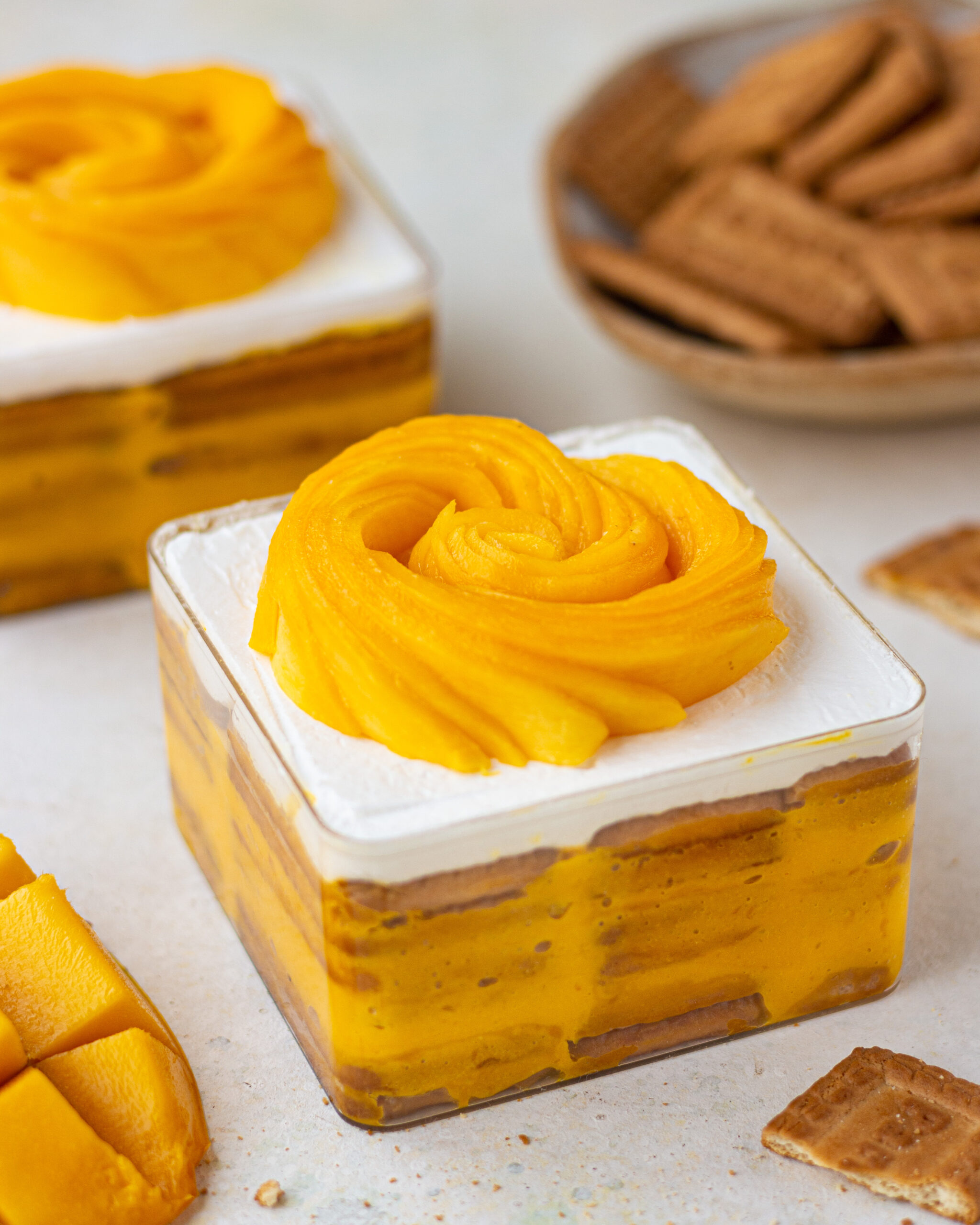 PARLE G
This mango biscuit pudding is all about nostalgia! I am using parle G biscuits for the biscuit layer as they are easily available and also very affordable. If you want you can use any other glucose biscuit or even digestive biscuit. I am putting two layers of biscuits stuck together because I want a thicker layer of biscuit in between layers.
WHIPPED CREAM
I am making my eggless mango biscuit pudding in square boxes and after three layers I have some space left on the top which I am topping with a thin layer of whipped cream. Whipped cream adds a rich and fluffy texture on the top and makes this pudding even better.
MANGO SLICES
I have decorated my eggless mango biscuit pudding with a thinly sliced mango rose! It adds a lot of color and a beautiful look. It is very easy to make, you can check out my youtube video for the tutorial for the mango rose or you can even top this pudding with mango chunks.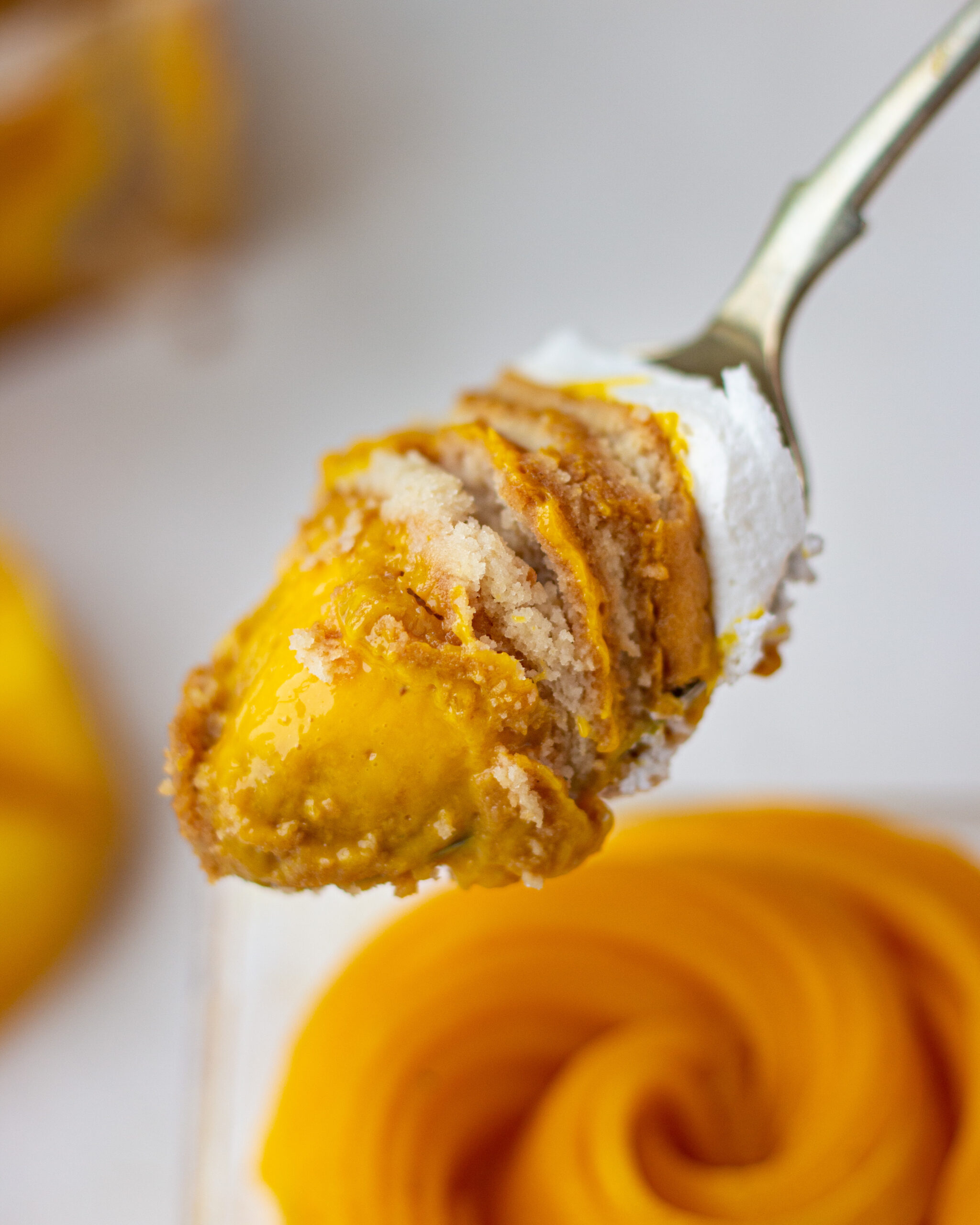 TIPS AND VARIATIONS FOR MAKING THIS EGGLESS MANGO BISCUIT PUDDING
Make sure to cook the custard powder properly with milk until it thickens and the custard powder is cooked.
If you want you can even add a layer of mango chunks in between for that extra mango indulgence.
After the custard is prepared, contact wrap it and let it cool properly before adding in the mango puree in it. Cooling of custard is very important.
I have made this eggless mango biscuit pudding in a square container, if you want you can make it in a big dish also and double the recipe for feeding more people.
The mango biscuit pudding needs to be set in the fridge for god 5-6 hours for the best results.
You can make the same recipe with other fruits like banana or strawberry, just replace the puree with that fruit pulp and fruit pieces too.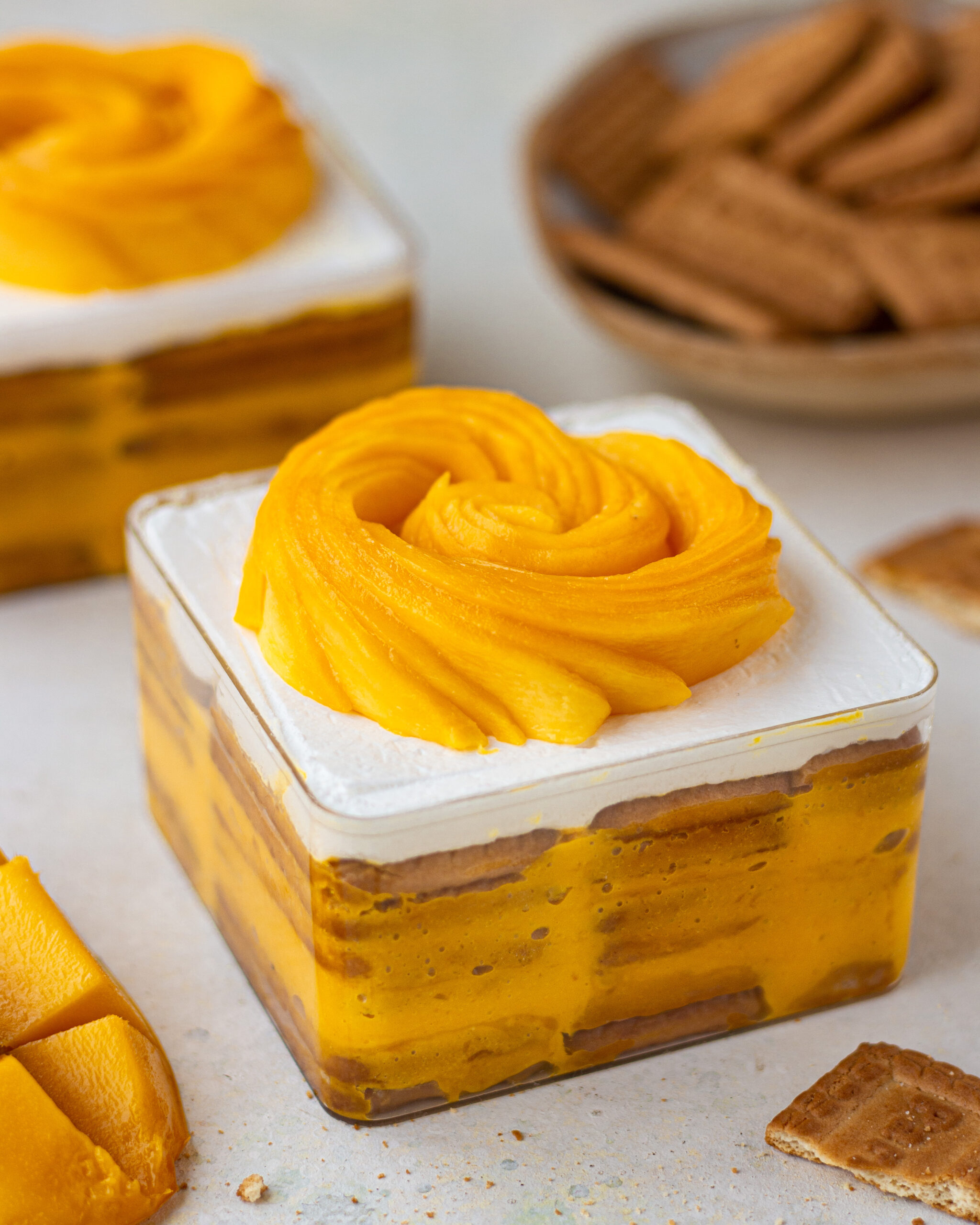 SIMILAR RECIPES ON THE BLOG: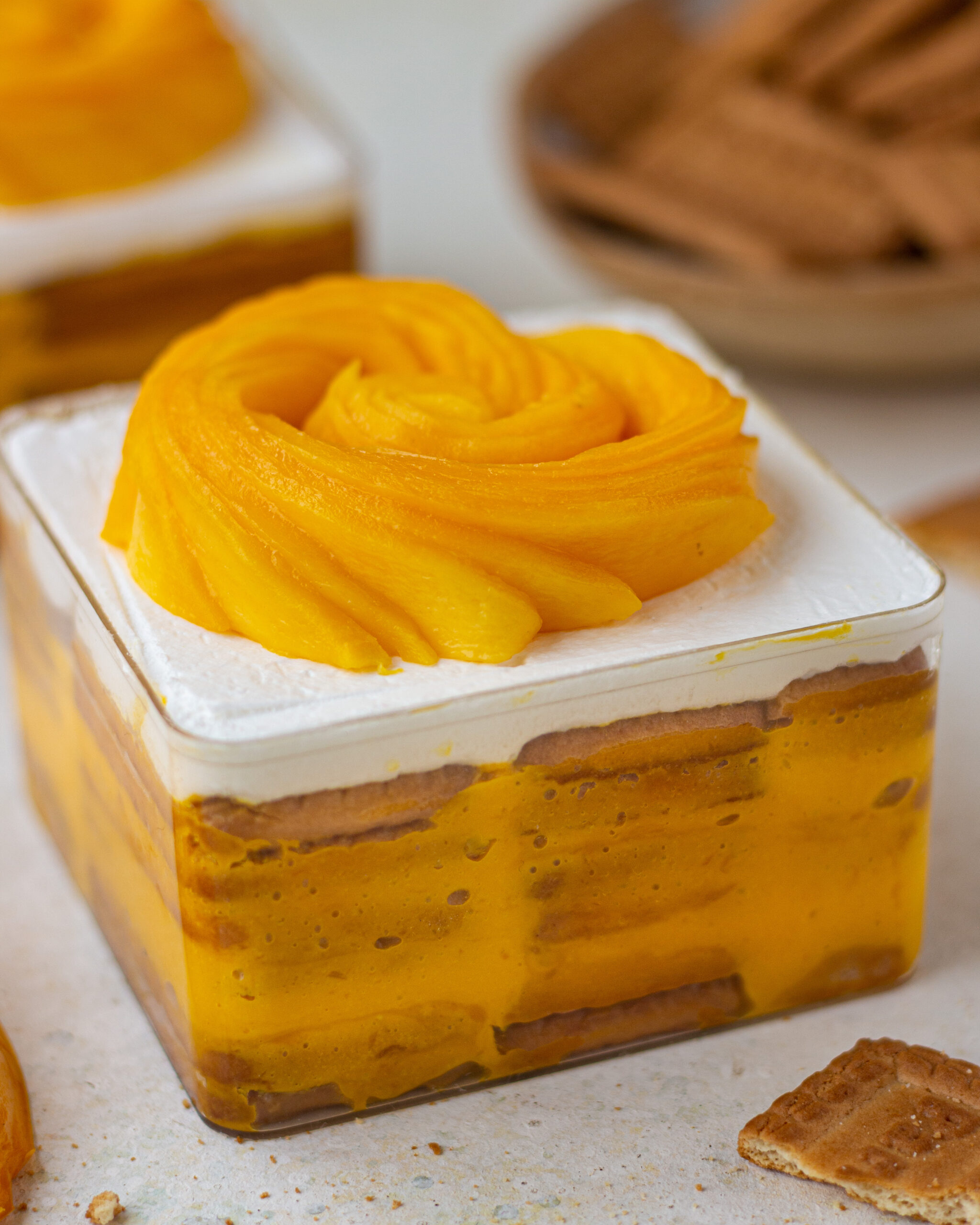 EGGLESS MANGO BISCUIT PUDDING
Ingredients
1 + ½ cup milk
2 tablespoon sugar
3 tablespoon custard powder
1 cup mango puree
1 cup mango juice
20-30 parle G biscuits
Whipped cream to top
Thinly sliced mangoes to top
Instructions
In a saucepan, set over medium heat add 1 cup milk and let it warms up.
Add caster sugar in it and let it dissolve properly. Let the milk come to a boil.
In a separate small bowl, add ½ cup milk and 3 tablespoon of custard powder in it to form slurry.
Add the custard mixture into the saucepan and by using a whisk or a wooden spoon, keep stirring. Let the mixture thicken till you see the back of a wooden spoon is getting coated with the mixture.
Pour this into a bowl and contact wrap it. Let it cool properly.
Meanwhile, take a blender and put mango chunks in it to make mango puree. We need 1 cup of mango puree which in my case was 1 and a half mango.
As the custard mixture cools, mix the mango puree in it properly. Our filling is ready!
Take the dish where you want to set your eggless mango biscuit pudding.
To line the bottom layer of the pudding, soak parle G biscuit in mango juice and place in the dish to cover the entire base. I have added another layer of soaked biscuits on top to make a thicker layer.
Pour two big spoons of filling on top and spread it evenly. Repeat the process till you have ½-1 inch space on top.
Put some whipped cream on top and spread it in an even layer with an offset spatula.
I am decorating my eggless mango biscuit pudding with a mango rose on top, can be decorated with mango chunks as well.
Chill this in the fridge for 5-6 hours and enjoy!
If you like my eggless mango biscuit pudding recipe and happen to make it in your kitchen, do tag me on Instagram and share pictures with me using #Bakewithshivesh. Happy Baking!