Which is that one cake which, just like me, any 90's kid has eaten for decades and still love it? It is the black forest cake! It smells of nostalgia and it is super fun to eat and reminds me of so many memories I have had in the past. It is what everyone loved and my family still loves it too much. It is a classic! But what if only 1 or 2 people wants to eat it and make it home made? Well, for times like that I would like to share my perfect recipe for a 2 minute black forest mug cake in a microwave! I know right!
It is beautiful and I simply can eat the entire black forest mug cake by myself. It has the same old flavor of chocolate cake with fresh pitted cherries and a layer of chocolate ganache which I always store in my fridge, a big swirl of whipped cream, few shavings of chocolate and a cherry on top, quite literally! It has all things good and is perfect for a rainy day or a cozy winter evening!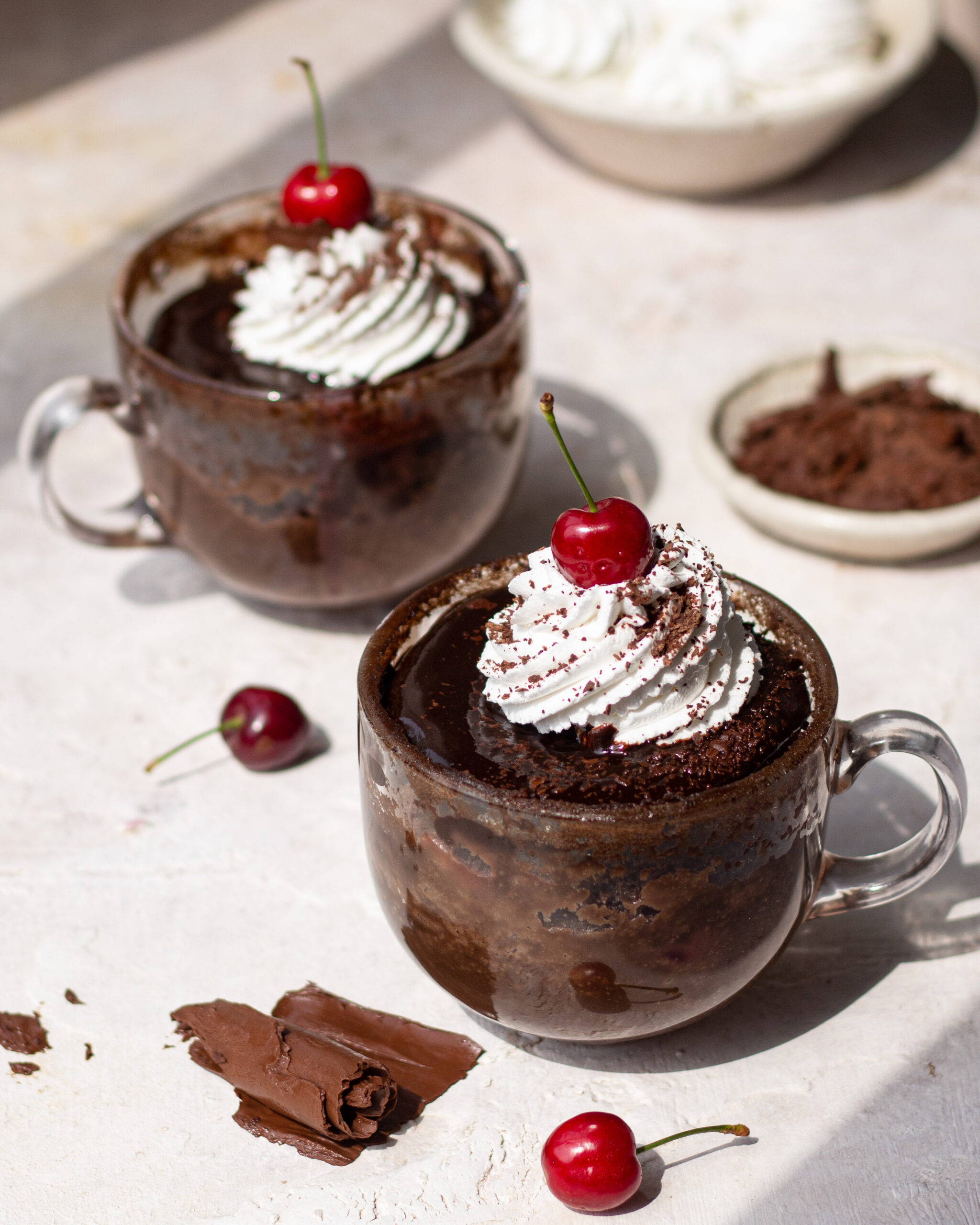 INGREDIENTS USED IN THIS BLACK FOREST MUG CAKE
I am using all-purpose flour to make my black forest mug cake. It is just 5 tablespoons of it! It gives a beautiful structure and bounce. If you want you can even use 3 tablespoons of all-purpose flour and the rest 2 of whole wheat flour to make it healthier.
To make this black forest mug cake chocolaty, I am adding 3 tablespoons of unsweetened cocoa powder. I generally use cocoa powder by hershys and Cadbury; if you want you can use which you can get in a grocery store near you!
I am using ¼ cup of caster sugar here as it dissolves easily and is great for this recipe, if you want to give this black forest mug cake a little intense taste, you can also add brown sugar instead of caster sugar.
As a leavening agent, I am using ½ teaspoon of baking powder. It fluffs up the black forest mug cake and makes it soft and nice!
½ cup of milk is added to the black forest mug cake to bring the batter together. I use full fat milk; if you want you can add skim milk or even almond or oat milk to this recipe.
¼ cup of refined flavorless oil is added for the fat content. It keeps the black forest mug cake soft even if I keep it in the fridge.
To give it a proper black forest vibe, I am adding 10 or a handful of fresh pitted cherries! If you want you can even use a tablespoon of the store bought cherry preserve.
TIPS TO MAKE THIS BLACK FOREST MUG CAKE
Always add the dry ingredients first in the mug and then the wet ingredients.
I am microwaving it for 2 minutes but your microwave can cook the black forest mug cake in fewer seconds or more. It totally depends on your microwave so keep an eye while cooking it.
It is better if you coat your pitted cherries in flour before adding it to the mug as to make sure it doesn't sink at the bottom.
After cooking and cooling for a bit a generous layer of chocolate ganache takes it up a notch, chocolate ganache will be made by combining ¼ cup of hot cream with ¼ cup of chopped dark chocolate.
Mix all the ingredients properly as to not leave any large flour pockets.
Add warm milk in the batter for lump free final cake batter.
Add a pinch of salt to enhance flavor of the black forest mug cake.
SIMILAR RECIPES ON THE BLOG:
Double chocolate banana mug cake
Black Forest Mug Cake Recipe

Black Forest Mug Cake
Ingredients
5 tablespoons flour
3 tablespoons cocoa powder
¼ cup sugar
½ teaspoon baking powder
½ cup milk
¼ cup oil
Handful/10 pitted cherries
Chocolate ganache to top
Whipped cream to top
Chocolate shavings to top
Instructions
Take a microwave safe mug and put the dry ingredients in it; all-purpose flour, cocoa powder, caster sugar and baking powder.
Give it all a good mix.
Add milk and oil. Give the mixture a good mix as it will form a batter now.
Add the cherries and give it one final mix.
Microwave it for 2 minutes or until the black forest mug cake is cooked properly.
Once the black forest mug cake cools down a bit, add 2 spoons of chocolate ganache on top and spread it.
Pipe the whipped cream on it and sprinkle some chocolate shavings on it. Top it with a cherry and enjoy!
If you like my black forest mug cake recipe and happen to make it in your kitchen, do tag me on Instagram and share pictures with me using #Bakewithshivesh. Happy Baking!