Breakfast is truly my favorite meal of the day and it needs to be fulfilling and yummy as for me my day has to start happy and fresh so that the rest of the day gets a kick too! I know most of you, start your day with just coffee or some juice like most of my days are but when I go on vacations, I get motivated to re-create those lavish breakfasts spreads once I reach home! Generally, they are filled with waffles and pancake and French toasts!
I wanted to create an eggless version of one such chocolate French toast I had somewhere while travelling. And finally, I did create the perfect recipe for an eggless chocolate French toast. It is super yum and indulgent and I remember me and my team ate the entire plate of these eggless chocolate French toast when we cracked the recipe! They are very easy to make and the ingredients will be available at everyone's household I am sure!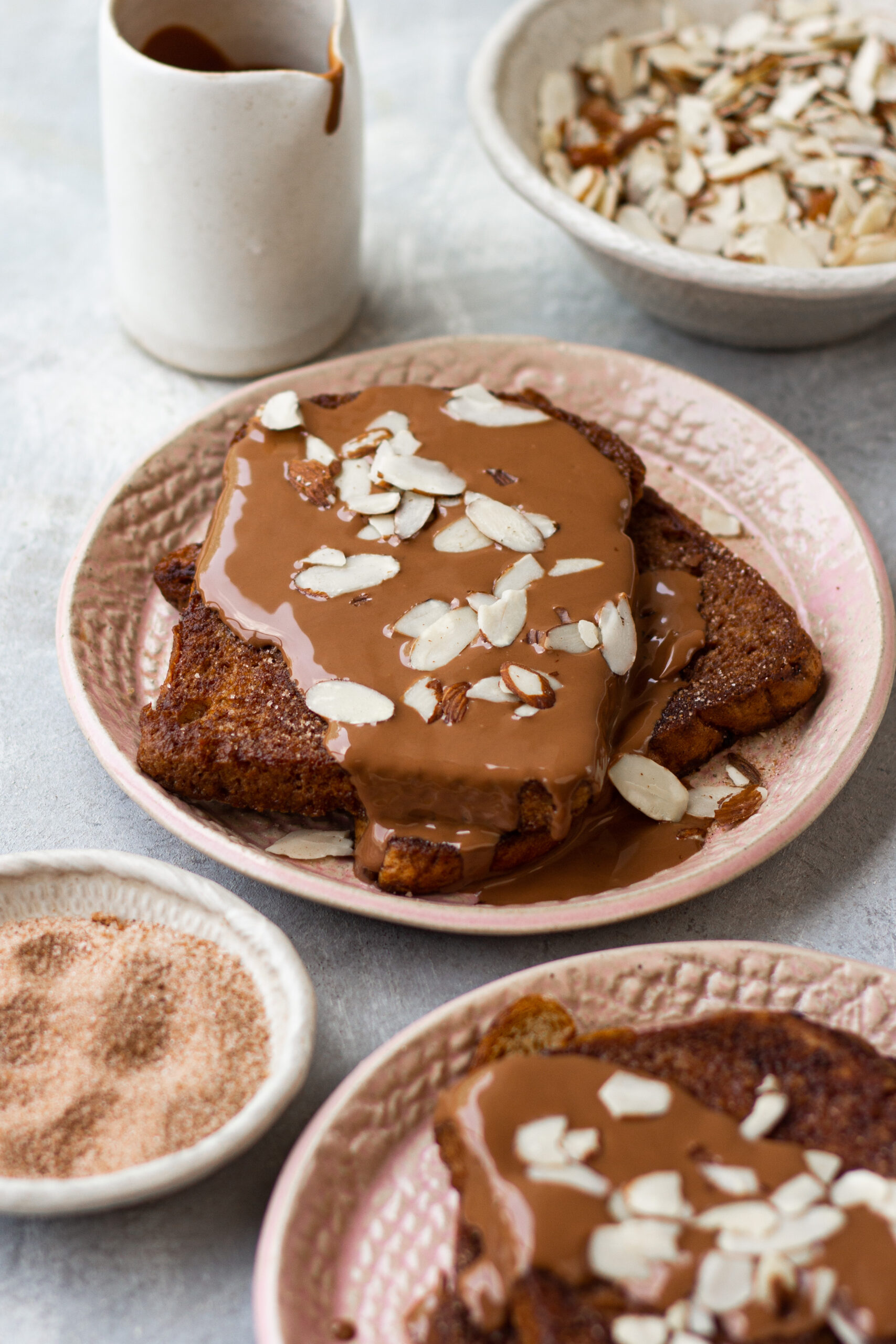 INGREDIENTS USED TO MAKE THIS EGGLESS CHOCOLATE FRENCH TOAST
Milk is the key soak ingredient for our eggless chocolate French toast. Other ingredients are put into it and then the complete soak mixture is made. I am using full fat milk; you can use any milk you have. Even plant based milks can be used in this recipe if you want to use them. Just make sure milk needs to be warm so that all the other ingredients get mixed into it properly.
In the milk, cream would be added to make it more rich and smooth. I am adding fresh cream in it, if you like you can also add whipping or heavy cream in your milk if that is more accessible to you.
I am adding icing sugar in my recipe, icing sugar generally gives it a thick and smooth consistency. I wouldn't suggest you to use caster or brown sugar here as I haven't tried making this eggless chocolate French toast, using them. If you want, you can try and see if you get the right texture.
For this eggless chocolate French toast, to get its chocolaty flavor; I am adding 2 tablespoons of cocoa powder. I am using unsweetened cocoa powder here. You can use cocoa powder of any brand but I use Cadbury or hershys as those are really silky in texture and very flavorful.
To make the mixture thick and nice, I am adding 1 tablespoon of corn flour. As these French toasts are eggless and we need to make the soak mixture thick, adding corn flour is necessary and cannot be skipped.
I am using 6 whole wheat bread slice to make my eggless chocolate French toast and they work nice too and that was available to me at that time. You can use brioche bread of course.
TIPS AND VARIATIONS TO MAKE THIS EGGLESS CHOCOLATE FRENCH TOAST
Make sure to warm the milk properly as to have a lump free soak for the bread to get soaked.
If your complete soak mixture has lumps, you can always sieve it.
It is always better to sift icing sugar before adding as even after mixing, they tend to remain like that and doesn't get mixed properly.
If you want this recipe to be vanilla, instead of chocolate; you can remove 2 tablespoon of cocoa powder and substitute it with custard powder.
Do not soak the bread for too long as it will break the bread, just flip it once.
After toasting each eggless chocolate French toast on the frying pan, make sure to wipe it with tissue as the remaining crumbs will make the next French toasts stick on the pan.
I am adding the recipe for the chocolate glaze which is simply made by melting ½ cup of milk chocolate with 1 teaspoon of sunflower oil on a double boiler. I am also adding almond flakes. You can add anything like whipped cream, chocolate ganache or a scoop of ice-cream or even a spoonful of nutella.
EQUIPMENTS USED TO MAKE EGGLESS CHOCOLATE FRENCH TOASTS
The kind of equipment you use when you're baking makes a huge difference to the end result! I would recommend you to use good quality mixing bowls and other equipment so that your eggless french toasts comes out delicious.
I have used Borosil Induction for toasting my bread. It makes cooking hassle free and quick.
OTHER SIMILAR RECIPES ON THE BLOG:
Eggless chocolate oreo waffles
Eggless French Toast Recipe

Eggless Chocolate French Toasts
Ingredients
6 Whole wheat bread slices
Butter for toasting
½ cup milk
¼ cup fresh cream
2 tablespoon icing sugar
2 tablespoon cocoa powder
1 tablespoon corn flour
For the chocolate glaze-
½ cup milk chocolate
1 teaspoon oil
Almond flakes to top
Instructions
In a bowl, add warm milk, fresh cream, icing sugar, cocoa powder and corn flour. Using a whisker, whisk everything real nice so there are no lumps at all. The soak mixture is ready.
In a frying pan, add some butter and let it melt and sizzle. Meanwhile, add bread slice into the soak mixture and flip it, it needs to be soaked from both the sides.
Place this soaked slice of bread onto the frying pan and toast it properly from both the sides.
To make the chocolate glaze, on a double boiler, melt milk chocolate with oil and the glaze is ready.
Stack the eggless chocolate French toast and pour the glaze over it and some almond flakes. Enjoy!
If you like my eggless chocolate french toasts recipe and happen to make it in your kitchen, do tag me on Instagram and share pictures with me using #Bakewithshivesh. Happy Baking!