With the onset of autumn gently lingering in the air, kissing the tip of our noses and sometimes blowing wind into our hair, this classic French toast recipe is going to blow your minds! This recipe of classic french toast is a warm, embracing hug. It will be your best friend on sad days, happy days, good days, and all bad days. This recipe is one of those that you'll love with a warm cup of coffee maybe topped with hazelnut or caramel syrup. And it is perfect for monsoon and winters!
I love quick and easy recipes and I am sure so do you guys. This classic french toast recipe is quick, easy, effortless, and hardly takes any time. Plus, what is best with this recipe is that you can customize it according to your tastes and preferences. If you like spices, go ahead. If you like some caramel or some caramelized nuts, just go ahead. Decorate your classic french toast as you like, be it with choco chips or some fresh maraschino cherries- all up to you!
If you do make this classic french toast, don't forget to add it on Instagram with the hashtag #bakewithshivesh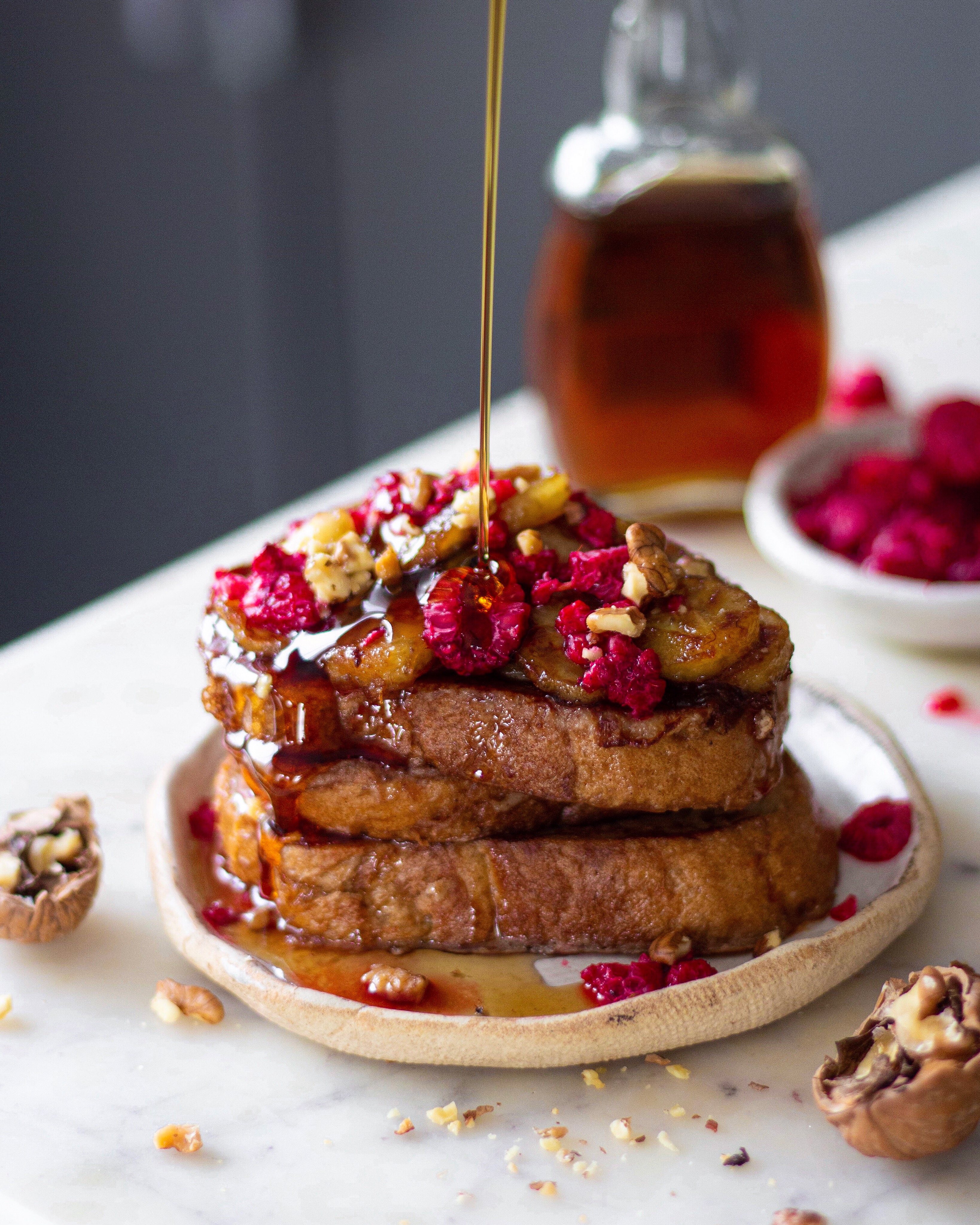 Mistakes to avoid while making this classic french toast
Don't burn your butter. Butter burns quickly and in order to get a good and delicious french toast, one needs to understand when exactly to place the bread on the pan. If you're not experienced with this, use one teaspoon of neutral oil to get the perfect texture and taste.
Use the right amount of heat. We are frying the french toast, so, your pan needs to be properly heated up and the heat supplied should not be too much or too less. Try to keep the flame at medium and alternate between low and medium only. If you are using an induction, try to keep the heat at a balanced number.
Be careful while soaking the bread. Do not hurry and don't over-do it. If you hurry, your bread won't really soak in the flavor and if you let it soak a lot, your bread will crumble and dissolve.
Other delicious breakfast recipes from the blog
Classic french toast recipe
Classic French Toast
Ingredients
3 eggs
¾ cup Heavy cream
¼ teaspoon pure vanilla extract
¼ teaspoon cinnamon powder
6 slices of sour dough bread, day old (cut into ½ inch slices)
Butter for frying
1 banana (sliced)
2 tablespoons light brown sugar
2 tablespoons butter
Maple syrup (to top)
Raspberries (to top )
Instructions
In a large bowl whisk together the eggs, heavy cream, vanilla extract and cinnamon powder.
Transfer the egg mixture to a large glass bowl.
Dip both sides of each slice of bread into the egg mixture.
Meanwhile, in a large non-stick frying pan, over medium heat, melt about one tablespoon of butter.
Fry the slices of bread until golden brown on one side and then turn and fry the other side.
To make caramelised bananas , add the bananas, brown sugar and butter to the pan.
Let the sugar caramelise and coat the bananas well.
Top the french toasts with maple syrup, caramelised bananas and raspberries.