If you know me, you'd know how much I love cheesecakes. In fact, I recently shot a cheesecake recipe for my second book that releases on February 2020 and I'm so excited to see how it all comes together. An eggless baked cheesecake recipe is one of the most frequently asked for recipes on the blog as well as my instagram so for now, here's a mini and adorable version of the good old traditional cheesecake. I'm totally obsessed with these oreo cheesecake cups as they are easy to make, oh so creamy and absolutely delicious!
A thin oreo crust with a creamy cheesecake filling- these oreo cheesecake cups make the perfect dessert for any occasion! This recipe will surely make it to the list of your favorite eggless baked cheesecake recipes. Top your oreo cheesecake cups with cute mini Oreos or some homemade whipped cream and you're good to go!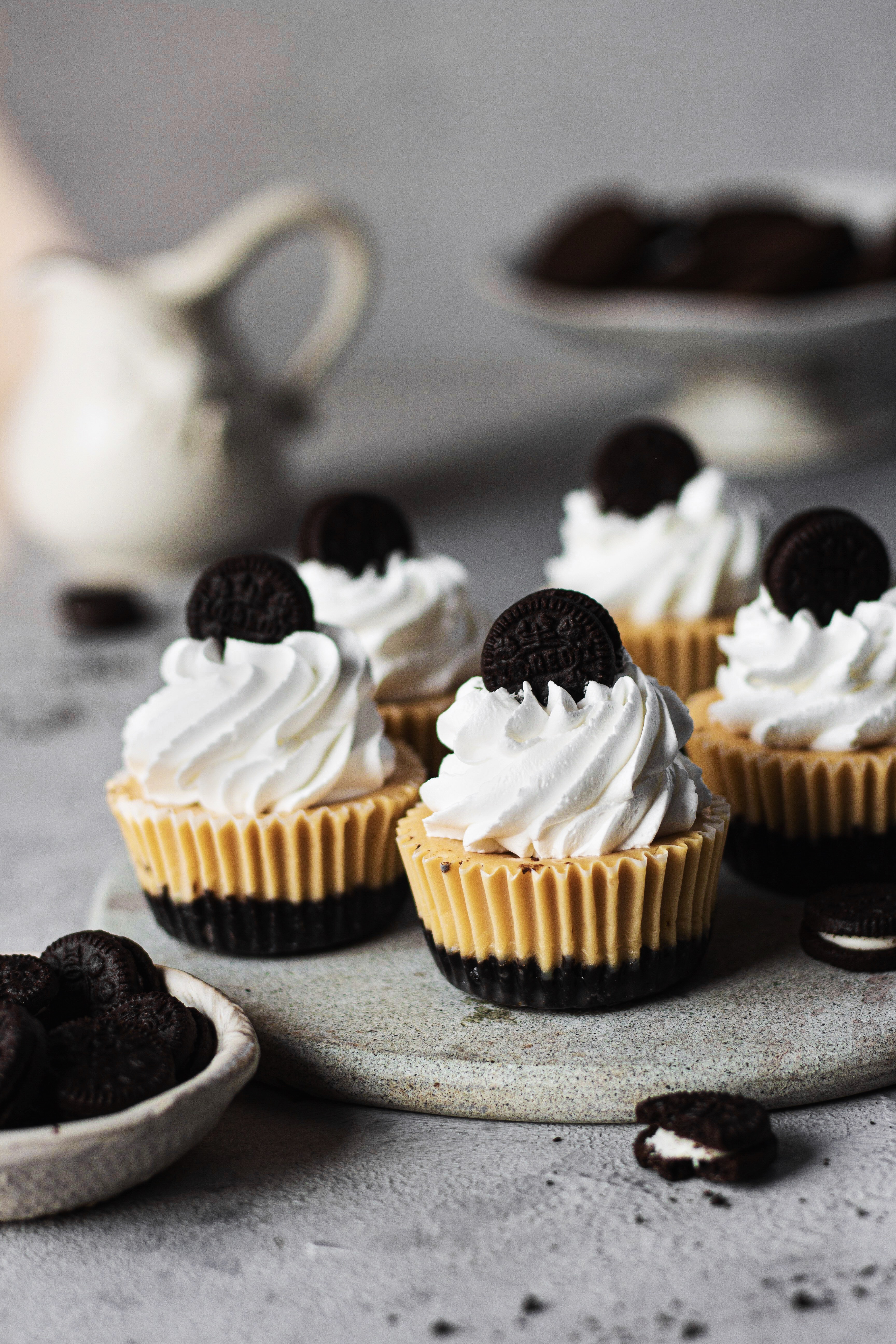 Tips to keep in mind while baking oreo cheesecake cups
 The secret to a perfect eggless baked cheesecake is all in the details so keep these tips in mind while making these oreo cheese cake cups:
Make sure all your ingredients are at room temperature as room temperature ingredients incorporate much better and make the process much easier.
You can also add 1 tbsp of flour or cornflour to your filling batter so that it binds well and you get the required texture.
It's really important that you grind your Oreos finely for the crust as big chunks of biscuits will completely ruin the smooth texture of the cheesecake.
To avoid cracks in your cheesecake, gently set the cheesecake down to rest on the counter very carefully and allow it to come to room temperature, before refrigerating.
If you happen to make this recipe, don't forget to tag #Bakewithshivesh on Instagram so that I can see what you guys are baking! Also, if you haven't checked out my first book yet, you can buy it here on Amazon.
Oreo Cheesecake Cups
Ingredients
For crust-
1 cup (100g) crushed oreo biscuits
¼ cup (57g) butter, melted


For filling-
¾ cup (170g) softened cream cheese
¼ cup (60mL) heavy cream
½ cup (150g) sweetened condensed milk
2 teaspoons (10mL) vanilla extract
¾ (10g) tablespoons corn flour
Instructions
Line the cupcake pan with cupcake liners.
Combine crushed oreo biscuits and melted butter in a mixing bowl.
Transfer the biscuit mixture into the cupcake pan and press it down into the base of each cupcake mould.
Refrigerate the crust for 10 minutes.
Preheat the oven at 160 degrees.
For the filling, whip together the cream cheese and heavy cream, using either an electric mixer or a hand whisk, only until the mixture is smooth.
Gradually add sweetened condensed milk, vanilla extract and corn flour, whisking till everything is smooth and well combined.
Pour this mixture over the cooled crust and gently tap to remove any air bubbles.
Place the cup cakre tray in a deeper tray filled with hot water upto one inch, to create a water bath. This will ensure that the cheesecake bakes slowly and evenly.
Bake the cheesecake at 160C for 35-40 minutes or until the filing starts to set. The centre might seem wobbly but it will continue to cook as the cheesecake cools.
Once the cheesecake is baked, allow it to come to room temperature.
Refrigerate the cheesecake for at least two hours or preferably overnight before unmolding.
Decorate with mini oreos.
Other cheesecake recipes on the blog
Other oreo recipes on the blog