A perfect 4-ingredient quick go-to snack with all things favourite- dark chocolate, peanut butter, roasted rolled oats and sliced almonds is all that you need for these healthy oat clusters. Recently, I have been making such quick snacks quite often. My Chocolate Almond Clusters and Corn Flake Clusters have been such a hit. So many of you made those and loved how it just needs very few ingredients, are super easy to put together and is ready in no time quite literally. Let's discuss what all you will need in depth.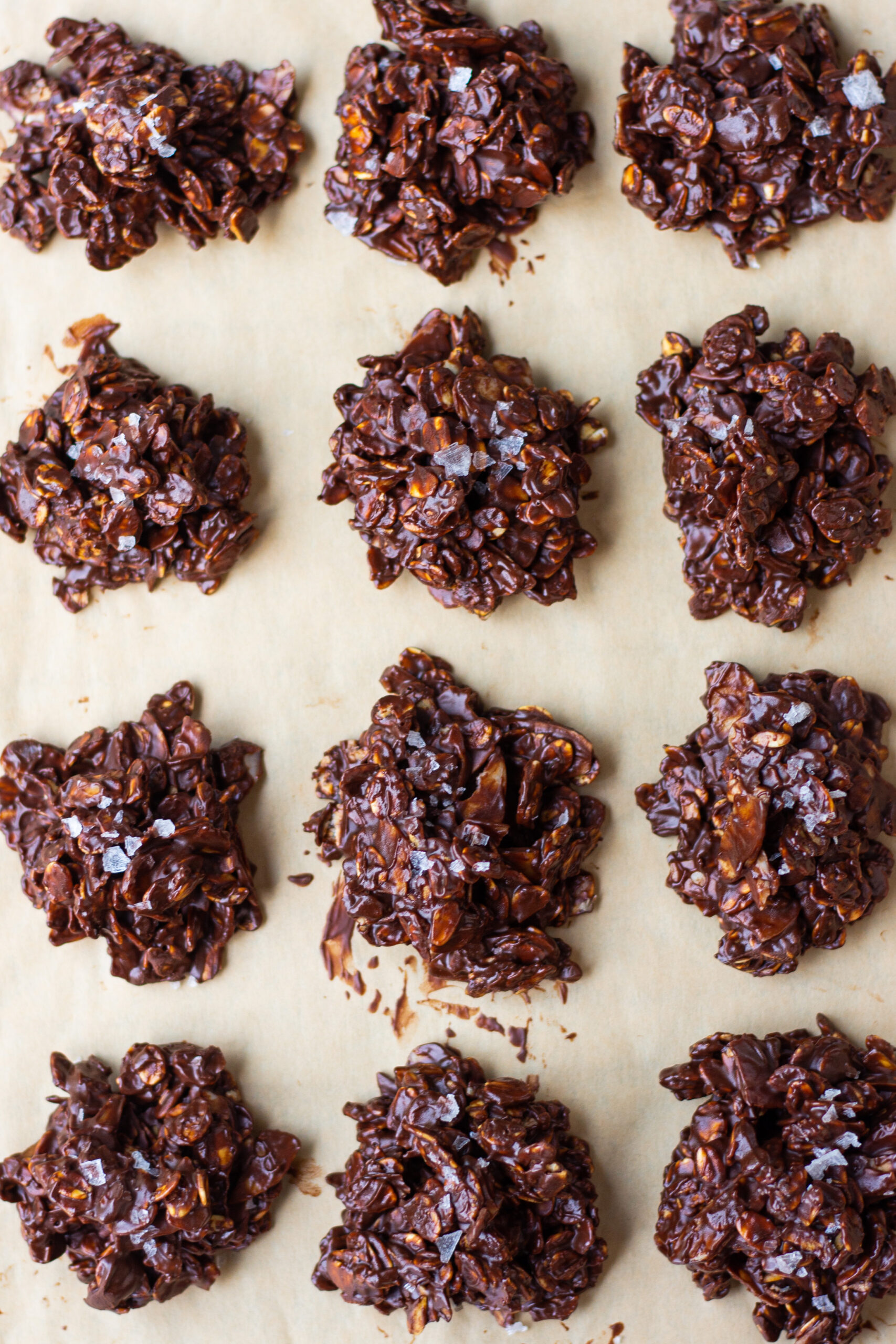 INGREDIENTS NEEDED FOR OAT CLUSTERS
DARK CHOCOLATE CHIPS
All good things are made of chocolate. Am I right or am I right? I love how the slight bitterness of dark chocolate goes with the sweetness of sliced almonds and crunch of roasted rolled oats in this recipe of oat clusters. If you in are team milk chocolate or team white chocolate, go ahead and swap the dark chocolate in this recipe with that.
PEANUT BUTTER
I love peanut butter so much on my toasts, granolas, smoothies, cookies and the list are just endless. It goes perfectly with the roasted rolled oats giving it that perfect chewy mouth feel along with the crunch it got with chocolate coating. Feel free to swap it with any nut butter of your choice. Almond butter would taste lovely too in these oat clusters.
ROLLED OATS
I have used rolled oats after roasting them in the oven. Now if you don't have an oven, do not stress. You can roast your rolled oats on a pan kept at medium heat too. Make sure you are tossing and stirring the oats continuously for even roasting. These oat clusters are pretty flexible when it comes to ingredients. If you don't have rolled oats, feel free to use instant oats but the crunch might not come across as it would do with rolled oats. Though it would be yum no matter what.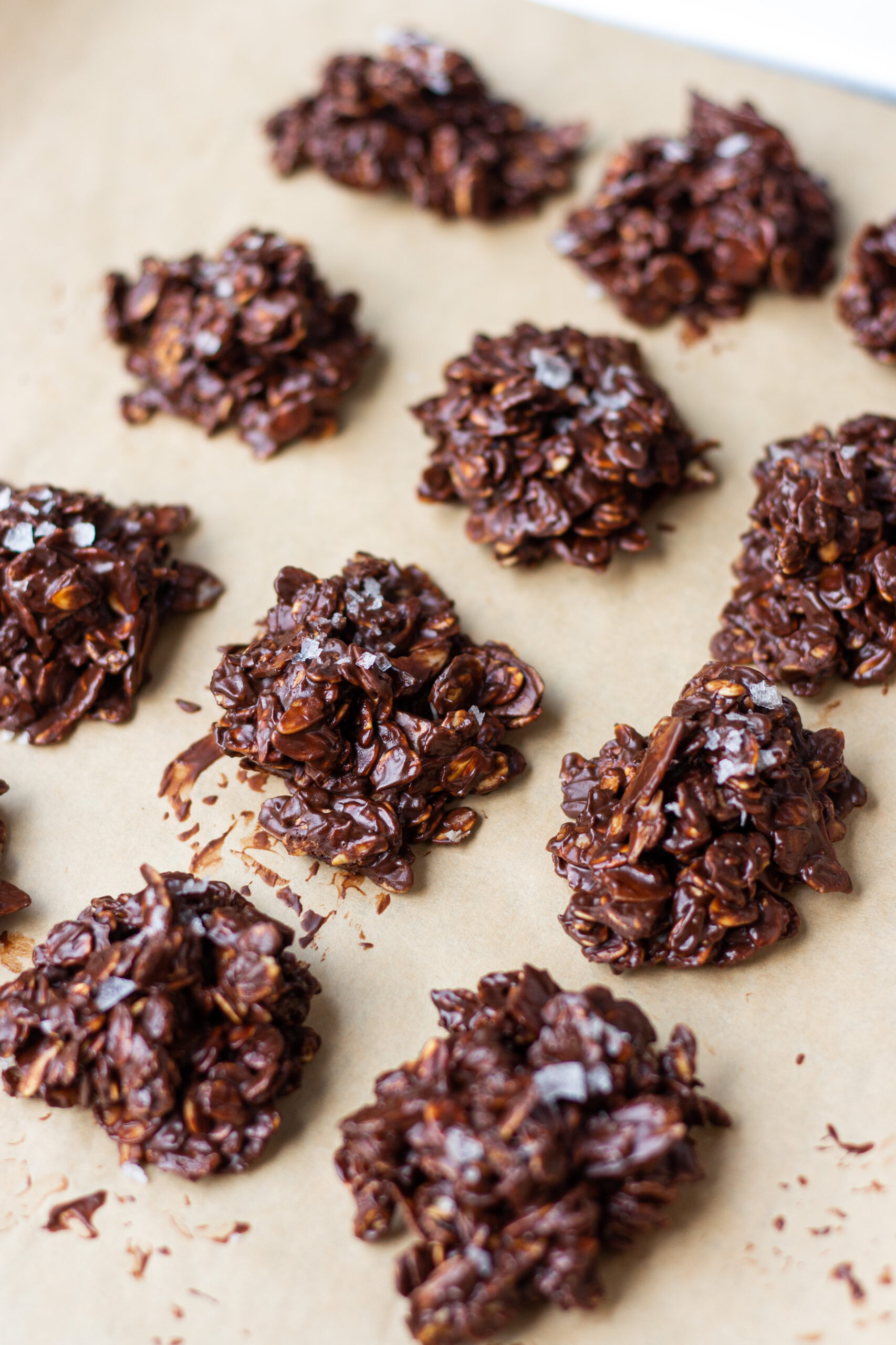 SLICED ALMONDS
I love almonds. One of my favourite nuts which are so versatile and brings such a perfect crunch and flavour to everything they are put it. I have used store bought sliced almonds but feel free to slice almonds at home. You can also swap almonds with peanuts, hazelnuts or any other nut of your choice in these oat clusters.
SEA SALT (OPTIONAL)
Adding sea salt takes this quick and easy snack a step ahead without a doubt but even without it these oat clusters are as addictive as it can be. I added a sprinkle on each of these clusters before freezing them so that it sticks to them easily.
PROCESS OF MAKING OAT CLUSTERS
The process of these oat clusters is fairly simple. It's one of the most fuss-free recipes you would ever make. All you need to do is melt your dark chocolate along with peanut butter. Make sure all the chocolate chips are melted nice and even and you a smooth mix of both. Once melted, throw in your roasted rolled oats and sliced almonds. Fold and coat the oats and nuts evenly with the chocolate-peanut butter mix. Make sure everything comes together nicely. It's now time to make them into clusters by simply dividing them using a spoon. Drop a spoonful at two fingers distance from one another. Sprinkle a pinch of sea salt on top and freeze them for 15 minutes in the fridge or until it sets. Snack away once the oat clusters hold their structure well. Store them in the fridge at all times in an air tight container.
And if you try this recipe and like it, do try other snack recipes from the blog. I am sure you are going to love them too!
OTHER SNACK RECIPES
Oat clusters
Ingredients
½ cup dark chocolate chips
1 tbsp peanut butter
¾ cup rolled oats
¼ cup sliced almonds
sea salt (optional)
Instructions
Start by melting dark chocolate and peanut butter in a microwave or double boiler. Keep stirring the mix in every 30 seconds.
Roast your rolled oats in the oven or a non-stick pan until they are golden brown.
I am using sliced almonds, feel free to chop almonds if you don't have sliced ones.
Dump the oats and almonds into the chocolate-peanut butter mix.
Fold and coat the oats and nuts until everything comes together nicely.
Using a spoon drop a spoonful each at a distance on tray lined with parchment paper.
Sprinkle sea salt on top of each of these.
Freeze for 15-20 minutes.
If you like my oat clusters recipe and happen to make it in your kitchen, do tag me on Instagram and share pictures with me using #Bakewithshivesh. Happy Baking!