When I speak of summers, hydration comes to my mind! It's all about beating the heat with refreshing summer drinks and staying hydrated 24*7! I have made so many drinks in the past and I had to try my hands on this amazing kiwi mojito! It is super yummy, tangy, refreshing and minty drink. The black seeds of kiwi add a beautiful crunch and distinct look from the kinds of mojito's!
Green is a beautiful and a calming color itself, it cools you down and this virgin kiwi mojito will instantly rejuvenate your soul! It also has a lot of health benefits, as it helps in digestion, boosts the immune system because it is rich in vitamin-C and has high fiber content too! This kiwi mojito is packed with flavor and nutrition of all sorts. It is the perfect summer drink, if you want to try something new in your kitchen but healthy too.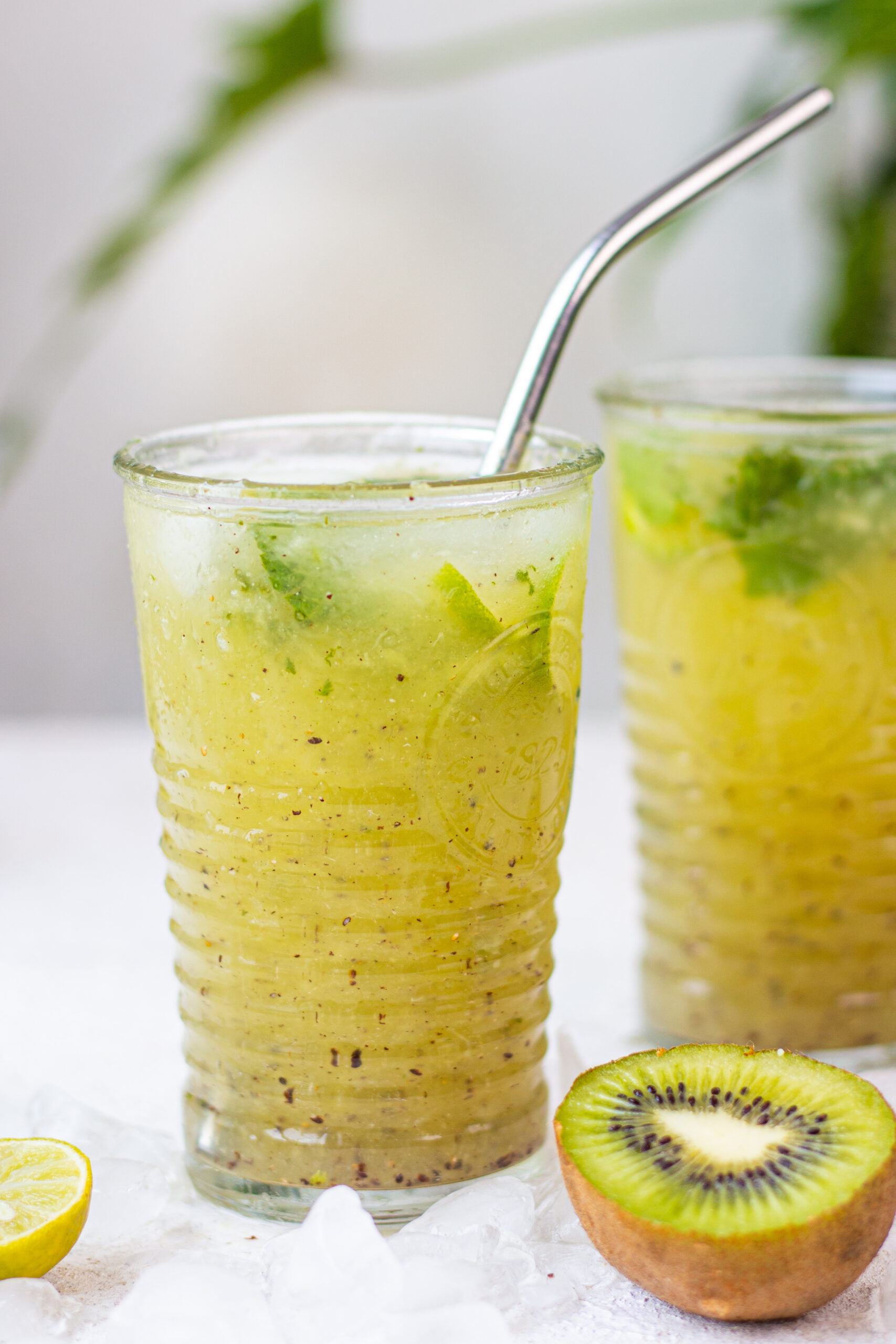 INGREDIENTS USED IN MAKING THIS KIWI MOJITO
In this recipe we are adding lots of mint leaves to give this kiwi mojito a greener and brighter vibe and because mint leaves are very refreshing! I have added mint leaves in two ways, firstly, I muddled them with lemon wedges and then later I added more of them just like that.
This kiwi mojito is a summer drink and it has to have lemon in it! I have muddled lemon slices with mint leaves initially for its best lemony flavor. When mint leaves are muddled with lemon slices; together they form a very tangy paste-like structure and adds a lot of flavor!
I have added ice cubes too for more cooling effect, if you want you can simply use cold club soda and avoid ice cubes. I like my drinks to be extra cold throughout sipping them that is why I like to add few ice cubes!
I love the tanginess of this kiwi mojito and kiwi and lemon together are much understated, they complement each other very well and a little more lemon juice won't hurt anybody! I like it to be a mixture of sweet and sour but if you do not like it to be sour, you can remove the lemon juice as well.
I like to make my own sugar syrup at home. I store it in the fridge or somewhere outside in the cold and use it for my drinks. I use 1 part of sugar and 1 part of water and cook them for good 5-7 minutes till it thickens! This kiwi mojito just requires 2 tablespoons of sugar syrup. You can use ½ cup of sugar and ½ cup of water and make it and store in an air-tight glass jar in your fridge and use it for all your drinks!
It is a kiwi mojito so kiwi pulp will obviously go in it! I have use ¼ cup of kiwi pulp. I simply have blitzed it in my blender and used it. If you want you can also add kiwi chunks for more flavor but I will be just adding kiwi pulp in here.
To top the kiwi mojito, you can just pour the chilled club soda on top till whatever space you have in your serving glass and give it a nice mix!
TIPS AND TRICKS TO MAKE THIS KIWI MOJITO
Make sure the kiwi you are making the pulp of is not raw and is ripped properly as the flavor and texture varies for a raw kiwi from the ripped one and the ripped one tastes much better!
Sugar syrup makes the process much easier. If you want you can sugar caster sugar too but sugar syrup is always better when making summer drinks!
I generally use Italian lemon in my mojito recipes; feel free to use any lemons you can get your hands on.
If you want, you can make this complete drink in a blender as well. Start by putting kiwi in the blender with ice cubes, mint leaves, lemon juice and sugar syrup. Do not put lemon slices in the blender. Simply after blending, pour this in the glass and top it with club soda.
To make this drink alcoholic, feel free to add 15-30ml of white rum in it and reduce the quantity of club soda.
EQUIPMENTS USED TO MAKE KIWI MOJITO
The kind of equipment you use when you're baking makes a huge difference to the end result! I would recommend you to use good quality mixing bowls and other equipment so that your kiwi mojito comes out delicious.
To get kiwi oulp for my drink, I have used Borosil's nutrifresh which eases the work for me and makes blending and grinding hassle free.
OTHER SIMILAR RECIPES ON THE BLOG ARE:
Summer drinks & coolers – 3 ways!
Kiwi Mojito Recipe

Kiwi Mojito
Ingredients
5-10 mint leaves
3-4 lemon slices
Few ice cubes
1 tablespoon lemon juice
2 tablespoon sugar syrup
¼ cup kiwi pulp
Club soda to top
Instructions
With the help of a mortar and pestle, muddle together half of the mint leaves and the lemon slices properly.
In a glass, add the ice cubes, muddled mint leaves and lemon slices, the other half of the mint leaves, lemon juice, and sugar syrup and kiwi pulp. Give it a quick mix.
Top this with club soda before serving and give it a good mix. Enjoy!
If you like my kiwi mojito recipe and happen to make it in your kitchen, do tag me on Instagram and share pictures with me using #Bakewithshivesh. Happy Baking!