Every year during summer, I always look forward to making some good popsicles. What's not to like about popsicles – they are icy, can be made with literally any flavor you like and they are SO refreshing! I'm particularly excited about the popsicle recipe that I'm going to share today because it has become a go-to dessert in my house and I'm sure that once you make them, you'll also go absolutely gaga for them.
Yes, today we make the easiest, very refreshing and obviously no-bake, Watermelon Kiwi Popsicles. I think fresh fruits add the real pop to popsicles, haha! Not to mention, fruits can make any dessert healthier and these watermelon kiwi popsicles are made with just the freshest of fruits, some lemon juice and honey. Yes, that's literally all! Let's get into the recipe.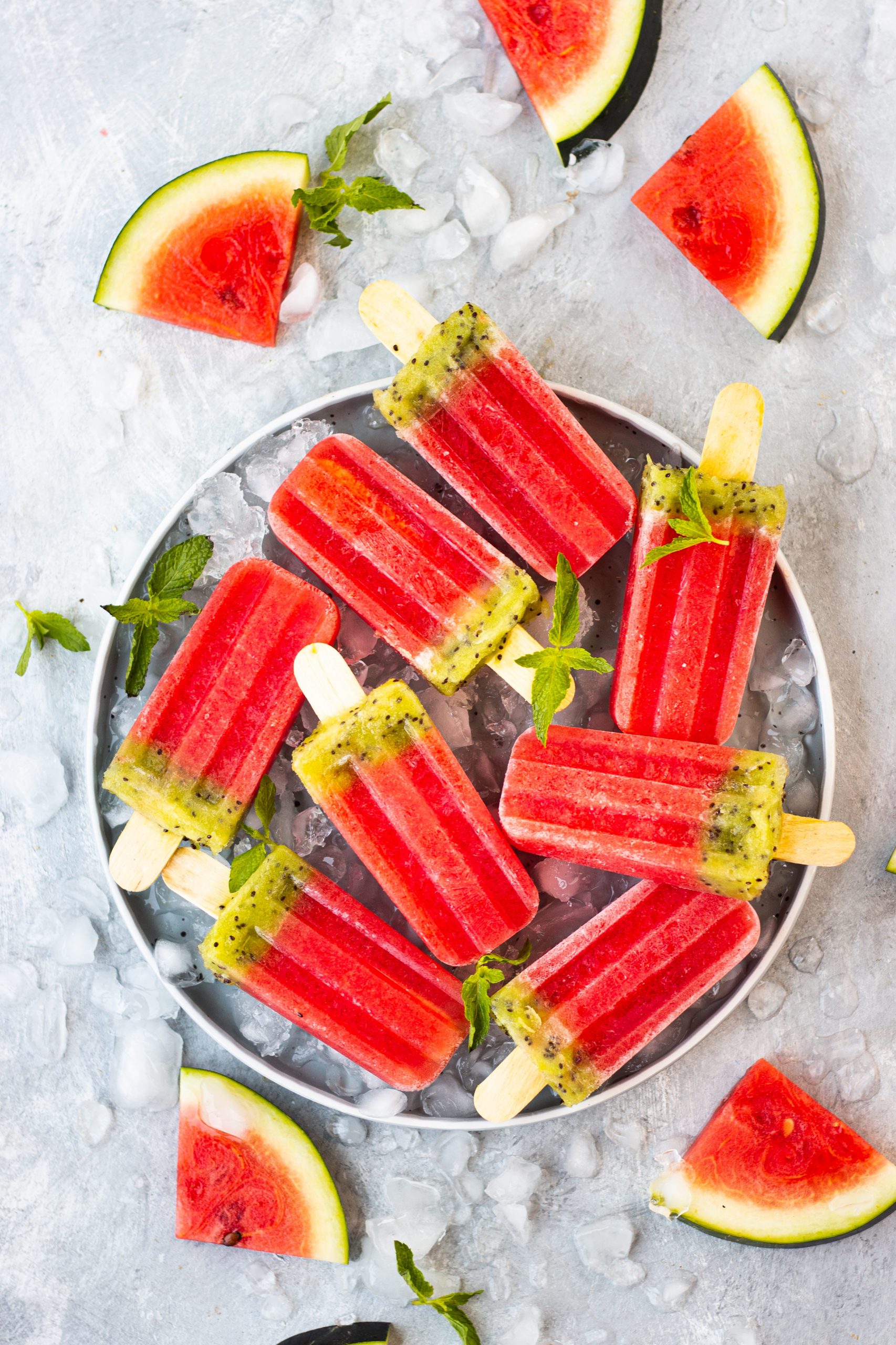 Ingredients for watermelon Kiwi popsicles
In this lockdown I have only been sharing recipes that require ingredients that are readily available for everyone. This recipe is so basic that I am confident you all will be able to re-create the watermelon kiwi popsicles at home. To make these watermelon kiwi popsicles, all you need are watermelon, kiwis, honey and lemon juice. That's it! The most basic and lockdown friendly ingredients.
Keep in mind that I have added 3-4 tablespoons of honey in my recipe. You can also add caster sugar / brown sugar.  But if you use brown sugar, the color of the popsicles might change slightly and not remain as bright.
The amount of honey or sugar that you add will definitely depend on the sweetness of the fruit. If you think that your fruits are perfectly sweet then please feel free to not add any honey into this recipe at all!
Fresh watermelon and kiwis are the ingredients you just cannot miss for this recipe! The juiciness and sweetness of fresh watermelon is to die for. And the citrus of the kiwi complements the sweetness of watermelon just perfectly. I recommend you to use only fresh fruits for this recipe and not frozen ones.
The ingredient that take this recipe up a notch is lemon juice. It adds a citrus tang to the popsicle which is so yum. Not to forget, they give such a nice, subtle flavor to our watermelon kiwi popsicles.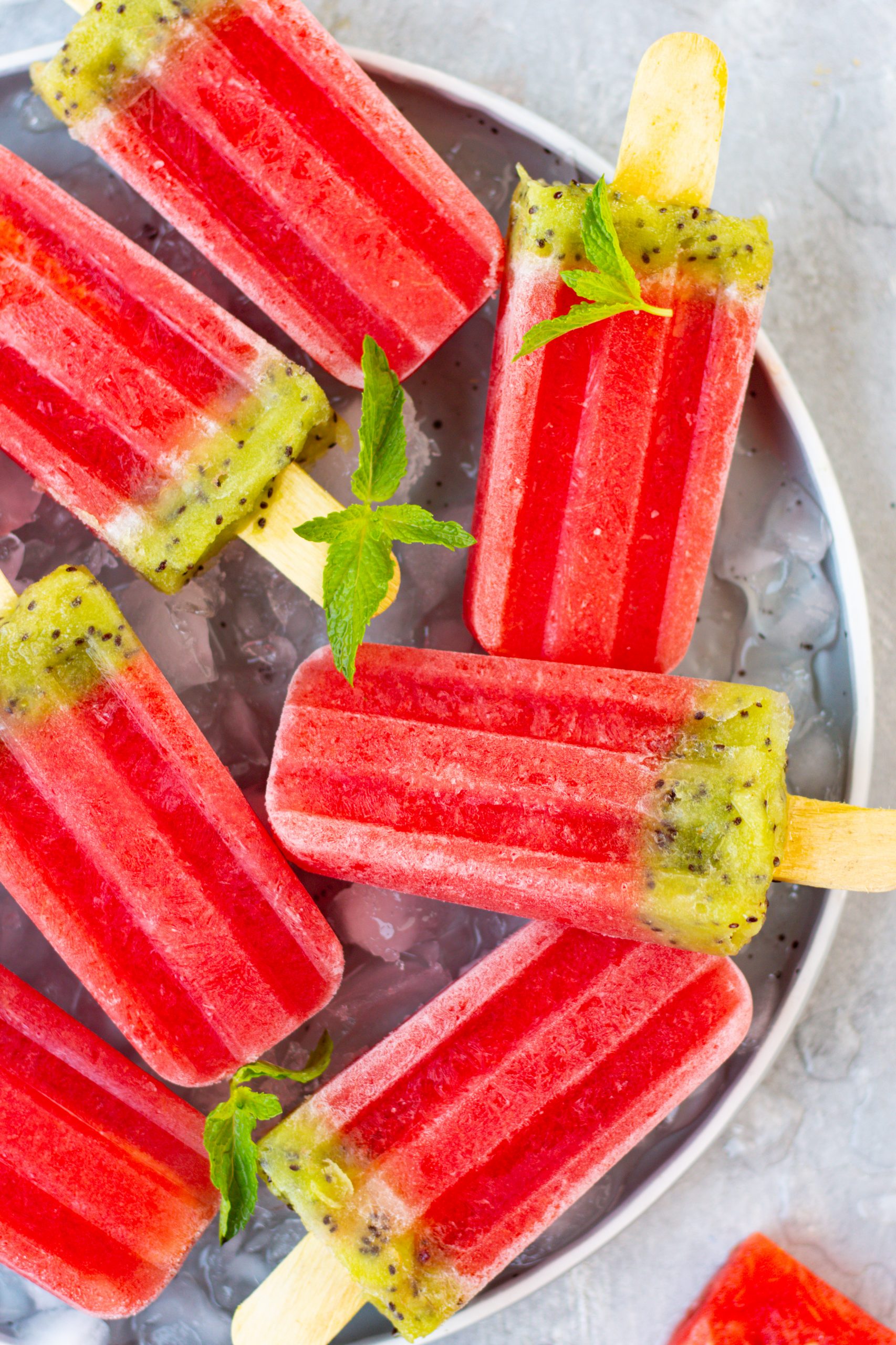 What moulds should I use for watermelon kiwi popsicles?
It is so great that these fun popsicle moulds are just a click away from us now, you can easily purchase them online and start your own army of watermelon kiwi popsicles. The popsicle mould that I used for this recipe is not available on Amazon anymore but I found the perfect replacement for you guys, here. I really prefer the ones that come with reusable sticks so that I don't have to buy more every time for every use.
However, if you feel lazy sometimes, I do feel that a lot of times. I simply chuck my popsicle mixture into a large dish and freeze that as a whole and eat it as I would eat ice cream.
Tips for making the best popsicles
While making any sort of homemade popsicles and specially these watermelon kiwi popsicles, there are 4 key things to keep in mind:
Are you going to use fresh juice? Pureed? Chopped for texture? A blend of fruits?
I would say all the work is just so great. The fruit component will be a major part of our popsicle and the flavor decider as well. So you can either do cubed fruits or freshly made fruit puree like water melon and kiwi in these watermelon kiwi popsicles. You can even use infused coconut water and play with the flavors a little bit. But I wanted mine to be all fruit so I pureed my fruits and added that to my popsicle moulds.
I love using liquid sweeteners for my popsicles just because it is very easy to mix everything in together. You can use everything from honey, maple, date syrup, or even agave. You can also add in regular or brown sugar, however, it will be better if you can make a simple syrup out of it first and then add it to the rest of your popsicle ingredient.
Freezing of watermelon kiwi popsicles
I know waiting seems the longest especially when you are making something so delectable but trust me you have to let these watermelon kiwi popsicles rest in the freezer for at least 8 hours or preferably overnight. Telling from my past experience (read FAIL) demolding popsicles that have not set properly can not only be a disappointment but also create a huge huge mess. Haha! So have a little faith and patience and allow your popsicles some resting time in the freezer.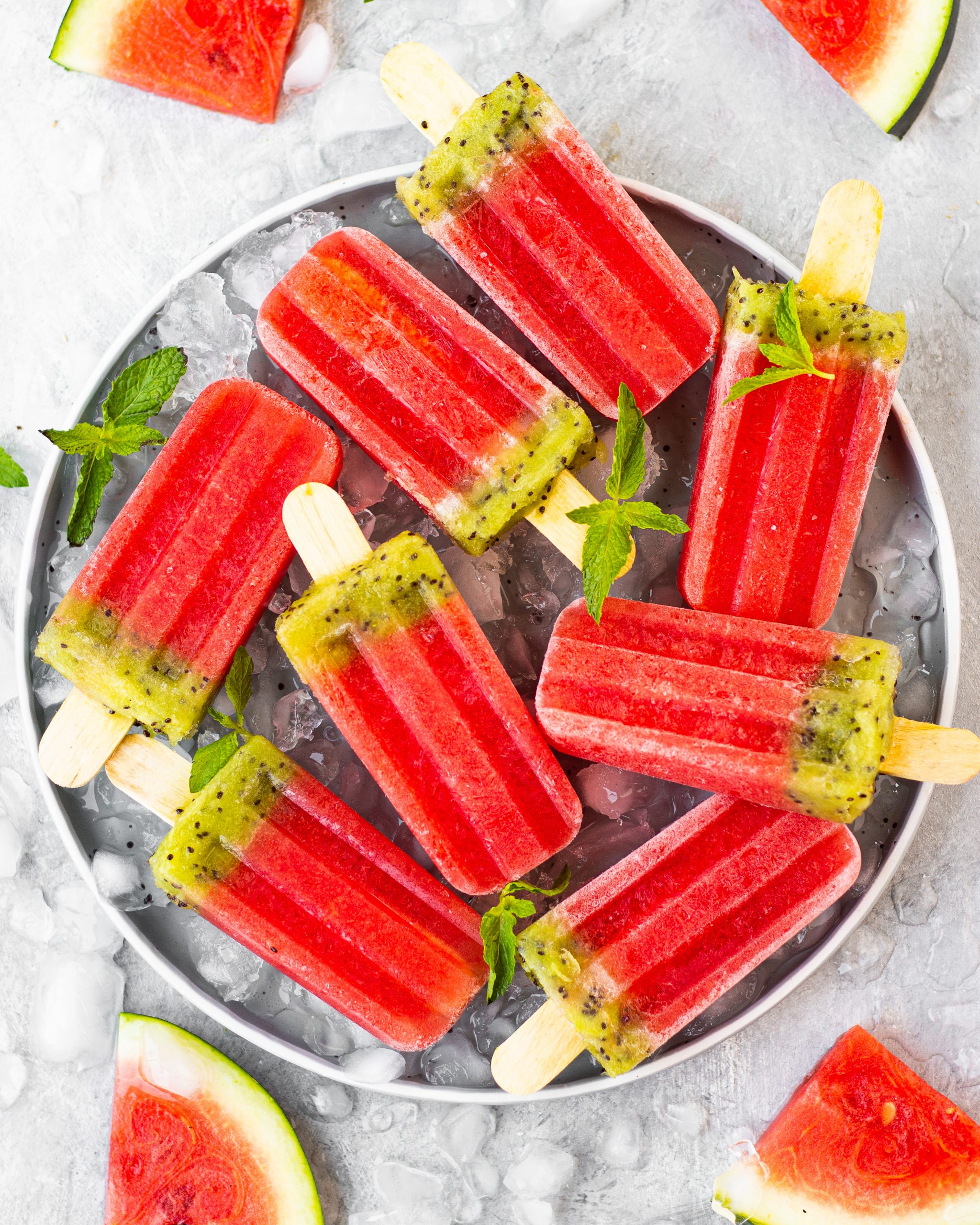 Photography and styling tips for watermelon kiwi popsicles
Now that you've successfully made some great popsicles at Watermelon Kiwi popsicles, let's take some good gram-worthy photos and these tips will help you immensely –
Popsicles should be the last thing you add into the frame. Have the entire set-up ready with all the elements and props in the frame, check your camera settings, visualize the shot in your head and finalize the angle before you bring the popsicles into the composition. Once the popsicles are in, the only thing you'll be doing is clicking as many pictures as you want before it melts completely.
If it helps you to lock your composition and visualize your frame better, use placeholders like tomatoes instead of the popsicles to get a better idea of what looks good where.
To make the composition more interesting, I try to add elements of different types and create layers. Like in this image of watermelon kiwi popsicles, I kept a plate full of ice under the popsicles. I also used a muted background so that the colors of the popsicles come out nicely!
If you want to understand food photography and styling properly, I have a few articles on the topics which will help you gain knowledge about the same – Food styling tips and Food Photography Tips.
These articles have tips of taking photos from your smartphone but mostly food photography and styling is all about knowing what looks and feels good for you! So let's get creative and have fun making, styling and shooting all our incredible desserts.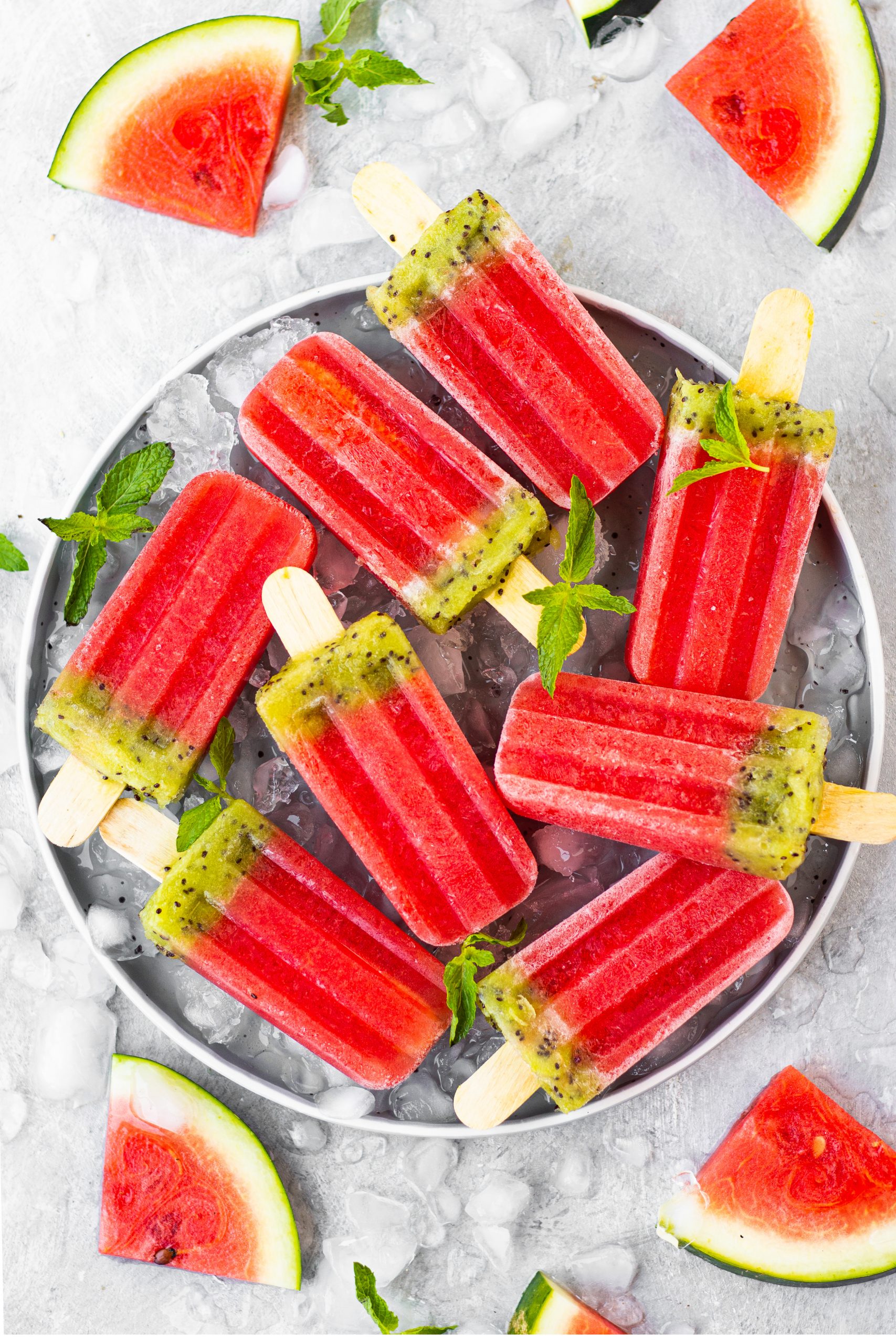 Other popsicle recipes on the blog
Watermelon Kiwi Popsicles Recipe
Watermelon Kiwi Popsicles
Ingredients
2 cups cubed watermelon (de-seeded)
2 teaspoons lemon juice
3 tablespoons honey
½ cup kiwi puree
Instructions
In a blender, add cubed watermelon, lemon juice and honey. Blitz everything together till your mixture is a smooth consistency.
Pour the watermelon mixture into popsicle moulds or any other moulds that you might want to use, leaving some space on the top. Stick in ice cream sticks and freeze it for 2-3 hours.
Peel and slice your kiwis. Add them to a blender and blitz them till smooth.
Add the kiwi puree in the leftover space of the popsicle moulds.
Refrigerate for 8 hours or overnight for best results!
These are the most refreshing popsicles I've ever made and if you make them, do share your pictures with me on Instagram / Facebook using #Bakewithshivesh.