The beautiful festival of Eid is here. And as we all know, Eid marks as the end of a month of fasting and praying. It is when people celebrate their efforts by preparing and indulging in a feast. Any feast is incomplete without a showstopper dessert. 
I have prepared a list of my favorite 6 easy desserts to make this Eid. I hope you all are keeping safe, staying healthy, with high spirits and excitement for the festivities. Pick your favorite dessert from this list and make it for your family at home. Eid Mubarak 🙂
Oreo Phirni for eid with a twist 
This dessert is an ultimate fusion dessert. I love it for many reasons including how easy it is, how delicious it is, and how it incorporates something we all love, oreos!
All you need to make this Oreo Phirni at home is some rice, milk, chopped nuts, oreos, and caster sugar. 
The ingredient list is very basic and so is the process. Some things you need to keep in mind while making this dessert: 
For the best kind of phirni you need rice like basmati or sona masuri. They give the best end result! 

You can use any milk- I use Amul toned milk and realised that it works best this way! Remember to use fresh and good quality milk for best results.

Remember to separate the cream and the biscuit shell of the oreos. We are adding the cream separately so we want to keep the two separate as well.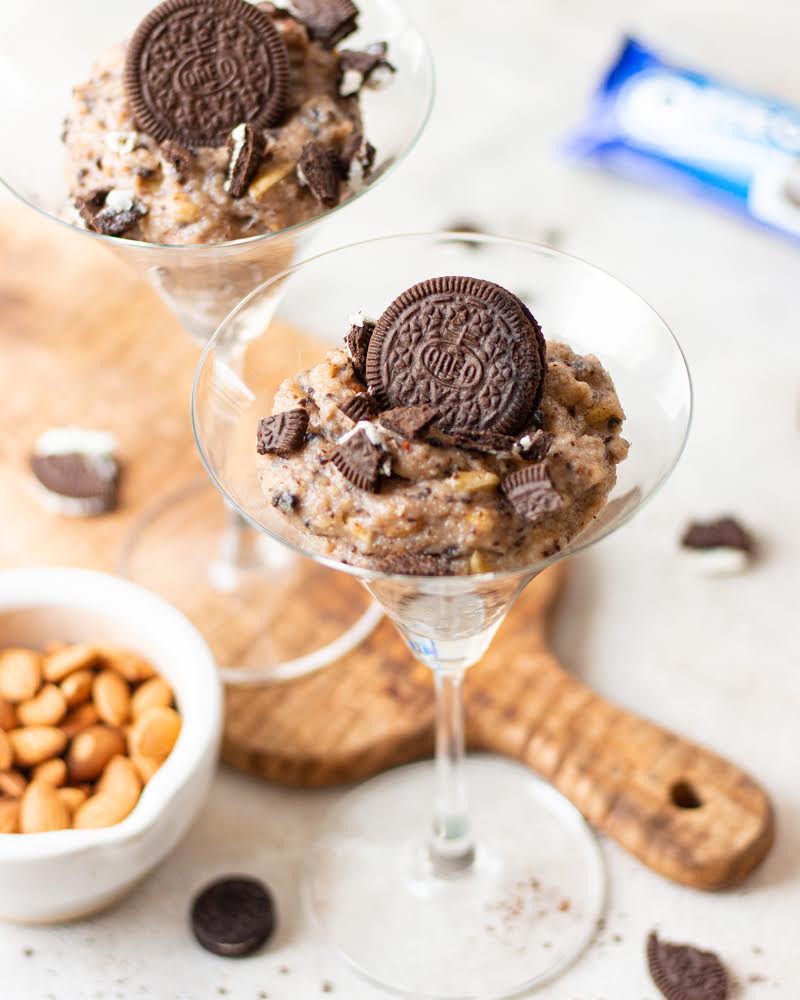 I absolutely loved having this oreo phirni with my family, and they were equally surprised to see how well it came out to be. This recipe is such a basic one too.I have a full article about this recipe on the bog. You can find the full recipe here.
Eid Tiramisu 
I hope this sounds as lovely to you as it did to me when I first decided to make this dessert. It is such a decadent and utterly delicious thing to make. My mouth is already watering writing about this dessert again. This epic dessert has layers of rusk, custard, and a glorious date caramel. 
I used rusk as an alternative to the traditional biscuit used in a tiramisu i.e. ladyfingers. Rusk works as a perfect substitute because it is almost as absorbent as a ladyfinger, it's thick and it holds shape and everyone loves the taste of rusk! 
To make the eid tiramisu we need to assemble by first soaing our base layers, that is the layer of rusks in a coffee concoction, just like it is done with ladyfingers in a traditional tiramisu. Next, comes the cooled custard on top of this. Make sure to not add hot custard on top of the rusks otherwise the layers won't be able to hold their shapes and the dessert will end up looking messy. On top, spread the date caramel or use a piping bag and pipe it on top, sprinkle some pistachios and voila, your eid tiramisu is ready.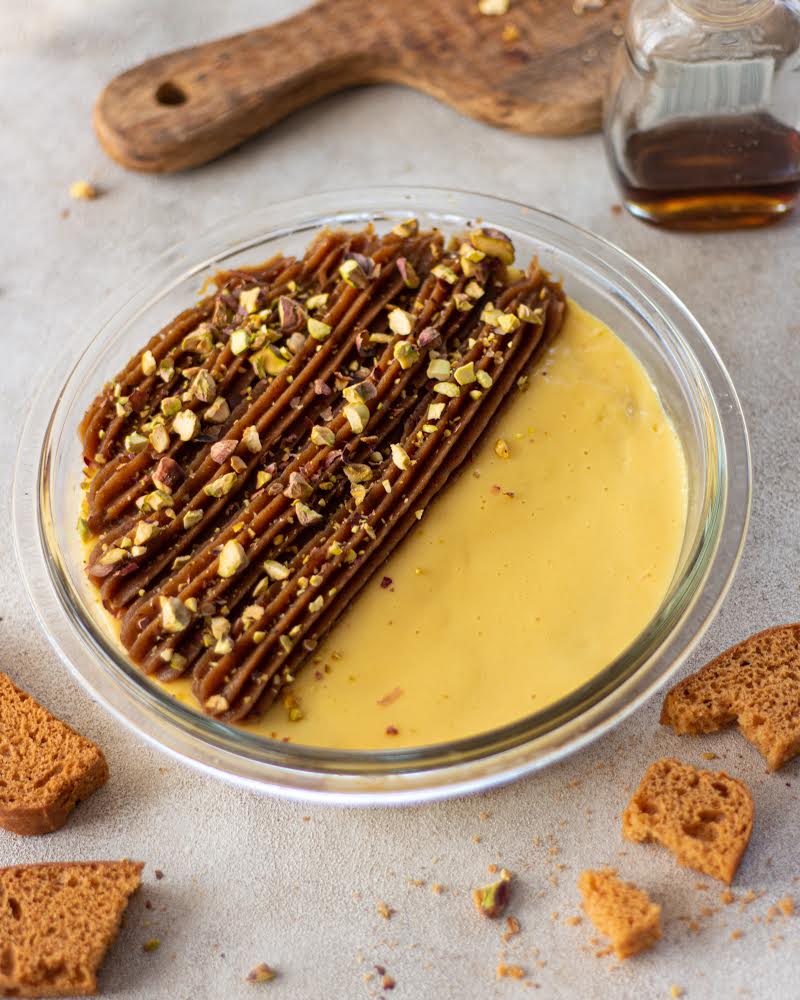 You can find the full recipe here. 
Pistachios cupcakes with rose buttercream for eid 
These cupcakes are just too cute to say no to. The contrasting colors of the pistachio green and the baby pink is always pleasing to look at and always indicates a festive time. If your family is a fan of cupcakes then they will love this one too! To make these cupcakes you will need to prepare both, the rose buttercream frosting and the pistachio cupcake batter. 
For the pistachio flavor, we are adding pistachio powder in our cupcakes and for the rose flavor, we are going to add some kewra extract in the buttercream frosting.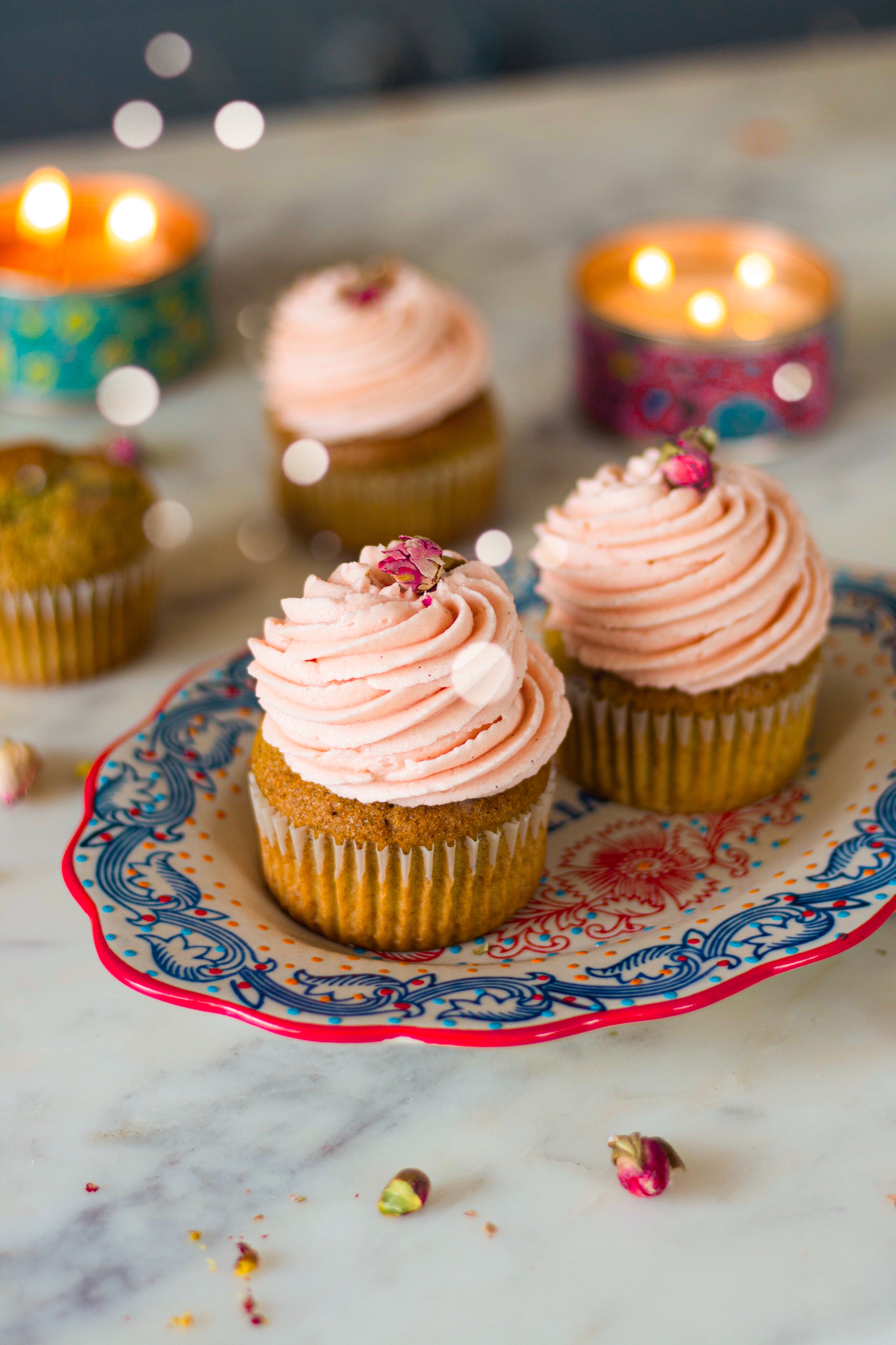 Get your cupcake pans and piping bags out because it is time to make some cupcakes! You can find the full recipe here. Before diving into the recipe, if you want to take a look at how to make perfect buttercream since some people struggle in the beginning, I have an article on the blog that takes you through all the tips and tricks. How to make the perfect buttercream will take you through each step and give you a smooth, and stable buttercream. 
Date and walnut cake for a warm eid 
Doesn't this cake sound like the most warm dessert ever? I mean come on, it's such a stellar combination of dates and walnuts, every bite of this cake will feel like a hug.  Other than the usual calke ingredients like maida and baking powder, this cake also requires coffee powder, brown sugar, cinnamon powder, and dates. 
Whenever a dessert calls for desserts, it will always use pitted dates. You can't process the dates while the seed is in them. You can either purchase pitted dates or remove the seed by hand. Both will work. I made this cake in a bundt pan but you can make it in any cake pan that you have at home. Serve this cake warm with a scoop of vanilla ice cream and oh my god, it will taste like heaven. You can find the full recipe here.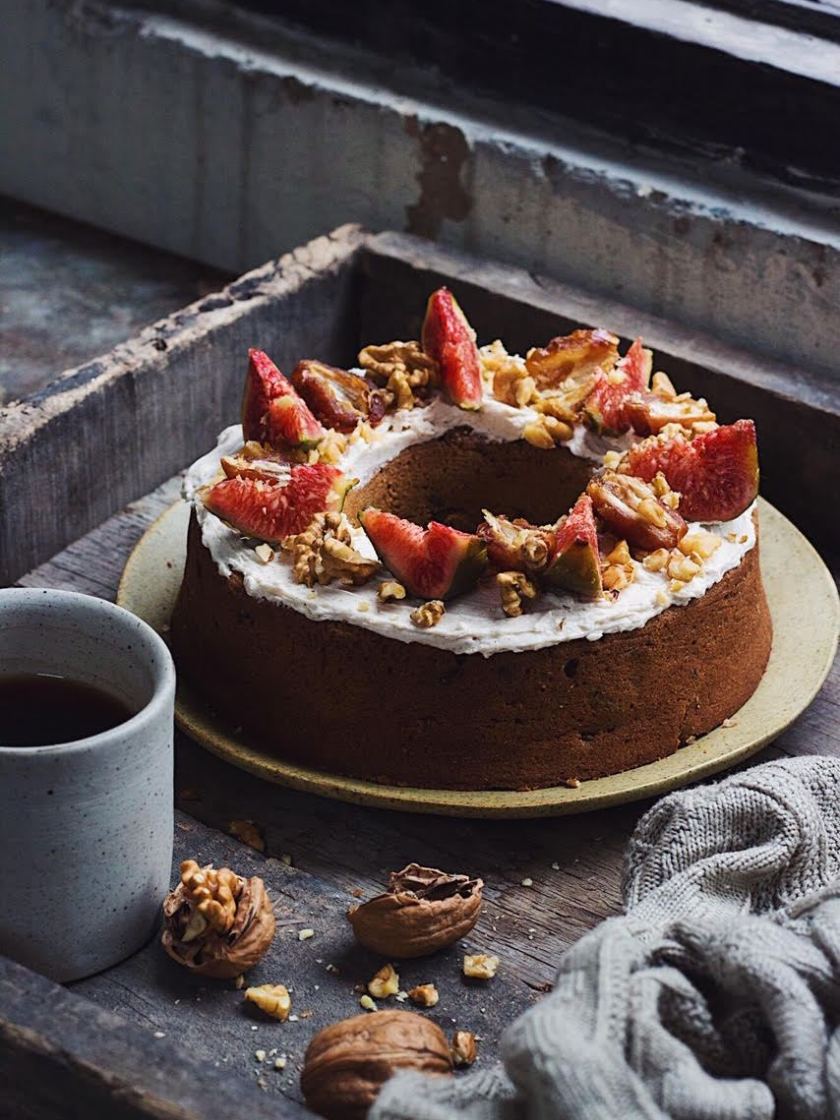 Cranberry pistachio fudge 
Fudge is hands down one of the easiest desserts that one can make. If you have no experience in making desserts or working on the kitchen, but you still want to make a dessert this Eid, then this fridge will come to your rescue! 
This dessert only requires 5 ingredients. They include condensed milk, pistachios, white chocolate, cranberries, and butter. To make the fudge, you need to pour the condensed milk in a big bowl. Add in melted chocolate, cranberries, and pistachios to the bowl and give it a good mix. Lastly, pour in the melted butter and mix again, making sure the butter is well incorporated. In 2-3 steps your chocolate fudge is ready and now all you have to do is transfer it to the prepared pan so that the fudge can chill and set in the refrigerator. 
Make sure to properly line the pan that you are going to pour the fudge into. The pan should be well buttered on all sides, with parchment on the bottom and on the sides, with parchment handles hanging. It makes it easier to pull up the set fudge from the pan, rather than flipping the pan and trying to demould the fudge.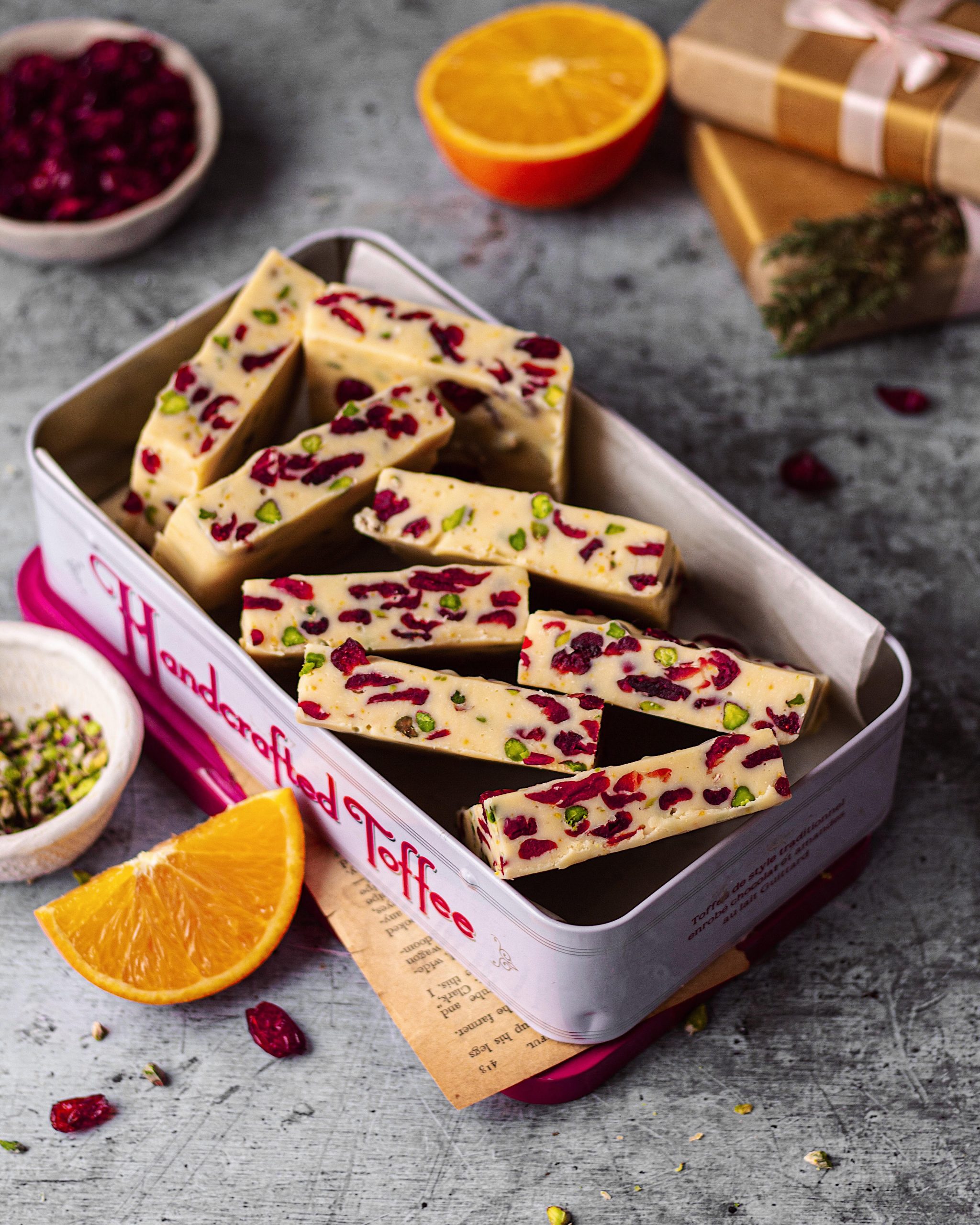 You can find the full recipe here.
Chocolate banana biscuit pudding 
I love a combination of good chocolate and banana. It makes a really decadent dessert. This biscuit pudding is again, super easy to make and has layers of biscuits soaked in coffee syrup, chocolate pudding, and bananas. Sounds too yum, doesn't it? 
The first thing you need to do is make the chocolate pudding from scratch. All you need to make that is cocoa powder, powdered sugar, milk, vanilla essence, and cornflour. Once your pudding has cooked, you need to let it cool down completely. Once it cools down, you can start on making the coffee syrup and soaking the biscuits in it and then assemble the dessert. 
You can find the full recipe here.  
I hope you liked this compilation of desserts. Pick your favorite and make it for your friends, family. I always love to see what desserts you have made. Please share photos with me on my Instagram @shivesh17. I look forward to seeing your creations. Happy baking and Eid Mubarak!