Next to a classic chocolate cake, a rainbow cake is one of the most popular cakes all over the world. All 6 colors of the rainbow – violet, indigo, blue, green, yellow, orange, and red look so aesthetically pleasing together. I am sharing the recipe for my eggless rainbow cake cake today, and also the perfect vanilla buttercream frosting to go with it.
It's the perfect cake for any occasion and looks so professional, you are sure to impress everyone around you once you make it. This is a six layered cake, each layer representing one color of the rainbow. The end stack of all layers looks so pretty in the end and is worth all the effort that you put into it. Let's go through a few things you need to know before you make the rainbow cake.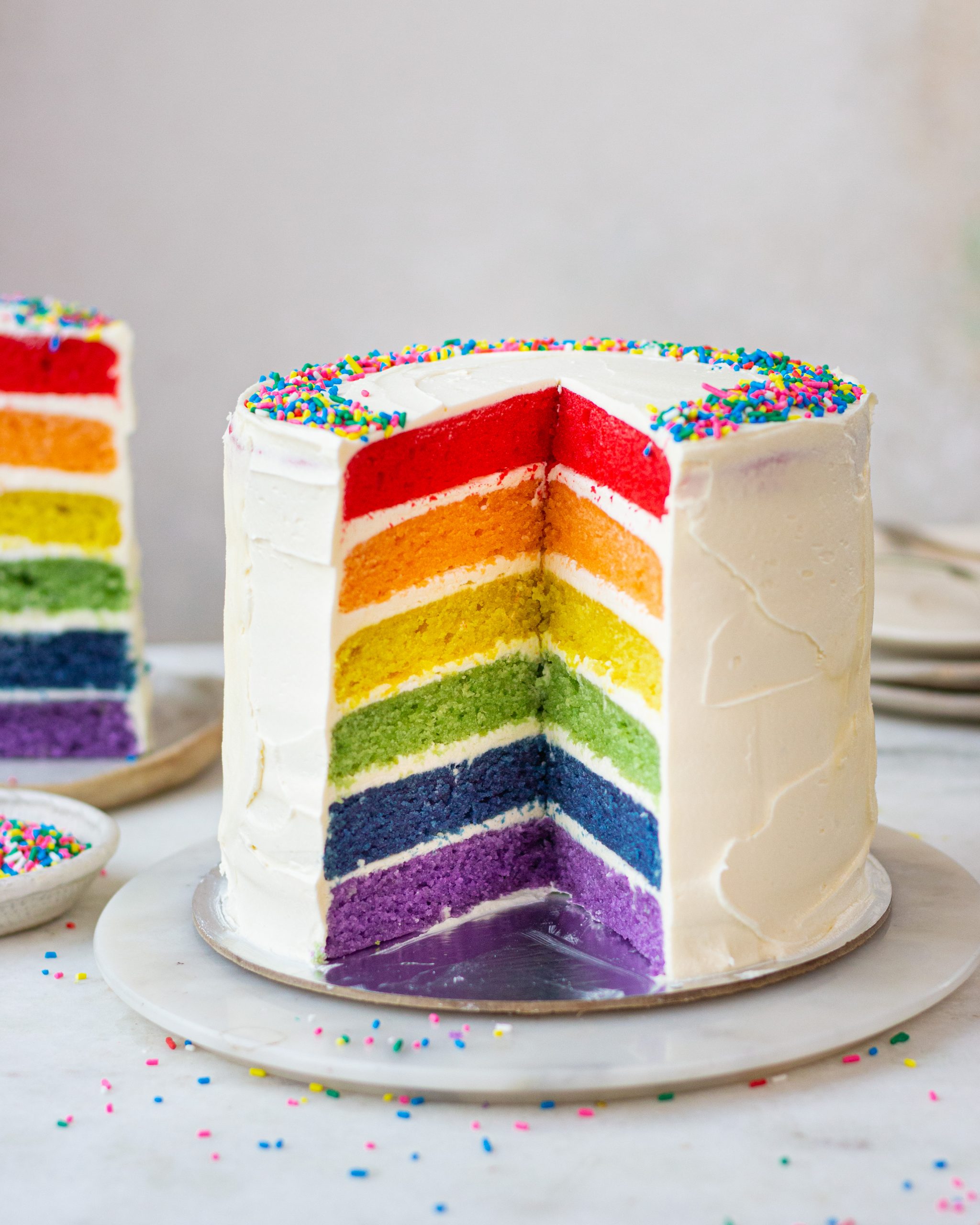 Cake moulds for eggless rainbow cake
As mentioned before, this cake has 6 layers. All of these layers need to be even in terms of height and size. And since each layer has a different color, you can't bake a tall cake and then cut it into layers. Instead, you will need separate moulds to bake each layer or you can keep reusing any one mould that you have and bake one colored layer at a time.
I love using my removable bottom cake pans for this. I got mine during one of my travels but I found something similar on Amazon, you can check it out here.
I have two cake molds of the same size so I used two colors at a time. This needs a little bit of patience but everytime i see a new colored layer baked to perfection, all the wait seems worth it.
If you don't have removable bottom cake pans, you can very easily use the regular cake pans too. Make sure they are of the same size and make sure to grease them properly with butter or oil and to line  them with parchment paper.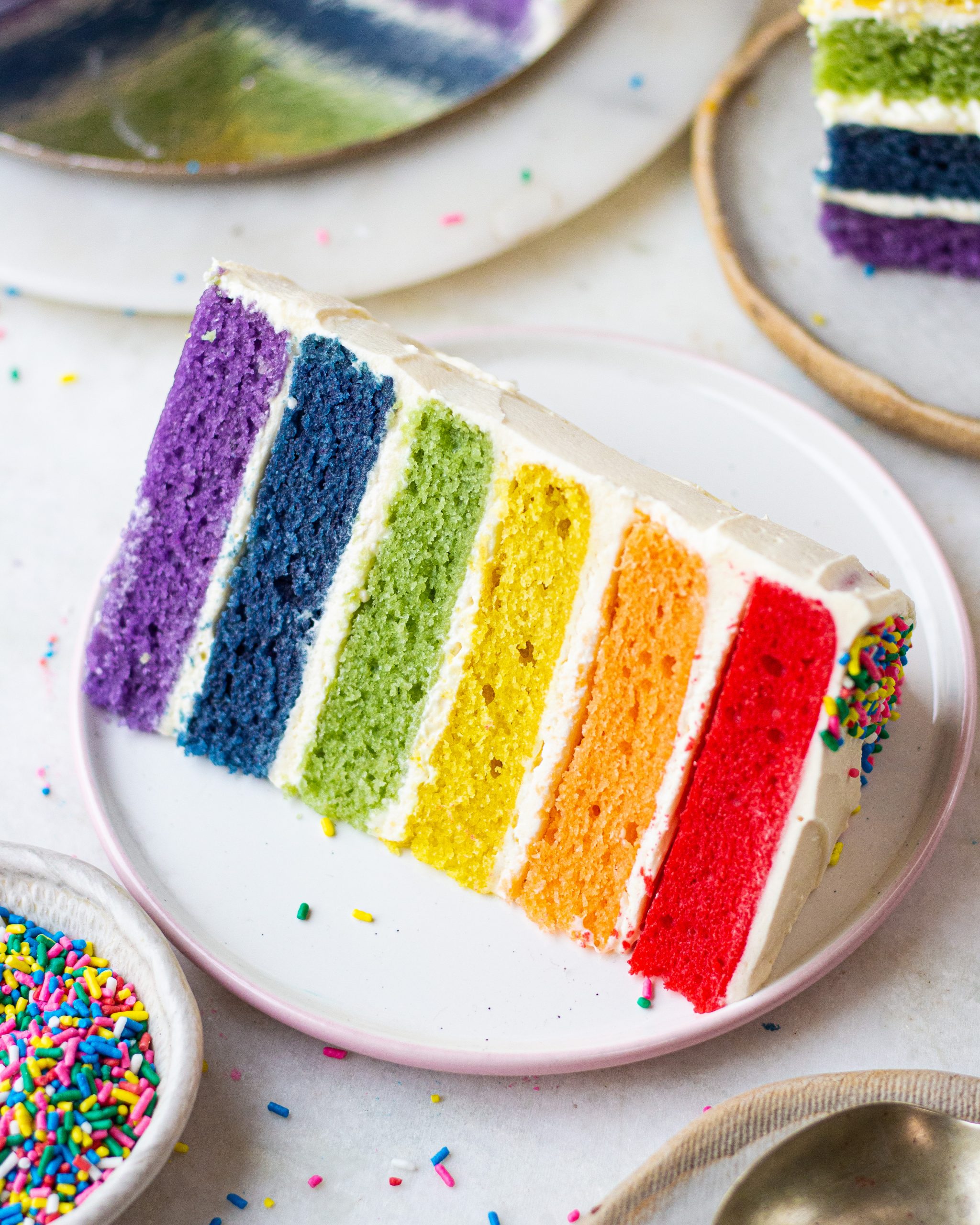 Food colors for eggless rainbow cake
The kind of food colors you use are extremely important for the final look of your rainbow cake. You do not want to put so much effort into waiting and baking a 6 layered cake and then be disappointed with dull colors in the end.
Instead of using liquid or powdered food colors, I used gel food colors. Gel food colors always give the best results. This is because gel food colors are strong and more intense than powder or liquid color. This means you only need to add a very small amount of color to your baked goods. Addition of the small quantity of gel food color also ensures that it does not change the consistency of the cake batter. In liquid colors, you generally need to add at least triple the amount of gel food color. This means more liquid going into the cake batter and further changing the consistency of it. Gel colors do not fade out while baking. This is my favorite feature because it makes sure once you have added color to your raw batter and are satisfied by it, you will not be disappointed by a duller color once the batter is fully baked.
When it comes to using gel food colors, I use a variety of different brands. For my eggless rainbow cake specifically, I used Sprig and Confect. Use these links on amazon for color yellow and color red to find all colors that you might need. Another great brand for gel food colors is Chefmaster. You should check out their collection too.

Process of making eggless rainbow cake
The process of making this cake is fairly basic. Get your pans lined and ready, along with your oven preheating at 180 degrees. Then you need to combine your dry ingredients in a bowl and set it aside. In another bowl you need to start whisking oil and sugar and then add in other wet ingredients and make a homogenous mixture. Fold in the dry ingredients into the wet only till you do not see any flour pockets.
Be very careful not to overmix your batter because we will continue to mix it as we add colors.
Now as your vanilla base batter is ready, you need to equally divide it into 6 portions. Put each portion in a separate bowl and start adding color in each.
Because we are using gel colors, I would recommend starting one adding 1-2  drops of each color in each portion. This makes sure you do not add too much of a color and make the particular rainbow cake too dark, spoiling the entire aesthetic of the cake.
Once you have added the colors, gently mix them into the batter, trying your best not to overmix the batter.
Once ready, pour the batter into the cake pan and bake till all layers are ready. Let the cake layers cool down completely and meanwhile you can prepare your buttercream frosting.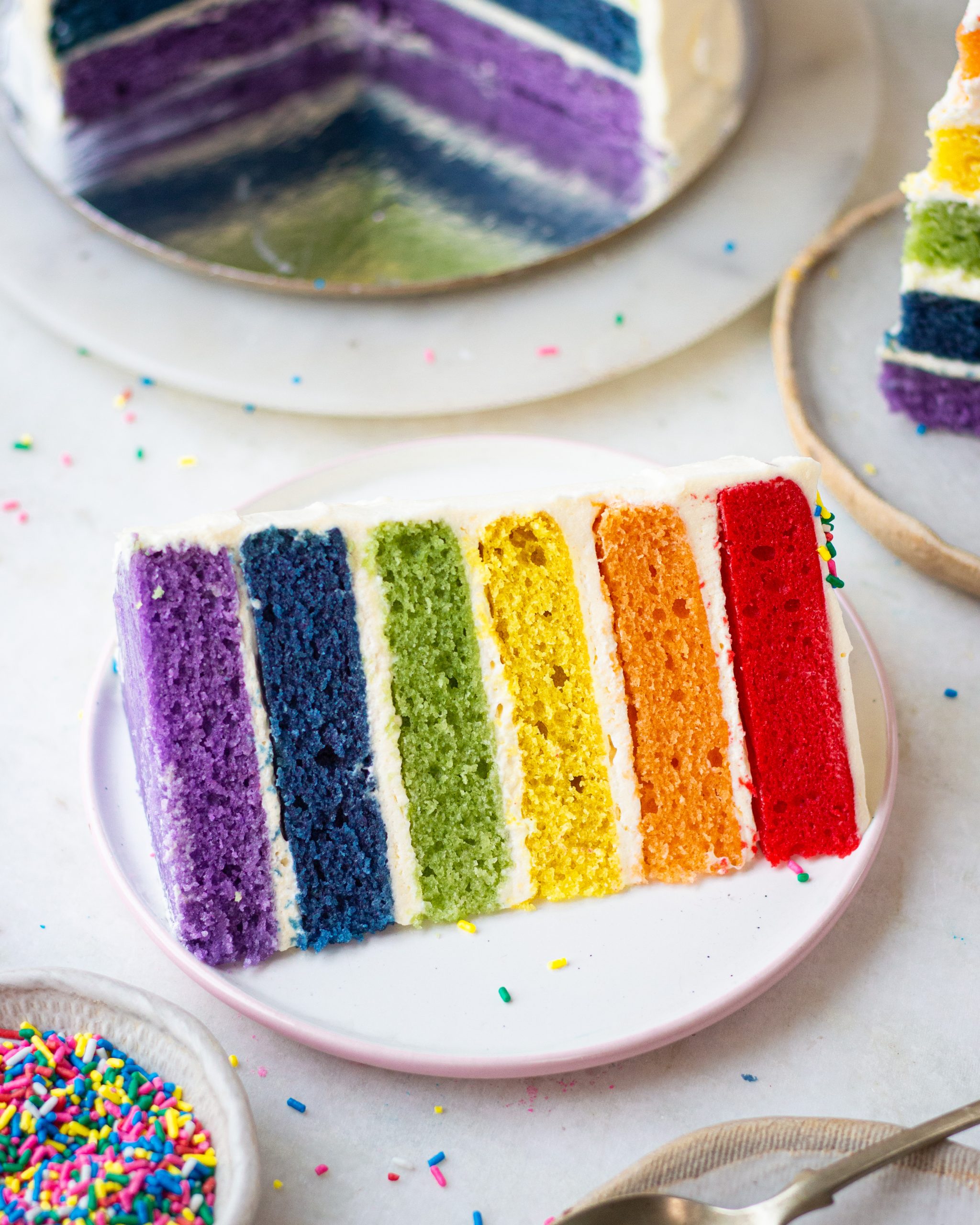 How to prepare the buttercream frosting
One of the easiest frostings is a buttercream frosting. All you need to make this frosting is butter, icing sugar, and vanilla. While making buttercream, you need to make sure that you are using softened butter. This means that your butter should not be too cold and hard, neither should it be too warm or almost melted. Softened butter is when it is malleable but can still hold its shape.
A stable buttercream comes from whipping the butter and icing sugar till the mixture becomes pale. All this whipping incorporates a lot of air into the batter and makes it stable. Addition of vanilla adds all the lovely flavor you need.
If you are wondering whether you can use salted butter for buttercream frosting then the answer is yes, you can. I always use salted butter in all my desserts and they taste just as delicious.
You can cover the buttercream and keep it in the fridge. Be sure to take it out 15 minutes before you need to use it. Buttercream tends to harden when kept in the fridge but that is totally normal.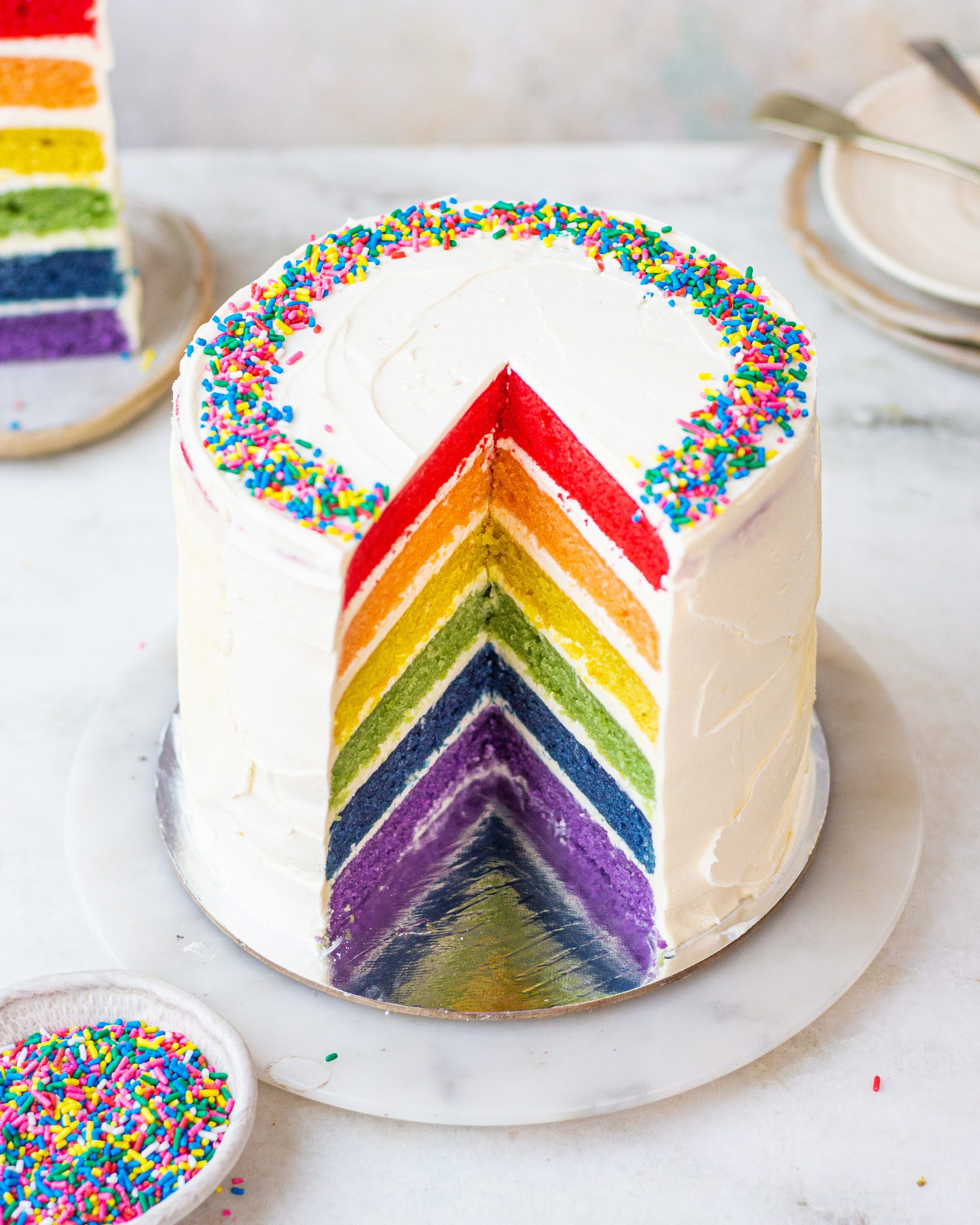 Assembling the six layers of eggless rainbow cake
Once all your sponges are ready and your buttercream is whipped, it is time for the most fun part, assembling! A few tips to keep in mind while assembling the cake:
Keep all cake layers separately and with a baking sheet under their base if the 6 dry sponges are layered up. The butter paper on the bottom helps ensure that different colored sponges don't stick to each other and transfer different colors specks onto each other. We want to keep all our colors distinct and clear.
Since this is a big cake, with 6 layers, I decided to bring out my turntable just to make it slightly easier for me to frost the tall cake. I got the one I use from Amazon. You can find the link here.
Use an ice cream scoop to add frosting on top of each layer. This will help make sure that each layer has an even amount of frosting. For example, add 3 scoops of frosting on all layers.
If during frosting the buttercream starts to become too sloppy, you can keep the cake and the frosting in the fridge for 10 minutes, let it cool down for a bit and then continue.
I decided to frost my cake, completely covered in buttercream. Depending on the amount of frosting you like, you can choose to add as little or as much frosting as you like.
For garnish, I decided to use some cute rainbow sprinkles. These are very easily available online. You can buy them on amazon using this link.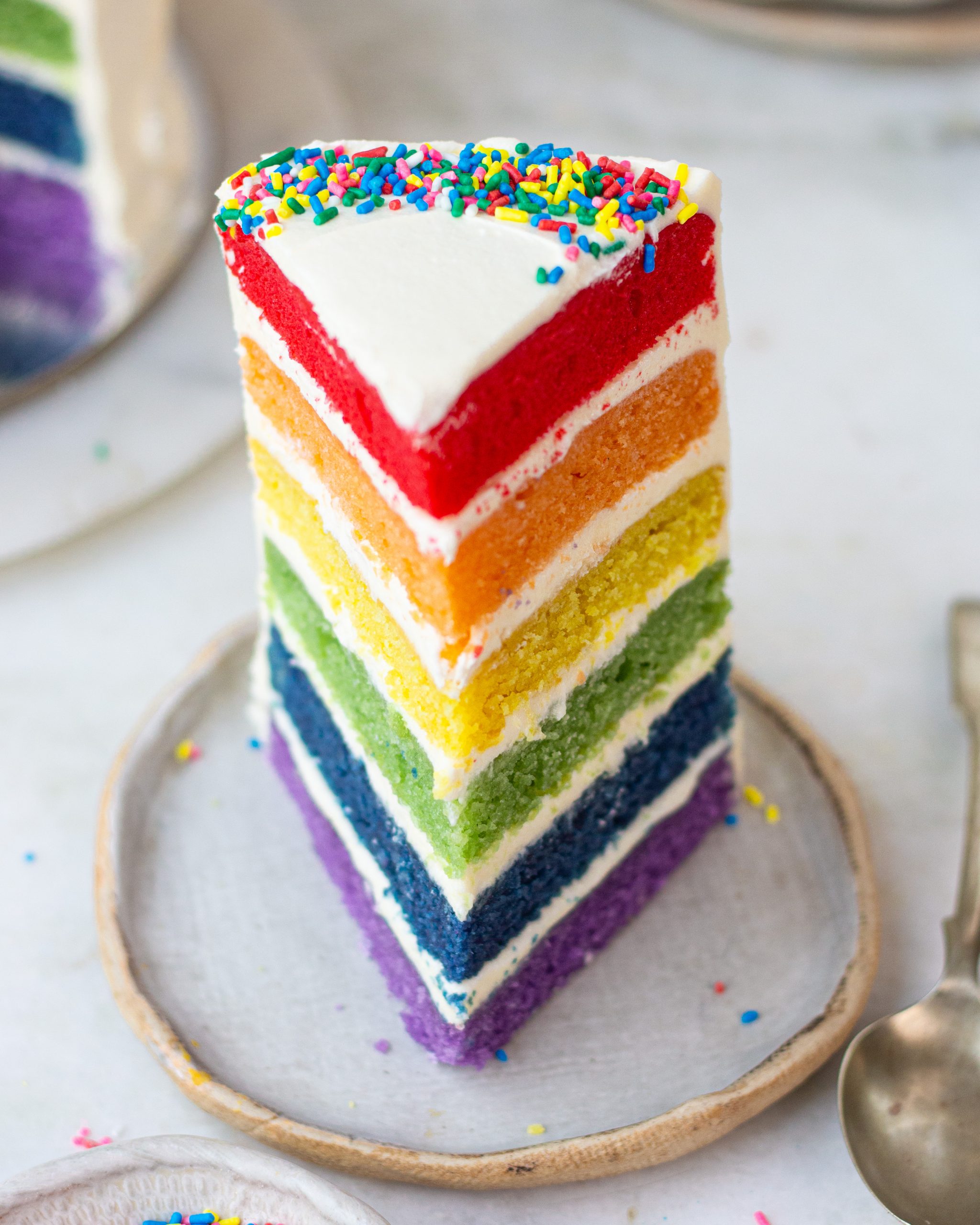 Eggless Rainbow Cake Recipe
Eggless Rainbow Cake
Ingredients
For cake sponges:
4 + ½ cups (540g) all purpose flour (maida)
3 teaspoon (12g) baking powder
3 cups (855g) yogurt
1+ ½ teaspoon (9g) baking soda
2 + ¼ cup (450g) castor sugar
1+ ½ cup (360mL) vegetable oil
3 teaspoon (15mL) vanilla
VIBGYOR gel food colors
For buttercream frosting:
1 + ½ cup (300gms) softened butter
3 (15ml) teaspoon vanilla
3 cup (390gms) icing sugar (sifted)
Rainbow sprinkles ( to garnish)
Instructions
Pre-heat the oven to 180 degree C and line 8 inch round cake pans with parchment paper.
Whisk together castor sugar and oil in a separate bowl until pale and well combined. Add in yogurt and vanilla and give it a good mix.
In a bowl whisk together flour, baking soda and baking powder. Sift this in with the wet ingredients and gently fold in the flour so that everything is well combined and there are no large flour pockets in the batter. Do not over mix at this stage.
Divide the batter into 6 equal portions and pour each in a separate bowl. Now mix in the rainbow colors, one color per portion and mix in the color gently.
Once all your colored batters are ready, pour each into the baking pans and bake at 180C for 20-25 minutes or until fully baked.
To make the frosting, in a bowl add softened butter and beat it for 4-5 minutes at high speed until it becomes pale and fluffy.
In the same bowl, add in vanilla and mix this in as well.
Add in half of your sifted icing sugar. Turn the mixer on at low speed first and then beat it for a minute or so at high speed. Make sure all the sugar is nicely combined.
Add in the remaining icing sugar, and repeat the same process.
Scrape the sugar from the sides of the bowl and make sure everything is well incorporated.
Once the cakes have cooled down and the frosting is ready, start to assemble the cake by placing the sponges in the same sequence as VBGYOR, starting with violet color at the bottom.
Add a scoop of buttercream on top of the cake sponge and spread it evenly across the surface. Continue this till your rainbow stack is ready. Use the rest of the buttercream to fully frost your cake on all sides.
As a final garnish, add some rainbow sprinkles on top. Enjoy!
I am very happy to have finally shared this long requested recipe with all of you. I hope you have as much fun creating this cake as I did. If you happen to make this recipe, share pictures on Instagram / Facebook. Happy baking!