Eggless Rainbow Cake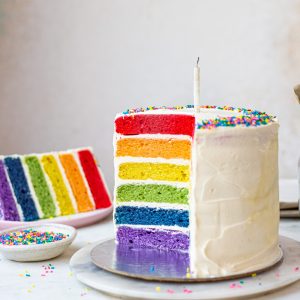 4 + ½ cups (540g) all purpose flour (maida)
3 teaspoon (12g) baking powder
3 cups (855g) yogurt
1+ ½ teaspoon (9g) baking soda
2 + ¼ cup (450g) castor sugar
1+ ½ cup (360mL) vegetable oil
3 teaspoon (15mL) vanilla
VIBGYOR gel food colors
1 + ½ cup (300gms) softened butter
3 (15ml) teaspoon vanilla
3 cup (390gms) icing sugar (sifted)
Rainbow sprinkles ( to garnish)
Pre-heat the oven to 180 degree C and line 8 inch round cake pans with parchment paper.
Whisk together castor sugar and oil in a separate bowl until pale and well combined. Add in yogurt and vanilla and give it a good mix.
In a bowl whisk together flour, baking soda and baking powder. Sift this in with the wet ingredients and gently fold in the flour so that everything is well combined and there are no large flour pockets in the batter. Do not over mix at this stage.
Divide the batter into 6 equal portions and pour each in a separate bowl. Now mix in the rainbow colors, one color per portion and mix in the color gently.
Once all your colored batters are ready, pour each into the baking pans and bake at 180C for 20-25 minutes or until fully baked.
To make the frosting, in a bowl add softened butter and beat it for 4-5 minutes at high speed until it becomes pale and fluffy.
In the same bowl, add in vanilla and mix this in as well.
Add in half of your sifted icing sugar. Turn the mixer on at low speed first and then beat it for a minute or so at high speed. Make sure all the sugar is nicely combined.
Add in the remaining icing sugar, and repeat the same process.
Scrape the sugar from the sides of the bowl and make sure everything is well incorporated.
Once the cakes have cooled down and the frosting is ready, start to assemble the cake by placing the sponges in the same sequence as VBGYOR, starting with violet color at the bottom.
Add a scoop of buttercream on top of the cake sponge and spread it evenly across the surface. Continue this till your rainbow stack is ready. Use the rest of the buttercream to fully frost your cake on all sides.
As a final garnish, add some rainbow sprinkles on top. Enjoy!